The GrillingDad Answer: Brisket is easily kept hot for an hour by wrapping it in aluminum foil or placing it in an insulated cooler. If you need to keep it hot for a longer period of time, we recommend a heating lamp, buffet server, or crock pot.
Brisket is by far one of our favorite dishes. But how can you keep it hot when you are serving an all-day event?
Let's look at more details and methods for keeping brisket warm!
Methods for Keeping Brisket Warm
There are several methods that we can use to keep brisket warm.
Wrap it in Foil
One of the easiest ways to keep brisket warp is by wrapping it in heavy foil or pink butcher paper and then wrapping it in towels or blankets. This will help to insulate the heat and keep the brisket warm for several hours.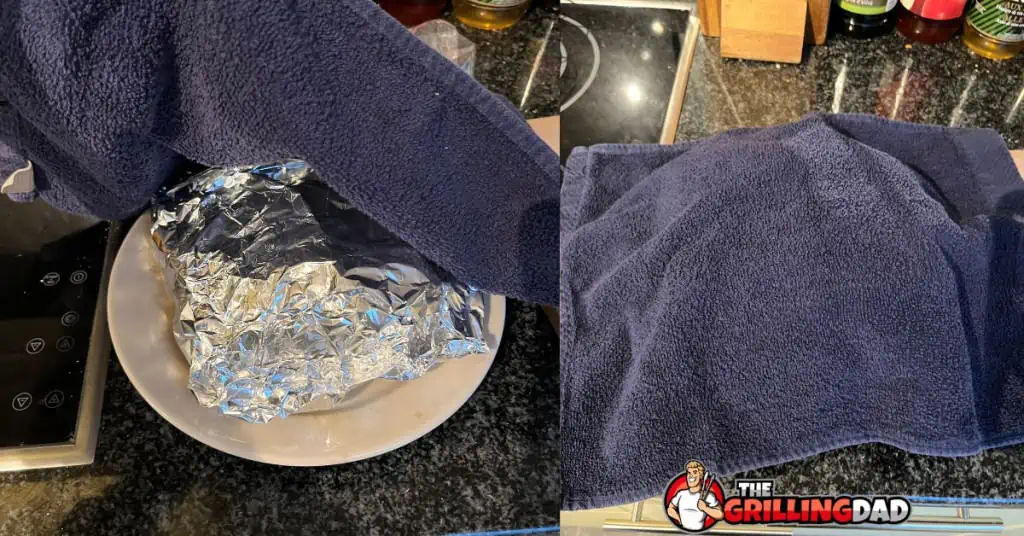 Using a Holding Oven
Another effective method for keeping brisket warm is to use a holding oven. This is a special type of oven that is designed to keep food warm without overcooking it. Most holding ovens allow you to set the oven temperature and use a remote thermometer to monitor the temperature of the brisket.
This way you can remove it from the holding oven if it gets too hot. Of course, if you are dealing with a home kitchen and not a commercial one, this likely isn't an option for you.
Related >> Where to Probe a Brisket?
Using a Cooler or Insulated Container
The cooler method is another effective way to keep brisket warm. You can place the brisket in a standard beverage cooler that is large enough to fit it, and then fill the air space around the brisket with hot bricks or a heating pad.
Use a Buffet Server
Buffet servers are hot plates that you usually see at a buffet. They usually have hot water between two metal dishes to keep food warm. They can be purchased on Amazon, or you can make your own with two aluminum pans, and a burner.
Buffet servers are perfect for brisket because they keep it warm without burning it. The only problem is if the lid isn't kept on, the brisket on top may get a bit cold.
A Crock Pot
If you are making pulled brisket, brisket tacos, or brisket sandwiches anyway, there is no reason not to use a crock pot to keep your brisket warm. It's a good idea to add a little sauce to your brisket when using this method to keep it from drying out.
It's also a good idea to stir the brisket from time to time to ensure it doesn't get baked to the bottom.
Storing and Reheating Leftover Brisket
So, the buffet is over and now what do you do with all the leftover brisket? Keep it of course! Below is the best method for storing and reheating brisket.
Storing Leftover Brisket
Let the brisket cool down to room temperature before storing it in the fridge or freezer.
Store the brisket in an airtight container or wrap it tightly in plastic wrap or aluminum foil.
Label the container or wrap with the date and contents, so you know how long it has been in the fridge or freezer.
Store the brisket in the fridge for up to 4 days or in the freezer for up to 3 months.
Reheating Leftover Brisket
Reheating leftover brisket is easy, but you need to do it properly to avoid drying it out or making it tough. Here are a few ways to reheat leftover brisket:
Microwave: Place the brisket on a microwave-safe plate and cover it with a damp paper towel. Microwave the brisket on high for 30 seconds to 1 minute per slice, depending on the thickness of the slices.
Slow-cooking: Place the brisket in a slow cooker with beef stock or leftover cooking liquid. Cook on low for 2-3 hours, or until the brisket is heated through.
Oven: Preheat the oven to 325°F. Place the brisket in an oven-safe dish and cover it with foil. Bake for 20-30 minutes, or until the brisket is heated through.
Uses for Leftover Brisket
While we prefer brisket sliced when served the first time, for the second go around, the sliced brisket can get a bit dry. That's why we recommend making your leftover brisket into one of these tasty recipes!
Brisket Nachos
Brisket sandwiches (similar to pulled pork but use leftover brisket!)
Smoked Mac n Cheese topped with Brisket
Beef soup with leftover brisket bits
And just about anything else you can come up with!