If you're thinking about buying a pellet smoker, you'll love it. And if you can't decide between a Traeger or a Pit Boss, you're in the right place!
In this TheGrillingDad.com guide, you'll learn:
A background behind each company
A comparison between features
And much more!
Traeger vs Pit Boss: An Overview
Both Traeger and Pit Boss make quality pellet smokers. In fact, both have models that made our Best Pellet Smokers list. But which is right for you? Let's dig in!
Traeger Brand History
In the early 1980s, Joe Traeger and Jerry Whitfield were both experimenting with pellet-burning stoves. Joe Traeger's concept was inspired while he was experimenting with wood-burning stoves. In 1985, he was able to develop his first-ever pellet grill and patented it in 1986.
The first Traeger grills used a three-position controller where users could adjust the temperature range from low or medium to high.
For twenty years, Traeger was the only manufacturer of pellet grills. It remained a small business run by his family where they distribute pellet grills to only several stores. When Traeger's pellet grills patent expired in the year 2006, other companies started producing pellet grills as well.
Traeger's technology was then reproduced by many different companies. Traeger and his son, Brian, then sold Traeger Grills to a Florida firm in 2006.
For many years, Traeger Grills were passed down from one owner to another until 2018, when Traeger and his son were hired by Dansons, who happened to own different grill companies including Pit Boss Grills and Louisiana Grills.
Today, Traeger has remained one of the most popular and largest pellet grill manufacturers in the whole world.
Pit Boss Brand History
Pit Boss is a subsidiary of Dansons Inc. and was founded in 1999. Pit Boss was also one of the first companies to have competed with Traeger's pellet grills.
Pit Boss is a family-oriented business that focuses on giving users quality craftsmanship and grills that can last a lifetime. Pit Boss is also known for its huge variety of pellet grill models. In fact, they have more than 20 pellet grills today, including a combo pellet and gas grills for better grilling experience.
The Pit Boss company often emphasizes that they have much more affordable pellet grill products compared to Traeger's. What makes Pit Boss different from others is the fact that they continue to give something "more" to all their users. They have always strived hard to be better.
As if their fates were intertwined, Traeger and his son then joined Dansons in the year 2018 after selling Traeger Grills to another company way back in 2006.
Related >> Pit Boss Grills: Which is Best? (Complete Guide)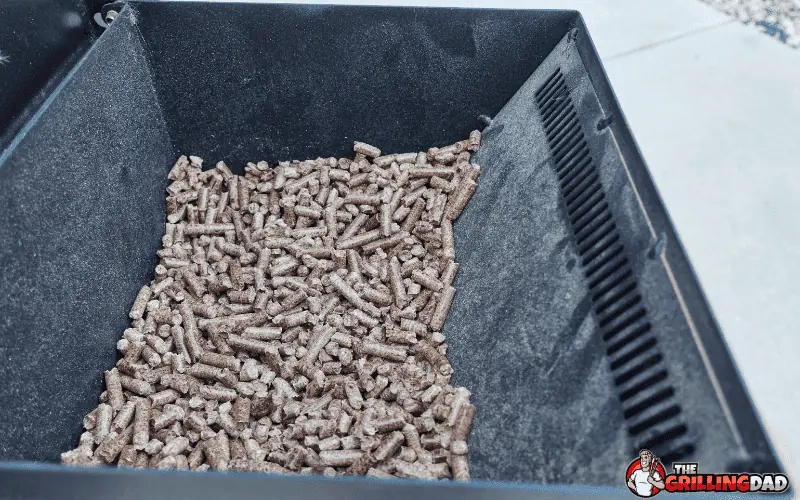 Pit Boss vs Traeger: Main Differences
Comparing grills can be a challenge. Even the best pitmasters don't know how to choose between two different brands of pellet grills.
That's why we're here to help you understand the main differences between Pit Boss and Traeger grills, so you can choose a pellet grill that best fits your taste and style.
It's best to compare these pellet grills using these categories:
Quality and Construction
This is by far one of the most important categories that every griller or interested person should look out for. That's simply because the build of your pellet grill can directly impact how much you'll use it and how long it can last.
Most Pit Boss grills are made of 14-gauge steel or stainless steel, which is a great quality for a pellet grill. It also fits well with their motto "Bigger. Hotter. Heavier." Moreover, Pit Boss grills have double walls.
On the other hand, Traeger pellet grills are often made of a mix between powder-coated steel and stainless steel. Their grills have double-sided walls and full double walls for better heat retention.
When it comes to the finish, Traeger grills are a lot stronger and have better designs compared to Pit Boss.
Cooking Space
When it comes to cooking space, it all depends on the users. Remember to choose a pellet grill that best fits your style and consider how often you'll use it — and how many people you're cooking for.
When it comes to cooking space and size, Pit Boss can offer you a lot of options. From a 1,600 square inch cooking surface to a medium-sized family grill, and even the tiniest portable grill — Pit Boss has them all.
Traeger, however, can offer six different sizes of cooking space – like their low-end mid-sized grill with a 1,300 square inch cooking area. In fact, Traeger has three different grill series with two models each. Each model has a different cooking surface for its users.
Both companies can offer different varieties of pellet grills. However, Pit Boss can offer more options for their interested buyers.
Temperature Range
When it comes to temperature range, Pit Boss and Traeger have very similar numbers. You can expect to choose girls that can range from 165ºF to 500ºF from both manufacturers.
However, there are a lot of pros and cons between these two companies. Let's start with Traeger's wood pellet grills. The thing about wood pellet grills is that they get hot enough for searing, but since they do not use direct heat, you cannot truly sear — which is a bummer for those who love to sear their steak.
You see, searing can help eliminate water, which is also the key to achieving a delicious and mouthwatering steak. However, Traeger grills can allow users to control the temperature range in five-degree increments. This can help them achieve the precise temperature they want when cooking.
If Traeger grills have a slight disadvantage when it comes to searing, Pit Boss have made their solution for this problem.
Most models from Pit Boss have a sliding panel located at the center of their heat deflector. When you open it, it will reveal rows of slits directly over the fire pot. Flames will then shoot up through the slits which will then allow users to sear their meat to their heart's content.
The only thing most Pit Boss grill users complain about is the fact that their models have a temperature knob with 25-degree increments that skips a few places such as 225, 250, 300, 350, and so on.
If you want to choose a temperature like 260ºF when grilling, Pit Boss grills are not for you.
If you are more into temperature precision or searing, then you will likely know which one you should choose.
Hopper Capacity
When choosing a pellet grill, you should always consider its hopper capacity. Since a typical wood pellet bag has the size of approximately 20 pounds, then you should consider choosing a grill that can take 20 pounds and above.
Of the six Traeger models, two of them have 18-pound hoppers, two for 20 pounds, and another two for 24 pounds. For most people, the 18 and 24-pound hoppers will likely leave them with weirdly sized pallet bags, which is a disadvantage.
On the other hand, the Pit Boss models can offer five-pound, 20 lbs (which is spot-on), 31 lbs, and 55-pound hoppers. The 20-pound hopper is the most ideal, whereas the 31 lbs can more or less cover a bag and a half, which isn't bad.
Storage
Storage can also be an option since it makes cooking a lot more spacious and easier. Both manufacturers can offer pellet grills that have proper storage installed on their models.
For most Pit Boss grills, you can enjoy a removable side shelf that comes with all grills. Traeger models have a folding front shelf which is very helpful but is sold separately.
Control System
Most Traeger models have built-in Wi-Fi technology and a drive controller with a variable speed fan. With the Wi-Fi feature — or what they call Wi-Fire — you will be able to connect your griller to your personal Wi-Fi. By using the app, you will be able to have complete control of your smoker wherever you are.
Pit Boss may have a dial-in digital control with LED read-out on their models, but they don't have WiFi…yet.
Price
Of course, let's not forget one of the most important elements that most homeowners often compare: the price.
You have to know that no matter which manufacturer you choose, each model they offer has different prices.
If you're on a tight budget, Pit Boss can offer you budget-friendly models that are great to use.
However, if you are into better construction and ready to buy a higher-end grill no matter the price, then we say Traeger is a better option.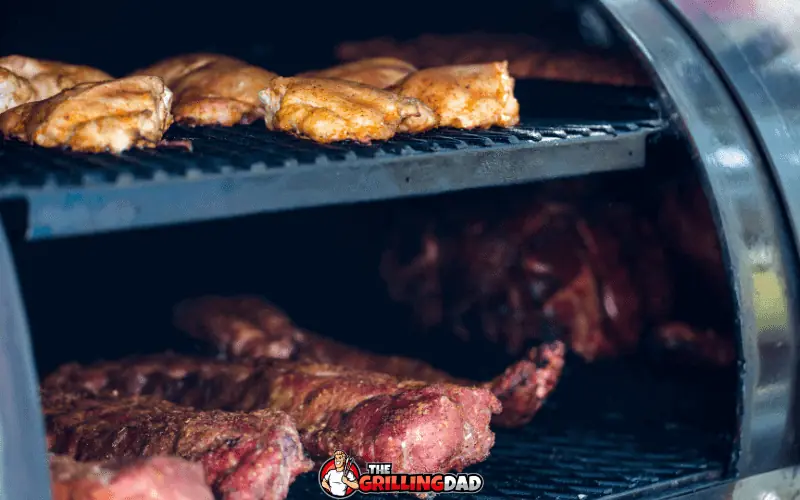 Top Grills: Traeger and Pit Boss
Top Pit Boss Grills
As mentioned earlier, Pit Boss can offer you variations of pellet grills. Their grills are mostly identical, but they have slightly different features. When choosing a Pit Boss grill, make sure to choose a model that best fits your style and taste.
Pit Boss Sportsman 820 Wood Pellet Grill: This model is one of the newest grills from Pit Boss. These pellet grills can offer you different features for a very budget-friendly price. It has 829 square inches of cooking space where you can cook between a primary and secondary grate. It also has a 21-pound hopper that comes with a window, so you can keep an eye on your pellet level. However, users who have tried using the Sportsman 820 have complained about its small searing zone.
Pit Boss 700FB Wood Pellet Grill: For an "entry-level" grill, the 700FB Wood Pellet Grill can give you lots of wonders. It has very light features and comes with a stripped-down thermostat. You can easily set your temperature with this grill as well. It also has a very useful "Smoke" setting that's timer-based, so you can get the precise time when grilling. It has a 445 square inch cooking surface with a hopper capacity of 20 pounds.
Pit Boss 5 Series Vertical Wood Pellet Smoker: Not many companies sell a vertical pellet grill, which makes this 5 Series Vertical Wood Pellet Smoker from Pit Boss a truly unique model. If you like the "old school" vibe of cooking, then this one's for you. It has a 1,659 square inch cooking space and a 40 pound hopper. Basically, this Pit Boss grill can accommodate a lot of people. What's more amazing with this vertical grill is that it can allow you to cook for as long as 24 hours without refilling your pellets.
Pit Boss 440 Deluxe Wood Pellet Grill: Another great choice for those who love to cook on a grill with a huge cooking space is the 440 Deluxe Wood Pellet Grill from Pit Boss. This grill is divided into two grills. One has a 340 square inch main grill and another 100 square inches on the upper rack. The rack can be easily removed, so it's very handy when it's time to take off your meat. It also comes with a side shelf and tool hooks for better storage. However, it only has a five-pound hopper which is a disadvantage for those who want to cook and leave it for a day.
Pit Boss Lockhart Platinum Series: This grill can give you a maximum of 2,136 square inch cooking space, which can allow you to cook for a whole party. It has a standard pellet grill that comes with a double-door cabinet on top. The Lockhart series has a 40-pound hopper and is a very great choice for those who love hosting BBQ parties for a large crowd.
Pit Boss Austin XL Pellet Grill with Flame Broiler: If you want a sleek-looking pellet grill with the same sophisticated features, then this Pit Boss grill is the one for you. It's a copper-colored pellet grill with a hopper lid, a cooking chamber lid, and even a chimney cap. It has four sturdy wheels which makes it very easy to move around. It has better, stronger digital controllers and a 649 square inch cooking space. Finally, this grill has a hopper capacity of 31 pounds and is made of 14-gauge steel construction.
Top Traeger Grills
Traeger introduced six different models in the year 2019 which were split into three different series: the Pro series, Ironwood series, and Timberline series. Each series has a larger and smaller model, so users can choose which one they like best. Let's check out the differences between these three series.
Pro Series: Pro 575 and Pro 780. These two grills have identical controls and Wi-Fi capability. However, it does not have an adjustable grate system or double-wall insulation like the other series. You can enjoy a 480 square inch or 570 square inch primary cooking area and a secondary cooking area of 154 square inches or 210 square inches with the Pro series. Both have an 18-pound hopper capacity and range from 160ºF to 450ºF.
Ironwood Series: For a mid-tier grill, the Ironwood series can offer you a bigger hopper capacity and double-wall insulation. The double wall can help you regulate the temperature in your grill by keeping the hot and cold weather out. With this series, you can enjoy a primary cooking surface of 418 or 570 square inches and a secondary cooking surface of 231 to 315 square inches. Ironwoods have a spot-on 20-pound hopper capacity and are Wi-Fi enabled (like the rest of the Traeger models). These two grills also have adjustable secondary racks for storage and a better cooking experience.
Best Overall
Timberline Series: If you want a top-quality pellet grill model, the Timberline series from Traeger is a great and wise choice. Both grills come with a full double wall construction for better heat retention, a magnetic cutting board, pellet sensor, stainless steel grates, and a stainless-steel front shelf (which is sold separately, unfortunately). You can enjoy grilling to your heart's content with its primary cooking area of 352 to 544 square inches and a secondary cooking area of 308 to 476 square inches. The Timberline series has a 24-pound hopper capacity.
Which One Should You Choose? Pit Boss or Traeger?
Again, choosing between two different brands can be a challenge, especially when you're choosing between two of the most famous pellet grill manufacturers.
Generally speaking, Traeger models have better grilling features. However, the Pit Boss company also has a lot to offer to their users, which still makes them a great competition.
Picking the better option is up to you. By using the knowledge we have shared with you in this blog, you will be able to easily distinguish which brand fits your taste and style the most.
Other Brands To Consider
While Pit Boss and Traeger are one of the most popular pellet grill manufacturers in the market today, there are also other brands that you can consider. If you can't choose between Traeger and Pit Boss, then this guide may help.
Z Grills
If you're looking for another budget-friendly brand, you might try checking out models from Z Grills. Although they may be a new name in the grilling world, they have technically been building grills for Traeger and other companies before. You can easily see it through the appearance of their models. Z Grills' most popular model is their Z Grills 700D4E. This model comes with a PID temperature controller, a better screen, and very easy-to-clean pellet features. It also has a functional and better cabinet feature which can be used as great storage.
Camp Chef
Camp Chef is also a great company that offers quality pellet grills. With their models, you will be able to enjoy the great quality build, easy-to-clean pellet features, and very efficient and cost-effective pellet consumption. For those who love to sear their meat, Camp Chef can offer you an optional sear box that you can just add to your grill for a better searing experience.
Weber
Another great pellet grill competitor is Weber. Weber has a great gimmick when it comes to searing. You can use their trademark Flavorizer bars to help hit 600ºF which is a great way to grill steaks. Their models also have great cooking space such as their Weber SmokeFire Gen 2 which can cook up to 30 burgers at the same time. If you're planning to host BBQ parties a lot of times, you can try Weber's pellet grills.
Yoder
If you don't need to be budget-conscious, then this one's for you. The Yoder Smokers offer different high-end pellet grills – like their YS640S Pellet Grill. It's an American-made pellet grill with 10-gauge steel construction for much better and unparalleled heat insulation and temperature stability. Their YS60S Pellet Grill can offer users a 1,070 square inch cooking space where you can switch between direct and indirect heat. This pellet grill can also hit up to 700 F and offer Wi-Fi and Bluetooth connectivity.
REC TEC
If you want another manufacturer that offers high-end pellet grills, REC TEC can also be a great option. REC TEC is known for its precise craftsmanship and build quality. They also offer pellet grills that have Wi-Fi connectivity and an improved PID controller. Of course, it's on the expensive side, which makes it great competition for Traeger and Yoder grills. Almost all of their grills are made of stainless steel, and with them you can enjoy a 40-pound hopper capacity. What makes this brand wonderful is its ability to let users cook for up to 40 hours.
Related >> Best Pit Boss Alternatives
How To Choose the Best Pellet Smoker
There are different pellet grill manufacturers today, and all of them can offer top-quality and very useful pellet grills. However, choosing the best one that works for you is very important.
With the many options, how can one choose the best pellet smoker for them? Here are some elements you should consider when choosing a pellet grill:
Price: You should always set a budget when choosing a pellet grill. This way, you can narrow down the brands or models to choose from to make it a little easier for you. Make sure to choose a pellet grill that fits your maximum budget but still gives you quality results.
Quality: The construction of your grill is also a very important element. When looking for a pellet grill, look for options that are made of materials that can last you a lifetime. Consider the number of times you are going to use your grills, and make sure to find a material that can withstand no matter how many times it is used.
Cooking Area: Think about how often you like to use your grill and how many people you usually feed. If you like to go camping and cook for only your small family, we suggest buying a portable pellet grill. However, if you're planning to feed lots of people at the same time, go for a grill with a much bigger cooking surface.
Temperature Range: To make it easier for you to achieve your desired temperature, make sure to choose a grill that can offer you a precise temperature range. Also, find one that can offer a low to a high level of heat range for a wider variety of food to cook.
Storage: For those who love to cook for a large crowd, storage is very important. Using a pellet grill that can offer you bigger storage can make cooking easier for you, especially since you will have more room to move around and place your materials or ingredients. Most pellet grills in the market today come with shelves and cabinets for better storage.
Hopper Capacity: The hopper capacity is also an important element that users should consider. We suggest choosing a pellet grill that can at least hold up as low as 20 pounds since the average weight of a wood pellet bag is 20 pounds as well.
Final Thoughts
When buying yourself a pellet grill, make sure to consider all the things we have listed above. Again, choosing between Pit Boss and Traeger can be a challenge. If you narrow down your options and use the information above, you will be able to choose which one works best for you.
To put it simply, there is no better or best brand when it comes to pellet grills. As long as they are able to give you the functions you are looking for and serve you for many years, then they are considered great grills. For more grilling questions and answers, visit our site today!