When it comes to modern-day grilling, pellet grills (or pellet smokers, as some prefer) have quickly risen to the top of many enthusiasts' wish lists. Combining the precision of electric smokers with the rich flavor of wood-fired ovens, these grills offer the best of both worlds.
I've made my way through the maze of models and features to bring you the very best pellet grills on the market. Trust me, with these recommendations, you're not just blowing smoke—you're set to become the grill master of your backyard.
Why You Can Trust TheGrillingDad: I've spent hundreds of hours with hands-on testing to help determine which pellet grills are worth buying. The methodology section shows exactly how I rated these magical meat machines.
The Best Pellet Grills for Smoking, Searing, and More
Here are my ratings of the best pellet smokers:
Quickly Compare Pellet Smokers
Here are the best pellet grills based on my rating methodology:
Prices are MSRP and are subject to change.
My Best Pellet Grill Reviews
1. Best Value Pellet Grill: Z Grills 700D3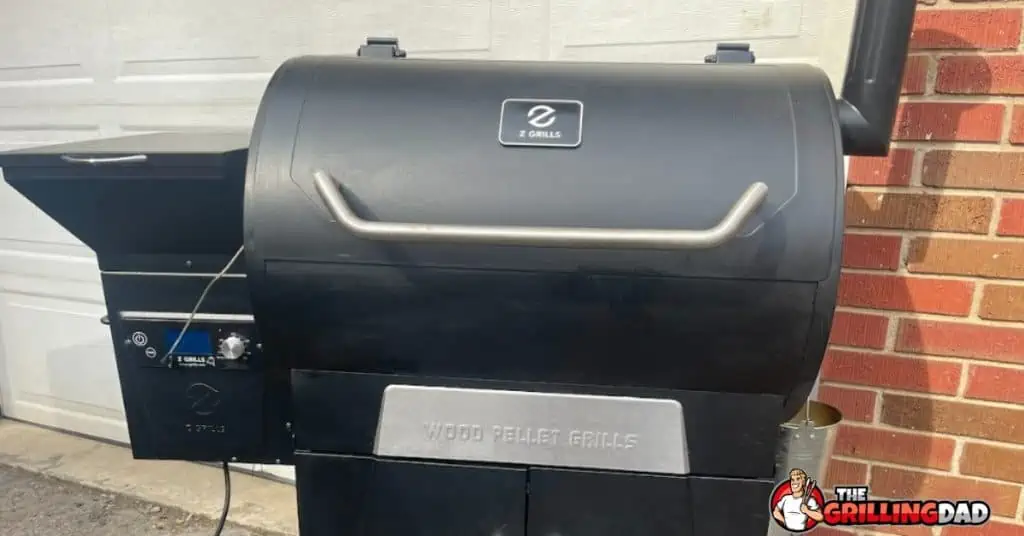 Pros
Huge storage cabinet, so you won't have to store pellets somewhere else
Includes a nice cover to keep it protected from the elements
Incredibly sturdy build (very similar to Traeger since they used to manufacture parts for them)
PID temperature controller allows you to hold a steady temp for those low and slow smokes
Cons
It doesn't have WiFi so you can't use your phone to control your smoker (which feels weird marking as a con)
The enclosed cabinet magnets can sometimes pop off, which is more of an occasional annoyance than a con
Best Value Pellet Smoker
Our Rating: 9.0 out of 10
Looking around at the Traeger and Pit Boss-dominated pellet grill market, you're likely getting an idea of how pricey pellet smokers are.
This can be enough to intimidate someone buying their first pellet grill — until the Z Grills 700D3 Pellet Grill and Smoker came out.
This wood pellet grill, for me, gives you the best balance of affordability and performance. For a small price compared to other pellet smokers, you get consistent cooking with its newly-developed PID controller. The PID controller ensures that your meat stays evenly cooked even as you leave it.
The Z Grills 700D3 Pellet Grill and Smoker also allows you to easily clean or change your wood pellets. A door conveniently located behind the hooper gives you access to the pellet feed.
The best thing about Z Grills is they used to manufacture parts for the bigger named brands before deciding to sell directly to consumers. This means you're getting a quality smoker at a great price.
Check out the Z Grills 700D3 Pellet Grill on their website for its latest price! It's oftentimes cheaper than on Amazon.
Dimensions: 47″ x 23″ x 52″
Weight: 132 pounds
Grilling Area: 694 square inches of cooking space
Hopper Capacity: 20 pounds
Warranty: 3 Years
Read Our Full Review: Z Grills 700D3 Review
2. Best High-End Pellet Smoker: Yoder Smokers YS640 Competition Pellet Grill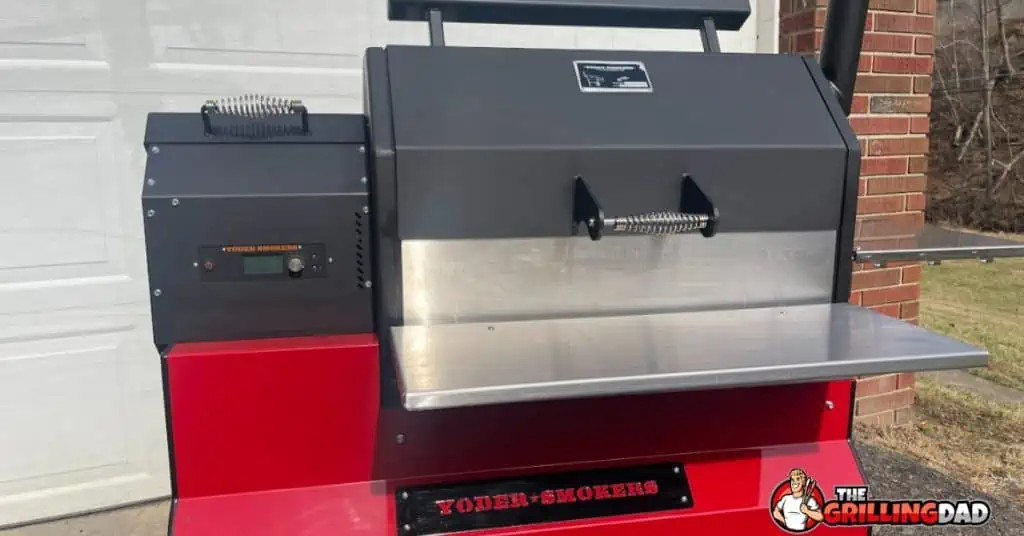 Pros
Unmatched cooking versatility for actually being able to grill, sear, and smoke all on one unit (most pellet grills aren't great grills)
Spacious cooking area and headroom to accommodate large cuts of meat and various dishes
Top rack slides out for easy access without burning your arm reaching in
Effortless temperature control and monitoring through Wi-Fi and Bluetooth connectivity
Built to last with robust, heavy gauge steel construction
Convenient and stylish custom cart for easy maneuverability and additional prep space
Cons
Its price point won't work for everyone
Because it's built like a tank, you'll need a lot of room to store it
You have to adjust the smoke stack to fit the cover on it
Best High-End Pellet Smoker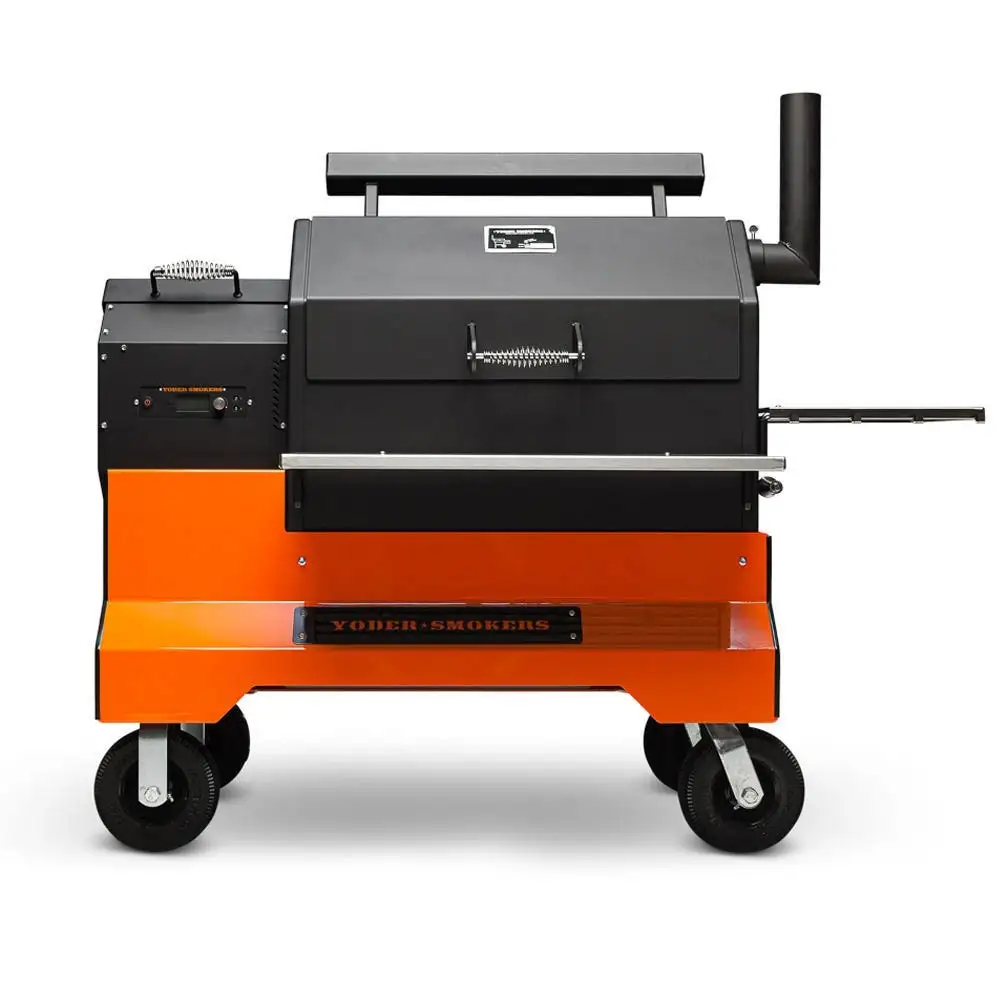 Our Rating: 9.5 out of 10
Our hands-on experience with the Yoder Smokers YS640s Pellet Grill left us thoroughly impressed. This bad boy isn't just a backyard showstopper; it's a competition-grade pellet smoker that can handle anything from a family gathering to a BBQ showdown.
The custom cart, complete with solid stainless-steel prep shelves, not only adds to its iconic look but also provides exceptional maneuverability and integrated tie-downs for secure travel.
The YS640s boasts 1,070 square inches of cooking space and nearly 12 inches of headroom, making it ideal for everything from smoking briskets to whole chickens.
Its unique direct flame grilling feature sets it apart from the competition, allowing you to actually sear steaks at 700°F or slow-smoke at 250°F. I say "actually" because most pellet grills claim they can sear, but they almost always fall short in this test.
Plus, with the ACS Control System featuring Wi-Fi and Bluetooth connectivity, you can manage your cook from the palm of your hand using the mobile app. It's lightyears ahead of the PID controller most other pellet grills are using.
The heavy gauge steel construction, ceramic ignition system, and rock-solid warranty give you the confidence that you're investing in a high-quality, American-made product built to last.
Although, we listed it as the "best overall," we could've named it the "best for smoke flavor," the "best accessory options," the "best for beef jerky," the "best for commercial use," and any other superlative you can think of. While it's pricey, it's really that good.
Dimensions: 61.4″ x 36.5″ x 54.1″
Weight: 418 pounds
Grilling Area: 1,070 square inches of cooking space
Hopper Capacity: 20 pounds
Warranty: 10 Years
3. Most Versatile Pellet Smoker: Camp Chef Woodwind w/ Sidekick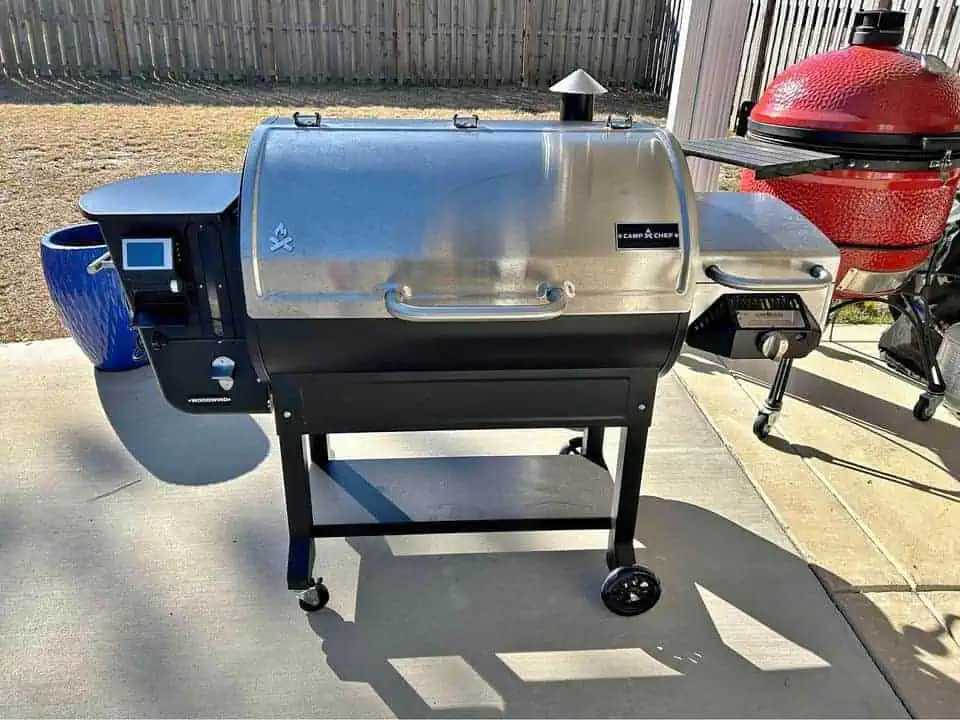 Pros
Sidekick Accessories (from griddles to sear stations to pizza ovens)
Smoke Control Settings
Ash Kickin' Cleanout System
Cons
It has a vibration while cooking and is a bit louder than other pellet grills
The sidekick sear station and flat top require a propane tank
Our Rating: 9.1 out of 10
It's hard to find a pellet grill with the right balance of everything.
One that comes close is the Camp Chef Woodwind WiFi 24 Pellet Smoker.
The Swiss army knife of pellet smokers, this Camp Chef Woodwind WiFi 24 Pellet Smoker is a mid-sized smoker that is capable of large-scale grilling and smoking.
The Camp Chef Woodwind WiFi 24 Pellet Smoker has a second-generation PID controller that allows you to select your desired temperature down to the smallest increment. With reliable wireless connectivity and app integration, this pellet grill puts you in the driver's seat as you smoke your meat to perfection.
Versatile in its temperature settings, the Camp Chef Woodwind WiFi 24 Pellet Smoker allows you to do more than smoke meat. Its various temperature settings also allow you to sear and grill meat to your desired taste.
If that's not enough, it also has a flat top griddle or sear station on the side! You will need propane for this, though. We named it the "most versatile" but it could've been named the "best for searing" because of the attachments as well.
If you're not sure about what pellet smoker to get, you cannot go wrong with the Camp Chef Woodwind WiFi 24 Pellet Smoker! It also comes in a larger model if you need something a little bigger.
Dimensions: 30″ x 48″ x 49″
Weight: 162 pounds
Grilling Area: 811 square inches of cooking space
Hopper Capacity: 22 pounds
Warranty: 3 Years
Read Our Full Review: Camp Chef Woodwind With Sidekick Review
4. Best Mid-Range Pellet Smoker: Traeger Grills Ironwood 885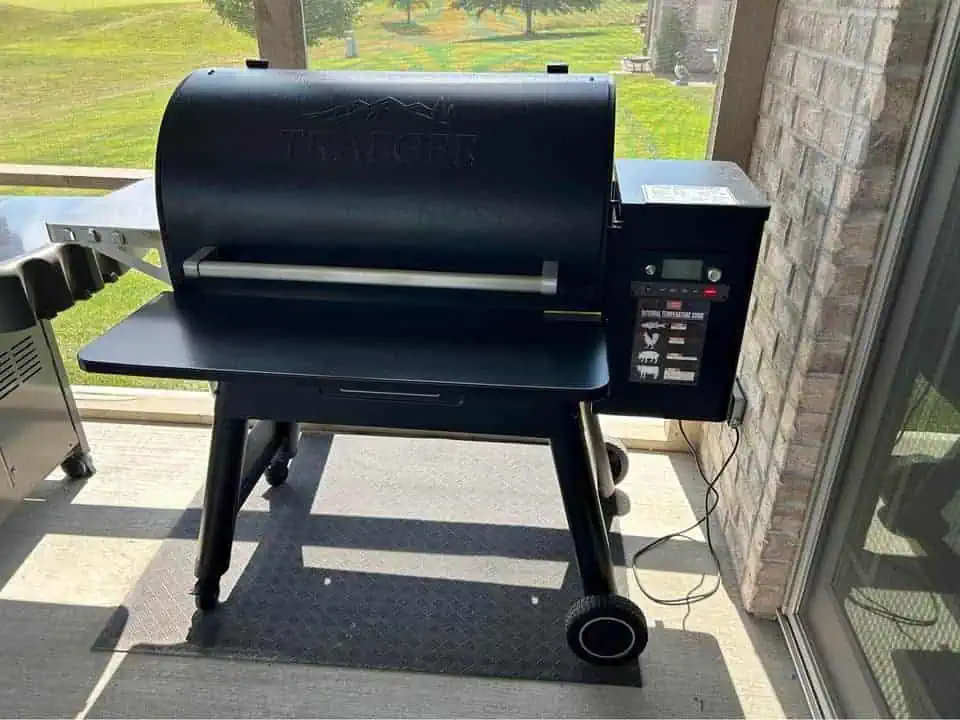 Pros
Control from WiFi which makes multitasking a breeze
SuperSmoke mode allows you to get more smoke flavor when you want it, which many other pellet smokers can't do
Traegers are well-built cookers, so you won't have to worry about replacing yours every couple years
It's equipped with a D2 PID Controller, which helps you get more smoke when you want it and helps hold an accurate temperature
Cons
Not great for searing without add-ons
Struggles to keep higher temps in cold weather
Best Overall
Our Rating: 8.9 out of 10
For years, Traeger has dominated the grilling market with its releases. They did it again with the Traeger Ironwood 885.
The Traeger Ironwood 885 has everything you will want and need in a pellet smoker. From seamless wireless connectivity to a clear-cut stainless steel design, this Traeger disappoints in no area.
It comes equipped with pellet sensors and meat probes. These features put you in the driver's (or griller's) seat as you manipulate smoker settings on your phone. The hopper also features a trapdoor design meant to make cleaning and changing pellets a breeze.
If you go with the Traeger, I want to be the first to welcome you to the Traegerhood! You'll find there's no other community like it. People who have a Traeger, love them!
Be warned, however. Features on a pellet grill like the Traeger Ironwood 885 do come with a hefty price tag. Then again, if money isn't an issue for you, I can't think of a better pellet smoker you can go with.
This model is the pellet grill we recommend for beginners.
Dimensions: 53″ x 27″ x 47″
Weight: 175 pounds
Grilling Area: 885 square inches of cooking space
Hopper Capacity: 20 pounds
Warranty: 3 Years
Read Our Full Review: Traeger Grills Ironwood 885 Review
5. Best Large Capacity Pellet Grill: Weber SmokeFire EX6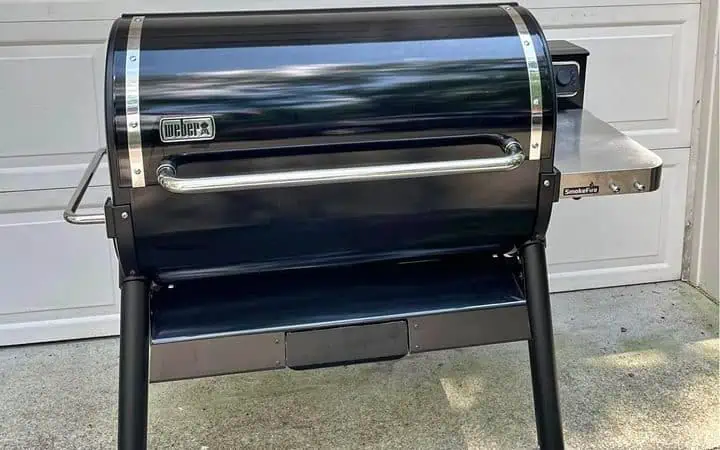 Pros
1,008 sq in of cooking space, so you won't have to worry about having enough space for the Thanksgiving turkey or even a couple of them
2 meat probes included
Weber porcelain-enamel Finish, so you know it's going to last a lifetime
It can get up to 600 degrees, so it can actually smoke and grill effectively
Cons
The grease drain isn't as steep as others so use aluminum foil under your grill grates to avoid cleaning them after each use
Not having a front shelf makes prep more difficult
Our Rating: 8.4 out of 10
The Weber Smokefire EX6 2nd Gen is the latest improvement to the not-so-popular EX4 model. With the updates, Weber has shown improvements to how it makes pellet smokers.
The Weber Smokefire EX6 2nd Gen has a side tray on the right for preparation. You won't need a gigantic prep area with this pellet smoker.
Also, you'll be amazed at the smoky flavor delivered by this wood pellet grill. We found it generated more smoke flavor than most other pellet grills. The pellet smoker's temperature control settings allow you to not only smoke meat but sear it.
Because of the flavorizer grill grates, it's ability to grill, sear, and smoke, you're getting an all-around great pellet grill. So, if reverse searing steaks is your thing, look no further than the Weber Smokefire EX6.
Dimensions: 33″ x 43″ x 47″
Weight: 204 pounds
Grilling Area: 1,008 square inches of cooking space
Hopper Capacity: 22 pounds
Warranty: 3+ Years
6. Most Durable Pellet Smoker: Recteq RT-700
Pros
High-quality, durable stainless steel build
Wi-Fi enabled controls from anywhere in the world
Versatile cooking options
Cons
While they claim it can reach 700 degrees and sear, our tests could never get it to get over 575
The rear hopper is more difficult to fill when compared to a side hopper
Grill tools fell off the grill hooks every time I moved the grill around
Our Rating: 8.4 out of 10
Grills typically stay outside, where they're exposed to the elements, and if you're adventurous like us, you've probably brought your grill to some even rougher terrains.
Most grills can take this like champs, but they will degrade over time. That's why many are looking for a grill that's durable and can last a lifetime.
If you're looking for a grill that can handle what life throws at it, the Recteq RT-700 Wifi-Enabled Electric Wood Pellet Grill/Smoker is just what you need.
We've found that this grill is equipped with more high-quality stainless steel than any other model in its class; almost all of its parts are made using stainless steel (including the grill grates), so we're confident that this wood pellet grill can take a beating.
It's also extremely spacious, sporting 702 square inches of space. Wherever you take it, you'll be able to cook large meals in one batch.
Don't worry about long cooking times; even if you're away, you can control this Wi-Fi-enabled grill with your smartphone. With the right app, you can remotely adjust temperature settings and monitor your food from anywhere!
Dimensions: 56″ x 32″ x 50″
Weight: 190 pounds
Grilling Area: 702 square inches of cooking space
Hopper Capacity: 40 pounds
Warranty: 4 Years
7. Best Pellet Grill for Tailgating: Green Mountain Grills Trek
Our Rating: 8.2 out of 10
Pros
Extremely Portable Pellet Smoker — Take It Camping, RVing, or to the Beach
Smartphone Control So You Can Entertain and Cook Simultaneously
Comes With A Cover So Your Investment Won't Wash Away With Rust
Cons
It is not great for smoking large meals for a big family, but if you're looking for something portable, that's likely not a deal breaker for you
If you're like me, you want a pellet grill whether you're at home, tailgating, or camping.
When it comes to portability, no other pellet smoker holds a candle to the Green Mountain Grills Trek, formerly called the Davy Crockett.
The Green Mountain Grills Trek is one of the most portable pellet grills on the market. What's equally impressive is the technology that goes with its portability.
For its size and weight, it packs some serious wireless connectivity, allowing you the control of smoking from your phone.
The Trek's application also gives you some smoking and grilling ideas. This makes this wood pellet grill worth checking out if you're new to the barbeque game.
Dimensions:16″ x 32″ x 24″
Weight: 65 pounds
Grilling Area: 219 square inches of cooking space
Hopper Capacity: 9 pounds
Warranty: 3 Years
Read Our Full Review: Green Mountain Trek Review
8. Best Budget Pellet Grill: Pit Boss 440D2
Our Rating: 7.5 out of 10
Pros
Has the ability to sear, but the sear area is small
Great value for the size
Porcelain coated grates help prevent your food from sticking
Cons
If you're cooking for a big family, you may want to go with a bigger model
At 465 square inches of cooking space, the Pit Boss pellet smoker is as compact compared to some of the other grills on this list.
However, don't let the compact size fool you.
Despite its smaller size, this pellet smoker from Pit Boss comes with features you'll find in larger pellet grills.
This Pit Boss boasts a digital control board. Complimenting the control board is a large LED read-out screen that tells you how hot it is inside the smoker.
A set of cooking grills can also be found at the bottom of the pellet smoker. The Pit Boss 440D2 also guarantees durability with its high-quality non-chip powder coat steel exterior.
Compactness, durability, and monitoring are qualities that this Pit Boss pellet grill has in spades.
They are known for having high-quality grills at affordable prices, making this our top budget pick.
Dimensions:50.2″ x 24.02″ x 39.8″
Weight: 96 pounds
Grilling Area: 518 square inches of cooking space
Hopper Capacity: 5 pounds
Warranty: 5 Years
9. Best Vertical Pellet Smoker: Pit Boss PBV3P1
Our Rating: 7.3 out of 10
Pros
Massive 40lb Hopper
Vertical Design Fits Anywhere
Dual-walled Construction
Cons
It doesn't seem to hold a temperature as accurately as higher-end pellet smokers
Several fluctuations up and down (+/- 10 degrees) during a 6 hour smoke
We begin rounding off this list of picks with a vertical wood pellet grill from Pit Boss.
The Pit Boss PBV3P1 Vertical Wood Pellet Smoker has four cooking decks stacked on top of each other. Even with high volume smoking and grilling, you won't need to worry about space.
The Pit Boss PBV3P1 Vertical Wood Pellet Smoker's auto-start 300-watt lighter quickly fires up the pellet smoker's heating rod. Once the fire is going, the Pit Boss PBV3P1 Vertical Wood Pellet Smoker's auto-shit feature turns off the heating rod. Hence, burning will not be an issue.
The temperature range of the Pit Boss PBV3P1 Vertical Wood Pellet Smoker is from 150 to 400 degrees. The heat deflector ensures that all decks receive the same amount of heat for even and consistent cooking.
The Pit Boss PBV3P1 Vertical Wood Pellet Smoker is available on Amazon, but the stock runs low often.
This made the top of our list of the best vertical pellet smokers as well!
Dimensions: 26″ x 22″ x 53″
Weight: 97 pounds
Grilling Area: 901 square inches of cooking space
Hopper Capacity: 40 pounds
Warranty: 5 Years
10. Best Portable Pellet Grill: Traeger Tailgater
Our Rating: 7.0 out of 10
Pros
6-in-1 function
Precision temperature control
EZ fold legs
Traeger customer service has been helpful the many times we've called them
Cons
I had a tough time getting the Tailgater up to temp and an even tougher time keeping it at the exact temp I set
Many people like to grill on the go, whether they're cooking in a park or a campground. However, most grills are either too bulky to move around or too delicate for bumpy trips.
That's why many grilling aficionados want portability in their grills.
While it didn't score well for an everyday pellet smoker, the Traeger Grills Tailgater is an underrated gem when it comes to portability.
It may just be the best portable pellet grill available today! Its most distinct feature is its easy-fold legs, which make transport a breeze.
The size is also not too shabby for a portable pellet grill, with a total grill capacity of 300 square inches. That's more than enough space for two whole chickens or a dozen burgers.
With the precision temperature control, you'll have an easy time cooking whatever dish you want on the go. No undercooking and no burning!
Best of all, you'll get the same classic smoky flavors and wood-fire taste that's characteristic of pellet grills.
If you've decided on a portable pellet grill but want more options, check out our full guide here.
Dimensions: 37″ x 18″ x 36″
Weight: 62 pounds
Grilling Area: 300 square inches of cooking space
Hopper Capacity: 8 pounds
Warranty: 3 Years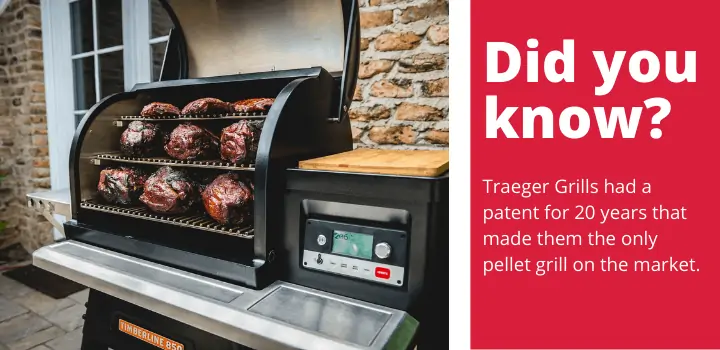 What Is a Pellet Grill?
Pellet grills heat up with hardwood pellets and work more like an outdoor oven than a gas or charcoal grill.
Pellet grills use ignited wood pellets and an electrical system of fans to heat food to a temperature you preselect. Anything you make in your indoor oven can be made on a pellet grill.
Is It a Pellet Grill or a Pellet Smoker? 🤔
When it comes to these cookers, some people call them pellet grills and some call them pellet smokers. Guess what? There's no difference. Same thing, two different names.
That said, no matter what you call your magical meat machine, it's much more of a smoker than a grill. Without getting too technical, pellet grills can be more accurately described as indirect-heat convection smokers.
If you want to read more of the nerdy stuff to decide if it's more of a grill than a smoker, you can our full guide: Is a Pellet Grill the Same as a Smoker?
How Does a Pellet Grill Work?
Pellet smokers or grills have a lot of similarities with charcoal grills, gas grills, and electric smokers. However, one thing sets a wood pellet grill apart from other types of smokers — how it creates heat.
Unlike charcoal smokers and propane smokers, pellet smokers use wood pellets as fuel. These pellets are fed into feeding inlets located on the sides of pellet grills. These pellets make their way into augers that feed the pellets in a pellet smoker's burn pot.
The burn pot of a pellet smoker has underneath it a heating rod. It's similar in many ways to the heating plates you find on most kitchen stoves. The heating rod on its own will not create a fire.
However, with wood pellets, enough flame can arise to create the smoke you require. A fan located within the heating part of the pellet smoker stokes the heat.
For the most part, pellet smokers or grills have the same type of temperature control mechanism. The temperature controller is an internal computer for the pellet grill. It ensures that everything from the fan to the number of pellets fed is in sync to deliver the temperature you desire.
It does this for the entire duration of smoking or grilling.
In short, pellet smokers:
Use pellets as a fuel source for heat
Burn pellets using a heating rod
Have internal temperature control computers that regulate the smoker's temperature
Learn More >> How Does a Pellet Grill Work? (An In-Depth Explanation)
Why Buy a Pellet Smoker?
Pellet smokers are man's answer to finicky, single-purpose cookers. They're innovative, easy to use, and they kill tons of birds with one stone. (Might I suggest tossing those birds on the grill with a nice citrus rub?)
Also called pellet grills, these appliances include innovative technology that allow them to maintain temperatures automatically — so you can grill, smoke, braise, BBQ, and even bake. Proceed with caution, unless you're ready to be the one who does all the cooking in your household.
Hardwood pellets create authentic smoky, woody flavor without needing your constant attention. That means you can sit back and watch the game with a cold beer, or just sneak away from your kids for 10 minutes of blessed silence. 🙏
Great flavor without having to babysit my grill OR my children? I'm about to get down on one knee. (Please be patient while I try to get up.)
Wondering which pellet smoker might be right for you? Keep reading for a comprehensive list of the highest-quality pellet smokers.
Some have features like high-end wireless control. Others come with the comfort and security of a well-known brand name.
All of them will help you deliver delectable dishes that'll have your family saying, "Well done!" In fact, I'm so confident about that, I'd steak my reputation on it.
We've vetted these bad boys through hands-on testing and reviews to bring you the best bang for your hard-earned buck. There's no wrong way to go here — and you don't even have to stop and ask for directions. Phew.
Get ready to meat your new favorite toy!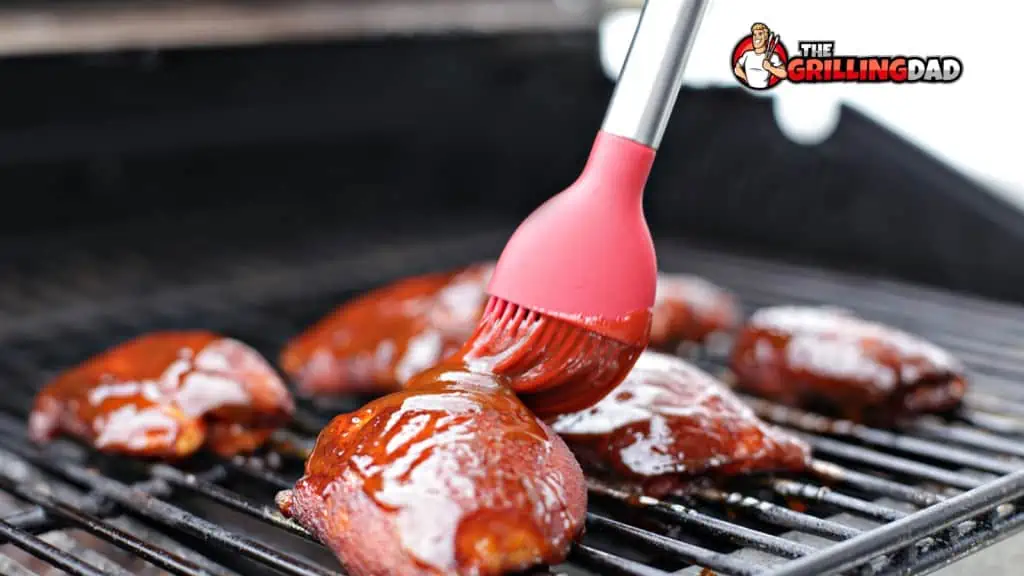 Why a Pellet Smoker May Be a Good Choice for You
Let me start by saying that the best pellet smoker is the one you're comfortable with. With the many advantages of a pellet smoker, I wouldn't be surprised if you get one after reading this guide.
Go online and you'll see many people touting the selling points of pellet smokers. For the sake of conciseness and simplicity, I'm going to share what I think the pros of pellet smokers are:
The reduced need for you to babysit whatever your smoking
Quick and easy ignition
Easy use
Control from a distance via wireless connectivity
Access to recipes
Consistent cooking
Reduced chances of flare-ups
Versatility
Let's go over each benefit in greater detail:
To some, the toil and effort that goes into grilling is part of the experience's appeal. In my opinion, I believe it's better to prepare and eat as soon as possible.
Charcoal and gas smokers
and grills require a lot of prep and smoking time. For this reason, you'll need a lot of elbow grease with these types of smokers.
With a pellet smoker, babysitting your
BBQ ribs
and pork chops will be a thing of the past. A lot of brands of pellet smokers today have easy
temperature-setting systems you only need to manipulate once
.
Once you've picked the desired temperature of your pellet smoker, you can just sit back, crack a cold one, and wait.
With a gas and charcoal smoker, you'll need to prepare your charcoal and lighter fluid to start the flame. At times, once you get an initial flame going, there's no telling how long you have to keep it going.Pellet smokers come with button-activated ignition systems. For this reason, all you need to do is flick the switch and pick your desired temperature. It doesn't get any simpler than that.
Pellet smokers allow you to do less babysitting due to their self-calibration of temperature. Based on the temperature you selected, a pellet smoker automatically regulates the number of pellets being dumped onto the auger. The pellets then burn to create the temperature you desire.All this gets done after you push a button and pick a temperature setting!
I used to think it was the stuff of science fiction. However, I was made a believer when I upgraded my Traeger.

Although some grills don't offer it as a feature, wireless connectivity is a feature you can look forward to with a pellet smoker. The wireless connectivity is made possible via WiFi and an app that you can download on your phone.

This way, you'll be able to control your smoking and grilling from a distance. How's that for high-tech convenience?
When was the last time you had to make a meal with a recipe that needed to be written down? I'll bet that it was a frustrating experience if you lost the list.

Sometimes, we're left "guesstimating" a recipe. Let's face it — in these scenarios, the quality of our meat turns out okay less than half the time.

Pellet grills with wireless connectivity will make these situations a thing of the past. Along with the app meant for controlling are recipes you can select. What's more, after selecting these recipes, you can program them on your smoker. Automatically, your smoker receives the recipe and smokes to your desired setting.

This feature, for me, is why people buy pellet grills. If you aren't exactly a Michelin chef yet, it can be your reason for choosing a wood pellet grill too.
With a
pellet grill, after you start it
, the flame remains at the desire you have set. Couple this with a pellet smoker's chamber design, and you get evenly distributed heat. These conditions allow your brisket or lamb to be
cooked evenly every time
.
Perhaps, the only time the temperature changes is when you change it. Otherwise, you can bank on your pellet grill's ability to evenly smoke your meat.
Flare-ups occur when the grease or marinating sauce from your meat drips into the smoker's heat diffusion pan. When this happens, a sudden albeit short burst of flame emerges, potentially torching some of your meat.

Flare-ups do not happen with pellet smokers for two reasons. First, pellet smokers allow moisture of any kind to vaporize back into the meat inside the chamber. This means the diffusion pan stays dry throughout the smoking process.

Also, any moisture that comes off your meat and isn't vaporized just makes its way to the grease pan located somewhere outside the smoker.
Nothing displays a pellet smoker's versatility better than its temperature ranges. Most pellet grills on the market today are capable of a wide range of temperature settings.
In fact, some, like the Traeger Ironwood 885, can easily hit the 400 to 700-degree range on nearly the same number of pellets. So, pellet grills are no longer just smokers.
Their temperature ranges allow them to be an alternative to grills too.
Some
pellet grill models can sear
steaks and burgers, but most pellet grills aren't going to hit those high searing temps like a
charcoal
or gas grill can.
Related >> How to Clean a Pellet Grill
What Are the Downsides of a Pellet Grill?
If any product is very good at 1 thing, it's probably lacking in another area. Pellet smokers are no different–they have downsides as well.
They're oftentimes advertised as 8-in-1 grills with the ability to do the following:
Grill
Smoke
Sear
Braise
Bake
Roast
BBQ
Char-grill
While some may be able to pull off most of these fairly well, they are best for low and slow smoking.
They are extremely versatile, but that doesn't mean they're going to be excellent at all of these styles of cooking. Most pellet smokers are not good at searing or even grilling some foods without adding attachments.
This is mainly due to the lack of high-heat functionalities, which makes sense since their main selling point is "set it and forget it".
If you want to be able to make good food, add wood-fired smoke flavor, something that is easy to learn, and easy to use, then a pellet smoker will be a great purchase.
If you want something that is great at searing foods and grilling at high temperatures, I'd recommend going with a different option or going for the Yoder Smokers YS640 or the Weber Smokefire EX6.
We've got a full guide on the pros and cons of pellet grills if you'd like to learn more.
Related >> How long do pellets last?
How Does It Compare To Other Grills and Smokers?
If you're not entirely sure if a pellet grill is the right choice, we've done some comparisons to help narrow down which type of cooker is best for you.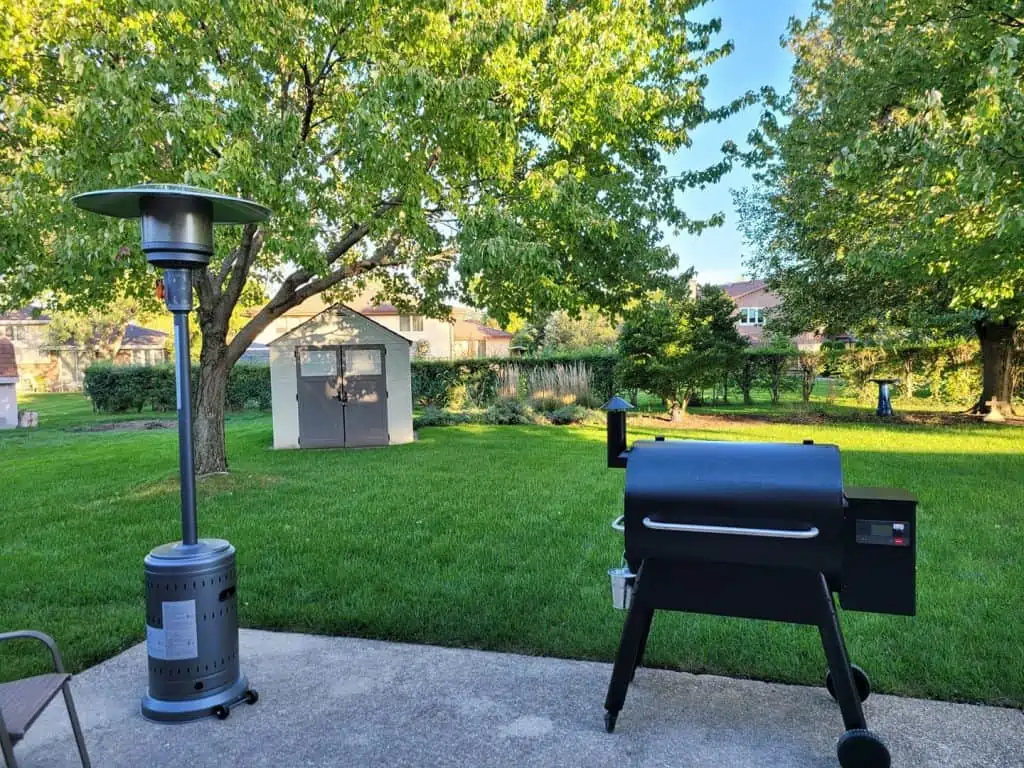 What To Look for When Buying a Pellet Smoker
Not all pellet smokers are created equal. With the options available on the market, you'll need a guide on how to narrow your choices. While it all comes down to personal preference and budget, you may want to check what features you want in a smoker.
Here are some things to look for when you're in the market for a new pellet smoker:
This will largely depend on how much grilling or smoking you'll do. In reality, pellet smokers cost money — a lot, in many cases. So, if you're grilling or smoking no more than a few pork chops or ribs, then a large smoker may not be worth it.

On the other hand, if you frequently barbeque or smoke large cuts, you might need a smoker with a larger cooking area. You might also need one that has a secondary cooking area.

You can think of the secondary cooking area as another rack above the main cooking area. The main cooking area is the part directly on the smoker. You don't need to worry about uneven heat since a pellet smoker evenly distributes heat throughout its chamber.
You may ask: "Where and what is the hopper?"

The hopper is a part of your smoker's pellet cooker. It is the part that holds the pellets. The size of the hopper matters because it determines how long you can smoke.

Larger hoppers naturally mean larger pellet capacity. This is a sign that your pellet smoker or pellet grill is built for longer cooking sessions.

Your pellet hopper's capacity will be an even more significant consideration if you live someplace cold. Colder climates mean longer cooking times. Smoking meat somewhere cold or during the colder months will require a smoker with a large hopper.
A good pellet smoker is an investment in and of itself. One that gives you years of seamless smoking and grilling is even better.

Of course, you want a pellet smoker that will not give up on you within just a year. A good rule of thumb would be to choose a pellet smoker that consists mainly of stainless steel.

Powder-coated steel or alternatives to stainless steel aren't bad choices. However, powder coating doesn't do well in high-moisture and can lead to rust after a while.

Inspect a pellet smoker for the presence of other materials aside from stainless steel. The existence of other materials like aluminum shouldn't always be a deal-breaker. However, you shouldn't see it on most pellet smokers that claim to be made of stainless steel. If you do, move on to the next model, and spare yourself from a bad buying decision.
According to the FDA
, the internal temperature of meat needs to be 145° F to 160° F. To ensure that your meat has been smoked to perfection and is safe for consumption, you need a thermometer.
The problem with
meat thermometers
is that you cannot always leave them in the meat as you smoke them. To solve this common pain point, some companies have included meat probes in their pellet smokers.
Meat probes allow you to keep an eye on the internal temperature of your meat as you smoke it. Though not an absolute necessity, it's surely something worth having.
Ultimately, people buy wood pellet grills for the convenience they offer users. No other feature provides convenience better than wireless connectivity.

Most pellet smoker brands have wireless capabilities built into the pellet smokers they sell. You will want one that seamlessly integrates with your mobile devices — whether you use a tablet or a phone.

Also, some companies offer in-app recipes. If you're new to grilling or smoking, a pellet smoker with wireless connectivity and app integration may be worth the extra dollar.
If you want to use your pellet smoker as a grill (like burgers and steaks), you definitely want to consider the maximum temperature. Most brands, unfortunately, advertise that they can sear, but the sad reality is most of them can't.
If searing is important to you or you want a cooker that will replace your current grill and give you the option to smoke, I'd recommend the Yoder Smokers YS640 or the Weber Smokefire EX6.
Looking for Something More Specific?
Pellet Smoker Alternative
If you want a heavier smoker but want the convenience of a set-it-and-forget-it pellet grill, you could consider the Masterbuilt Gravity-fed Grill.
They have a vertical chamber you fill with charcoal where gravity pulls the unburned charcoal down, feeding the fire continuously. An intake vent controls the air supply, which in turn regulates the temperature. This design allows for a steady, consistent heat throughout the cooking process.
They can smoke low and slow or you can crank the temp up and sear as high as 700°F. They make them in 3 different sizes — 650, 800, and 1050.
Pellet Grill FAQs
Are Pellet Grills Worth It?
Pellet grills are worth it if you enjoy the versatility of smoking, grilling, baking, roasting, and more all on the same cooker, but don't mind the hefty initial cost.
If you love wood-fire taste, you'll love having a pellet grill around. I use mine almost daily.
Who Makes the Highest Quality Pellet Grill?
Traeger Grills is the most popular brand, because they had a patent for 20 years that made them the only pellet grills on the market, which gave them an advantage.
During our tests, however, we were impressed with the quality of the 2nd Generation of the Weber Smokefire and the Yoder Smoker YS640 if you really want to buy one of the best pellet grills.
What Size Pellet Smoker Do You Need?
Consider what you want to cook and how many people you'll be serving. I suggest choosing a grill based on the main grate size, which should accommodate most of your cooking needs.
For a family of 4, a 500-600 square inch bottom grate should be sufficient for about most of your cooking, even when hosting a crowd. For reference, 650 square inches can hold 8 full chickens or 6 pork butts. That's enough room for most families, even a big family of 9 like mine.
What Pellet Brand Is Best?
We've found that using any brand of pellets works. If you find a good deal and it's a different brand, I'd grab them and take advantage of the discount. There are a lot of myths about using a different brand pellets voiding your warranty.
What Pellet Grill is Best for Beginners?
Generally, any pellet grill you pick will be perfect for a beginner because they are so easy to use! We do recommend picking something with a probe and digital temperature read out to help you learn though, such as the PitBoss we mentioned or any pellet grill by ZGrills!
For more information on the best smokers for beginners check out our 5 best best pellet smokers for beginners.
How Long Will a 40 lb Bag of Wood Pellets Burn?
We've found that a 40 lb bag of wood pellets burns for about 24 hours, which is great when you're smoking brisket.
Can Grill Burgers With Pellets?
You can cook burgers on a pellet grill and get a unique smokey flavor to them. Many of the pellet grills on our list can go up to temperatures of 450-500 degrees, which is great for grilling hamburgers.
You can also try smoked burgers on your pellet smoker.
The burgers in the picture below were smoked and then seared on a PitBoss pellet grill.
Are Pellet Grills Good for Steaks?
The best pellet grills are good for steaks if you like adding a wood-fired taste to your steak. Although most can't sear a steak, getting the tender smoked steak is easily done on your new pellet grill.
Yoder Smokers and Pit Boss have a feature where you can sear directly over a flame, which is great for steaks as well.
How Can You Get More Smoke From Your Pellet Grill?
Pellet grills are known for having less smoke flavor than offset smokers, but some models offer features like super smoke mode to adjust the intensity. Generally, the pellet grills with consistent temperatures produce less smoke flavor than those with fluctuating temps.
However, in our tests, we found little difference in smoke flavor between grills, while noticing more variation in appearance like bark and color.
If you're not getting enough smoke for your liking, try using a smoke tube in your pellet grill.
Is It Safe To Run a Pellet Smoker Overnight?
It is safe to run a pellet smoker overnight as long as your smoker is not in the rain, close to nearby structures that can catch fire, and has plenty of pellets.
Can You Use a Pellet Grill as a Normal Grill?
While some pellet grills can get hot enough to grill and sear, most are best used as smokers. If you want the ability to sear, I'd recommend the Weber Smokefire or the Yoder option since they can both get up to 600 degrees.
We wrote up a whole post on whether a pellet grill can replace your gas or charcoal grill. Check it out.
Do You Need Electricity To Grill With Pellets?
A pellet grill needs electricity to run. The pellet grill's control panel, thermometer, auger, and fans all run on electricity, so it has to be connected to power.
I have used a Jackery, which is a portable generator and it powers it up just fine!
What Is the Best Pellet Grill?
While no grill can be the best for everyone, we like the Yoder Smokers YS640S as the best pellet grill.
The reason it is #1 for us is that it checks all the boxes in terms of quality, durability, temperature control, ease of use, and they have an amazing online community that can help with recipes and troubleshooting.
What Is the Most Affordable Pellet Grill?
The most affordable pellet grill, without considering portable models, is going to be Pit Boss or Z Grills. Both of these brands pride themselves on offering affordable options. 
How Much Do Pellet Smokers Cost?
Based on 96 different pellet smoker models, prices range from $227 to $8,099 with an average price of $1,024.
Why Trust Us?
Our goal is to provide you with the most reliable information to make the most informed decision you can about your next smoker purchase.
TheGrillingDad has team members dedicated to researching products, analyzing customer insights, fact-checking content, and identifying each product's standout features. That makes all of our reviews unbiased.
We only recommend products that truly enhance your backyard BBQing experience.
How We Tested and Ranked the Best Pellet Grills
Our team at The Grilling Dad created a comprehensive system for testing, evaluating, and ranking pellet grills.
We fully researched each product on our list, testing them firsthand whenever possible, and developed a scoring system based on a number of key factors:
Features — Do the pellet grills have WiFi controls? Are they equipped with fine-tuned temperature and/or smoking controls? Do they have built-in storage, a side griddle, or other perks, like accessories?
Cooking capacity — Pellet grills with larger grilling areas were awarded more points.
Cost — We rated each grill based on its retail price, with those within a range of $500-$1,000 receiving the highest-possible point value for this category.
Temperature range — We gave each grill a score based on its temperature range. Products that had a range of 550 degrees or more received the highest amount of points in this category.
Warranty — Pellet grills with warranties of 5 or more years were awarded the most points in this category.
Performance — Last on this list, but most important to us, we hand-test these smokers and will continue updating the page as we test more. We based performance on how well they smoked and how well they grilled food–the smokability and grillability, if you will.
Recap: Our Top Picks
Here are our ratings based on our unbiased reviews:
Final Thoughts on Buying a Wood Pellet Grill
A pellet grill is an excellent choice if you're into hassle-free smoking. With some brands, you can play the role of a Michelin-star chef even as a novice smoker or griller.
If you're looking for the highest quality pellet grills, go with Yoder or Weber.
If you want something inexpensive, try Pit Boss or Z Grills.
A pellet smoker can be one of the best additions to your yard or patio, but make sure to follow these safety tips:
Don't forget your smoker accessories when getting your new cooker!
Make a decision on which model you're going with? Let me know in the comments or on social media.