There's nothing worse than grilling a bunch of meat for my family and friends, only to find out that I severely over or undercooked it. Sometimes it's salvageable, but when it's not, it can be an expensive mistake (not to mention, our main course is ruined).
To avoid this from happening again, I rounded up the best instant read meat thermometers to extensively test them and see which ones were actually accurate and worth using.
My Ratings of the Best Instant Read Thermometers
Here are my ratings of the best digital instant read thermometers (including one to avoid):
My Digital Instant Read Thermometer Reviews
After hours of testing and comparing the top probe thermometers available, one specifically provided all the features I needed in one well-designed package.
TLDR? The ThermoWorks Thermapen ONE just blew me away, as it consistently performed the best in all of my tests. From quick read times to precise temperature readings, the Thermapen ONE is the best probe thermometer for cooking meat.
That being said, I tested some other strong contenders, and based on what you plan to use the thermometer for and how often, you might prefer one of those. These are all unbiased as I independently tested and reviewed these without compensation from any of the companies.
Best Digital Instant Read Thermometer: ThermoWorks Thermapen ONE
The Thermapen ONE from ThermoWorks offers precision and convenience like no other cooking thermometer I tested. This sleek and innovative device is the perfect companion for any grilling occasion.
Some notable highlights include:
Sturdy construction and comfortable grip for an enjoyable cooking experience
Precise temp readings with decimal-based internal temperatures
Displays the internal temperature reading in just one second
High accuracy with measurements precise to within 0.5 degrees
Quick Review
I was very pleased with the performance of the Thermapen ONE during my testing. It surpassed all other digital instant read thermometers in precision and accuracy, while being just as fast as the ChefsTemp Finaltouch X10 (whose review is a couple spots down).
The fact that it could register a reading in one second while also being accurate was really impressive. No other thermometer I reviewed could deliver on both those features combined.
It's water resistant, which is also nice, especially as I tested it using the boiling water method. The Thermapen ONE's upgraded display, extended warranty, and faster read times make it the ultimate choice for passionate cooks who value precise temperature measurements.
Every year, new models come into the market, but only a few get the tag of being among the best instant read thermometers. ThermoWorks seems to get a new model on every "best of" list on the web, and for good reason.
Pros and Cons
Pros:
Ability to read decimal temperatures for precise temperature control
Wide temperature range
Bright LED light for easy reading in low-light conditions
Impressive waterproof capability (IP67 rating)
Quick one second read time for convenient use
Cons:
Higher price compared to most probe thermometers on the market
Unique Features
The ThermoWorks Thermapen ONE is a game changer for grilling and cooking enthusiasts. Its solid construction feels great in your hand, and the large rotating screen makes temperature readings a breeze.
Want more info? Read our full ThermoWorks Thermapen ONE Review
Best Compact Meat Thermometer: ThermoWorks ThermoPop 2
The ThermoWorks ThermoPop 2 is like a handy gadget that fits right in your pocket. This meat thermometer is small, user-friendly, and precise at lower temperatures.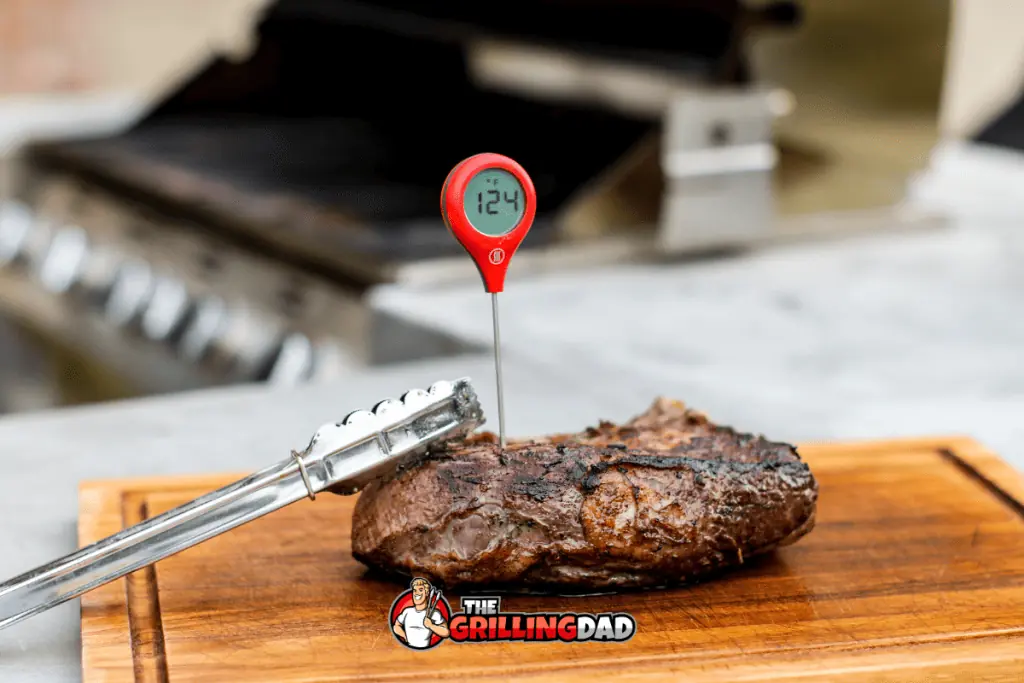 Here's what I like about it:
Compact, slim, and ergonomic design, making it easy to hold and use
Has an auto rotating display so you can easily read it
Bright backlit screen allows me to grill in harsh lighting conditions
Quick Review
During my testing, the ThermoWorks ThermoPop 2 showcased reliable performance and impressive accuracy at temperatures around 130-140 degrees.
The thermometer's compact and ergonomic design allowed for effortless handling, while the auto rotating display and backlit screen made temperature reading relatively easy. I was able to orient the display to account for glares that often happened at certain angles.
The ThermoPop 2 is the second cheapest model I tested, but it outperformed the Weber Instant Read Thermometer (the cheapest) in almost every way. It was much easier to work with and just felt better in my hand than the Weber.
When it comes to lower cost options, the ThermoPop 2 provides adequate accuracy and decent ergonomics, making it a solid choice for the griller on a budget.
However, if you need a thermometer that can provide precise temps at high temperatures, then the ThermoPop 2 might not give you what you need.
Instead, the ThermoPro TP19H is the better choice. You get a lot more precision at a relatively modest price increase, even when reading higher temperatures. While the ThermoPop 2 underreported temperatures by around five degrees, the ThermoPro TP19H was accurate within two degrees.
Pros and Cons
Pros:
Compact size for easy storage and portability
Fast readings in 2-3 seconds
Accurate readings at temperatures up to 130-140 degrees
Auto rotating display for convenient viewing in any orientation
Impressive temperature range
Cons:
Lack of continuous lighting without holding the button is a little inconvenient
The long pocket clip could potentially fracture off the probe while you're holding items during grilling or sitting
Unique Features
The ThermoPop 2 has some unique features that make it a useful tool for cooking. Its expanded screen offers 40% more visibility compared to its previous model, allowing you to effortlessly read temperatures.
Additionally, with its IP67 waterproof rating, the ThermoPop 2 can withstand submersion in water, making it perfect for sous vide cooking or checking temperatures in wet conditions.
Want more info? Read our full ThermoWorks ThermoPop 2 Review
Most Ergonomic Digital Instant Read Thermometer: ChefsTemp Finaltouch X10
The ChefsTemp Finaltouch X10, a probe thermometer, has one of the best display screens I tested. It's large and easy to read at almost any position on the grill. 
This thermometer provides accurate internal temps up to 130-140 degrees, but accuracy suffers above that range. I found it underreported during the boiling water test by as much as five degrees.
Here are some of the features that stand out to me:
Large, easy-to-read backlit display works great in all lighting conditions
Ability to lock the reading once the thermometer has been pulled out of the meat
Automatically goes to sleep after three minutes of inactivity and wakes up when you touch it
Battery lasts for 3000 hours
Quick Review
The ChefsTemp Finaltouch X10 performs exceptionally well in providing an accurate and instant temperature range, especially at lower temperatures with ±1 degree Fahrenheit precision. The ChefTemp provides your temp in right around one second. I was impressed!
When you compare that to the ThermoPro TP19H's 3-4 seconds for a reading, you can see just how fast the Finaltouch X10 really is.
However, I was underwhelmed with this thermometer's performance when grilling at high temperatures. I found that it was off sometimes as much as five degrees, which is a lot when cooking meat like pork.
When grilling meat to temperatures over 140 degrees, you would be better off going with the ThermoPro TP19H. It provided accurate readings with the boiling water test that were no more than two degrees off. Plus, it costs less than the ChefsTemp Final Touch X10.
With all that in mind, the ChefsTemp Finaltouch X10 is a solid thermometer for the griller who is looking for an easy-to-read display and accuracy at lower temperature ranges.
Most Ergonomic Option
Pros and Cons
Pros:
Instant temperature readings with solid accuracy up to 130-140 degrees
Rotating probe allows for easy measurements from any angle
Safety and reliability certification by the National Sanitation Foundation (NSF)
Red Dot Design Award recognition for precision and speed
Cons:
Need a screwdriver to access the battery compartment, which is a little inconvenient
Switching between Fahrenheit and Celsius requires removing the back cover
Unique Features
The Finaltouch X10 is a game-changer when it comes to probe thermometer displays. I had no issues seeing temperature readings with the large LED backlight display. It also has a clever motion-activated wake-up mode that helps save battery life.
Want more info? Read our full ChefsTemp Finaltouch X10 Review
Best Value Meat Thermometer: ThermoPro TP19H
The ThermoPro TP19H, is an exceptional cooking thermometer that offers precise internal temperature readings and a range of features with just a few drawbacks.
Here are a few highlights:
Easily maintain accuracy by adjusting and calibrating the sensor readout for consistent internal temperature measurements
The lock function allows you to easily lock the internal temperature reading for uninterrupted monitoring
Near professional-grade accuracy at a fraction of the cost of high end thermometers
Quick Review
The TP19H delivers impressive performance with its fast and accurate temperature readings. In my tests, it provided consistent measurements within 3-4 seconds, allowing me to monitor and control the doneness of the meats effectively.
Whether I was cooking at higher or lower temperatures, the ThermoPro was surprisingly accurate. The only thermometer I found to be more precise during my testing was the ThermoWorks Thermapen.
I enjoyed the hold function, which made it easy to lock in the temperature reading while I turned my attention to other tasks in the kitchen.
While the build quality felt a little cheaper compared to other devices like the Thermapen ONE, but it's still a durable thermometer. It has a 100% waterproof design with an IP rating of 65, making it resilient against accidental water exposure and durable for long-term use.
Best Value
Pros and Cons
Pros:
Fast and accurate temperature readings enable precise grilling results
Lock function keeps temperature readings secure
Cheaper option compared to other thermometers I reviewed
Impressive temperature range
Waterproof design
Cons:
Build quality does not quite match that of the Thermapen ONE or the ThermoWorks Thermapen
Difficult to read the display when I had the thermometer in a vertical position since the reading only auto rotates horizontally
Unique Features
The TP19H offers several unique features that set it apart from the competition. Its fast response time, calibration mode for long-term accuracy, and lock function contribute to its usability and convenience.
The TP19H also stands out with its cost-effective price point, providing impressive temperature-measuring capabilities without breaking the bank. If you're looking for an accurate thermometer and can handle a display that's hard to read at times, this is an excellent option and the best probe thermometer for the money.
Want more info? Read our full ThermoPro TP19H Review
Last Resort: Weber Instant Read Thermometer
The Weber Instant Read Thermometer, a probe thermometer, is marketed as a reliable grilling tool, though its performance falls short in several areas. Because of the low price, I was not expecting a professional quality product. Even with my low expectation, I was surprised at how poorly it performed in my tests.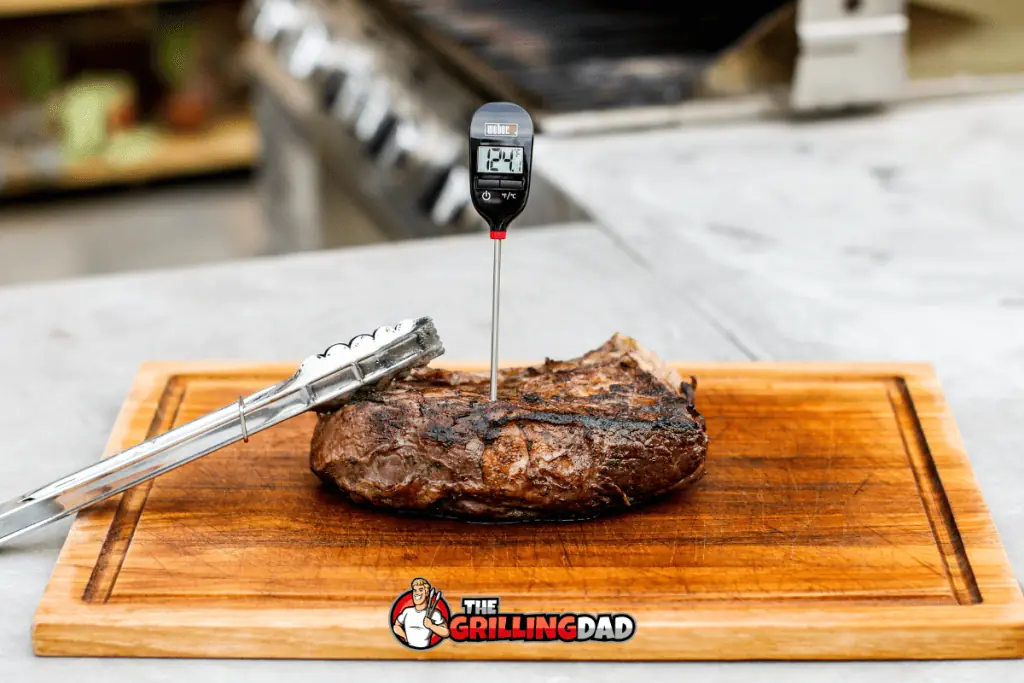 Let's take a look at some of its better features:
Effortlessly switch between Fahrenheit and Celsius with the click of a button
Compact size fits perfectly in my kitchen drawer or is convenient to take along on trips where I know I'll be grilling
The "Hold" function allows you to lock in the temperature easily, ensuring you don't lose important readings while cooking
Precalibrated, so you can begin using it right away
Quick Review
The Weber Instant Read thermometer falls short in terms of performance, quality, and durability.
In my tests, it reported inconsistent results and inaccuracies in temperature readings, particularly in boiling water.
Compared to the other budget-level model, the Thermopop 2, Weber's temperature readings were all over the place. While they both performed poorly with the boiling water test, the Weber underreported by as much as ten degrees. This is a significant problem that is particularly troubling when grilling chicken and pork, where undercooking your meat can come with serious consequences.
The thermometer also feels cheap and clunky, and the small LED screen makes it difficult to read the temperature display.
Along with this, the lack of a backlight made it very challenging to read the display when I was outside in the bright sun. It'd also be tough to see the temperature if I grilled when it got dark.
When you compare the Weber to one of the mid-priced models I tested, the ChefsTemp Finaltouch X10, the steep drop-off in design and useability of the Weber is quite noticeable.
While it won't win any awards for comfort in handling, when compared to the Weber, the Finaltouch is so much easier to use.
The Weber just does not offer the same level of design and comfort that any of the other thermometers I tested did. And for a modest boost in cost, the Finaltouch X10 will give you one of the better displays I tested.
Last Resort Option
Pros and Cons
Pros:
Easy to place in meat and walk away, as it can stand up on its own
Easy to clean
Budget-friendly option for beginners or those on a tight budget
Cons:
No warranty from what I can tell
No backlight and the small LCD makes it hard to read the temperature
The least accurate thermometer in my tests, being off by 10 degrees at times
Unique Features
The Weber Instant Read thermometer offers some appealing features like an easy temperature conversion button, a compact design for convenient storage, and a hold function to lock temperature readings.
Although these features may catch your attention, it's important to consider the thermometer's limitations. Regrettably, the accuracy of this device leaves much to be desired, potentially affecting the quality of your cooking.
Want more info? Read our full Weber Instant Read Thermometer Review
How I Tested These Digital Instant Read Thermometers
My product selection process for instant read thermometers considers performance, user feedback, and expert recommendations.. By considering these criteria, I aim to cover a diverse range of brands, price points, and features that cater to different preferences and budgets.
Let's take a closer look at the top meat thermometer options available:
ThermoWorks Thermapen ONE provides outstanding ergonomics and reliability across the board
ThermoWorks ThermoPop 2, an effective probe thermometer, stands out as a great budget option
ChefsTemp Finaltouch X10 gives superb accuracy at lower internal temperatures and a 270 degree probe rotation
Weber Instant Read offers a compact design and easy temperature conversion
ThermoPro TP19H stands out for its fast and accurate internal temperature readings
I've tested each digital meat thermometer, examining its features, specifications, benefits, and downsides. In the plethora of options available, only a few qualify to be on the list of the best instant read thermometers.
My review process includes rigorous testing of each probe thermometer to evaluate each product's performance, quality, and durability to discover the unique features that set each product apart.
Note: It's crucial to note the variability among instant read thermometers. Not all are created equal.
Digital Instant Read Meat Thermometer Feature Comparison
For those serious about their cooking, choosing from the best instant read thermometers is a game-changer. Here is a comparison and analysis of the instant read thermometers based on the criteria below:
Accurate Temperature Readings
I tested and evaluated how each of these instant read thermometers performed in actual cooking scenarios, considering its functionality, accurate readings, and overall performance:
ThermoWorks Thermapen ONE: Displays temperature readings in one second, provided the most accurate readings, and maintains accuracy at both low and high temps
ThermoPop 2: Accuracy was good at lower temperatures, underreported temperatures above 140 degrees by about five degrees. Slower and less precise than most other models, but performed the best of the cheaper models
ChefsTemp Finaltouch X10: Displays internal temperature readings in about one second. Underreported internal temps by up to five degrees when measuring above 140 degrees
Weber Instant Read: Underreported temps above 140 degrees by as much as ten degrees
ThermoPro TP19H: Displays internal temperature readings in 3-4 seconds. Second most accurate and underreports at high internal temperatures by only 1-2 degrees
Pro Tip: It's not just about speed, but accuracy and reliability also play a significant role in determining the best instant read thermometers.
Design and Ergonomics
While I think factors like accuracy and speed are more important than how a thermometer feels, if you end up using the thermometer a lot, you might take the overall design into account.
There's a growing trend among chefs and home cooks to use instant read thermometers. They can't all be wrong, right?
Thermapen ONE: Solid, ergonomic design and durably made
ThermoPop 2: Satisfactory design, less comfortable to hold than the Thermapen ONE
ChefsTemp Finaltouch X10: Bulky "masculine" design, but feels well constructed
Weber Instant Read: Falls behind in design and ergonomics compared to the others and feels poorly made
ThermoPro TP19H: Lacks ergonomic design and feels cheaper than other models
Pro Tip: While many offer quick readings, the best instant read thermometers balance speed with impeccable accuracy.
Price and Value for Money
My value assessment is based on the features and benefits that each product offers. While all instant read thermometers promise quick readings, only a select few deliver on this promise with accuracy.
Thermapen ONE: High price, though it offers excellent value for serious cooks who prioritize accuracy and consistency
ThermoPop 2: Affordable option that gets the job done and offers solid value for less money
ChefsTemp Finaltouch X10: Attractive price point, falls between ThermoPop 2 and Weber Instant Read in terms of performance
Weber Instant Read: Generally less expensive, though lower accuracy and design limitations may reduce its value for money
ThermoPro TP19H: Great value for money with decent accuracy at a fraction of the price of the Thermapen ONE
Ease of Use
I evaluated how user-friendly and intuitive each digital meat thermometer was as I used it, and here's what I think of each:
Thermapen ONE: User friendly, ready to use out of the box, and easy to handle
ThermoPop 2: ThermoPop 2, a digital meat thermometer, is user-friendly and intuitive, offering a straightforward experience with performance reflected in the cost
ChefsTemp Finaltouch X10: Comparable to ThermoPro TP19H in user friendliness, ready to use with intuitive operation
Weber Instant Read: Relatively user friendly, though it falls short compared to others in ease of use
ThermoPro TP19H: Decent level of user friendliness, though not as seamless as Thermapen ONE and may have slightly less intuitive design and usability
Pro Tip: Many instant read thermometers come with a plethora of features, but speed and reliability should be treated as the most important features to consider.
Which Is the Best Instant Read Meat Thermometer?
The ThermoWorks Thermapen ONE is the best digital meat thermometer. This product stands out for its exceptional performance, superior build quality, and ergonomic design. While it may come with a higher price tag, its precision and convenience make it a worthwhile investment.
When it comes to budget probe thermometers that are compact, ThermoPop 2 is my pick. It offers a solid set of features and the performance is good enough for those who don't grill often. If you're looking to spend as little as possible while still getting a decent digital meat thermometer, the ThermoPop 2 is a good choice.
If you want the top instant-read thermometer for the money, you can't go wrong with the ThermoPro TP19H. As a probe thermometer, its accuracy was second only to Thermapen ONE, and it's relatively easy to handle. While I found the display hard to read, I was surprised by how well it performed.