Get ready to venture into the world of meat thermometers as I share my review of the ThermoWorks ThermoPop 2 and walk through its features. This upgraded version has several improvements over its predecessor, the ThermoPop. Let's see if it lives up to its hype and how it compares to other instant-read meat thermometers!
ThermoWorks ThermoPop 2 Review
As someone who knows their way around thermometers, I was pretty excited to test out the ThermoWorks ThermoPop 2 and put it through the wringer while I was grilling. I'm sharing the lowdown on this thermometer, covering all the features and benefits it brings to the table. 
I'll also highlight some updates to this version compared to its predecessor. Since I've also tested out several other meat thermometers, I'll also share how this one compares to others on the market.
My Experience with the ThermoPop 2
From my experience, the ThermoPop 2 from ThermoWorks is proving to be a very reliable and affordable meat thermometer. Now, I'll be honest, the first unit I received was broken (it couldn't turn off); however, ThermoWorks swiftly replaced it with a new one. I've had no issues with my new one.
I was pleased by the new rubber strip on the thermometer that offers a secure grip and minimizes the chances of it slipping from my hand, especially when working with hot surfaces or greasy ingredients.
I tested the 4.5″ model, though it's worth noting that ThermoWorks also offers a longer 8″ version. This shorter model is great for everyday kitchen use, and for the most part, it will be more than enough for checking temperatures for grilling, BBQ, frying, and other meat-related cooking. Plus, the compact size makes it ideal for storing.
Related: Best Grill Brushes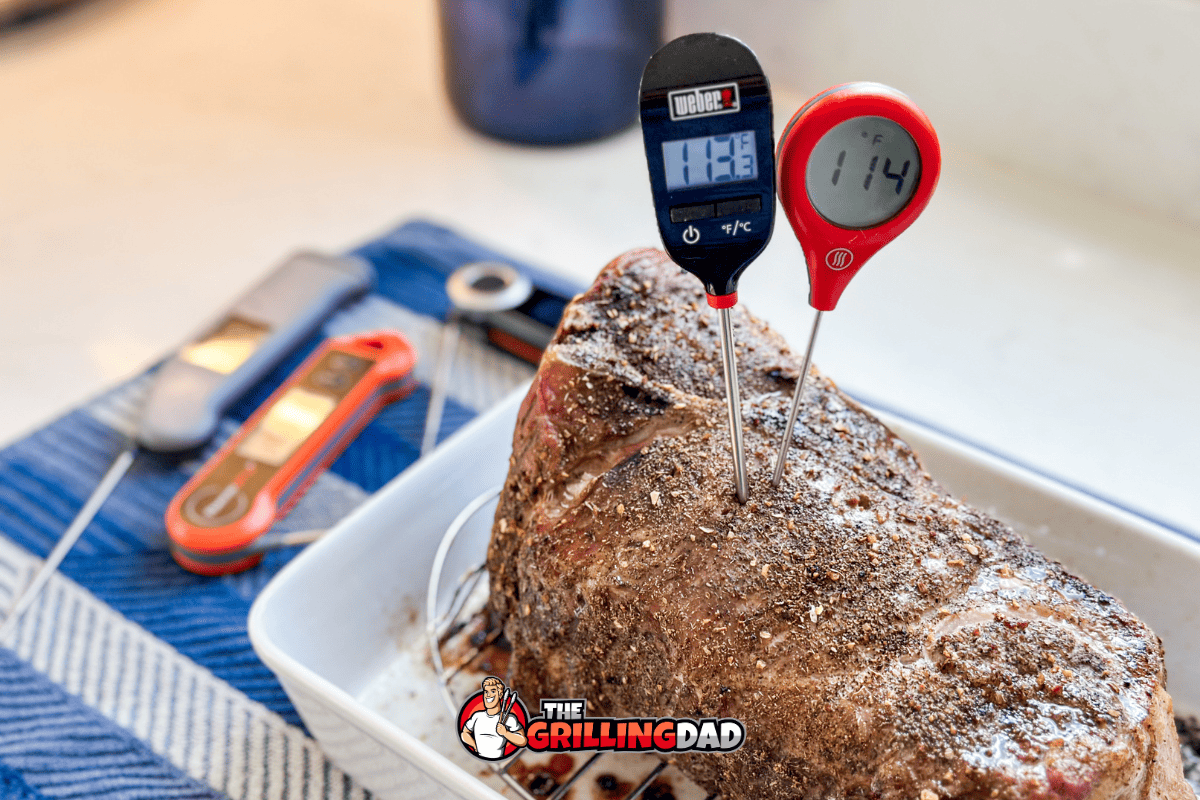 Benefits and Drawbacks
Some things that I loved about the ThermoPop 2 included:
Compact size for easy storage and portability
Fast readings in 2-3 seconds
Accurate temperature readings for precise cooking results
Auto-rotating display for convenient viewing in any orientation
Backlight feature for low-light conditions
While I really like this tool, there are a couple drawbacks to it:
Lack of continuous lighting without holding the button may be inconvenient for some users
The long pocket clip may pose a concern of accidentally fracturing off the probe while sitting or holding items during grilling
Related: Best Grilling and Smoking Accessories
Features and Benefits
At first glance, I wasn't sure the ThermoPop 2 would be as accurate as it was, given how small and simple the tool looks. After using it, though, I saw that ThermoWorks managed to cram an impressive array of features into this compact tool. Not only that, but it's pretty accurate.
Effortless Handling
The ThermoPop 2 is compact and ergonomic, making handling it quite easy. The thermometer slips into your meat easily and securely, allowing you to walk away and mingle with your guests or whip up some tasty side dishes instead of just hovering over the meat.
Auto-Rotating Display
The auto-rotating temperature display is extremely helpful. To be honest, I didn't think this would be that big of a deal; however, after also using thermometers without this feature, having the display automatically rotate is a big perk.
Whether I insert the thermometer into a cut of meat horizontally or vertically, the temperature reading quickly rotates to show me the numbers in the correct orientation. No more needing to crane my neck sideways to read the temperature!
Backlit Screen
On the back side of the device, there's a button for you to turn the screen light on. The light stays on for an impressive 10 seconds, giving me ample time to read the temperature even in dimly lit environments. This will come in handy during winter when the sun sets earlier and I'm still grilling outside.
Slim Design
Another feature I appreciated about the ThermoPop 2 was its compact size and hands-free operation. When not in use, I could safely store the probe in a protective sheath that has a convenient hook.
Accurate Readings
The ThermoPop 2 is NIST-traceable calibration certified, meaning its accuracy is within the national standards. This is important because I'd hate to overcook or undercook meat because of an incorrect temperature reading.
The temperature reading should only vary by plus or minus 1 degree Fahrenheit, which aligns with what I've seen in using it.
Related: How To Calibrate a Meat Thermometer
Product Update
ThermoWorks' ThermoPop 2 has set a new benchmark in thermometer performance, far outperforming its earlier model with a range of user-friendly improvements. Here are a few of the notable updates included in the ThermoPop 2.
Expanded Screen
The ThermoPop 2 screen is 40% larger than its predecessor. The larger screen gives you greater visibility, making temperature readings easier to read even from a distance.
Waterproof Capability
The new ThermoPop 2 has an IP67 waterproof rating to handle submersion in water. The previous ThermoPop was only splash-proof. This is nice, especially as I sous vide meat and want to check its temperature while it's cooking in the water.
Certification
The ThermoPop 2 is now NSF-certified, meaning that this tool is safe to use on food and has passed sanitation standards. Personally, this is something that I'd want on all of my cooking tools, so I'm glad to see the updated version includes this certification.
Related: Best BBQ Tool Sets
What Sets The ThermoPop 2 Apart
As I spent a significant amount of time testing different thermometer models, the ThermoWorks ThermoPop 2 offers several qualities that set it apart from other thermometers in the market.
To ensure accurate temperature comparisons, I used the sous vide technique to control the temperature precisely. I also ran side-by-side tests with various thermometers in the water bath to assess the thermometer's capabilities.
ThermoPop 2 vs Weber Instant Read
Compared to other small alternatives, such as the Weber Instant Read, the ThermoPop 2 easily outperforms it with its superior accuracy. Sure, the Weber might be a little cheaper; however, it suffers from problems such as being unable to turn off at times and lacking automatic shutdown.
I think that Weber's accuracy needs to be improved, particularly when comparing it to the ThermoPop 2. Among smaller thermometer options, the ThermoPop 2 clearly stands out as the top performer.
Read our Weber instant-read meat thermometer review.
ThermoPop 2 vs ThermoPro
Overall, the ThermoPro is the most affordable option. It delivers impressive accuracy, especially at higher temperatures. This makes it a superb deal for the price. However, unlike the ThermoPop 2, the ThermoPro lacks a rotating display, which I find pretty inconvenient.
Check out our full ThermoPro TP19H review.
ThermoPop 2 vs Chef's Temp
The Chef's Temp has a robust design, and I like how it feels when holding it. However, it needs to improve in terms of accuracy, especially as you approach higher temperatures. As someone who often cooks meat at high temperatures, inaccurate readings are a big downside.
Check out our full review of the ChefsTemp Finaltouch X10.
ThermoPop 2 vs ThermoWorks Thermapen
Though the most expensive, the ThermoWorks Thermapen ONE has outstanding ergonomics and reliability. It handles well and is comfortable to hold, and its preciseness throughout different temperature ranges sets it apart from the ThermoPop 2.
Check out our full review of the Thermoworks Thermapen ONE.
Who Should Get a Thermopop 2?
The ThermoPop 2 is best suited for those who like a smaller, inexpensive meat thermometer that doesn't compromise much on accuracy. It is also perfect for cooks who appreciate a simplified design that can quickly display the temperature.
Nevertheless, other models, like the ThermoWorks Thermapen, might be more up your alley if you want more cutting-edge features or top-level accuracy.
Final Thoughts
The ThermoWorks ThermoPop 2 is reliable and budget-friendly and outshines other low-priced meat thermometers out there. Overall, I'm impressed with the quality and output you get from this tool, and I'd definitely grab it out of the drawer when I need a quick meat temperature reading.