Dive into my guide on the best smoker and grill accessories that can elevate your barbecue skills to new heights. Whether you're a beginner griller or a seasoned pitmaster, the right "grill gear" can make all the difference.
From practical utensils to high-tech gadgets, these accessories promise to perfect your grilling and smoking sessions.
My Picks for the Best Smoker and Grilling Accessories
In a hurry? Check out my top smoker and grilling accessories! Keep reading to discover more about my top picks.
The Essential Grill and Smoker Accessories
My picks are based on my experiences with the product and the reviews from others who have used the products.
Grill Gloves
A barbecue should be an enjoyable and safe experience.
Producing top-quality BBQ is almost as important as avoiding a trip to the emergency room.
You'll need protection for your hands — especially when your smoker or grill has reached 450 degrees! Along with your apron (if you use one), your first line of defense from burns is a pair of grilling gloves.
You will need a pair that has equal protection for all parts of your hands. It should also protect the dorsal side (the back of your hand, if you will). Also, for the sake of maintenance and convenience, one that is a breeze to wash should be worth looking into.
One pair of grilling gloves fits the above descriptions to a tee — those made by GEEKHOM.
GEEKHOM Grilling Gloves have a dual-layer design that keeps your hands and fingers well-insulated. The sleeves narrow at the end, ensuring that the gloves stay on your hand.
A common complaint of many grillers is how they feel the heat when fluid touches gloves. GEEKHOM Grilling Gloves are fluid-resistant and fluid-repellant, ensuring that your hands are protected. The fabric of the gloves also makes them machine-washable.
Under $20 on Amazon, you cannot go wrong with these grilling gloves! They come in black and sky blue, with the latter costing just a cent more.
Imagine grilling food and giving your family food poisoning from not grilling your meat to the right temp.
The good news is, this is completely avoidable! With an instant-read thermometer, you can grab the temp of your food within seconds.
There are so many grill thermometers on the market. A lot of them are decent. For us, though, nothing beats the Thermopro TP19H Digital Meat Thermometer.
This state-of-the-art grill thermometer by Thermopro is one of the best instant-read grill and meat thermometers on the market today.
The digital backlit LED display comes equipped with gyroscopic leveling. This allows temperature readings to be clear and readable — from virtually any angle.
Complimenting the ambidextrous reading feature is the motion sensor that comes with the Digital Meat Thermometer's probe. All you need to do to switch on the thermometer is take out the probe as you would the blade of a Swiss knife.
Triple-A batteries power the Thermopro TP19H Digital Meat Thermometer. Efficient in battery use, the thermometer can give you up to 3000 hours' worth of accurate readings.
The Thermopro TP19H Digital Meat Thermometer also has an IP65 waterproof rating. At this rating, this thermometer can be left in running water. This means you don't need to worry about destroying it whenever you wash it.
A built-in magnet allows you to store the thermometer on your refrigerator as an added fridge magnet. For better findability, you can also just stick it anywhere on your grill or smoker.
You might be thinking that all this technology packed in one thermometer will cost a lot. You'll be happy to know, then, that the Thermopro Instant Read Thermometer costs under $20 on Amazon!
Check the temp of your meat is critical to make sure your food can be consumed safely.
Why not make that more convenient?
It takes way more than eyeballing "doneness." You need to know the internal temperature of your meat. For this, you will need a reliable meat thermometer.
A meat thermometer worth its salt gives you an accurate reading of your meat's internal temperature. Also, Bluetooth adds that extra selling point of convenience.
We have had great experiences with the ThermoPro Long Range Bluetooth Meat Thermometer. The probes are connected to a Bluetooth device that syncs to your smartphone via an app.
The ThermoPro Long Range Bluetooth Meat Thermometer does more than check your meat's temperature.
In the app dashboard is also an option to check the estimated time of full cooking. So, not only will you know your meat's internal temperature, but you also know the time your meat reaches full well-doneness.
Also, ThermoPro was not kidding with "long-range". The ThermoPro Long Range Bluetooth Meat Thermometer's Bluetooth reach goes as far as 500 feet.
In other words, you can be a hundred feet or so from your grill and still be able to monitor the meat's temperature.
The ThermoPro Long Range Bluetooth Meat Thermometer costs under $40 at the time of writing. If you ask us, it is a worthwhile investment for your meat and your health and safety.
Flipping a burger or a pair of pork chops is no job for a flimsy spatula. Cheap ones may provide you with the illusion of savings.
However, spatulas that are cheap often do not last — especially if grilling and smoking are your favorite pastimes.
Hardly has anyone ever considered a heavy-duty spatula an investment that was not worth the money. It is a handy tool for when you are flipping meat in high frequency and volume.
You want one that not only has an ergonomic handle but one that does not bend even with heavy steaks.
We have gone through so many spatulas that it is pretty challenging to single one out. But, to get you started, we would like to recommend this spatula set by Anmarko.
Anmarko's Spatula Set comes with three spatulas. The largest one is four inches in width and eight inches long. It is perfect for flipping burgers, chops, steaks, and other large cuts of meat.
The other smaller spatulas are ideal for flipping mini pizzas and pancakes if you make them at barbecues.
Made of stainless steel, these spatulas have 1/25-inch blades that are sturdy. The wooden handles are designed ergonomically, ensuring a comfortable grip as you flip and serve your meats.
For under $30, you get three spatulas that are professionally crafted and ready for any type of meat you need to flip and serve!
Using your grill multiple times in a year requires you to perform some maintenance work. The simplest type of maintenance work you'll have to do is cleaning.
A grill brush comes in handy for this very reason.
Cleaning your cooking grates does more than allowing you to see your reflection before you throw the meat on. Besides infection control, cooking your grill or smoker can determine how your meat will taste.
So, what do you look for in a grill brush? After all, how different can grill brushes be, right?
Sure, a set of tightly-knit bristles arranged in parallel fashion cover the basics. However, you'll need bristles on more than one side of a grill brush. You'll also need a brush that allows you to remove residue from those hard-to-reach places.
For less than $20, you can get such a grill brush. The Kona Safe/Clean Grill Brush allows you to give your smoker and grill a thorough cleaning of all their parts.
The design allows you to reach every part of your grill or smoker past the cooking grates.
Ergonomic in design, the Kona Safe/Clean Grill Brush has an ideal-length handle meaning your wrists will thank you.
The most interesting thing about the Kona Safe/Clean Grill Brush is the number of bristles — none!
Because there are no bristles, you do not need to worry about some staying on the grates. Needless to say, no bristles end up on your meat either.
If you own a smoker or grill that doesn't use charcoal, feel free to skip this item.
On the other hand, read on if you own a good ol' charcoal grill or smoker.
Gone are the days when some matches and lighter fluid do the trick.
Sure, you can start your coals this way, but do you really want to risk a grill fire and lighter fluid-flavored pork chops? If you're anything like us, the answer is a hard no.
For safety and unadulterated taste, a fire-starter that is long enough for you to stay away from the flames is a must.
Also, since lighter fluid is no longer a must, your meat can taste the way you want it to.
Our pick for the best starter is from GasSaf. The GasSaf Electric Coal Starter and Lighter features the latest in fire-starting technology, equipped to fire up your coals in a matter of minutes.
The GasSaf Electric Coal Starter and Lighter uses electricity and hot airstream. Its vents allow you to both start coals and stoke them. This starter and lighter can be used for any charcoal smoker and grill.
The GasSaf Electric Coal Starter and Lighter currently costs under $40.
Have you ever wanted to live out your Shadowhawk fantasies?
With a pair of bear claws, you can do so at the grill!
A pair of bear claws allow you to:
Shred meat manually
Serve it
What's more is that bear claws allow you to do both using one piece of equipment.
Whether you are serving pulled pork or ribs, wielding a pair of bear claws will either impress your friends or make them envious of your job at the barbecue.
Mountain Grillers Bear Claws give you protection from the meat's heat. These bear claws are easy to clean and have a solid handle that fits perfectly along the contours of your palm.
Get a pair of Mountain Grillers Bear Claws for less than $15.00 on Amazon!
Admit it. Whenever you grill or smoke meat, you want more than just meat. You want meat with a lot of flavor, preferably from the sauce you just whipped up.
Even out the flavor of your meats with a basting mop!
You want a basting mob with tightly-stitched bristles that don't come off. Also, get one that has a long enough handle to protect your hands. Here is a basting mop that fits these descriptions to the letter — the Miso Basting Mop.
The Miso Basting Mop comes with an extra pair of mop heads. You can always breathe a sigh of relief knowing you have more than one head with which to flavor meat.
You cannot go wrong with the Miso Basting Mop, especially with its price under $10.
A pair of tongs should be in your grill and smoker arsenal. In fact, tongs aren't even accessories, in our opinion.
For what you will use them for, they are essentials.
Tongs help you handle your meat with more control than with a spatula. Also, most will be long enough to keep your hands from getting burned.
There are a vast array of sturdy barbecue tongs on the market. One of the tongs we recommend is part of the Weber 8302 Barbecue Set.
The tongs that are part of the set are made of stainless steel. For storage, the tongs and the accompanying spatula come with metallic loops.
The Weber 8302 Barbecue Set costs under $30 on Amazon. Get the set and take your BBQ to the next level!
The Nice to Have Smoker and Grill Accessories
We cap off this list of smoker accessories with one that should be in any BBQ lover's cupboard.
Smokers are often large enough to accommodate several racks of ribs at once.
However, when you need more than a handful on the cooking grates at the same time, ribs can be unevenly smoked.
A set of rib racks allow your meat to smoke evenly. Racks will also make life easier for you when you need to take out your meats and put another batch in.
We've had an excellent experience with the rib racks of Mountain Grillers. With the 12x8x3-inch dimensions, these rib racks fit in nearly any smoker or oven we have placed them in.
Mountain Grillers Rib Racks are currently priced under $25 on Amazon.
Best Bristle-Free Brush: Fire Rescue Grill Brush
In our home, we are a bit paranoid about ingesting bristles from grill brushes. You might laugh, but this is something that sends hundreds of people to the ER each year.
This is why we recommend the Fire Rescue Grill Brush. Not only is this brush insanely easy to use, but it is also easy to clean. You simply detach the head and run it through the dishwasher–it doesn't get any easier than that!
There is a bit of a learning curve to this brush, as you have to dip it in water while using it, but overall we are huge fans and it keeps our grill in tip-top shape.
Best Grill Basket: Shizzo Grill Basket
Grilled veggies are delicious during the summer–but they can be a pain to grill because they keep falling through the grates!
With the Shizzo Grill Basket, this is no longer a concern. Simply cut your veggies, put them in the basket, close, and place on the grill! We especially love this particular basket because it has a handle for easy shaking or removal.
Just be careful because the handle will get hot BUT we also love this particular basket because the handle is removable–meaning you can slide it on and off when needed. It really is the answer to all of our problems.
Not to mention it's dishwasher safe. It's also on the bigger end of many of the other baskets, so you really can cook anything in it.
Best Grill Mats: Renook Grill Mat Set
Grill mats are a newer accessory in the grilling world, but they are super convenient, especially if you live in a household that loves grilled veggies and fish.
These mats are an excellent alternative to foil, and they provide a nice mat to keep your food from falling through the grates. They are also reusable, so better for the environment.
These particular mats are made from PFOA-Free materials so you won't need to worry about chemicals getting into your food. Plus, they are non-stick, making it easier to flip whatever you are cooking.
We additionally love that they are dishwasher safe, meaning we don't have to spend hours cleaning them (or the grill). While these aren't the thickest, we find that the tinner mats are better for our pellet grill, since we still want that smoky flavor to come through.
The only thing we don't love about these? To be honest, we miss our grill-marked food, but for the ease it provides when cooking veggies and salmon, we'll survive.
Best Grill Upgrade: Onlyfire Rotisserie Grill Kit
One of the coolest things about grills is that they are so versatile. When you are ready to upgrade your grill a bit, we think the best thing you can do is buy this rotisserie chicken kit from onlyfire.
It might seem a bit ostentatious, but trust us on this one, there is nothing like having rotisserie chicken available at home whenever you want it!
This is a universal kit, meaning it will fit MOST but not ALL grills. The reviews specifically mention that it doesn't work with Weber grills, but it's a good idea to measure your grill before buying.
It's made of durable stainless steel, and will only take a few minutes to attach to your grill. Just make sure your grill is near a plug, as the attachment must be plugged in to keep the chicken spinning.
We love using ours for much more than rotisserie chicken, and regularly put prime ribs on it for the holiday!
While this kit is cool and works for a while, we do admit it isn't as long-lasting as the grill-specific rotisserie kits. But it's a great bargain and you can use it for a season or two.
Easy to install, and even easier to clean, you'll love this rotisserie kit.
Best Basting Brush With Cup: Wequality Basting Pot and Brush Set
We know we already recommended one basting mop on this list, but for those of us that are a bit messier, this set does a better job of keeping the basting in one place.
It's made out of stainless steel, can hold 32 oz, and has a handle for easy moving and holding while basting. The silicone brush is attached to the lid, which keeps everything in one place and helps protect your hand while you baste. The set also comes with an extra brush.
One reason we love this set is because, for longer grilling sessions, it can get annoying to keep carrying a bowl of basting back and forth to the kitchen. This cup makes it easy, and for those baste recipes that have an oil baste, we can leave it right next to the grill so we don't have to carry it back and forth.
This is an inexpensive grill accessory, which is another reason we love it. It makes a great gift so consider buying two, one for yourself, and another for a family member that could use one!
Plus, when you're done, you can stick it in the dishwasher, which is one of our favorite ways to clean up after grilling!
Best Melting Dome: Cuisinart Melting Dome
This next grilling tool isn't something we knew we needed until we had one. This is a melting dome, and for a family which regularly eats cheeseburgers, it makes a huge difference when it comes to melting the cheese!
The product is made of stainless steel and is easy to use. The lid handle does get hot though, so we recommend buying this product in conjunction with grilling gloves.
These melting lids aren't massive, so if you have a large family, I would recommend the two-pack so you can melt the cheese on multiple burgers at the same time.
The only catch is that these nifty lids are hand wash only, so we can't toss them in our dishwasher with everything else on this list. They are still easy to clean, however, so we'll survive.
Best Cast Iron Topper: Camp Chef Reversible Cast Iron Griddle
You don't always have the budget for every grill and griddle you want, so we suggest getting this cast iron topper for your gas grill, effectively making your gas grill both a grill and a griddle!
This topper is easy to use, you simply put it over your grill grates on either the flat or ridged side depending on what you are cooking. Just make sure you measure your grill before you order to make sure it will fit!
This product is made of cast iron and it is made to last. While you probably can inflict damage if you aren't careful, we fully expect this topper to last us for years to come.
It also comes pre-seasoned which can save you time if you are in a hurry to get to griddling!
It's a bit on the pricey side, but cast iron doesn't come cheap, and at the end of the day, this topper is cheaper than buying a Blackstone griddle.
Like most cast iron products, this topper is heavy, and a bit difficult to clean. We also don't recommend storing it in your grill as cast iron can rust easily, so you'll want to have a place to store it inside before you order it!
Why Are Smoker and Grilling Accessories Important To Have?
It can be tempting to think that all will be well once you've taken your grill or smoker home.
However, gone are those days when all it took was to throw your meat on a flame and watch it cook.
Sure, we have not done away with this approach entirely. Be that as it may, having some smoker tools or smoker accessories at hand can make grilling safe and much more fun.
Here are some of the reasons you need to invest in some high-quality smoker accessories:
Safety
Grill or smoker maintenance
Checking the meat's temperature
Easier grill or smoker starting
Safety
The National Fire Protection Association estimates emergency room visits after barbecues to be around 19,000 a year.
Of the 19,000 visits, about a third of these are burn cases.
The numbers can be enough to scare the grilling novice. However, having a barbecue does not need to be a dangerous affair.
With the right accessories, you can make sure that you avoid burns during your barbecue.
For example, a pair of mittens or grilling gloves can protect your hands from third-degree burns. Also, having a brush that cleans your grill thoroughly can prevent oil burns in future barbecues.
In short, having smoker tools is not just for show and convenience. Your health and safety depend on your smoker accessories too.
Grill or Smoker Maintenance
A grill or smoker is not cheap. It requires a significant investment on your part — one that you don't want to see go up in smoke. Despite being made of metal, your grill or smoker still needs some TLC.
Grill or smoker maintenance is key to ensuring that you get the most out of it.
By adding accessories like a grill brush or even a Grillbot, you can add years to your smoker or grill.
Other than longevity, a clean grill is also a safe grill. Additionally, nobody will argue about how a dirty grill negatively affects the taste of food.
Checking the Meat's Temperature
You may think that it is possible to eyeball whether meat is fully cooked or not — perhaps you should reconsider your position.
It's not enough to "guess-timate" your meat's temperature based on how "well-done" it looks, nor is it a good idea to assume your meat is ready for consumption after you've reheated it.
Consuming uncooked or undercooked meat can lead to illnesses like salmonella.
To prevent this from happening, you need a way to ensure the temperature of your meats. For this purpose, you will need smoker accessories like a meat thermometer.
A meat thermometer can help you check the temperature of what you're grilling. By doing so, you get to enjoy your meat safely.
Easier Grill or Smoker Starting
Starting a fire may seem straightforward, but when you note the structure of your grill and other considerations like time and safety, you need certain accessories.
If you value ease and safety, you need to invest in accessories that can:
Start a grill or smoker's fire
Maintain the heat or flame of your coals
Accessories that fit the above descriptions are a grill lighter and a charcoal starter. For what they do, they can be one of the wisest investments you can make in preparation for your barbecue.
Read More >> Best Pellet Grills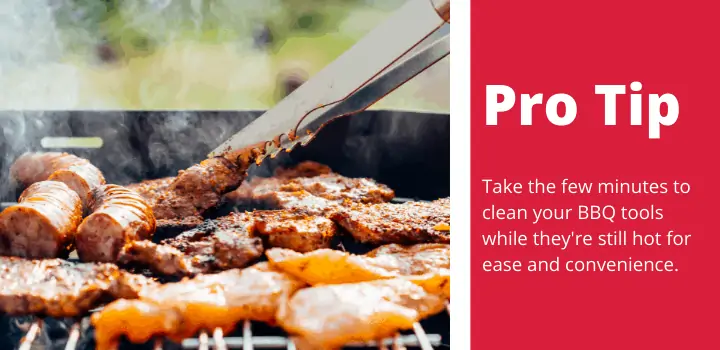 What To Consider When Shopping Around For Grilling and Smoker Tools
Now that you know why you need accessories for your barbecue, you need to prioritize what to buy. After all, the last thing you want is to spend a chunk of cash on tools that will only collect dust later on.
When shopping around or even before you check catalogs, here are some things to consider:
What you have
Your budget
The type of grill or smoker you have
How often you have barbecues
What You Have
A wise investment in accessories begins with taking stock of what tools you already have.
In addition, you want to take note of whether some of the smoker accessories you have need to be replaced.
Knowing the tools already at your disposal can inform your purchasing decisions in a significant way. By buying only what you need, you save money and space.
Your Budget
In an ideal world, getting any accessory you want or need is a must, but let's face it — we're all in a mad scramble to save money.
For this reason, ask yourself first how much you are willing to spend on grilling or smoker accessories.
Your budget needs to be among your top list of considerations. There is no need to splurge on an accessory that:
Has a more economical alternative
You already have
The Type of Grill or Smoker You Have
Most accessories can be used for any type of grill or smoker. Some are specific to certain types of smokers or grills.
Depending on what is in your backyard or on your patio, a certain item may not be worth an investment.
For instance, if you have an electric grill, you do not need a charcoal starter or grill lighter.
Also, having a grill or smoker with a hotplate means that you cannot clean it with a grill brush.
So, check what you have and plan your purchases accordingly.
How Often You Have Barbecues
Is it worth going whole-hog into the most expensive set of lighters and spatulas if you only barbecue once a month? Such an investment may not be worth it.
On the other hand, you need to make quality purchases if your yard is your neighborhood's barbecue capital.
Depending on how frequently you use your grill or smoker, your choice of accessories can be either conservative or otherwise.
Read More >> Best Smokers For Beginners
Read More About BBQing
Smoked Recipes You'll Enjoy
More Buying Guides