Want smoked foods without tending a fire? Electric smokers could be your 'set it and forget it' solution. Unlike pellet grills, which also run on electricity but with a steeper price tag and different operation, electric smokers provide an affordable, simple option that uses wood chips for that authentic smoky flavor.
My top choice? The Masterbuilt Digital Electric Smoker. It scores high with its superb insulation, ingenious wood chip tray system, and wallet-friendly cost. Keep reading to uncover why it steals the show and explore other electric smokers worthy of consideration.
My Ratings of the Best Electric Smokers
Here are my top picks of the best electric smokers! Keep reading to discover more about my top picks.
This 30-inch digital Masterbuilt electric smoker is extremely easy to use for individuals who are just getting started with smoking meat.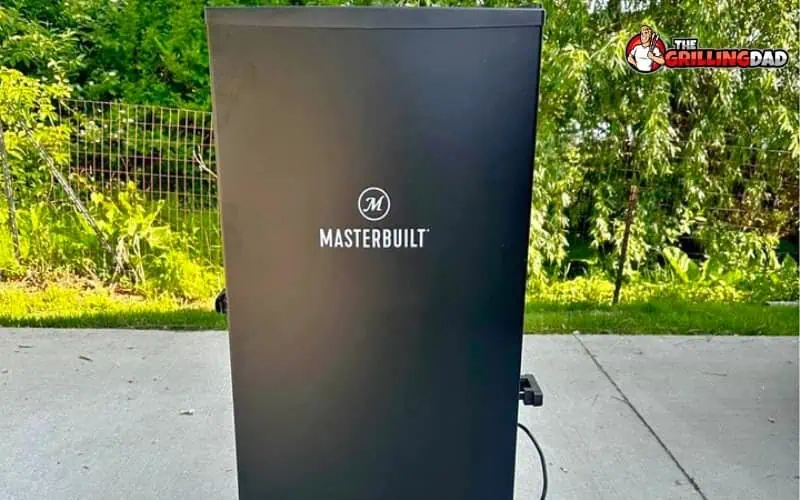 Pros
Great insulation
Generous space for the price
Suitable for cold smoking
Convenient wood chip system
Cons
Narrow width
Wood chip tube is small
Best Overall Electric Smoker
It's also ideal for people who wish to quickly get a fire started without fussing about with an offset smoker or charcoal smoker.
Masterbuilt products can heat up fairly quickly and can maintain their internal temperature through the integrated thermostat, which eliminates the need to interfere. All you need to do is plug it into an electrical outlet and it's good to go. It has a built-in digital control panel that lets me set an internal temperature between 100 – 275°F.
The panel also allows me to control the cooking time and the on and off controls.
It was hard to decide between the 30″ and 40″ models since the 30" model still provides 4 racks and 730 sq. in. of cooking space. This offers the perfect space and is big enough to fit eight small racks of ribs or six chickens.
Finally, this smoker also offers a Bluetooth model, so if having the ability to control your smoker through the phone sounds appealing to you, skip to Pick #5.
Specifications for Masterbuilt 30-Inch Digital Electric Smoker
Cooking surface: 730 sq. in.
Dimensions: 30 x 20 x 20 inches
Weight: 45.9 pounds
Heating element: 800 watt
We we like:
Great insulation: This Masterbuilt electric smoker is much more insulated compared to many other cheap smokers, allowing it to maintain consistent internal temperatures and saves on energy consumption. This is especially true for windy or cold conditions.
Generous space: Masterbuilt's 30-inch model comes with a huge 730 sq. in. of cooking space, which is almost as big as the largest 22″ Weber Smokey Mountain model.
Suitable for cold smoking: Just by adding a cold-smoking add-on kit, I was able to turn this smoker into a cold-smoking machine.
Convenient wood chip system: Its chip tube system provides a convenient way to get more chips without having to open the door.
What could be better:
Narrow width: Unfortunately, the cooking racks aren't big enough to hold bigger slabs of ribs or a bigger brisket. I usually need to cut or roll them first.
Stingy warranty: The Masterbuilt electric digital smoker offers a short, 90-day warranty.
Wood chip tube is small: I needed to refill the chip tray during use. However, a cheap pellet tube will help to sidestep this problem.
Read Our Full Review: Masterbuilt 30-inch Digital Electric Smoker Review
For me, creating a perfect smokey environment inside electric smokers can be difficult. In this sense, the Bradley Digital Electric Smoker is a game-changer.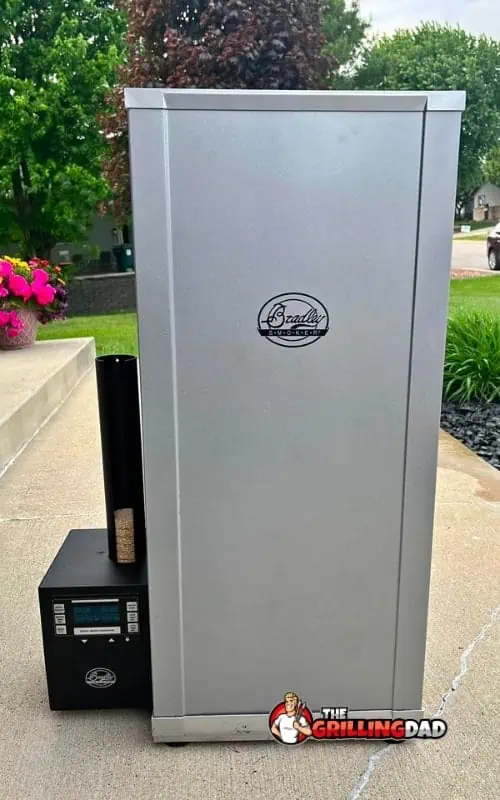 Pros
Produces great quality smoke
Cooks can last for 9 hours
Better durability and performance
Can cold smoke
Cons
Requires their brand bisquettes (compressed wood pucks)
Max temp is 250°F (limited to low and slow only)
This model works differently from other electric smokers. Rather than using a tray of wood chips above its heating area, it uses a separate smokebox which is powered through its heating apparatus. With it, I can get more control over the smoke levels and cooking temperature, allowing for a more consistent smoke flavor and better performance.
Its frame is made from stainless steel, which is present both in the interior and the grates, ensuring that it is built to last. It can produce maximum temperatures of up to 250°F, which may be seen as a con. On the flip side, it can hold the temp really well so you'll get very consistent results.
All I need to do is plug in the smoker to power it, set my preferred cooking temperature, load the briquettes into its smoking box and it will run for up to 9 hours.
Specifications for the Bradley Digital 6-Rack Electric Smoker
Cooking surface: 3,432 square inches
Dimensions: 19 x 22 x 41 inches
Weight: 60.5 pounds
Heating element: 500-watt cooking element + 125-watt smoking element
Warranty: 1 year
What we like:
Great quality smoke: It offers nine different wood flavors for its proprietary briquettes, providing a good range of varieties.
Hours of cooking: With up to 9 hours of wood-feeding, it provides a true set-and-forget way of cooking.
Better Durability and Performance: Its stainless steel interior allows for a stronger and more durable frame while an insulated body improves its efficiency when used in colder weather.
Can be used in cold smoking.
What could be better:
Needs Bradley Bisquettes: Unfortunately, this electric smoker will only take Bradley Bisquettes which are more pricey compared to usual wood chips.
The maximum temperature is low: While it provides temperatures that are high enough to smoke, it won't be able to deliver temperatures past 250°F
Read Our Full Review: Bradley Digital 6-Rack Electric Smoker Review
If you're having second thoughts about the Masterbuilt and Bradley brands, then the Char-Broil Deluxe Digital Electric Smoker is an excellent digital alternative.
Pros
Easy to use and clean
Flexible and versatile
Large digital panel
Entry-level price point (similar price to the Masterbuilt in #1)
Cons
Limited range on the remote control
Struggles to burn larger wood chips
With 725 square inches of cooking space, it has a similar size to Masterbuilt and also offers four cooking racks. This means that it can hold six to eight baby back ribs or two pork butts in one sitting, depending on the size.
The Char-Broil Deluxe Digital Electric Smoker also comes with more smart features. One such addition is a remote control that allows me to see and control the temperature, along with turning off the smoker when needed from anywhere around the house.
Moreover, the digital control panel at the top of the smoker also lets me control the cooking time and internal temperature.
It comes with glass doors, which means I'm able to see how the cook is going without having to open the door and losing heat in the middle of cooking.
This model is also well constructed and very sturdy — with the exterior walls made out of stainless steel, it does a decent job at retaining heat. The glass door is also quite strong, but kids should stay away since the heat radiates out of it.
I was also delighted to know that a meat probe is included, which lets me set my preferred temperature and leave it until the food is ready. Additionally, the unit will cool down once cooking is complete.
If you're looking for a smoker that can run smoothly without too much fussing, then the Char-Broil Deluxe Digital Electric Smoker is an excellent choice.
Specifications for the Char-Broil Deluxe Digital
Cooking surface: 725 sq. In.
Dimensions: 16.5 x 18.1 x 32.5 inches
Weight: 50.2 pounds
Heating element: 800 watt
What we like:
Easy to use and clean: Its digital panel allows for full control of temperature and you can easily add wood or water when in use. Furthermore, every part of this smoker can fit in the dishwater, allowing for easy cleanup.
Flexible and versatile: Each of the four 15″ x 12.5″ adjustable racks lets you easily configure the Char-Broil Deluxe to fit most things you want to cook. From turkeys to ribs, it can accommodate just about anything.
Large digital panel: With just a glance, you can see the temperature and digital controls on this model, making them easily accessible.
What could be better:
The limited range for remote control: While this functionality is nice, it offers a limited distance. Its function will depend on how many walls separate you from the smoker.
Struggles to burn larger wood chips: Most of the smaller chips burnt all the way to ash, but the larger chips just got charred
Read Our Full Review: Char-Broil Deluxe Digital Electric Smoker Review
Since they began in 1968, Smokehouse has become a fan favorite, keeping their range small and specialized rather than trying to do everything.
Pros
Easy to use
Easily add wood
Strong and sturdy
Compact and lightweight
Affordable
Cons
Single temperature setting
Not hot enough for bigger cuts of meat
This product is no exception — while the Smokehouse Big Chief Electric Smoker is primarily designed to smoke fish, it does its job very well.
With just one temperature setting at 165°F, it's a basic, no-frills electric smoker that can deliver perfectly home-smoked salmon.
However, it's also great for sausages, jerky, cheese, and more. It's easy to use, so all I had to do was load food items through the front door, plug it in, and close.
Its consistent temperatures guarantee that no food will get overcooked, so you get well-cooked meals every time.
Furthermore, its premium smoke ventilation system ensures that the smoke circulates for proper dehydration and maximum flavor.
The Smokehouse Big Chief Electric Smoker is also lightweight and compact but offers a generous 576 sq. in. of space for all your cooking needs. This means that it's large enough to fit 50 pounds of food should you have guests coming over.
It's also made from aluminum while its grates are made of chrome-plated wires, so you can be sure of its strength and durability.
If you should choose to, this model can also be used to smoke heavier cuts such as pork butt and brisket.
However, because of lower temperatures, remember to finish these off in the oven to provide a safe eating temperature after smoking them.
Finally, Smokehouse offers a longer, 2-year warranty on this smoker, making sure that everyone who purchases this item will be a happy customer.
Specifications for the Smokehouse Big Chief Electric Smoker
Cooking surface: 576 sq. in.
Dimensions: 24.5 x 18 x 12 inches
Weight: 21 pounds
Heating element: 450 watts
Warranty: 2 years
What we like:
Easy to use: Because it only has one temperature, it's extremely easy to use for cold smoking. It's also an ideal smoker for fish that won't dry it out or overheat food items.
Adding wood is easy: It has a separate door to add wood which means you won't lose heat from the cooking chamber.
Strong and sturdy: The rust-resistant aluminum body is durable and can hold 50 pounds at a time.
Compact and lightweight: Despite being able to hold up to 50 pounds of food, the smoker itself is only 21 pounds.
Affordable: Of all the choices in this list, the Smokehouse Big Chief Electric Smoker is the most affordable option, while also providing great value for money.
What could be better:
No flexibility: Unfortunately, the single temperature setting doesn't provide much in terms of versatility.
May not be hot enough: If you plan to smoke bigger cuts of meat, be sure to use an oven as well to ensure that they reach a safe temperature for eating.
Masterbuilt aimed to create a product that had "smart" features and as a result, they presented the world with this great cooker.
Pros
Huge space for cooking
Wheels make it portable
Cons
Bluetooth range is limited
Masterbuilt app has had some bugs
This electric smoker is aimed at people who are looking for a true set and forget cooker. It can deliver results by connecting to my phone via Bluetooth — the result is a smoker that I can track and control through an app on my phone.
As mentioned above, this smoker is available in both 30 and 40-inch models, but if you're looking to host celebrations every week, then I suggest getting the 40".
This model comes with four racks that you can adjust, giving you plenty of room to feed plenty of guests.
While the heating elements have been upgraded to 1,200 watts, its max temperature is still around 275°F.
There's also an added wood chip tray that makes refueling quick and easy.
Furthermore, there's no need to open the smoker, which means you can retain all the heat and smoke right where it should be.
It's also good to know that the 40" model gives you 975 sq. in. of space for cooking, which is a lot larger than the 721 sq. in. found on the 30" model.
However, if you plan to buy this smoker just for its Bluetooth capabilities, you may be disappointed. Its Bluetooth technology isn't perfect and the actual range is only between 12 to 15 feet and can decrease with the number of walls between you and the smoker.
As a result of its somewhat poor Bluetooth connection, it can get pretty frustrating to use.
On the other hand, as long as you keep your phone close to the smoker it works nicely and will allow you to adjust the temperatures in the comfort of your home.
Furthermore, even if you never want to use the Bluetooth features it offers, the Masterbuilt Bluetooth Smart Digital Electric Smoker 40 Inch is still a great electric smoker.
Overall, it is an excellent choice for people who love to smoke meat and belongs in this list of the best of the best.
Specifications for the Smokehouse Big Chief Electric Smoker
Cooking surface: 975 sq. in.
Dimensions: 19.68 x 25.2 x 41.73 inches
Weight: 66.31 pounds
Heating element: 1,200 watts
What we like:
Huge space for cooking: With 975 sq. in. and four racks of cooking space, the Masterbuilt Bluetooth Smart Digital Electric Smoker 40 Inch can deliver food for huge crowds of people.
Equipped with wheels: It's not just huge, it's also portable and the wheels can help you move it anywhere you need it.
What could be better:
Bluetooth range: Unfortunately, the range is limited on its Bluetooth and can suffer from disconnection issues.
App problems: The app itself isn't perfect either — people have reported their temperatures have randomly increased, so we can only hope these bugs get fixed soon.
Top Electric Smoker Brands
1. Masterbuilt
Masterbuilt have been around since 1973 and are a leading brand in the electric smoker industry. Masterbuilt offer a variety of different types of grill including charcoal, propane, and wood pellets. In recent years, Masterbuilt have steadily increased quality while keeping costs low making them a great choice for beginners or the casual smokers.
2. Char-Broil
Char-Broil have been innovators since the beginning. Back in 1948, Char-Broil released one of the first charcoal grills to market. Owned by parent brand W.C. Bradley Co., an American manufacturing company, turned to the "backyard" leisure market in the 1940's and haven't looked back since, pioneering designs in the electric, gas and charcoal markets whilst keeping prices low, but quality high.
3. Bradley Technologies
Hailing from the friendly neighbors up north, Bradley Technologies is based out of Canada. The Bradley Smoker is the king of 'low and slow' when it comes to electric smokers and are probably best known for the self-feeding smoker feature, i.e., you have to use their bespoke wood smoking bisquettes. This, however, ensures you get the best quality smoke, and ultimately flavor, every time.
Are Electric Smokers Worth The Money?
For beginners and casual smokers, absolutely. The user-friendliness and low maintenance of electric smokers make them the perfect option for those who appreciate a smoky touch to their meat and fish.
Although they tend to not burn as hot as, let's say, a charcoal smoker, the digital control systems make maintaining your temperature very easy, and the no-mess clean-up after use would be appealing to anyone. The price of electric smokers vary from the unbelievably cheap to the absurd, although they can typically be found less expensive than most other types of smokers and picked up for as little as $200.
However, for those of you out there that crave that deeper smoke flavor – the pitmasters and barbecue nuts – the sacrifice you make in flavor, albeit small, for convenience and low-maintenance smoking could be just enough to make you look elsewhere.
How Do I Choose An Electric Smoker?
Before you consider buying a brand-new electric smoker, there are a few things you should consider to ensure you buy a product that will best suit you.
Size and Capacity
Portability
Features
Budget
Size and Capacity
Most electric smokers will offer plenty of space, but be sure to check the width of a smoker you like. It's also best to think about how you'll use the space provided.
If you have a small family, there's no need to buy one with four cooking racks. On the other hand, if you're looking to cook large items such as racks of ribs and whole briskets, then look for a bigger model.
Portability
Electric smokers aren't designed for moving, so if you find one with wheels, you can be sure it's a great find in terms of movement.
Features
Be sure to look for any special features that a smoker might have that none of the other models have.
Some smokers will allow you access to the wood chip tray without losing any heat or smoke. Others have a digital panel or Bluetooth capabilities that let you do more advanced settings.
Budget
This is solely up to you, but most models run between $150-$650 with the average price of an electric smoker coming in at $260.
Just be sure that no matter what you pick, you get the most out of your money.
Related >> Electric Smokers vs Pellet Smokers
How Do Electric Smokers Work?
An electric smoker usually has a heating element that is controlled by, you guessed it, electricity. Once plugged in and turned on, this heating element controls the temperature of the smoker.
In addition to controlling the temp, on top of this heating element is usually a wood chip tray of sorts. The element will ignite the wood and allow you to get smoke circulating in and around your food and out of the dampers.
For more information, we have a complete guide for how electric smokers work.
Pros and Cons of Buying an Electric Smoker
If you're still undecided whether an electric smoker is for you, then you might want to read up on what (or what doesn't) make them such a great addition to your home.
Pros
Electric smokers work on a set-and-forget system, which means it can be both a pro and a con, especially if you love to barbecue.
Electricity is a lot less harmful to the environment compared to burning charcoal, which emits both CO and CO2.
If you want to smoke a wide range of food items from fish to sausages, then electric smokers are a great choice. They can also be converted into a cold smoker for your cheese and bacon dishes.
If you live in an area where cooking with charcoal isn't allowed, an electric smoker might be the only option available.
Cons
Be sure to have a weatherproof extension cord and a power outlet readily available.
Electric smokers have a lot more parts compared to a traditional smoker, so a lot more things can run into problems that may cost plenty in repairs.
Electric smokers are only good for smoking, and because they can't get as hot as traditional smokers, you may not get the crispy skin when grilling meat or roasting a chicken. But they still get hot enough to hit the minimum internal temps.
It takes a bit of a compromise to use electric smokers. You may need to give up a bit of flavor but it provides a much easier way to cook meats. While it's capable of cooking great food, other kinds of smokers can produce better results.
Are Electric Smokers the Right Choice for You?
The bottom line is, if you're fine with making a small adjustment when it comes to flavor (most people won't even be able to tell that there's a difference), then an electric smoker is a great option.
It not only provides an easier and simpler way to get smoky flavors into our food, but it also provides a no-mess clean-up after being used.
However, if you can't live without the deeper notes of smoke that you can achieve using charcoal or pellets, then perhaps you need to re-evaluate what you're looking for in a smoker.
Either way, an electric smoker is a great option and will be appreciated by anyone who truly loves the touch of smoky flavor on their pork, chicken, fish, turkey, and other food items.
Read More >> Step-by-Step Guide to Seasoning an Electric Smoker
Is Electric or Propane Better for Smoking?
As far as smokers go, while we enjoy electric smokers, there are other options. One of the most popular is propane smokers. But which one is better?
Honestly, they both make smoking easy and don't require lighting charcoal. In either instance, you'll need to add wood chips to produce smoke.
BUT, while electric smokers use a hot element to produce heat, gas smokers use combustion. While this doesn't make a big difference, it does lead to a slight difference in taste. This difference will only matter to experienced pitmasters though, and shouldn't bother you if you are a beginner.
We actually recommend electric smokers for beginners because they are easier to use and manage. If you are an experienced smoker looking to win competitions, however, then you should go for an offset smoker.
Electric Smoker FAQs
Do Electric Smokers Put Off a Lot of Smoke?
Electric smokers don't emit as much smoke as pellet or charcoal smokers but they definitely put off enough to smoke your dinner! Just don't expect too much smoke to come billowing out of an electric smoker.
Are Electric Smokers as Good as Regular Smokers, aka Wood Smokers?
Both electric and wood smokers have their pros and cons. With an electric smoker, it's easier to control the temperature and electric smokers often have many more racks than wood smokers. So for someone who wants to smoke a lot of meat, an electric smoker is better.
How Long Do Electric Smokers Last?
Electric smokers will last from 5-10 years as long as you choose a quality unit. Remember, an electric smoker is an investment, so choose the one which is best for you.
Can You Grill on an Electric Smoker?
While you certainly can put burgers or steaks in your electric smoker, it'll be a waste of time and money. Steaks and burgers are meant for searing which is something you can't do on a smoker. If you want to both smoke and grill we recommend buying a pellet grill or a pellet/gas combo grill.
Another option is to start your burgers on a regular grill or in a frying pan in the kitchen and finish them in a smoker to add that smokey flavor. However, I would only do this if you were smoking other meats so you can be more efficient with your resources.
Do Electric Smokers Give Good Flavor?
Our top-rated electric smokers add a good, smokey flavor. I'd recommend sticking with a Masterbuilt, Char-Broil, or Bradley Technologies electric smoker.
How Do You Clean an Electric Smoker?
To clean your electric smoker, always reference the Owner's Manual to see if certain cleaning products are recommended or advised against. If there is no information about cleaning, we recommend taking a rag or sponge and using a non-abrasive cleaner and warm water to clean the interior of your smoker.
Can You Use an Electric Smoker in the Garage?
Even though electric smokers are less dangerous than other types of smokers, you shouldn't use them in your garage. This is because the smoker produces carbon monoxide, which can build up in the garage and make you ill if you inhale it. If you have symptoms of carbon monoxide poisoning, call for help immediately.
Other Smoker and Grill Considerations