Flat top grills (also known as outdoor gas griddles) are popular among grill enthusiasts since you can cook so many different foods, and multiple foods at the same time!
If you're an aspiring grill master, a flat top gas grill is a great tool to have in your arsenal. You can turn your outdoor space into an outdoor kitchen of sorts with a propane griddle.
By the way, if you're wondering if there is a difference between a flat top grill vs a griddle, there is no difference. They are the same but different people call them different things!
Personally, I use the terms interchangeably but I call my smaller, indoor griddle the griddle and my outdoor griddle my flat top grill.
I hope that is as clear as mud! Now, let's see what is a good flat top grill (or griddle).
My Ratings of the Best Flat Top Grills
Comparing the Best Flat Top Griddles
| | | | | |
| --- | --- | --- | --- | --- |
| Griddle | Number of Burners | Grilling Capacity (in) | Power Per Burner (BTUs) | Price |
| Blackstone 36″ Cooking Station | 4 | 720 | 15,000 | $395.00 |
| Pit Boss Gas Griddle | 3 | 592 | 12,000 | $660.00 |
| Blackstone Flat Top Gas Griddle 28″ | 2 | 470 | 15,000 | $199.00 |
| Camp Chef Portable Flat Top Grill | 4 | 604 | 12,000 | $550.00 |
| Blackstone 17″ Tabletop Griddle | 1 | 268 | 12,000 | $120.00 |
| Cruisinart CGG-999 Round Griddle | 3 | 706 | 12,000 | $495.00 |
| Royal Gourmet Portable 24″ Griddle | 3 | 316 | 8,500 | $100.00 |
| Royal Gourmet Gd401 Portable Griddle | 4 | 220 | 12,000 | $285.00 |
| Blackstone 36″ Outdoor Gas Griddle | 4 | 740 | 15,000 | $395.00 |
| Cuisinart Gourmet Gas Griddle | 2 | 286 | 10,000 | $135.00 |
Our Reviews Of The Top 10 Outdoor Gas Griddles
Best Overall
Blackstone is considered one of the best gas griddles manufacturers in the world.
The Blackstone 36″ Griddle Station is our top overall pick for best flat top grill. It is our choice because of its size, features, and price point. This gas griddle has a wider cooking area which is about 720 square inches.
And just like the Blackstone Outdoor Griddle, this flat top grill also has burners that can fire up to 15,000-BTU each. It has four different burners which can be set from Low to High and can allow you to cook various foods depending on the situation.
This Blackstone flat top grill also has an upgraded grease control which makes it easier to cook with and clean.
The Blackstone 36″ Gas Griddle also has a shelf under the grill which you can use to hold a propane tank, plus two prep tables on each side that you can use.
Although it's pretty heavy, it's very easy to move around because this outdoor griddle has four foldable legs with wheels on each leg for easier transport. Its exterior material is made up of painted steel while its cooking surface is made of steel.
View our full list of the best Blackstone griddles.
Pros
Four burners can be controlled separately
A total output of 60,000-BTU
Can move it around the patio with ease
Easy to keep it clean
Cons
My 36″ Blackstone has a couple of cold spots in the corners even when all 4 burners are on high
Top High-End Pick
Just like the Blackstone company, Pit Boss is also popular for its wide variety of very affordable gas griddles. And the most well-known and widely used flat top grill from Pit Boss today is their 3 Burner Gas Griddle.
With this outdoor griddle, you can enjoy grilling on a 592 square-inches cooking surface which can roughly fit up to 37 burgers at a time.
Its 3 burners can fire up to 12,000-BTU each. But what most people like about the Pit Boss 3 Burner Gas Griddle is its griddle surface, which is made up of cast iron which is 4.77 mm thick.
It can hold heat well and distribute it evenly. You can even upgrade it to a ceramic griddle top if you want a better cooking performance.
You also don't have to worry about its cleaning and maintenance because it has a small hole on the bottom corner where you can scrape grease and other cooking debris into a grease tray/trash pot for better cleaning.
It's also a great choice for abrupt barbeque parties or camping because it's very easy to transport. It comes with side trays and foldable legs.
Pros
Powerful stainless steel cooking surface
5-year warranty for peace of mind
These wheels are so smooth and allows you to move it anywhere
Upgradable cooking surface
Easy to clean
Cons
Some heat escape through the gaps between the burners and the top griddle
No side handles, so you have to lift with the side shelves
Top Budget Pick
The Blackstone Outdoor Griddle is considered one of the trendiest gas griddles because of its wonderful features.
For one, it has a surface area of 470 square inches which allows you to cook plenty of foods, from breakfast to lunch to barbeque!
This outdoor griddle from Blackstone is a great pick, especially for hosts that are planning to provide food for a large number of guests and families.
This outdoor gas griddle is super easy to use. You can start up this liquid propane grill just by pushing it like any other button.
It has two burners that can fire up to 15,000-BTU each. Plus, you can control each burner separately which allows you to cook with only one if you're grilling an average amount of food and two if you are cooking for a huge crowd.
If you're wondering about its physical features, you also don't have to worry because the Blackstone Outdoor Griddle has a frame that's made up of robust powder-coated steel, a very durable and strong material that can ensure your outdoor griddle lasts for the long haul.
On the other hand, its cooking surface is made up of cold-rolled steel which is 20% stronger than any other cooking surface.
This griddle weighs 75 pounds and comes on a cart with wheels. The wheels can be locked so it doesn't move around while you cook. Under the grill is a shelf that's able to accommodate 20 pounds, which is great for storing all of your griddle accessories.
Pros
It can fire up to 30,000-BTU
It has a larger cooking surface
Easy transport
Easy cleaning
Cons
Don't forget you have to buy the propane tank separately
It's heavier than you think, so you may need help assembling it
If you want a flat top grill to replace your current grill, this is it.
This Camp Chef flat top grill offers a griddle top as well as grilling grates so you can have the best of both worlds.
Four 12,000 BTU burners allow you to cook several things while maintaining temperature control individually. That's a total of 48,000 BTUs.
If you need extra storage space while cooking, this flat top grill has two shelves you can fold down or put up as needed. The 2 shelves underneath are very convenient for storing your cleaning and cooking tools as well.
This Camp Chef model a massive 604 sq inches of cooking space.
Pros
Restaurant quality
Built to last a lifetime
Legs and shelves fold up, which is great when you take it camping
Cons
Don't forget you have to buy the propane tank separately
It's pricier than competitors because of the added features.
If you want a more portable flat top grill that you can carry with you for camping and other outings, this portable gas griddle from Blackstone might be the one you are looking for.
The Blackstone Table Top Grill 17'' Portable Gas Griddle is ideal for travelers and small families who love to enjoy outdoor activities.
It has a cooking surface of about 268 square inches, with an electric igniter that makes it very easy to start up.
This portable flat top grill is made of stainless steel and a cooking surface made up of rolled carbon steel that is typically harder and stronger than most rolled steels.
It also has a griddle surface that can be removed for better and easier cleaning access and a single burner that can fire up to 12,000-BTU.
Pros
Great size for traveling and camping – we've taken ours to over 20 National Parks!
Powerful even for its small size
Resistant to corrosion
Cons
H-shaped cooking area
Uneven heat distribution compared to the bigger models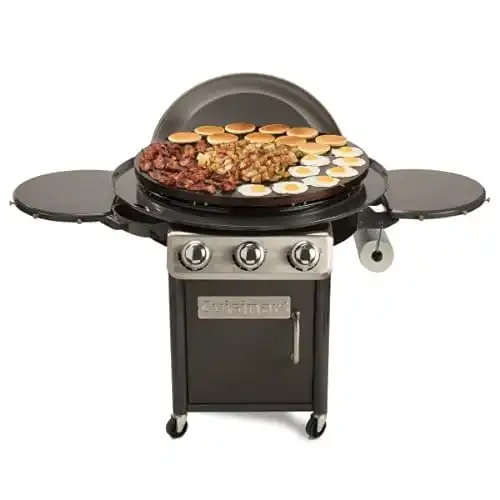 If you want to cook with style, why not try this Cuisinart CGG-999 30-Inch Round Flat Top Surface 360° XL Griddle Outdoor Cooking Station from Cuisinart.
This flat-top grill is just like any other outdoor griddle but with a round shape and different features. It's made up of stainless steel and has dimensions of 60.5 x 37.5 x 42.5 inches.
What people like the most about this outdoor griddle is its 360 degrees grease pan where grease can naturally flow through for easier grease management.
It comes with a lid for people who want to make sure that no outside debris can touch their food. But that's not it, the lid also has a vent to help with other cooking styles and functions like steaming, smoking, roasting, and even baking!
This outdoor griddle also has two foldable prep tables perfect for preparing lots of food. The Cuisinart CGG-999 30-Inch Round Flat Top Surface 360° XL Griddle Outdoor Cooking Station has a 30-inch flat top grill cooking surface
It features 3 different powerful burners which you can control separately and has an even-heat distribution system for better cooking performance.
Pros
Oversized 360 degrees grease pan
Easy to clean
Stainless lid with vent
Foldable prep tables
Heat control system
Cooking versatility
Cons
Heavy, which made it quite hard to assemble (about 2 hours for me)
Royal Gourmet is another brand name that is popular among barbecue and grilling enthusiasts.
So, what makes this Royal Gourmet Portable Flat Top Grill one of the top choices?
First and foremost, this Portable Flat Top Grill from Royal Gourmet is very easy to use and travel with. It has a 316 square inches cooking surface that is made up of a porcelain-enameled griddle top, allowing you to cook different varieties of foods.
It also has 3 different burners that can fire up to 25,500-BTU that can also be controlled separately. Considering its powerful functions and portability, this flat top grill from Royal Gourmet is perfect for camping and other outdoor activities that require traveling.
Pros
Three separate burners
Easy to clean
Mobile and portable
Cons
This would've been ranked higher but the grease trap doesn't line up with the hole on the griddle top directly, so I had a couple of spills when testing
Best Combo Griddle: Royal Gourmet Portable Propane Gas Grill and Griddle Combo
Another product from Royal Gourmet that people are starting to discover is their portable gas grill and griddle combo.
This combo griddle can let you enjoy cooking on a griddle and a grill at the same time. Each cooking surface can offer you 220 square inches of cooking area. You can cook any type of food here, even grill-able foods!
This combo griddle is perfect for barbeque parties with a large and picky crowd. It has a total of four burners, 2 in each cooking area. Both griddle and grills can fire up to 12,000-BTU each.
The Royal Gourmet Portable Propane Gas Grill and Griddle Combo have an electronic ignition that is very easy to start up and has a built-in grease channel where grease and oil can flow through for easier cleaning and better cooking performance. Its grease channel is removable so you can clean it off easily.
This outdoor griddle and grill combo also has two prep tables on each side and hooks under the grill where you can hang clamps and other utensils for better access.
Pros
Easy to use both sides at the same time
Lots of workspaces
Cons
Long assembly time
The side shelves don't feel as sturdy as Blackstone and other higher-end brands
Just before we reach the end of this post, another Blackstone product has made its appearance.
But what makes the Blackstone Cooking Station different from all other flat-top grills we have mentioned above? For those who love hosting barbeque parties and outdoor activities, this outdoor gas griddle from Blackstone might be your best bet!
It has 740 square inches of cooking surface perfect for cooking for a huge crowd of people. It has 4 burners that evenly distribute heat all over its flat cooking surface.
It has a prep table on one side and a cutting board on the other which makes it the ideal cooking space for anyone who loves outdoor cooking.
What makes it different from others is that it has a battery-powered ignition button that's very easy to use. You can just push it as you do any other button to start up this outdoor griddle.
It also has four-wheeled legs which makes it very easy to move around your area.
Pros
Wide cooking space
Push to ignite button
Built-in cutting board
Four-wheeled legs for moving it around
Even heat distribution system
Cons
Mine did rust a little when I left it out 1 time without a cover. That's probably more on me than on the grill itself!
Best Tiny Griddle: Cuisinart Gourmet Gas Griddle
Last but not least is the CGG-501 Gourmet Gas Griddle from Cuisinart.
This outdoor griddle is the best alternative for any portable griddle.
Instead of an H-shaped cooking area, this one has an equal heat distributer which means you can cook your food evenly all over the surface without one being half-cooked and the other being over-cooked.
It has 2 stainless burners each one can fire up to 10,000 and is made up of alloy steel. This outdoor and portable gas griddle has a 286 square-inches cooking surface that can deal with the heat in a very pro-like manner.
It doesn't need to be assembled and can be set up and used in less than 10 minutes without even using any tools! If you and your family love traveling and camping, this portable gas griddle from Cuisinart is a great choice.
Pros
Wide cooking space
Push to ignite button
Built-in cutting board
Four-wheeled legs for moving it around
Even heat distribution system
Cons
It's fine if you're cooking for yourself, but you can't fit much food on it at the same time if you're cooking for a crowd
How These Griddles Were Chosen
Here at TheGrillingDad, we own many of the products we recommend. And those we don't own, are recommended based on our knowledge of the manufacturer and previous products they have made that we have used and loved. All the griddles on this list were recommended based on positive experiences while using the griddle brand in our home.
What Are Flat Top Grills?
Flat top grills are grills with griddle tops. They use the same heat source as grills, either charcoal, gas, or electricity.
Flat top grills allow you to cook anything, from steaks and burgers to grilled vegetables and even pancakes.
Where you might get uneven heat distribution from the flames on a regular grill, flat top grills heat the cooking area evenly. They are becoming extremely popular to use as outdoor cooking during those fun camping trips.
Read More >> How To Tell If Your Steak Is Bad?
What Are the Different Types of Flat Top Grills?
There are several types of flat top grills on the market.
Some are full-size, restaurant grade grill units, while others are much smaller and allow for tabletop grilling.
Full Size Flat Top Grills
If you do not plan on grilling on the go, full-size flat top grills are the way to go. They are larger and harder to pack up, but typically offer a larger grilling surface.
These will often come with a side table, stainless steel burners, cast iron griddle top, and an easy to clean grease management system.
Tabletop Flat Top Grills
Tabletop flat top grills are portable grills you can take with you on the go. They will sit on a table, counter, or whatever flat, sturdy surface you have available so you can grill on the go.
Aside from the size and portability differences between tabletop and full size flat top grills, they also vary in their heat source.
Gas: Gas is the most commonly used heat source for flat top grills since it allows for temperature control while cooking
Charcoal: Charcoal offers something gas grills cannot, and that is adding smoke to the mix while cooking. The smoke gives the food that charbroiled taste many people love. This is uncommon for griddles, but they do exist!
Electric: You can even find flat top grills that use electricity as a heat source. Electric grills heat up quicker than the others, but you will not get that authentic grilled taste.
Read More >> How To Grill Frozen Burgers (3 Quick Steps)
Why Choose a Flat Top Grill?
A flat top grill lets you cook various types of food than any typical and traditional grill can. They are also better in grease management and even heat distribution.
Many flat-top grills today are also made up of highly durable and long-lasting materials which makes them very cost-efficient for grill enthusiasts.
How Do Flat Top Grills Work?
Flat top grills work similarly to regular grills.
Since flat top grills often have several burners, you can set each burner individually for what you will be cooking.
The flat top grill uses the heat source to evenly heat up the burners so you can begin cooking your food.
Never touch your griddle with your bare hand, instead always use gloves or a spatula. If you burn yourself, get help as soon as possible.
What To Consider When Purchasing A Flat Top Grill?
For first-time users, you might know a thing or two about the types of flat top grills but you also have to make sure what to look out for when buying yourself one.
This will help ensure that you are using an outdoor griddle that best fits your interest and that can last you a lifetime.
Here are a few elements that you need to consider when purchasing:
Overall dimensions
Cooking surface area
Portability or maneuverability
Burners
Heat-control
Heat distribution
Cooking surface material
Easy to clean
Price
Overall Dimensions
The first thing you need to consider is the amount of space you have in your backyard, patio, deck, garden, or wherever you want to place it.
Consider the location so you will know what size you will purchase that can fit in your space.
Cooking Surface Area
The amount of cooking space on your flat top grill also plays a great role. If you like to host parties in your backyard or cook for large crowds, consider buying a model that has at least 500 square inches of cooking space.
Now if you have a small family, you can try buying a model with at least 300 square-inches instead. The type of flat top grill you want to buy can also depend on how much food you want to cook during each use.
Portability or Maneuverability
If you like traveling or going out for outdoor activities, it's best to buy a portable flat top grill. They are very easy to carry and travel with and provide a great source of food even if you're not at home.
For people who want to buy larger ones, choose an outdoor grill that can be easily moved around. Most models today come with carts with foldable legs and wheels.
Burners
The more burners your flat top grill has, the quicker the temperature can rise and the faster you can cook.
If you want to use it to accommodate a lot of people, we suggest buying a model that has two or more burners.
For those who want to take their time, you can go for a flat top grill with a single burner instead.
Heat-Control
It's also important to consider the amount of heat your flat top grill can handle. Make sure to find one that can control the heat and temperature well.
Heat Distribution
Some models do not distribute heat evenly on the cooking surface. This will result in uneven cooking time.
That's why make sure to choose a model that can heat up its cooking surface in an even manner. Avoid purchasing models with H-shaped cooking surfaces.
Cooking Surface Material
The material used to make your cooking surface is also a very critical element that you need to look out for.
If you want something that can retain heat and has great performance, you can go for the ones that have a cooking surface made of steel or cast iron.
For better heat reduction, stainless steel would be a better choice, although it can be a bit more expensive than steel and cast irons.
Easy To Clean
The best kind of flat top grill is those that are easy to clean.
It's important to choose a model that you can easily clean and maintain since this is where you cook your food and maintaining its cleanliness is very important to avoid eating dirty and contaminated foods.
Price
Lastly, always keep an ideal budget in mind when looking for a flat top grill to purchase. Think of how much you are going to use it so you can decide the range and limit of your budget.
Smaller and portable ones will cost around $100 to $200 while the larger ones are around $300 to $400.
Read More>> How To Clean Your Flat Top Grill (4 Easy Steps)
Is There A Difference Between A Flat Top Grill and an Outdoor Gas Griddle?
Now, a lot of people are still confused between a flat top grill and outdoor gas griddle. But the funny thing is, there's no need to be confused at all! This is because these two are just the same.
Some people just prefer calling it a flat top grill while others are much used to calling it an outdoor gas griddle.
Griddle Care and Maintenance
A griddle is not a grill, and therefore the care and maintenance required is different than it would be for a regular grill. Below are some tips to help you keep your griddle like new for years to come.
Invest in a cover and place it over your griddle whenever it isn't in use.
Use a spatula to scrape off debris after each use and use a paper towel with water to get rid of any remaining residue.
Use a rag or nylon scouring pad to remove any tough debris after use.
Always dry the griddle after cleaning and before storing it.
Store your griddle somewhere dry and cool away from rain which may cause rust.
Best Flat Top Grill FAQs
How Do You Clean a Flat Top Griddle?
The exact cleaning directions will depend on your brand and type of flat-top griddle as each manufacturer has their own process. But if you've lost your manual then clean your griddle as you would a cat iron pan–with some gentle scrubbing to remove grease and debris.
Can You Use Pots and Pans on a Griddle?
If you are away from home, you can use pots and pans on a griddle for cooking. Just know that it will take longer and the pot may get very hot–so always use a pot holder or fire-proof glove to protect your hands.
Is a Flat Top Griddle Worth It?
Flat top griddles are extremely useful when camping or if you plan to regularly cook outdoors. They heat up fast and can be used to cook almost anything. We definitely think they are worth it, but if you want a smoky or charcoal taste, this is the one thing a griddle can't do and you are better off with a grill.
Are Flat Top Griddles Good For Burgers?
Flat-Top griddles can be used to make anything, including burgers. In fact, if frozen burgers are your go-to, they are very easy to make on a flat-top griddle. Just know that they will have a different taste than if they were cooked over a flame.
And, they are great for making smash burgers.
Are Flat Top Grills Better Than Charcoal Grills or a Regular Gas Grill?
Flat top grills are different than a charcoal grill and regular gas grill, which are used to grill steaks, burgers, hot dogs, bratwursts, pork chops, and other kinds of food. With a flat top grill, you can cook a wide range of foods. You can saute vegetables, make fried rice, cook a full breakfast, complete with eggs, hash browns, bacon, and pancakes. So, it all depends what you want to cook.
What is the Best Material for Flat Top Griddle?
Materials used for flat top griddles include steel, aluminum, and cast iron. We like stainless steel. It is easy to maintain and does a good job distributing heat.
Final Thoughts on Best Flat Top Grill
When you are ready to purchase a flat top grill (or griddle), think about what you want to cook and how many people you will be cooking for. If you are in a campground and often cook for you and the neighboring campers, you will want a larger cooking surface.
I would recommend a stainless steel surface because it is durable and easy to maintain. Do not overlook the grease tray/trash pot. You want one that can handle all the grease and food debris that remains after cooking (especially bacon grease).
Consider your needs and wants then look above to determine the best flat top grill for you.
Learn more about cleaning your flat top grill.