If you're a beginner and looking for the top options for smokers, you've come to the right place!
In this guide, you'll learn:
How smokers work
How to save time and money choosing the right smoker
The top 5 smokers for beginners 
And much more!
I've had several different smokers in the last several years and I've seen it all. The ones that are bad and the ones that are the best smokers for the money. 
That's why I've made this list for you! I want to save you time, money, and frustration by using my experience to your benefit. 
How can I help you save time and money?
I've wasted so much money on smokers that didn't last long, I'm going to help you avoid those
Some smokers have a big name, but don't stack up to their price point
Some lesser-known styles of smokers are perfect for beginners, so I'll show you those as well!
Below is a quick list of all our top products. Keep scrolling to learn more about how to choose and use the best smoker for a beginner. Here we go!
Image
Product

Masterbuilt Gravity Smoker

Charcoal and Wood Smoked Taste

Fan Auto Controls Temp

Perfect for Smoking And Searing

Charcoal and Wood Smoked Taste

Fan Auto Controls Temp

Perfect for Smoking And Searing

Check Price on Amazon

Best Smoker For The Dollar

Very Easy To Use

Built For Durability

Lot of Accessories

Very Easy To Use

Built For Durability

Lot of Accessories

Check Price on Amazon

Masterbuilt Bullet Smoker

Very Simple Style

Great Strong Smoke Flavors

Easy To Assemble

Very Simple Style

Great Strong Smoke Flavors

Easy To Assemble

Check Price on Amazon

WiFire Technology

Easy To Create Great Meals

Large Online Community

All The Tech

Easy To Create Great Meals

Large Online Community

Check Price on Amazon

Masterbuilt Electric Smoker

Couldn't Be Easier To Use

Easy Clean Up (No Ash)

Easy To Find Accessories

Couldn't Be Easier To Use

Easy Clean Up (No Ash)

Easy To Find Accessories

Check Price on Amazon
Our Overall #1 Rated Pick
Our top pick is the Gravity Series by Masterbuilt because they produce the best quality and design, and they are manufactured in the USA.
Whether you want to grill hamburgers, sear steaks, or smoke a brisket, this thing won't let you down! It is a true combination of a charcoal grill and a smoker.
The gravity-fed hopper means you can put enough charcoal to last for hours. The electronic fan then pushes the perfect amount of air to maintain accurate grilling temperatures. 
It is truly the best smoker for beginners!
Demand is high for Masterbuilt's Gravity Series right now, so get your hands on yours and have it shipped to your doorstep from Amazon today.
What Are the Best Smokers for Beginners?
In a hurry? Check out our top 5 smokers! Keep reading to learn more about our top picks. 
Top 5 Best Smokers For Beginners Reviewed
(Best Overall Pick)
If you want the ability to grill and smoke, you can't go wrong with this one!
One of the problems folks who are new to smoking run into is keeping the temperature right where it needs to be. You don't have that with the vertical charcoal smoker from Masterbuilt!
You load your charcoal and wood into the gravity-fed hopper. Then the digital fan helps keep the exact temperature you set. 
Is it a wood smoker? A charcoal smoker? A grill? 
It's really the best of both worlds as a grill and versatile smoker.
You get the ease of automatic temperature control of other models while also getting that smoke flavor you're used to from a charcoal smoker. 
Check out this Masterbuilt Vertical Smoker! It is a perfect smoker for beginners and even for those with a lot of experience as it's the best smoker grill combo!
They have 3 models out right now. They're each named for their cooking capacity: 
560 Model has 560 square inches of cooking space
800 Model has 800 square inches of cooking space
1050 Model has 1,050 square inches of cooking space
Even with a ton of experience, this is the smoker I am currently using for daily cooks. It is worth every penny! It is the #1 best smoker for beginners.
Amazing charcoal and wood smoke taste
Easy to control temperature
Great smoker for beginners
Can sear unlike any smoker on the market!
Built-in app has a few bugs
(Best Smoker For The Dollar)
If you want to get that wood-fired taste, you really can't go wrong with Pit Boss. 
Their customer service is top-notch as it's a family-owned business, so if you have issues, they're easily resolved.
After preheating your pellet grill, you're able to put your meat in, walk away, and come back to a finished meal without touching it again!
It doesn't get easier than that! And PitBoss is known for being the best smoker for the dollar as its price per square inch is significantly lower than comparable models. 
This model here has 820 sq. in. of cooking space while some of their larger models have over 1,100 sq. in. of cooking space.
You get ease of use, value for money, and great tasting food!
The only real downside is it's not great as a traditional grill. Getting that nice sear on a steak is hard to do on a pellet grill. 
PitBoss also makes some very large grills like this one if you're looking for a bigger pellet smoker to meet the needs of your family size.
Put together really well; it will last forever
True "set it and forget it" style of smoking
Great wood fire taste on your food
Unlimited accessories available for it
Has a flame broiler option to sear steak, which is rare for pellet grills!
The "smoke" setting was running around 225 degrees, which is higher than I wanted for that setting (was hoping for around 180)
(Best Budget Smoker)
When it comes to a basic, affordable smoker, you really can't miss here. 
You'll get that heavy smoke taste on your food when using a bullet smoker like this one.
With charcoal as the fuel and getting that nice smoke taste, you'll love the end results!
You can easily add charcoal or wood during the smoke with the front chamber, which is very convenient.
The Masterbuilt version is comparable to the Weber Smokey Mountain. The biggest difference is the Smokey Mountain is significantly more expensive without much of a difference in quality. 
It's not all sunshine and rainbows, though. 
With a bullet smoker, you will need to babysit it a bit more than other smoker options. 
The temperature gauge doesn't last very long, so you should expect to also purchase an upgraded temp gauge. Don't worry, you'd need to upgrade it in the Weber Smokey Mountain as well. 
Very simple to use; no tech to figure out
Great, strong flavors
Easy to assemble
Temp gauge is inconsistent
Need to constantly watch the smoker to ensure temperature
You can't have a top 5 list of the best beginner's smokers without having Traeger on the list. 
Traeger has built a reputation of being easy to use, being durable, and lasting forever.
If you're looking for a good pellet smoker with all of the bells and whistles, you can't go wrong with their Pro 780 model. 
Not only is it basically an easy bake oven for grown-ups (super easy to set it and forget it), it can create a nice wood-fired taste for your food. 
This specific model comes with WiFIRE technology. That means you can preheat and control the temp of your smoker from your phone. Yes, really!
And you can even connect it to your Alexa and have the ultimate smart grill. 
Those extra features are nice, but they do come with a price. 
If you want a high-end model because you know you want a pellet grill, and you know you're going to love this lifestyle, this Traeger is a great choice!
If you're just getting started and not sure if this is going to be something you do all the time, I'd recommend one of the options above. 
Very easy to smoke great foods
All the tech you could imagine
True set it and forget it style of smoking
Huge online community
Quick disclaimer – if you want that deep smokey taste, this is not going to be for you. 
This thing could not be easier to use. Plug it in, insert meat, set temp, done. 
It does have a side tray to put in some smoke chips, but it does not produce a lot of smoke. 
Can you smoke foods on here? Yep! You can smoke low and slow for hours on end with this thing. 
It is so easy to use, I once started a cook before work, let it smoke while I was away all day, came home, and had perfect pork shoulder for pulled pork that night. 
I'm putting this on the list because this electric smoker for beginners can produce great-tasting food and it's incredibly easy to use, but it will not get that deep smokey taste some of us truly desire. 
Could not be easier to use
Easy clean up (no ash)
Easy to find accessories
Does not add a lot of smoke flavor
No way to spritz or check food without letting out all heat
What Are The Different Types Of Smokers For Beginners?
For us to get the best smoker for the money, it's crucial that we understand how these outdoor cookers work and what we can expect from each.

Pellet Smokers
Pellet smokers, or grills, are ideal for beginners because it allows us to cook foods with extra smokey flavor using the convenience of an electric smoker.
Buying a wood pellet grill is also a great investment because it can be used as a grill and oven.
You'll never cook pizza inside after cooking it on a pellet grill.
Pellet smokers work by heating a cooking chamber full of wood pellets where air circulates and then allow foods to heat and cook through convection.
This type of smoker has a built-in thermometer to keep the temperature inside stable and determine the amount of wood pellets to be fed into the firebox through an auger.
Pros:
Because of its unique cooking system, using wood pellet grills allows us to combine the flavor of actual wood smoke with our foods.
It provides options for us to set the temperature, so we don't have to check our food every single minute.
They are versatile because we can use them as a smoker, grill, and oven.
The wood pellets used in this type of smoker are burned down to nearly nothing, which means that we don't have to spend too much time and effort cleaning it up.
The firebox where the pellets are placed can easily be removed and emptied.
Phenomenal for low and slow smoking
Cons:
An expensive price tag is one of the biggest drawbacks of wood pellet smokers
Expect to pay at least $400 for entry-level and simple pellet smokers.
Read More >> Top Pellet Grills

Electric Smoker
Electric smokers are the perfect solution for beginners who want to experience "fire and forget" when smoking foods.
With a smoker that is electric, we won't have to worry about burning any charcoal or exerting a lot of effort during cleanup.
Choosing to buy an electric model will make it very easy for us to cook as we can easily set the temperature and lounge around with a beer in our hands while waiting for our food to cook.
Most models have a place to put wood chips to get the smoke rolling. You can try different types of wood chips to get unique flavors. 
Some newer models of electric smokers even come up with a Bluetooth app that allows us to control the smoker even from a distance.
Pros:
They are very easy to use, making them one of the best choices for a beginner.
Save money in the long run as we don't have to buy charcoal, gas, or pellets to use it.
We don't have to babysit an electric model because we can set it based on our preferred temperature and expect it to cook our foods thoroughly even when we're not around.
Excellent temperature control
Cons:
Because they don't create very much smoke, the flavor it produces might leave you disappointed.
Read More >> Best Electric Smokers

Charcoal or Wood Smoker
Charcoal or wood smokers come in different shapes and sizes and add the most flavor to our foods.
However, for us to create the most flavorful dishes using a charcoal or wood smoker, we need to exert more time and effort for its setup, babysitting, and cleanup.
Read More >> How To Season a Smoker (5 Step Guide)
More me personally, I learned how to smoke meats on a charcoal smoker. It was a great starting point to learn a lot about the basics. 
There is an option, though, to get the charcoal and wood taste while being able to regulate temperature extremely well.
That's where the Masterbuilt Gravity Series comes into play. This is what I'm currently using!
Read More >> How To Put Out A Charcoal Grill (3 Quick Steps)
Pros:
For us to achieve that deep, smoky, unique flavors in our foods, using charcoal smokers is the best way to go.
Regardless if we have a small patio or spacious backyard, we can easily find a charcoal smoker that fits just right.
If you choose a smaller charcoal smoker, you won't have any problems transporting it from one location to another.
You can use a variety of wood chips or wood chunks to get different flavor profiles.
Cons:
Charcoal smokers require more babysitting and a lot of practice for us to get that perfect smokey flavor.
This can mean spending long periods of time around the smoker (that could be considered a pro for some).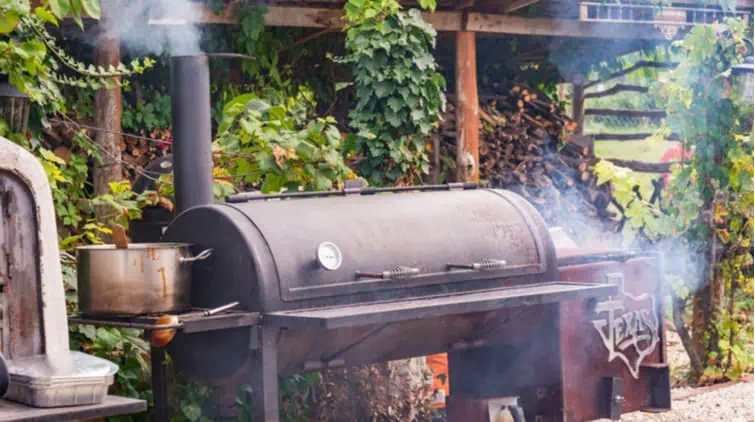 Offset Smokers
Offset smokers were traditionally made using unused oil drums, which is why this type of smoker still comes in a barrel-like shape today.
They are often big and bulky but have enough room to cook several foods at the same time.
These are often-times called barbecue smokers. Whether you call them barbecue smokers or something else, these outdoor smokers are definitely a staple in the BBQ world. 
Although I wanted to let you know these exist, I don't recommend an offset smoker if smoking meat for the first time.
In my experience, those who start with a smoker box that is offset give up and never return to this amazing lifestyle.
Pros:
Because of its big barrel cooking chamber, they allow us to cook massive amounts of food at the same time.
Offset smokers that come with a grill plate attached above the firebox are also available today. These models can work as a smoker and a grill.
The firebox of offset smokers is located separately from the cooking chamber. This will enable us to add more fuel to the fire without letting out the smoke and heat it creates.
Cons:
You'll need to exert a lot of time and effort to set up an offset smoker and begin cooking with it.
You'll have to allow at least one hour to set up this type of smoker before you can start using it.
There are also outdoor smokers that use natural gas as the heat source. We've done a full write-up on natural gas smokers. 
Frequently Asked Questions About Smokers
How Do Smokers Work? 
1. Smokers allow us to cook food slow and low (around 180 to 220 degrees) inside a smoke chamber to infuse foods with different flavors.
Is your mouth watering yet or just mine??
2. The air temperature increases inside the cooker and is carefully controlled to produce fully-cooked meats.
3. There are different types of smokers available for beginners today, and each comes with its own set of pros and cons.
Read More >> Top 5 Best Lump Charcoal for Smoking (2022 Review)
What is the point of a smoker?
The point of a smoker is to maintain low temperatures (below 250° F) for an extended time while the meat absorbs the smoke and slowly cooks. 
This process is often referred to as smoking "low and slow" and often produces tender meat that is full of flavor.
What is the easiest smoker to use?
The easiest smoker to use is a smoker that has an electric fan to control the temperature settings like an electric or pellet smoker. 
With either option, you can plug them in, press 1 button, and begin smoking your food. 
How much do smokers cost? 
The cost of a smoker ranges from as low as $50 and can exceed prices $10,000. The factors affecting the cost of a smoker are the materials used, quality of the build, brand name, and features. 
Final Thoughts On Beginner's Smokers
Are you ready for smoked chicken, the best 
Once you've chosen which grill is best for your needs, always remember to keep safety top of mind. 
Smoking great meat starts with making sure the internal temperature is correct. You don't want people getting sick, right? 
The next most important thing to remember is to have fun! Follow recipes as you begin and branch out to try your own as you get the hang of it. 
Drop a comment and let me know which smoker you're going for. Did you choose one of our recommended best smokers for beginners?
Have fun and roll smoke!
Learn More About Grilling