Picture this: A sunny weekend afternoon, the sizzle of succulent meat, and the mouth-watering aroma of smoke wafting through the air. You're not at a fancy BBQ restaurant; you're in your own backyard, mastering the art of smoking with your first smoker. Think it's a dream? Not anymore!
In this post, I'll guide you through the best smokers for beginners, turning your dream into a delicious reality. Whether you're a novice to the BBQ scene or a grilling enthusiast ready to venture into smoking, this guide will set you on the path to becoming the neighborhood pitmaster.
The Best Smokers for Beginners
Here are our ratings of the best beginner-friendly smokers:
Compare the Best Beginner-Friendly Smokers
Here is a comparison of our rating and features of each of the top smokers:
*Please note that the MSRP may not reflect the current price of the smokers
Our Reviews of the Best Smokers For Beginners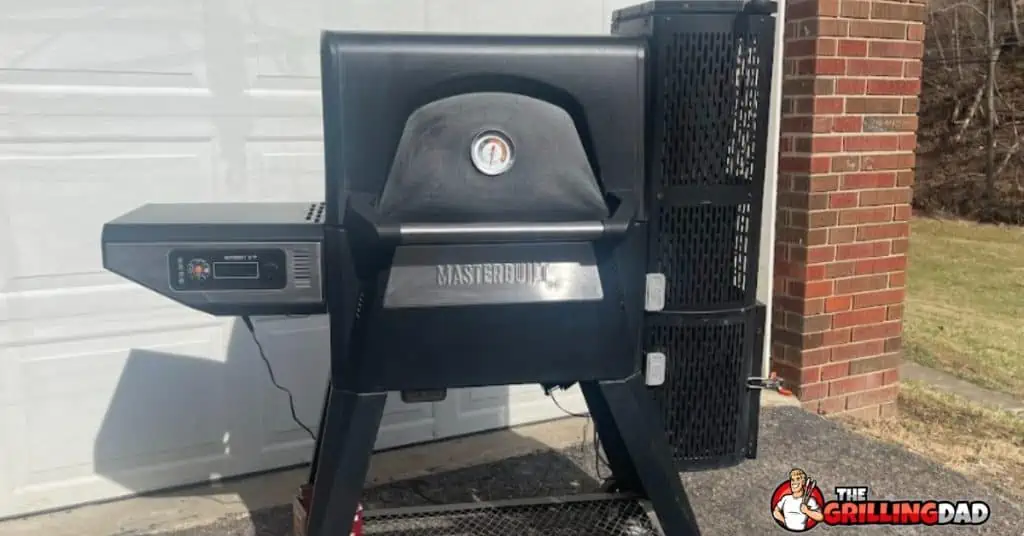 Pros
Amazing charcoal and wood smoke taste
Easy to control temperature
Great smoker for beginners
Can sear unlike any smoker on the market!
Cons
Built-in app has a few bugs
Dimensions: 33.07 x 61.02 x 52.17 inches
Capacity: 1,050 square inches
Fuel Type: Charcoal / Wood
Bluetooth: Yes
WiFi: Yes
If you want the ability to grill and smoke, you can't go wrong with this one!
One of the problems folks who are new to smoking run into is keeping the temperature right where it needs to be. You don't have that with the vertical charcoal smoker from Masterbuilt!
You load your charcoal and wood into the gravity-fed hopper. Then the digital fan helps keep the exact temperature you set.
Is it a wood smoker? A charcoal smoker? A grill? It's really the best of both worlds as a grill and versatile smoker.
You get the ease of automatic temperature control of other models while also getting that smoke flavor you're used to from a charcoal smoker. It is a perfect smoker for beginners and even for those with a lot of experience as it's the best smoker grill combo!
They have 3 models out right now. They're each named for their cooking capacity:
560 Model has 560 square inches of cooking space
800 Model has 800 square inches of cooking space
1050 Model has 1,050 square inches of cooking space
Even with a ton of experience, this is the smoker I am currently using for daily cooks. It is worth every penny! It is the #1 best smoker for beginners.
Read Our Full Review: Gravity Smokers Review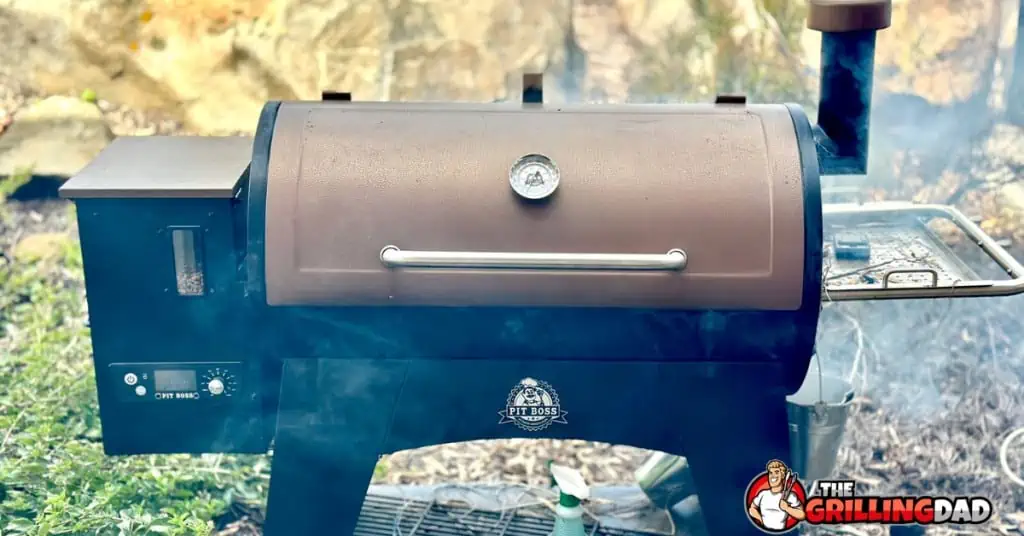 Pros
Put together really well; it will last forever
True "set it and forget it" style of smoking
Great wood fire taste on your food
Unlimited accessories available for it
Has a flame broiler option to sear steak, which is rare for pellet grills!
Cons
The "smoke" setting was running around 225 degrees, which is higher than I wanted for that setting (was hoping for around 180)
Dimensions: 56.88 x 32.33 x 52.15 inches
Capacity: 820 square inches
Fuel Type: Pellet
Bluetooth: No
WiFi: No
If you want to get that wood-fired taste, you really can't go wrong with Pit Boss.
Their customer service is top-notch as it's a family-owned business, so if you have issues, they're easily resolved. After preheating your pellet grill, you're able to put your meat in, walk away, and come back to a finished meal without touching it again!
It doesn't get easier than that! And PitBoss is known for being the best smoker for the dollar as its price per square inch is significantly lower than comparable models.
This model here has 820 sq. in. of cooking space while some of their larger models have over 1,100 sq. in. of cooking space. You get ease of use, value for money, and great-tasting food!
The only real downside is it's not great as a traditional grill. Getting that nice sear on a steak is hard to do on a pellet grill.
PitBoss also makes some very large grills like this one if you're looking for a bigger pellet smoker to meet the needs of your family size.
Pros
Very simple to use; no tech to figure out
Great, strong flavors
Easy to assemble
Cons
Temp gauge is inconsistent
Need to constantly watch the smoker to monitor the temperature
Dimensions: 24 x 23 x 48.5 inches
Capacity: 395 square inches
Fuel Type: Charcoal / Wood
Bluetooth: No
WiFi: No
When it comes to a basic, affordable smoker, you really can't miss here. You'll get that heavy smoke taste on your food when using a bullet smoker like this one.
With charcoal as the fuel and getting that nice smoke taste, you'll love the end results! You can easily add charcoal or wood during the smoke with the front chamber, which is very convenient.
The Masterbuilt version is comparable to the Weber Smokey Mountain. The biggest difference is the Smokey Mountain is significantly more expensive without much of a difference in quality.
It's not all sunshine and rainbows, though. With a bullet smoker, you will need to babysit it a bit more than other smoker options.
The temperature gauge doesn't last very long, so you should expect to also purchase an upgraded temp gauge. Don't worry, you'd need to upgrade it in the Weber Smokey Mountain as well.
Pros
Very easy to smoke great foods
All the tech you could imagine
True set it and forget it style of smoking
Huge online community
Cons
Pellet grills are not great for searing
Price tag is steep for many beginners
Dimensions: 48.7 x 26.7 x 54.4 inches
Capacity: 780 square inches
Fuel Type: Pellet
Bluetooth: Yes
WiFi: Yes
You can't have a top 5 list of the best beginner's smokers without having Traeger on the list. Traeger has built a reputation for being easy to use, durable, and lasting forever.
If you're looking for a good pellet smoker with all of the bells and whistles, you can't go wrong with their Pro 780 model.
Not only is it basically an easy bake oven for grown-ups (super easy to "set it and forget it"), it can create a nice wood-fired taste for your food. This specific model comes with WiFIRE technology. That means you can preheat and control the temp of your smoker from your phone. Yes, really!
And you can even connect it to your Alexa and have the ultimate smart grill. Those extra features are nice, but they do come with a price.
If you want a high-end model because you know you want a pellet grill, and you know you're going to love this lifestyle, this Traeger is a great choice!
If you're just getting started and not sure if this is going to be something you do all the time, I'd recommend one of the options above.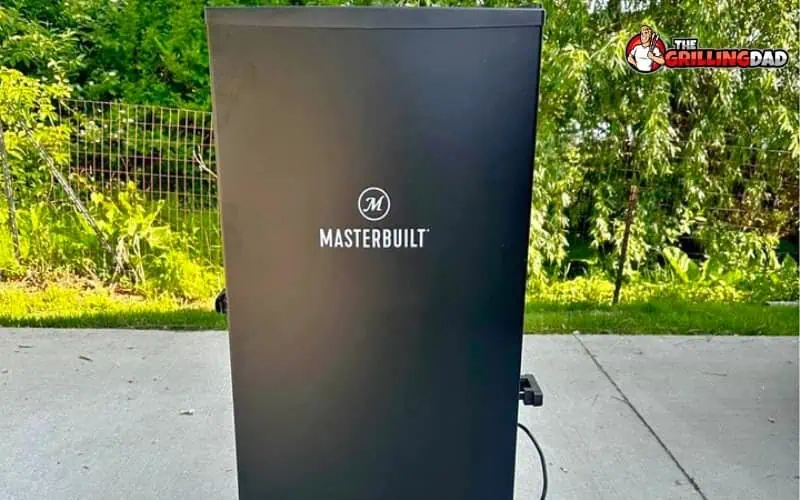 Best Overall Electric Smoker
Pros
As easy to use as your oven
Easy clean up (no ash)
Easy to find accessories
Cons
Does not add a lot of smoke flavor
No way to spritz or check food without letting out all heat
Dimensions: 19.88 x 20.47 x 33.26 inches
Capacity: 711 square inches
Fuel Type: Electric
Bluetooth: No
WiFi: No
Quick disclaimer – if you want that deep smokey taste, this is not going to be for you. This thing could not be easier to use, though!
Plug it in. Insert meat. Set the temp. Done.
It does have a side tray to put in some smoke chips, but it does not produce a lot of smoke. Can you smoke foods on here? Yep! You can smoke low and slow for hours on end with this thing.
It is so easy to use, I once started a cook before work, let it smoke while I was away all day, came home, and had perfect pork shoulder for pulled pork that night.
I'm putting this on the list because this electric smoker for beginners can produce great-tasting food, and it's incredibly easy to use, but it will not get that deep smokey taste some of us truly desire. 
Types of Smokers for Beginners
For us to get the best smoker for the money, it's crucial that we understand how these outdoor cookers work and what we can expect from each.

Here are the different types of smokers:
Pellet Smokers
Pellet smokers, or grills, are ideal for beginners because it allows us to cook foods with extra smokey flavor using the convenience of an electric smoker.
Buying a wood pellet grill is also a great investment because it can be used as a grill and oven.
You'll never cook pizza inside after cooking pizza on a pellet grill.
Pellet smokers work by heating a cooking chamber full of wood pellets where air circulates and then allow foods to heat and cook through convection.
This type of smoker has a built-in thermometer to keep the temperature inside stable and determine the amount of wood pellets to be fed into the firebox through an auger.
Pros:
Because of its unique cooking system, using wood pellet grills allows us to combine the flavor of actual wood smoke with our foods.
It provides options for us to set the temperature, so we don't have to check our food every single minute.
They are versatile because we can use them as a smoker, grill, and oven.
The wood pellets used in this type of smoker are burned down to nearly nothing, which means that we don't have to spend too much time and effort cleaning it up.
The firebox where the pellets are placed can easily be removed and emptied.
Phenomenal for low and slow smoking
Cons:
An expensive price tag is one of the biggest drawbacks of wood pellet smokers
Expect to pay at least $400 for entry-level and simple pellet smokers.
Read More >> Best Pellet Grills

Electric Smoker
Electric smokers are the perfect solution for beginners who want to experience "fire and forget" when smoking foods.
With a smoker that is electric, we won't have to worry about burning any charcoal or exerting a lot of effort during cleanup.
Choosing to buy an electric model will make it very easy for us to cook as we can easily set the temperature and lounge around with a beer in our hands while waiting for our food to cook.
Most models have a place to put wood chips to get the smoke rolling. You can try different types of wood chips to get unique flavors.
Some newer models of electric smokers even come up with a Bluetooth app that allows us to control the smoker even from a distance.
Pros:
They are very easy to use, making them one of the best choices for a beginner.
Save money in the long run as we don't have to buy charcoal, gas, or pellets to use it.
We don't have to babysit an electric model because we can set it based on our preferred temperature and expect it to cook our foods thoroughly even when we're not around.
Excellent temperature control
Cons:
Because they don't create very much smoke, the flavor it produces might leave you disappointed.
Read More >> Best Electric Smokers

Charcoal or Wood Smoker
Charcoal or wood smokers come in different shapes and sizes and add the most flavor to our foods.
However, for us to create the most flavorful dishes using a charcoal or wood smoker, we need to exert more time and effort for its setup, babysitting, and cleanup.
Read More >> How To Season a Smoker (5 Step Guide)
More me personally, I learned how to smoke meats on a charcoal smoker. It was a great starting point to learn a lot about the basics.
There is an option, though, to get the charcoal and wood taste while being able to regulate temperature extremely well. That's where the Masterbuilt Gravity Series comes into play. This is what I'm currently using and it's the best gravity smoker out there!
Read More >> How To Put Out A Charcoal Grill (3 Quick Steps)
Pros:
For us to achieve that deep, smoky, unique flavors in our foods, using charcoal smokers is the best way to go.
Regardless if we have a small patio, under a grill gazebo, or have a spacious backyard, we can easily find a charcoal smoker that fits just right.
If you choose a smaller charcoal smoker, you won't have any problems transporting it from one location to another.
You can use a variety of wood chips or wood chunks to get different flavor profiles.
Cons:
Charcoal smokers require more babysitting and a lot of practice for us to get that perfect smokey flavor.
This can mean spending long periods of time around the smoker (that could be considered a pro for some).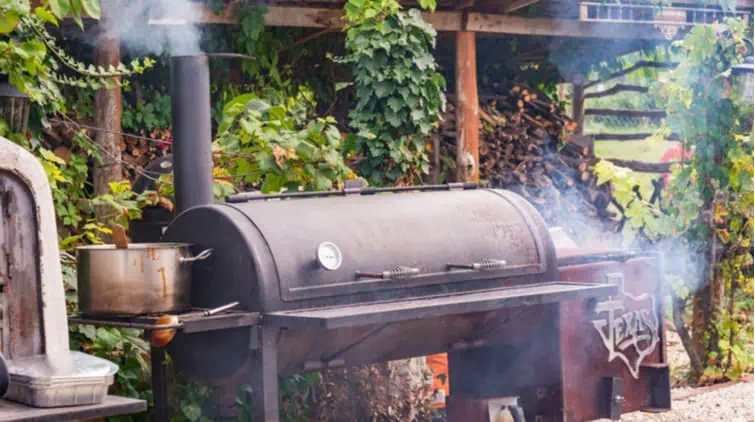 Offset Smokers
Offset smokers were traditionally made using unused oil drums, which is why this type of smoker still comes in a barrel-like shape today.
They are often big and bulky but have enough room to cook several foods at the same time.
These are often times called barbecue smokers. Whether you call them barbecue smokers or something else, these outdoor smokers are definitely a staple in the BBQ world.
Although I wanted to let you know these exist, I don't recommend an offset smoker if smoking meat for the first time.
In my experience, those who start with a smoker box that is offset give up and never return to this amazing lifestyle.
Pros:
Because of its big barrel cooking chamber, they allow us to cook massive amounts of food at the same time.
Offset smokers that come with a grill plate attached above the firebox are also available today. These models can work as a smoker and a grill.
The firebox of offset smokers is located separately from the cooking chamber. This will enable us to add more fuel to the fire without letting out the smoke and heat it creates.
Cons:
You'll need to exert a lot of time and effort to set up an offset smoker and begin cooking with it.
You'll have to allow at least one hour to set up this type of smoker before you can start using it.
Read More >> Best Offset Smokers
Propane Smokers
There are also outdoor smokers that use natural gas as a heat source. We've done a full write-up on the best propane gas smokers.
How to Choose Your First Smoker
Type of Smoker
Do you want to sit around your smoker and constantly poke around the coals to keep a steady temp? Would you rather set a temperature and walk away?
Take time to think about the type of experience you want to have with smoking meat.
While a charcoal and wood smoker may not be able to plug in and go like an electric or pellet smoker, you get more smoke flavor out of them.
Size
Are you going to keep your smoker outdoors? Will it fit on the patio? Do you plan to store it in the garage?
It wouldn't be ideal to have a smoker arrive and not have enough space for it.
While thinking about the size, think about what else you may need space for–things like pellets, charcoal, wood, accessories, and an extension cord.
Build Quality
Not only do you want a smoker that is going to be well built because you want something that will last long, but you also need a smoker that is constructed with materials that can retain heat well.
In addition to how it's built, how well the smoker can seal the smoke in will determine how much smoke flavor you'll taste and how steady the temperature will hold.
Price
If you're like most of us, you've got a specific budget in mind for your smoker. There's nothing wrong with that.
If you set a budget upfront, you can find a great quality smoker in that range. If you have a specific budget in mind and none of the options listed here fit, feel free to contact me, and I'll help you find one in your price range!
Fuel type
While the fuel type you need will likely be chosen by the type of smoker you choose, it's important to ensure you can acquire the type of fuel your smoker requires. Does your local hardware store carry pellets? Or will you always need to order online?
If you are good at planning in advance, something you need to order online is probably fine, but if you are a fan of last-minute smoke sessions, you should probably purchase a smoker that has fuel easily available at your local store, such as a propane or charcoal smoker.
Temperature Range
Not all smokers have the same temperature ranges, so it's important to think about what you plan to smoke before picking one out. For those who want to do the basic low and slow, any smoker on our list is probably suitable.
But if you want to cold smoke or smoke in high temperatures, then you may need to look into a specialty smoker or a pellet smoker. Not only that, but since you are a beginner, you'll want to pick something with a temperature reading that is easy for you to read and adjust as you learn the ropes of smoking meats.
Accessories
It can be weird to think about accessories while you are shopping for your first smoker since you just spent all your money on a smoker! However, if there is an accessory you are dying to have someday, you need to buy a smoker that is compatible with it now.
For example, some smokers dream of making their own smoked sausages. To do this, you will need to have a smoker that is compatible with sausage hooks. While most vertical smokers offer this capability, barrel smokers don't, so if you spend your money now on a barrel smoker, you'll have to put off your dream of smoking sausages for a while!
Construction Materials
When purchasing your first smoker, you'll want to consider the materials it is made out of. Different materials have different levels of durability, with steel being much longer lasting than something like aluminum.
Some people buy their first smoker as more of a trial and plan to upgrade it in a few years. If this is your plan, then material might not matter as much for you. But for those who want to spend on a smoker that will last, you'll definitely want to get one with a durable exterior.
Safety Features
Safety features are always important, especially as you are learning to smoke. Ensure you choose a smoker whose safety features you can use and that you understand. If a smoker's safety features seem too complicated, then that probably isn't a good smoker for a beginner!
Ease of Use
Again, you are a beginner. This means you want to pick a smoker that you are confident in using. Learning to smoke is an art form, and the last thing you want to be doing is trying to learn how the smoker works for days on end!
Many smokers will have reviews letting you know how easy or not easy they are to use. Take these to heart as you shop!
Warranty Options
Whenever you are investing in an appliance, you should consider the length of the warranty, especially if you plan to use a smoker for a long time. While most smokers have at least a 3-year warranty, some have 5 and 10-year warranties, which can help you enjoy your smoker for as long as possible.
Of course, as we previously mentioned, you might not be planning on keeping your first smoker that long. If this is the case, the warranty likely won't be as important to you.
What Type of Smoker is Easiest to Use?
As a beginner, we recommend steering clear of offset and drum smokers–as these can be difficult even for professionals to master. When you are first starting out, a pellet or electric smoker will help you to have the maximum amount of temperature control while you learn the ropes.
Charcoal or wood smokers, while not as easy as pellet or electric smokers, can be an option for beginners who don't mind a little challenge. They maintain temperature better than a barrel smoker, but some brands can be difficult to use as a beginner.
If you want to smoke over both charcoal and wood, we recommend the Pit Boss Pellet Grill we mentioned above, as you can use both charcoal and wood pellets, and it has excellent temperature control. It also has an easy-to-read temperature gauge, which is perfect as you do your first few smokes!
Smoking Basics
As a beginner, you likely have a few questions about smoking, which we hope we have answered for you below!
What is the Difference Between Smoking and Grilling?
Smoking is low and slow cooking (usually between 225°F and 275°F). It will take hours, but you will cook your meat at a low temperature, which will make it nice and tender. Grilling, on the other hand, is cooking meat at high temperatures over an open flame (usually temps over 350°F).
Are All Smokers the Same?
NO! As a beginner, it can be difficult to choose the direction you want to go in. Propane and electric smokers can be easy, but they won't give you that smoky taste you are craving. If you want a smoky flavor, then you'll want to pick a smoker that uses wood or charcoal as fuel.
What Smoker is Best for Taste?
If you truly want that smoky taste, then you need to grab a charcoal smoker or a pellet grill that can use charcoal pellets, you won't regret it.
Essential Smoker Accessories
Shopping for your first smoker? Don't forget to grab these essential accessories!
Wireless Brush: You'll need a way to clean your fancy new smoker! While any grill brush can work, we recommend grabbing a wireless brush to keep your smoker in the best shape possible and avoid pesky grill brush bristles getting everywhere.
Digital Thermometer with Probe: Most smokers come with one probe, but it's not enough! You'll need a second one to check the temperature in other parts of the meat as it cooks.
Fuel: Your new smoker won't come with fuel. We recommend stocking up when you first order until you get the hang of how much your smoker will actually use.
FireProof Gloves: You may not need these right away, but once you start smoking large cuts of meat, they are a necessity!
Good Knives: Chances are the knives you have on hand won't be cutting through the new smoked meats you will be enjoying, so take the chance to stock up on some quality knives.
There are more accessories than this that you might want to have on hand, but these are the ones we think are an absolute necessity!
Tips for Your First Smoke
You've got a smoker, and you are ready to go! Before you start heating up your smoker, check out these tips for beginner smokers. 
Start easy–don't immediately grab that gigantic brisket. Instead, start with a cheaper cut of meat which doesn't require as much skill.
Add sauce and rub–one of the best parts of BBQ is how you season it. Just because you are a beginner doesn't mean you should skip this.
Stay close by–It will take a while for you to get used to your smoker. Don't plan to cook on it unattended just yet! 
Don't forget to season your smoker before use!
Other than that, you should be all set!
Frequently Asked Questions About Smokers
How Do Smokers Work?
1. Smokers allow us to cook food slow and low (around 180 to 220 degrees) inside a smoke chamber to infuse foods with different flavors.
Is your mouth watering yet or just mine??
2. The air temperature increases inside the cooker and is carefully controlled to produce fully-cooked meats.
3. There are different types of smokers available for beginners today, and each comes with its own set of pros and cons.
Related: Best Lump Charcoal for Smoking
What is the Point of a Smoker?
The point of a smoker is to maintain low temperatures (below 250° F) for an extended time while the meat absorbs the smoke and slowly cooks.
This process is often referred to as smoking "low and slow" and often produces tender meat that is full of flavor.
What is the Easiest Smoker for Beginners?
The easiest smoker to use is a smoker that has an electric fan to control the temperature settings like an electric or pellet smoker.
With either option, you can plug them in, press 1 button, and begin smoking your food.
How Much Do Smokers Cost?
The cost of a smoker ranges from as low as $50 and can exceed prices of $10,000. The factors affecting the cost of a smoker are the materials used, quality of the build, brand name, and features. The average cost of smokers for home use is $600.
Final Thoughts On Beginner Smokers
Once you've chosen which grill is best for your needs, always remember to keep safety top of mind.
Smoking great meat starts with making sure the internal temperature is correct. You don't want people getting sick, right?
The next most important thing to remember is to have fun! Follow recipes as you begin and branch out to try your own as you get the hang of it.
Drop a comment and let me know which smoker you're going for. Did you choose one of our recommended best smokers for beginners?
Have fun and roll smoke!