Are you in the market for the best charcoal smoker? Look no further, we have all of the answers to your questions here.
In this GrillingDad.com article, you'll learn:
What the best charcoal smokers are
How to choose the best charcoal smoker
And much more!
Our Top 10 Charcoal Smokers
Here are the best charcoal smokers on the market today:
Best Charcoal Smokers Reviewed
Finding the best charcoal smoker can be a daunting task if you are not familiar with the different features or how it works. Once you begin doing your research, you will discover that while there are many different types of charcoal smokers, you will find recommendations for the best.
Keep in mind that deciding which one is the best for you depends on what you want and several other factors that will be covered below. Check out some of the best charcoal smokers that are on the market today.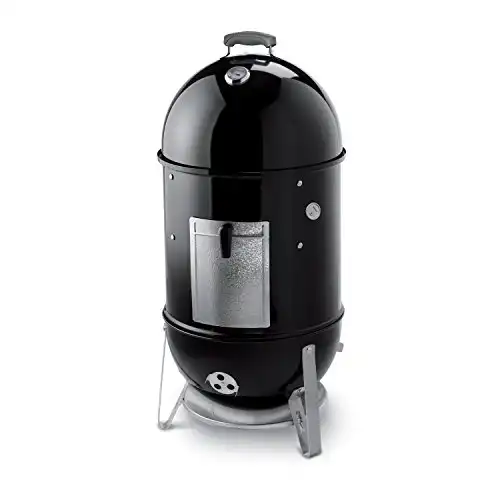 Since the early 1980s, Weber Smokey Mountain has been creating top-of-the-line charcoal smokers that even the pickiest outdoor cook can appreciate. This smoker is no different from others that are made to smoke meat to perfection.
This smoker comes equipped with three different sections to provide the best smoking experience you can have. These sections work together to give your favorite meats the right temperature and smoke to make for a great meal.
The bottom section contains the charcoal pan that holds onto the charcoal and allows you to add more as needed. Three vents create the perfect airflow you need to make your meat taste extremely smoky.
The middle section is where the water pan sits along with a couple of cooking grates and a door where you can add in more charcoal. When the heat comes up from the charcoal pan it mixes with the water to create a great smokiness.
The last section of the Weber Smokey Mountain cooker is the dome lid which also has the temperature gauge. All of these things work together to give you a great smoky flavor.
Pros
481 square inches of cooking space
Easy to learn to use
High-quality
Extra cooking capacity with two racks
Cons
The thermometer may be faulty
The side door is cheaply made
Pick #2: Pit Barrel Cooker Classic Package (Best Alternative)
If you are looking for something a little different than the standard charcoal smokers, then look no further than the Pit Barrel Cooker. More and more of these unique smokers are popping up in backyards and campgrounds everywhere.
The Pit Barrel Company creates magic out of a 30-gallon barrel that is then outfitted with all the things you need to smoke your favorite meats. With 255 square inches of cooking space, it is big enough to fit an 18" grate for placing your food.
Interestingly enough, the grates are not the only places you can smoke meat in this unique smoker. These pit barrel cookers are also equipped with hooks where you can hang your various meats to create more space.
Pros
Affordable
Ability to hang meat which creates more space
Can buy ready-built or a kit
Easy cleanup for meat drippings
Cons
Not especially nice looking
Tough to clean charcoal out
Can get extremely hot
Pick #3: Masterbuilt MB20040220 Gravity Series 560 (Best Under $500)
When it comes to unique designs, this Masterbuilt Gravity Series ranks up there on the list since it does not store coal in the same way as others. This smoker has a hopper that is built on the side that the charcoal is fed into.
Once the charcoal makes its way through the hopper, it is then ignited to mix the heat with the water pan for the thick smoky flavor.
Another unique feature of this charcoal smoker is that you can smoke your food in a variety of temperatures. This is because the smoker is designed to reach temperatures between 175℉ to 700℉.
For the price, this smoker has many bells and whistles that you may have never even heard of before. One of these features is the enabled WiFi capability that allows you to tune into the temperature controls and other features so you can keep doing what you are doing while it smokes your meats.
Pros
Affordable price
Additional features such as WiFi connectivity
Hopper helps to ensure there is always charcoal
Large temperature range
Cons
Depends heavily on electronics to function
The size makes it less portable
Pick #4: Kamado Joe Classic Joe III (Best High-End)
The Kamado Joe is well-known for its brightly colored red design with high-quality ceramic that is easily recognizable. They are easily thought of as some of the nicest-looking smokers and girls on the market today.
This smoker can hold three stainless steel grates which means that you will be working with about 510 square inches. This means that this is the perfect smoker for those who entertain larger groups immediately.
The Kamado Joe Classic is extremely versatile since it can not only smoke meat but can grill, roast, or even bake. This means that it is an all-in-one outdoor cooking solution that does not require other equipment to function.
Pros
Versatile
Easy learning curve
Comes with a rolling cart for easy portability
All in one cooker
Cons
More expensive than other smokers
Only comes with one cooking grate-if you want more cooking space you have to purchase extra grates
Pick #5: Weber Original Kettle Premium Charcoal Grill
Although this pick is technically a grill, with a few modifications, it can be turned into a smoker that you will love. This is for the outdoor cook who loves to grill but wants to smoke meats on occasion without investing in another unit.
When you add the Slow and Sear accessory to this grill, you can add your charcoal to the bottom pan for the smoky taste in your meat that you may be looking for. While it may not be the most efficient way to smoke, it is perfect for those who only do so occasionally.
Pros
Durable construction
Portable
Lightweight
Cons
Requires modification to smoke meats
It May be expensive to modify
Limited space for smoking
Pick #6: Oklahoma Joe's Highland Reverse Flow Smoker
If you are looking for a smoker that can cook for a larger crowd, look no further than the Oklahoma Joe. This offset smoker is designed with lots of space so that you can cook several items at once, with even the option to throw on a pot of beans or other side dishes on top.
A distinctive feature about this smoker is that it uses a reverse flow system as it smokes your favorite meats. This means that the smoke starts at the far end of the smoker before it comes across to create the perfect smoky experience.
Although heavier than most, it comes with wheels on one side so that you can easily transport it from one area of your yard to another. You may not want to take it along on your camping and other trips since it is extremely heavy, but it is a great outdoor smoker.
Pros
Ample cooking space and warming area
Great for a large crowd
Great temperature control
Durable construction
Cons
Not airtight
The paint may peel off
Pick #7: Cuisinart COS-116 Vertical Charcoal Smoker
If you are unsure about investing in a more expensive smoker but want to try your hand at smoking meats, this Cuisinart smoker may be the way to go. Since it is less expensive than other smokers, it is a good place to start.
This vertical smoker has vents on both the top and bottom that help to manage the heat that comes across your meats. It also has the standard water bowl to keep in the moisture while also working with the charcoal to produce just the right amount of smoke.
With more than 400 square inches of cooking space, while this may not be your higher-end smoker, it certainly competes with the amount of space you have. This space comes equipped with two cooking grates so you can spread out your favorite meats.
Pros
Most affordable
Does not skimp on cooking space
Comes equipped with an ash cup for easy cleaning
Cons
Not great for large crowds
Pick #8: Dyna-Glo Signature Series Vertical Offset Charcoal Smoker
This Dyna-Glo vertical grill is a phenomenal find, especially if you are cooking for larger crowds since it comes with over 1,000 square inches of cooking space over five grates. Since it is a vertical grill, this massive space not makes the smoker bulkier but extremely convenient.
With ample ventilation, the heat in this smoker can be managed through the vents on the top of the smoker, near the firebox, and around the fire chamber itself. This means that you can adjust these vents to get the experience you are looking for in a smoker.
The large drawer in which you load up your charcoal also makes for a great way to clean out the ash after use. You can also access the five racks pretty easily through the side door in the vertical chamber.
Pros
Ample cooking space
Comes equipped with wheels for easy portability
Great access to both the charcoal drawer and the smoking racks
Cons
The firebox is low to the ground
Pick #9: Cuisinart COS-118, Vertical Charcoal Smoker
Another option is if you want to try your hand at smoking meat but don't want to invest a lot of money to do so. This smoker comes with two 18" cooking grates which give it about 510 square inches of cooking space.
While it does great at holding temperatures of about 225℉, you may have to make some modifications if you need higher temperatures. This is the same if you want more of the advanced features that come with more expensive models.
This vertical charcoal smoker does come equipped with the standard features that you would expect from a low-end unit. This means, you have space to load in the amount of charcoal you need, although you may have to add more along the way.
Pros
A large amount of cooking space
More affordable smoker
Distributes heat efficiently
Cons
Requires modifications to work at the best capacity
Not as easy to operate as other smokers on this list.
Pick #10: Broil-King Vertical Charcoal Smoker
This vertical charcoal smoker is a great option for those with a higher budget and a great quality smoker. The high-quality construction of this smoker, which is made in Canada, gives you the quality you desire to smoke your favorite meats.
When it comes to cooking space, this smoker has it made with more than 770 square inches with four cooking racks and 16 meat hooks. This gives you more versatility than most other smokers and the ability to cook for larger crowds.
Built with double walls that keep the heat in appropriately this smoker does not require additional insulation. It also gives you easy access to the water pan as well as the racks and charcoal pan for easy adjustments.
Pros
Phenomenal cooking space
Comes equipped with many bells and whistles
Versatile
Durable construction
Cons
More expensive than other vertical smokers
What is a Charcoal Smoker?
Most people who enjoy outdoor cooking have either heard of or used a smoker before to cook their favorite meats. Whether you have used charcoal or the other types of smokers, the outcome is similar in the smoky taste of the food you get as a result.
A charcoal smoker uses charcoal to slowly cook your meat over a long period to achieve a smoky taste and smell. This is accomplished by using a lower heat that is produced by the fuel source, which in this case is charcoal.
Cooking your favorite meats at temperatures ranging from about 225℉ to 275℉, not only adds that delicious smoky flavor but also breaks the connective tissues down to produce a juicy and tender texture as well.
The Basics of How a Charcoal Smoker Works
Keep in mind that smokers in general have different heating sources such as electricity, propane, wood pellets, natural gas, and more. The charcoal smoker works similarly to these but is said to produce a more authentic smoky flavor.
It is also important to understand that a smoker, unlike a standard grill, does not use direct heat to cook your meat. Instead, the direct heat source is kept separate from the meat meaning that it is only heated air and smoke that surrounds it.
A charcoal smoker usually comes equipped with a charcoal pan to hold the heat source in an area below the smoke chamber. Within the chamber, there is typically a water pan that works with the charcoal to produce smoke that will help cook your meat.
What to Look for When Purchasing a Charcoal Smoker
Like with other grills and smokers, it is important to understand what you should look for before you go out and purchase a charcoal smoker. This is mostly because, while all charcoal smokers use the same heating source, they may not be created the same way.
Read on below to learn about some of the factors and features you should consider when buying a charcoal smoker.
What is Your Budget?
While these criteria may not help you to purchase the best charcoal smoker on the market, it is important to know how much you have to invest. This is because many of these smokers can range in price depending on the size and functionality you are looking for.
If you have an open budget, then you are more likely to want the top-of-the-line brand that can give you all the bells and whistles you could imagine. Many smokers fall into this category which will make having a charcoal smoker worth your investment.
On the other hand, if you have a limited budget, you may want to consider purchasing a smoker that is on the lower end of the spectrum. This does not mean that you have to sacrifice quality to save your pocketbook the shock.
Many charcoal smokers are better for the budget that does just as great of a job smoking your meats as the more expensive ones. You will need to do your research to find the one that works best for you.
How Will You Use Your Smoker?
Do you have a large family or group of friends that you plan to use smoke? If so, then you may want to consider purchasing a charcoal smoker that has a bigger capacity for cooking larger amounts of meat at one time.
The larger charcoal smokers, if you have the room to accommodate them, are the best option for those needing to cook for larger groups. Since you can cook more at one time, it means less time manning the smoker to prepare.
If you are only preparing food for a small group of family or friends, then a larger smoker may not be necessary. Purchasing a smaller unit means that you are cooking less at one time, however, it should give you the amount of meat it takes to satisfy smaller groups.
Are You Limited on Space?
When it comes to purchasing a charcoal smoker, it is essential to consider the space you have to put it in. Do you already have a grill that is taking up a lot of space? If so, do you have room to put in a separate smoker?
These are great questions you should ask yourself since this will make the difference between what size and type of charcoal smoker you can purchase. Whether you are planning to continue smoking and grilling or not, space can be an issue that cannot be overcome easily.
If you have limited space, you may want to consider purchasing a combo unit. This means that the unit will have the ability to either grill or smoke depending on how you set it up. This can be a lifesaver for those with limited space.
Do You Need Your Smoker to be Portable?
Another factor you should consider when purchasing a charcoal smoker is whether you are going to have a dedicated space for it or if you need it to be more portable. This will depend entirely on whether you plan to bring your smoker along with you on camping trips or other places.
If you do any type of outdoor activities such as camping and enjoy bringing your smoker along with you, then you may want to consider a smaller unit that is more equipped to move around easily. This will allow you to either use the smoker in your backyard or pack it up in your truck to take it along with you.
Larger smokers will be more difficult to haul around and are better having a dedicated space in your yard or patio area. These units are typically purchased by those who are looking for a unit that they will use primarily in their yard.
What Kind of Warranty Does the Smoker Come With?
Although this criterion seems like you are expecting the unit to fail at any time, asking for the type of warranty is a good idea. This is because the warranty type can tell you a lot about the company and the overall quality of the unit.
But, don't just take the company's word for it, make sure you take the time to read reviews about the warranty process by customers who have been through it. This will tell you whether or not the warranty means anything.
You may not be expecting something to happen to your smoker shortly after purchasing it, however, anything can happen. The last thing you want to deal with is a company that will not honor and stand behind its products.
Pros and Cons of a Charcoal Smoker
When you are deciding whether or not to purchase a charcoal smoker, you need to also consider the advantages and disadvantages. Keep in mind that most outdoor cooking units are not perfect, but it is important to know whether the cons are something you can live with.
Read on below to learn more about the pros and cons of purchasing a charcoal smoker.
Pros
As with most things, there are pros and cons to owning a charcoal smoker. Here are some of the most common advantages of owning one.
Easier to transport. The great thing about a charcoal smoker is that there are no electrical cords or propane tanks to contend with. This means that if you need to move it or take it with you, it is much easier to accomplish.
Better flavor. While all smokers whether they are charcoal, electric, propane, or others give your meat that smoky flavor, charcoal does a more authentic job. This is because you can control how much smoke you want by adding either more or less of the charcoal. Many outdoor cooks prefer the taste of charcoal-cooked meat, hands down.
Versatility. Many charcoal smokers can be used as either a smoker or a grill. This means that you may only need one unit for all of your purposes.
Cons
Alongside the many advantages of using a charcoal smoker, there are always disadvantages to contend with. Below are some of the most commonly mentioned disadvantages of using a charcoal smoker.
Temperature control. Although there is a temperature gauge on a charcoal smoker, it can be difficult to get used to how controlling the temperature is done. This means in the beginning, you may end up with temperatures too hot or not hot enough which can affect how your meat turns out.
Ease of cleanup. Since you are using charcoal, when you have finished smoking your meats, you will be left with ash and bits of charcoal. This means that before you can use your smoker again, it will need to be cleaned.
No bells and whistles. Since charcoal does not require a lot of flair, these smokers tend to not come with a lot of the accessories you may find in other smokers. So if you are looking for something that has more to it, the charcoal smoker may not be for you.
Is Buying a Charcoal Smoker Worth it?
When it comes to deciding whether or not a charcoal smoker is worth buying, while all the factors listed above are important, it comes down to personal preference. With so many choices out there on the market, it can be difficult to choose what you should purchase.
The bottom line is that if you enjoy the deep, authentic, smoky taste of your favorite meats, then nothing beats a charcoal smoker. This is because in this smoker the charcoal tends to produce more smoke which then enters your meat to give it a unique flavor.
Many people prefer a smoker that works a little quicker and with less work than a charcoal smoker, however, a majority of people who cook outdoors agree that you cannot get better than charcoal.
Final Thoughts on Charcoal Smokers
Charcoal smokers are hands down one of the best ways to smoke meat! But as you can see, purchasing a charcoal smoker is no quick decision.
Besides considering the cost, you also need to look at easy of use, modifications, and the space you plan to put your smoker. Once you establish all of these things, your choice of a charcoal smoker will get at least a little bit easier!
Learn More About Smokers
If you want to learn more about smokers, check out these other helpful resources!