Get ready, backyard pitmasters, because today we're exploring the cutting-edge world of gravity smokers—a game-changer for every grilling and smoking enthusiast. Combining the power of charcoal with digital precision, these marvels of BBQ engineering offer unparalleled temperature control, versatility, and ease of use.
Buckle up and prepare for a mouthwatering journey as we discover the best gravity-fed smokers!
The Best Gravity Smokers At a Glance
When it comes to choosing the best gravity smoker on the market today, it is important to keep in mind that while there are some custom-made models, there are only two companies that currently make them for everyday folks: Masterbuilt and Char-Griller.
Here are the best gravity smokers:
Best Overall: Masterbuilt MB20040221 Gravity Series 560
Best Runner-Up: Char-Griller Gravity-Fed 980
Best High-End: Masterbuilt MB20041220 Gravity Series 1050
Our Reviews of the Best Gravity Smokers
For many grillers, the gravity smoker has given them the best of both worlds when it comes to grilling. While most outdoor cooking enthusiasts enjoy the idea of a pellet grill, they often want the flavor profile that charcoal provides.
Because of this, the gravity smoker was developed first by Masterbuilt in 2019, then by Char-Grillers a bit later. These grills have been the perfect choice for those who enjoy working with charcoal.
Even though these two companies are the only ones on the current market to manufacture the gravity smoker, you may be wondering which one is the better choice. To learn more about these brands and particular units, keep reading below.
Dimensions: 24.65″ x 54.13″ x 51.97″
Cooking Space: 560 square inches
Temperature Range: 225℉ – 700℉
Overall Weight: 146.98 lbs
Warranty: Limited 1-year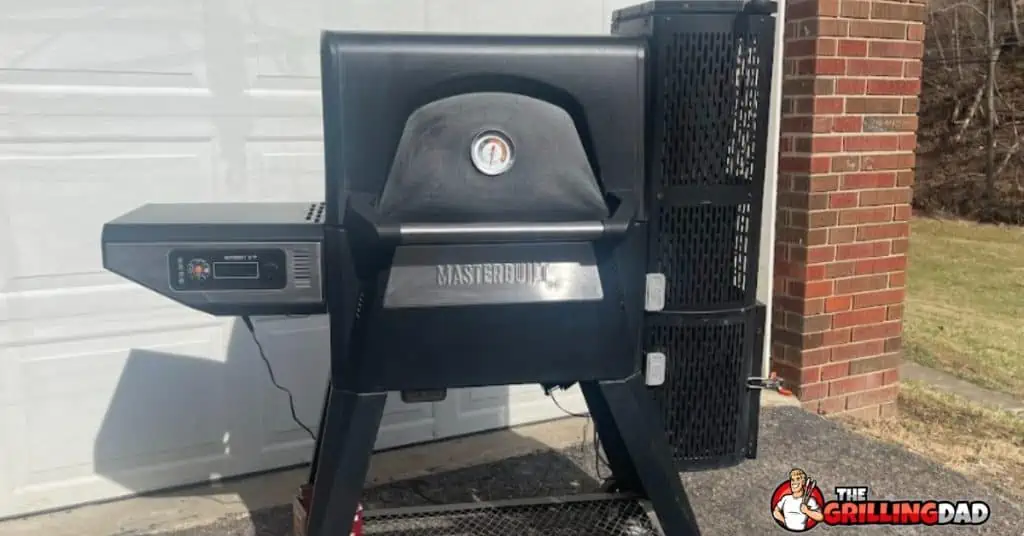 Even though this model is not the first of its kind manufactured by Masterbuilt, it is by far the best gravity smoker on the market today. Developed as the answer for those who wanted more cooking space on the gravity smoker, this unit just about has it all.
Depending on where you purchase the smoker, you can have your unit delivered, set up, and ready for your outdoor cooking needs in about a week. It is important to keep in mind that when the smoker is in the box, the weight will require at least two people to maneuver to where you will set it up.
Assembly may require you to have an extra hand around but should take about 1 ½ to 2 hours to put together completely. This is, of course, dependent on your knowledge and experience with following the manufacturer's instructions.
The smoker itself comes equipped with a sturdy construction which means that it is built to last for years to come. While it is on the heavy side overall, it is still easy to move around since it comes with wheels on one side for portability.
Pros:
Reliable temperature control
Can go from smoking low and slow to searing at 700 degrees within a few minutes
Holds 10 lbs of lump charcoal or 16 lbs of briquettes
Comes equipped with a griddle attachment
Cons:
The front shelf is an add-on for the 560 (standard on the 800 and 1050)
The charcoal hopper collects soot
Dimensions: 65" x 51" x 34"
Cooking Space: 980 square inches
Temperature range: 200℉ – 700℉
Overall Weight: 213 lbs
Warranty: Limited 1-year
The Char-Griller Gravity-Fed Smoker came about after Masterbuilt developed the first of its kind in 2019. One of the biggest differences between this model and the Masterbuilt and why this one is a close runner-up is the size of the cooking space available.
When ordering this unit from the retailer, you will likely get your Char-Griller Gravity Smoker in about a week. Since the weight of the smoker is more than 200 pounds, you will want to ensure that you have some help unloading and moving it.
Most outdoor grillers who have purchased this unit have stated that the assembly for the Char-Griller is not as straightforward as other grills. This is another instance where you would want to have a second person handy to help with some of the assembly.
Like the other gravity smokers, the Char-Griller Gravity-Fed 980 Smoker can hold up to about 10 pounds of lump charcoal and 16 pounds of charcoal briquettes. This means that you can go an entire cooking session without having to reload the fuel for grilling.
Pros:
Ample cooking space
Digital temperature control
Porcelain-coated grill grates
LCD Controller, WiFi, and Bluetooth Capabilities
Cons:
Construction may not be as sturdy as other units
The front shelf is not usable as is
Temperature does not stay steady
Dimensions: 33" x 61" x 52"
Cooking Space: 1050 square inches
Temperature Range: 225℉ – 700℉
Overall Weight: 203 lbs
Warranty: Limited 1-year
For those who like the Masterbuilt brand but are looking for a gravity smoker that has quite a bit more cooking space, this may be the perfect smoker for you. This is because this smoker boasts more than 1,000 square inches of cooking space which is perfect for cooking for small or large gatherings.
Everything else that comes equipped with this unit is similar to the Masterbuilt 800 model in terms of ease of assembly and durability. This is because it is manufactured to last with durable construction by one of the best brands in the outdoor cooking industry.
Pros:
Large cooking capacity
Ability to hold 10 lbs of lump charcoal and 16 lbs of briquettes
Digital fan control for better airflow
Phenomenal temperature range
Cons
Not great for portability
The front shelf is difficult to utilize
Heat shrinkage of food
What is a Gravity Smoker?
Imagine a digital charcoal grill that operates similarly to a pellet grill. Instead of a pellet hopper, you've got a charcoal chute or hopper filled with either lump charcoal or briquettes. The fire kicks off below the charcoal, managed and regulated by a digitally controlled fan. As the charcoal burns, ash descends into an ash bin, while gravity ushers down the next layer of charcoal to keep the flame alive.
Once your cook is done and it's time to power down, simply put the slides back in (which closes the damper), cutting off oxygen and snuffing out the fire. The ash continues its journey to the ash bin, leaving the remaining charcoal in the hopper unscathed and ready for your next cookout.
Want to amp up that smoky flavor? Toss in some wood chunks with the charcoal, or keep things simple by sticking with charcoal alone. The choice is yours.
How Does a Gravity Smoker Work?
Like the pellet grill, charcoal is loaded into the hopper before the cook session begins and is slowly moved through the unit by an auger system. This system allows the charcoal to burn throughout your outdoor cooking session and cook your food thoroughly.
With the fire beginning at the bottom of the charcoal box, the gravity smoker's digital fan ensures that the heat is spread evenly throughout the unit. The gravity name comes from when the ash naturally falls to the bin below, thus allowing another layer of charcoal to keep the heat intact.
Features to Look For When Purchasing a Gravity Smoker
When you are looking to purchase a gravity smoker, there are certain criteria that you should consider before making your choice. While this is important for any outdoor cooking unit you want to purchase, with the gravity smokers being a newer type of smoker, you will need to be sure it will fit your needs.
Ease of Assembly
One thing you will need to consider when you are thinking about buying a new smoker, especially a gravity smoker is how easy it is to assemble. The last thing you want to do when you purchase a new smoker is spending hours putting it together before you can use it.
When it comes to ease of use, the Masterbuilt Gravity Smoker is said to be much easier to assemble than the Char-Griller. This is because while it may only take a couple of hours to set up the Masterbuilt, the Char-Griller seems to take quite a bit longer.
Fuel Capacity
Another feature you may want to consider is how much charcoal the hopper on the gravity smoker will hold. This is because the more it holds, the longer your cook session can go without having to reload the hopper.
Cooking Space
When it comes to cooking outdoors, one important factor you will want to keep in mind is how much space you have to cook. Whether you are cooking for only yourself, or your family, or a larger event, the cooking space needs to be big enough to accommodate.
Temperature Control and Accuracy
When you are cooking your favorite meats, the temperature must stay steady throughout the cooking process. Because of this, you will need to do your research to ensure that the gravity smoker you choose has not only the best temperature control but can keep the heat as accurate as you would expect.
Price
Adding a new grill or smoker to your outdoor cooking space can be daunting if you are not sure how much it will cost. This is why it is important to do your research to make sure that a gravity smoker is within your budget and will not break the bank.
Warranty
Another important feature you will need to keep in mind is the length and details of the warranty offered by the manufacturer. Currently, you will notice that the warranty offered by both manufacturers that make the gravity smoker is a limited 1-year warranty.
Pros and Cons of a Gravity Smoker
As you set out to do your research on the best gravity smoker on the market today, you should consider the pros and cons of even purchasing one. This means looking at reviews and what others who have used the product are saying about the various components they offer.
Pros
Better temperature control with the ball valves that keep the heat distributed throughout the unit
Uses less fuel since the gravity smoker is designed as a closed system
Gravity smokers have more versatility to allow you to vary your cooking methods and take advantage of the low and slow methods
So far, the construction of gravity smokers, although they are large units, has been one of extreme durability
Cons
Cost may not fit the budget of many outdoor cooking enthusiasts
Large and heavy sizes may prevent you from moving it around a lot