Have a budget and want to find the best gas grill you can get?
Great news, you're in the right place!
In this TheGrillingDad.com guide, you'll learn:
Which are the best gas grills under $300
Qualities to look for in a good grill
Grilling safety tips
And much more!
Are you excited about a barbecue party but still don't have a gas grill?
Don't worry, you've got me to help guide you! I've wasted a ton of money trying all the grills on the market, so I know what's good and what's trash.
I will guide you through the process of choosing the best grill available at an affordable price.
I considered the best gas grill under $300 so you won't feel worried about finances in the process of buying one.
Read on to learn more about the basics of gas grills and how to choose the right one.
Our Overall #1 Rated Pick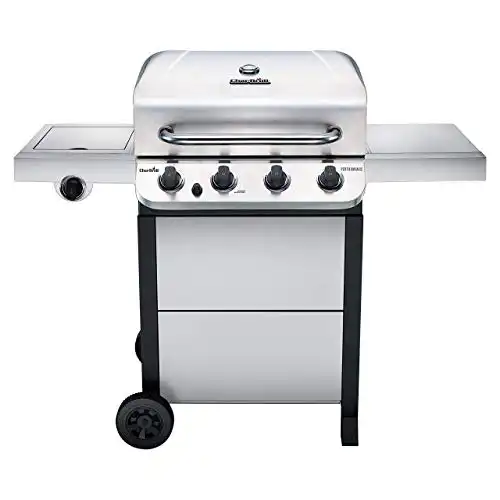 Our top pick is anything made by Char-Broil because they produce high-quality and beautifully designed grills, and they are located right here in the USA.
More Char-Broil gas grills are sold in the United States than any other brand for good reason.
Whether you want an affordable gas grill like this one or a huge, top-of-the-line grill, Char-Broil won't let you down no matter which model you choose.
Demand is high for Char-Broil grills right now, so get your hands on your favorite model and have it shipped to your doorstep from Amazon today.
Top 5 Best Gas Grills Under $300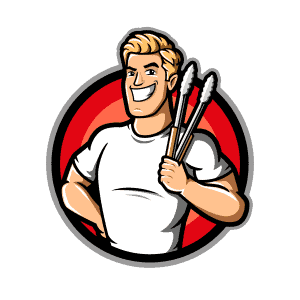 In a hurry? Check out our top 5 grills! Keep reading to discover more about our top picks.
What Do You Look for in the Best Gas Grill Under $300?
Temperature Range
Burner Quality
Overall Structure
Portability
Grate Material
BTU Level
Additional Features
Warranty
Safety
The general rule of thumb is to list down the things that you want in a gas grill. If you don't have any expectations and knowledge on this matter, check this part out.
I've listed some considerations to make before you buy your grill.
Temperature Range
This is important if you love grilling meat and fish. On average, gas grills with higher temperature ranges have a wider variety of food that they can cook.
If the supplier can demonstrate indirect cooking tests, observe them, because this can tell you if you can do slow-cooking on the gas grill.
Burner Quality
Among all the parts of a gas grill, I noticed that this is the one that needs the most frequent number of replacements. A good-quality burner can last up to 10 years.
The number of burners available also matters when choosing the best gas grill under $300.
A decent gas grill should have at least two burners so you can do what is called two-zone cooking.
And the more burners your grill has, the better!
You can heat the grill relatively faster and at higher temperatures.
It's convenient to turn off one side of the grill and then slow roast over indirect heat. Then you can crisp the food over the heated side when it's almost done.
If your burners operate independently, that's way better!
You can divide the grill into multiple sections with different heat settings.
This means that you can cook various foods at the same time.
Such versatility allows you to be more creative when grilling, making you appreciate the whole process of grilling and not just the finished product.
Read More >> How To Grill Frozen Burgers (3 Quick Steps)
Overall Structure
When looking for a gas grill, I usually check to see if the material is sturdy.
This will not only contribute to the longevity of the unit but will also ensure safety for those who use it.
As gas grills are usually left outdoors, choose something that can withstand different elements.
For instance, grills with stainless steel or cast aluminum construction are less prone to rust.
Stainless material also means it is less vulnerable to oxidization. So, you can be confident that the material will not disintegrate over time.
Also, check the overall construction of the gas grill. Pay attention to the wheels, cart, firebox, and lid.
Compared to painted steel carts made with nuts and bolts, stainless steel carts that have seamless construction and welded joints are often sturdier.
Portability
Before buying a gas grill, know your wants and needs first.
Will you always have your barbecue party at home?
Or would you like to host the party outside, like when camping or hanging out at the park?
If you prefer the latter, then you need to choose a more portable gas grill.
But remember that a grill with a stand does not have to be less portable. You can get a gas grill with cast iron or durable wheels, just like what I've provided in my list of the best gas grill under $300 below.
These wheels allow you to bring your gas grill anywhere you want. Some portable gas grills even fold down to become more compact.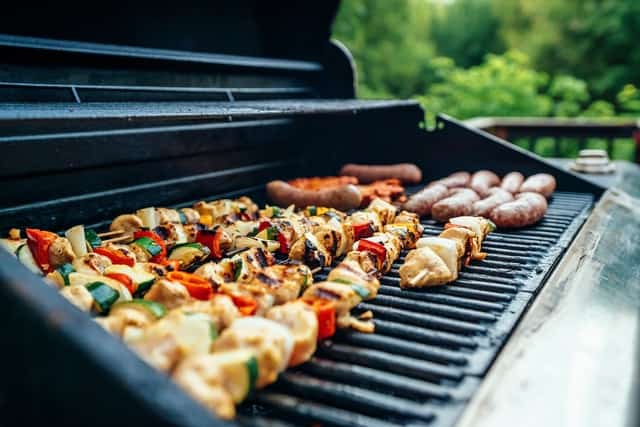 Grate Material
When choosing a grill, you will want to check the quality of the cooking grates.
It's wise to choose a grill that uses stainless steel or cast iron grates.
Stainless steel grates are easy to clean and rustproof.
Cast iron grates with porcelain coatings are also durable and easy to clean.
For better heat retention and faster cleaning time, you can look for an enameled cast iron coating.
Cooking and grilling can take up a lot of your time, so pick a grill that will save you cleaning time.
Read More >> How To Remove Rust From Cast Iron Grates (5 Step Guide)
BTU Level
The higher the BTU level of your grill, the hotter the temperature it can attain.
BTU (British Thermal Units) is a measurement for heat.
Standard grillers have 10,000 to 12,000 BTUs.
Others have 20,000 BTUs and up to even 54,000 BTUs.
Although you don't always need to grill at maximum BTU, it pays to know that your total BTU can reach up to 40,800 BTU.
One example of the best gas grill under $300 with excellent BTU level is the Char-Griller E3001, which I included in my review.
A higher BTU not only shortens your cooking time but also allows more flexibility of the food that you can cook.
A grill with 20,000 BTUs to 54,000 BTUs is good enough to give you a smooth and wonderful cooking experience.
Additional Features
While all gas grills under $300 can surely cook your food, what makes one stand out is the added features.
For instance, does the grill come with side shelves that allow you to store your things?
These side shelves are perfect for cutting, marinating, or seasoning your meat as you continue to grill. You can also choose a grill that includes fold-down or removable side shelves if space is limited.
Another great extra feature to look for is a warming rack.
You wouldn't want your food to be cold while waiting for the rest to get cooked.
By keeping the ingredients at optimal temperatures, the warming rack allows you to enjoy your food fresh from the grill.
Warranty
I won't talk much about the price here because I'm reviewing the best gas grills under 300 dollars.
But choosing grills under this price range doesn't mean you have to be deprived of cool extra features.
For instance, see if the product comes with a warranty.
This warranty serves as your protection in case some parts or components get broken within a specific period.
A grill with a one-year warranty is decent.
But if you can find products that offer a longer warranty period, then you might want to prioritize those models.
Safety
When choosing an affordable gas grill, I make sure that safety is not compromised.
For instance, the grill has to be stable enough to avoid tipping.
Avoid gas grills that have sharp metal corners and edges.
Other safety features to look for include a locking mechanism so the grill will not automatically turn on.
Whether you're buying a gas grill, charcoal grill, or pellet grill, make sure the product is safe enough so everyone can have a good time at your barbecue party.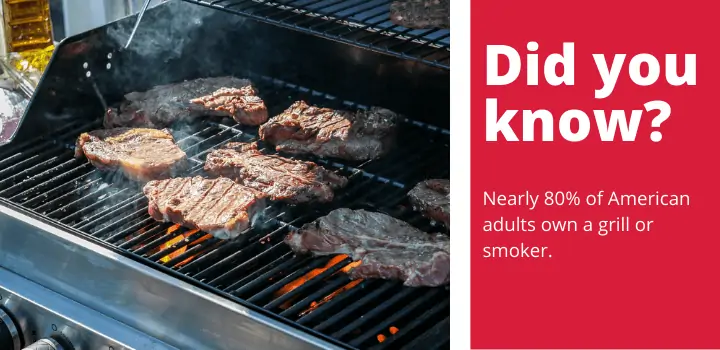 Our Reviews of the Best Gas Grills Under $300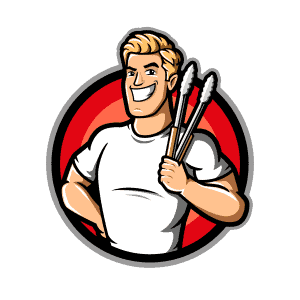 In this section, I will review five of the most affordable and best gas grills under $300 on the market this year.
To help you make the best purchase decisions, I have included each product's pros and cons for your reference.
This is the grill you've been looking for. It's high-quality and affordable.
Its entire body is made of stainless steel to ensure durability and a stylish appearance. The grease pan is coated with porcelain to ensure easy clean-up.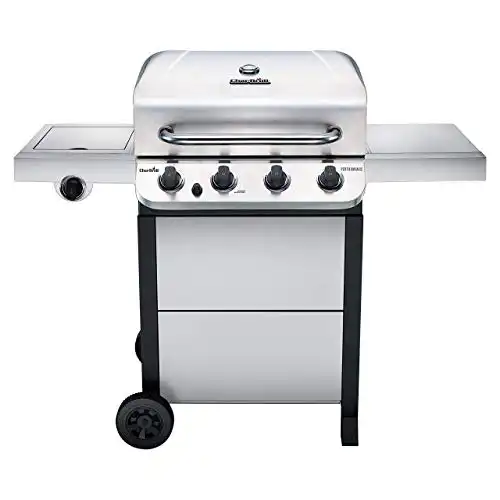 With its four stainless steel burners, this gas grill can produce up to 36,000 BTU. This means it can cook at even higher temperatures than its in-class competitors.
You can fire it up with the electric ignition making it easy to get your grill going.
That means you can get to grilling on the 425 square inches of primary cooking area quickly!
It has two side shelves, which are great for storage and prep space.
On one of the side shelves, you'll find a 10,000-BTU lidded side burner. This comes in handy for making side dishes outdoors as well.
The lid folds down to protect the burner and offers increased workspace when not in use.
This full size grill can also withstand high temperatures over long periods given its steel build material.
The temperature gauge is mounted on the lid, making it easier to check the inside temperature and the preheating status.
Despite these several advantages, the Char-Broil four-burner gas grill also has its disadvantages.
For instance, the assembly process can be stressful and time-consuming.
Pros
Spacious Grilling Area
Sturdy Stainless Steel Body
Easy Clean-Up
High Heat Retention for Evenly Cooked Food
Cons
Assembly can take some time, especially when you're excited to fire it up
This gas grill has around 438 square inches of cooking space.
The hull is made of steel to achieve a classy look. It also contributes to the durability of the entire unit.
The grates are made of cast iron with a porcelain coating.
The system ignites using electricity.
It comes with utensil hooks and a side shelf to improve the organization of tools and ingredients.
The grill has three main burners that produce a total of 40,800 BTUs, with an additional side burner that generates 12,000 BTUs. That's a lot of power for such an affordable gas grill.
You can host huge barbecue parties with this huge BTU capacity.
Another notable feature is the large wheels to allow easy movement.
The general construction and build quality of the grill is decent but great for the price.
It is made from heavy-duty steel, although it doesn't have the best quality finish.
However, some people shared that this Char-Griller E3001 model has lasted years.
So, if you're looking for a budget grill that can cook up a lot of food at high temperatures, I think this three-burner gas grill is worth your money.
Pros
Wide Cooking Area
Powerful Burners (High BTUs)
Durable Steel Construction
Electronic Ignition
Cons
It's a bulky structure, so you'll need some space for this beast
The cooking surface measures an impressive 608 square inches.
This grill is very similar to Camp Chef's Explorer 2 Burner stove but with added features.
For instance, it has three burners that are made of cast iron and removable telescoping legs to help with height adjustment.
The package also includes a regulator and a hose in case the ignition gets out of hand.
This gas grill has a BTU level of 30,000. This means that it's strong enough that it can cook for bigger groups.
The grill is also perfect for camping and other outdoor cooking activities.
With additional accessories, the Camp Chef gas grill is capable of cooking several dishes simultaneously.
You can also set it up easily because of its detachable legs and windscreen.
While there are more advanced gas grills available on the market, Camp Chef gas grills offer value for money.
It also includes a grill box with a specifically configured heat diffusion system and a pre-seasoned cast iron grill grate that sears well.
If you wish to remove the grill box and replace it with another accessory, you need to buy other Camp Chef system accessories separately.
The grill's structure may not also be susceptible to extreme weather conditions.
Pros
Compact and Lightweight
Powerful Triple Burners
Adequate Cooking Area
Cons
The structure of the grill may not withstand extreme weather conditions
A Weber gas grill for under $300?
Is this for real? Yep, but it's not one of their top-of-the-line grills.
This can be used at home or on the road. Its small size is great for road trips and tailgating.
It's got 280 square inches of cooking space, which is enough to fit about 10-12 burgers at one time.
It also has two stainless steel folding parts that serve as work tables and an electrical ignition system.
The gas grill includes a tall lid, so grilling whole small-sized roasts is easy. It also comes with a large, built-in thermometer making it easy to check the inside temperature.
For more versatility to the whole cooking process, half of the grill is in the form of a griddle.
However, this gas grill's BTU level is only 12,000 BTUs per hour. These numbers mean that the grill is not strong enough to cook specific types of dishes or sear steaks.
Given the low BTU level, the grill is perfect for occasional use and if you're hosting your barbecue party with a small group.
Pros
Weber Means High-Quality
Extremely Compact
Very Durable and Sturdy Design
Cons
Low BTUs means you're likely only using this for burgers, hot dogs, and veggies.
This portable gas grill has a cooking area of around 285 square inches.
Conveniently, it has three separate burners to aid in temperature control.
It also has two side tables where you can place your cooking tools and ingredients.
Its ignition system is matchless and utilizes a button for convenience.
This gas grill is available in five different colors, so if you're aiming for a beautiful garden party, this grill will definitely add some style to the occasion.
The grill also has a 20,000 BTU level, which means that you can cook at higher temperatures.
It comes with a special warming rack, letting you cook your food ahead of time and still keep it fresh for your family and visitors to enjoy.
As the grill comes with wheels, it's easy for you to move from one place to another. However, you can take advantage of its special lock to keep it more secure.
This way, you can be confident the grill will stay in place while you're cooking.
Given the name of this gas grill, it's perfect for road trips and cooking underneath the stars.
It has a fully collapsible design, allowing for easy transportation.
Pros
Powerful Burners
Collapsible and Portable
Very Lightweight
Cons
It may be too small if you're looking for a home grill for a large family.
What Are Gas Grills?
Gas grills are units that somewhat resemble a traditional barbecue grilling unit.
The main difference is that the former uses gas to power it.
Compared to traditional systems, it takes less time to heat the entire cooking surface to prepare it for grilling.
It is also easier to control gas grills. You simply have to turn a knob like you might on your stove to turn the heat up and down.
With gas grills, cleaning time is faster and usually hassle-free.
You won't have to dispose of ash.
Most grills come with removable drip trays, so managing grease is a smooth and easy process.
Gas grills also offer instant ignition, temperature control, customization, and flexibility.
Some models have multiple burners allowing you to cook different types of food at the same time.
They also come with a wide range of accessories, which means you can personalize the grill easily.
Read More >> Top 7 Best Pellet Grills (2022 Review)
How Do Gas Grills Work?
A typical gas grill uses propane or natural gas as its energy source.
Unlike a traditional grill, it emits less smoke because of this.
Read More >> Top 5 Best Smokers For Beginners (2022 Review)
To ensure a stable supply of fuel for the unit, the gas grill is equipped with a regulator.
The fire resulting from lighting up the gas spreads heat on the cooking area. This allows you to cook your food using the desired intensity and heat.
Before you start grilling, make sure to check if the propane tank has enough fuel.
A 20-pound propane tank usually provides around 25 hours of grilling time.
Related >> How to Remove a Propane Tank From a Grill
As gas grills are easily lit and extinguished, they provide simple and easy methods for a quality cooking experience.
While some say that you won't achieve the same smoky flavor from using charcoal, the convenience of using gas grills is worth it.
To others, gas grills offer the most mouth-watering grilled meat than other fuel sources, like paper or wood.
With natural gases as a fuel source, gas grills produce less harmful smoke, making them environmentally friendly.
Once you're done grilling, you just have to turn off the gas source, and you're good to go.
But to make sure that the gas grill you're buying will last, you need to properly maintain it. For instance, you need to keep the gas grill covered if you're not using it.
Clean the grill grates regularly and the entire grill inside and out using warm, soapy water occasionally.
This depends on how much and how often you grill.
Final Thoughts on Affordable Gas Grills
I'm a firm believer in choosing the best gas grill under $300 for you and your family because it's an investment.
Since you will use it often and need it for a very long time, go for something durable and energy-efficient.
While some may also want gas grills that are convenient and flashy, these are not always affordable.
This is the case if we check the price point of the products I listed here.
Remember to have fun and enjoy spending quality time while using your new grill!
Learn More About Grilling
If you want to learn more about grilling, check out these other helpful resources!