Are you wondering if you can get a quality pellet grill for under $500?
You've come to the right place!
In this TheGrillingDad.com guide, you'll learn:
Which pellet grills you can get for $500
How to use it
Comparing popular brands
And much more!
Are you excited to have the best barbecue party with your family and friends?
While it's not as famous as charcoal grilling, grilling and smoking foods with wood pellets gives you a wide range of benefits — from flavor to ease of use.
You don't even have to spend a fortune to get a quality setup.
In this guide, I share the best pellet grills for under 500 dollars.
Our Overall #1 Rated Pick
Our top pick is the Pit Boss 440D2 pellet grill because Pit Boss produces high-quality and beautifully designed smoker grills, and they are located right here in the USA.
With 465 square inches of cooking space, this pellet smoker offers the best bang for your buck when it comes to cooking space per dollar.
It's built to last a lifetime, but still easy to move around the yard when you need it to.
Demand is high for Pit Boss wood pellet grills and smokers right now, so get your hands on your favorite model and have it shipped to your doorstep from Amazon today.
Top 5 Best Pellet Grills Under $500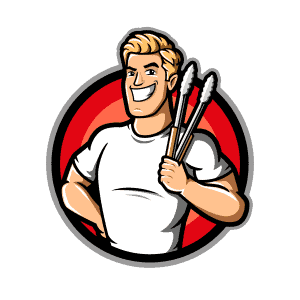 In a hurry? Check out our top 5 pellet grills! Keep reading to discover more about our top picks and read the full pellet grill reviews.
What Should You Look for When Buying A Pellet Grill?
When buying the best wood pellet grill under 500 dollars, consider the following factors to avoid compromising quality for a lower price:
Grilling Performance
Ease of Use
Material
Portability
Hopper Size
Grilling Performance
Affordable grills and smokers should still have great grilling performance.
Compared to regular grills, grills powered by wood pellets are versatile, boosting their performance.
They should be able to grill using different temperature settings to let you smoke, barbecue, roast, and braise meat.
Ease of Use
What's the wide cooking area for if it can't cook all the food at once?
Choose a product that has several automatic features. It should be easy to assemble and adjust.
Non-stick grates are also better to get the food from the cooking rack easily.
Material
Given that you're picking a grill meant to be used outdoors, it should be durable and weatherproof.
Most of the quality pellet grills are made of stainless steel and are rust-resistant, ensuring that they can last for years.
Portability
The best pellet grills and smokers under 500 dollars are usually portable. They come with wheels to allow easy movement and relocation.
Some may include foldable legs that become carrying handles, making them perfect for traveling or camping.
Hopper Size
The hopper size tells how long you can smoke your meat. This is a storage area linked to the grill's automatic feeding system.
The area is used to store hopper pellets. Thus, choosing the best pellet grill with a large hopper capacity allows you to keep grilling without the need to refill the pellet hopper.
Read More>> Top 5 Best Smokers For Beginners (2022 Review)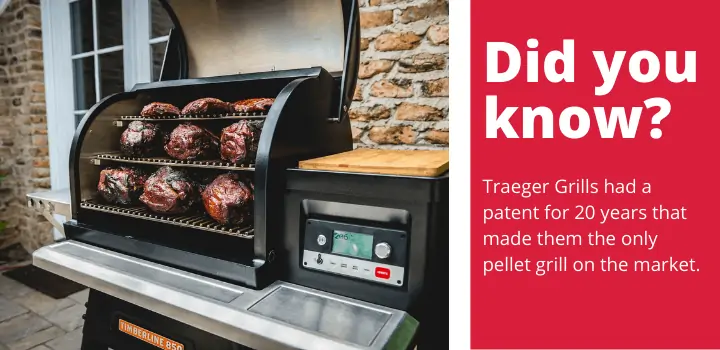 Our Reviews Of The Best 5 Inexpensive Pellet Grills Under $500
Pit Boss has been in the pellet grill space for over 20 years, so they've got a lot figured out.
They continually put out premium products at an affordable price.
Pit Boss prides themselves on delivering the most cooking space for the dollar, and they didn't miss here either.
While one of the cheapest pellet grills out there, this beast offers 700 square inches of cooking space and an 18-pound hopper capacity.
Additionally, they have a slide plate that allows for direct flame searing. The ability to sear is rare with pellet grills, so this is a huge benefit.
Another neat feature is the bottom shelf for storing your accessories.
Though it has wheels, it's not extremely portable. The smaller wheels make it difficult to move other than on smooth surfaces.
This particular model is the Pit Boss 700FB. They're selling quickly, so if this is the one, order it today to have it shipped to your doorstep.
Pros
Massive Cooking Area
Flame Broiler Feature
Built To Last
Cons
Weighing 62 pounds, the Traeger pellet grill is a lightweight pellet smoker grill.
With 37 x 18 x 36 inch dimensions, this Traeger is easy to store or move to a different location.
With its digital thermostat, you can easily adjust the cooking temperature. You can make precise temperature adjustments in 5 degree increments.
The Traeger Tailgater offers 300 square inches of cooking space and an 8-pound hopper capacity.
But note, this Traeger grill does take time getting up to temp during the colder months. When using it in the summer, it can reach its max temp of 450ºF easily.
This particular model is the Traeger Tailgater and it has foldable legs. They also have an even more portable option, which is the Traeger Ranger. The Ranger can be put in any trunk or placed on any tailgate.
Pros
Accurate Temp Control
Huge Online Community
EZ-Fold Legs
Cons
Cold months can cause slower temp times
More expensive than other pellet grills in its class
Z Grills isn't new to the pellet grill space. You've seen their parts even if you didn't know it!
They've been quietly manufacturing
more expensive grills for companies like Traeger, but are now selling direct to the public!
The Z Grills 7002B contains more improved features.
For instance, the temperature control and pellet feed systems are enhanced, making it easier for newbies to use.
The digital control board now automatically ignites the grill, providing 180 to 1,000 degrees of temperature for different cooking methods — good for low and slow or searing a steak.
A 20-pound pellet hopper is large for its class. You won't have to refill during most smokes as it a full hopper lasted us just under 20 hours of smoking time during testing.
It also boasts a massive 700 square inch cooking area.
Pros
Cons
The only downside for this smoker was that I couldn't get it to hold steady at temp for very long. It was always close (+/- 15 degrees), but rarely spot-on for more than an hour.
If portability is a concern, Camp Chef's PG24STX model is a great choice.
It's durable and has enough space for regular use at home and designed to be able to go anywhere.
Its foldable legs fold up into something that looks like a bag of luggage. It's the best portable design you'll find.
With a split second warming rack, it expands the available grilling space.
While it's portable and compact, this Camp Chef can smoke at least four racks of spare ribs.
It's got 429 square inches of grilling area and an impressive 18-pound hopper capacity.
The main body is heavy-duty steel, which so it'll last a long time.
Clean up is a breeze with the patented ash clean out.
This particular model is the Camp Chef PPG20 and fits right into the $500 budget.
If you want one that is made more for home use, and just above that price point, consider getting the Camp Chef SmokePro DLX.
The Camp Chef SmokePro DLX is very similar in size, but the legs are not foldable, which makes it more sturdy, but not as portable.
Pros
Enhanced Temp Control
Easy To Clean System
Extremely Portable
Cons
It sits low (perk for tailgating), so using it as an everyday smoker may get tiresome.
Green Mountain Grills Davy Crockett produces superior convection for your food.
It has 12 x 18 inch dimensions, which is relatively large for a portable smoker/grill, but smaller than the largest stationary grill available in the market.
You can easily carry the grill because you can fold the grill legs into handles, which is convenient.
The Green Mountain Davy Crockett has WiFi capabilities, so you can start and control the grill while you're not right in front of it.
It was made to be on the go and it does that job extremely well.
With it being designed to be on the go, it does have a smaller cooking surface at 219 square inches. The hopper capacity of it is 9 pounds.
Pros
WiFi Capable
Great For Tailgaiting
Advanced Temp Control
Cons
Too small for a stationary smoker, but one of the largest portable grills.
Is Pit Boss as Good as Traeger?
Pit Boss and Traeger are two of the most popular pellet smokers and grills.
The simple answer to whether Pit Boss is as good as Traeger is yes.
But, if you ask people which one is better, they will have different opinions and sometimes end up defending the brand of the product they bought.
To help you make informed purchasing decisions, I'll present the differences between both brands and show how Pit Boss is as good as Traeger.
We'll look at:
Brand Overview
Price
Temperature Range
Hopper Capacity
Warranty
Additional Features
Brand Overview
Traeger
Traeger is the brand behind the original wood pellet grill. Joe Traeger designed his first grill in 1985 and patented it the following year.
With this patent, Traeger enjoyed a monopoly on the pellet grill market for 20 years.
However, in 2006, the patent expired, allowing new competitors to enter the market.
Despite the presence of various pellet grill brands, Traeger remains one of the best-selling manufacturers of the product, with more than $300 million worth of pellet grills sold every year.
Pit Boss
Meanwhile, Pit Boss is one of the first brands that started competing with Traeger.
Founded in 1999 by Dan Thiessen, Pit Boss is a subsidiary of Dansons, Inc. Pit Boss is highly recognized for its affordable yet high-quality pellet smokers and grills. They also offer a wide range of grill types, like charcoal and gas grills.
Price Comparison
Pit Boss has established itself as a more affordable brand than its main competitor, Traeger.
Pit Boss's pellet models usually fall under the $400–$700 mark.
Their smaller, portable models are even cheaper, while their premium models have a price of $700.
Traegers usually range from $600 for more basic models to $2,000 for their top-of-the-line products.
You definitely get more given Traeger's price, but Pit Boss won't disappoint if you want cheaper options with high quality.
Temperature Range
One thing buyers love about pellet grills is their versatility. You can grill, sear, smoke, and bake using the same unit, thanks to their smart control panel and internal heating system.
You need temperatures exceeding 400 degrees Fahrenheit to grill well. Both Pit Boss and Traeger offer pellet smokers maxing out at about 500 degrees Fahrenheit.
However, Pit Boss wins in this department.
Their slide open sear plate allows you to grill over the open wood-fired flame, instead of just using indirect heat. So, you get better results.
Hopper Capacity
Hopper capacity helps determine the length of time you can smoke without touching a thing.
If you use your grill a lot and your hopper is too small, then you would have to constantly refill your pellets.
Traeger's hoppers can hold up to 18 pounds of wood pellets. This size is already good for long smoking sessions and multiple cooks.
However, Pit Boss offers more hopper size options. Some of their more recent models allow 24 hours of cook time with their 55-pound hoppers.
With 24 hours of "set it and forget it" smoking, can you imagine the low and slow masterpieces you can create?
Read More: Texas Style Smoked Beef Brisket (Easy to Follow Recipe)
Warranty
Traeger offers a three-year warranty on its products, while Pit Boss now provides a five-year warranty on all its pellet grills.
This shows how confident Pit Boss is with the quality of their product.
Additional Features
In this department, Traeger has stepped up their game with their recently released WiFIRE technology.
This allows you to connect your grill to your smartphone so you can cook remotely — from turning the grill on to setting the temperature.
While Pit Boss offers quality pellet grills, they don't offer much when it comes to extra features. This is one of the reasons they offer grills at lower prices.
Pit Boss and Traeger are indeed superior brands when it comes to their quality, temperature range, warranty, and hopper size.
If you're on a smaller budget, then pick Pit Boss as it offers great value for money and it's just as good as Traeger.
But, if you just have to have the extra features, like its WiFIRE technology, then go for Traeger.
Personally, I have both, but that's kinda my job 😉
Related >> How to Clean a Pellet Grill
What Are Pellet Grills?
Like an outdoor convection oven, pellet grills heat food to a specific temperature using ignited wood pellets and a fan system.
The temperature is controlled by the volume of pellets burned.
With access to an outlet and several pounds of fine wood pellet, you can use the pellet grill to grill, smoke, bake, or braise food.
With these grills, you don't have to be a master griller. The pellet grill lets you smoke heat easily while enjoying your food.
Most either have 8 in 1 or 6 in 1 versatility.
That means they can all:
Grill,
Smoke,
Bake,
Roast,
Braise,
Barbecue
While some can do those plus:
How Does a Pellet Grill Work?
Wood pellets go into the hopper
The pellets move through an auger
The compressed wood pellets are lit by a hot rod
A fan controls air flow
Before buying a pellet grill, you should understand how it works.
Step 1: Wood Pellets Go Into The Hopper
Wood pellets are placed in a chamber known as a pellet hopper.
Step 2: The Pellets Move Through An Auger
The pellets move from the hopper to the fire pot by a powered-auger.
Step 3: The Compressed Wood Pellets Are Lit By A Hot Rod
At this point, the pellets are lit by a hot metal rod. This ignites them, which gives off that true wood-fired taste and smell.
Step 4: A Fan Controls Air Flow
With the pellet grill's fan system, heat and smoke are dispensed throughout the grill.
That air flow controls the temperature and helps regulate it during your whole cook.
So, a natural, woody flavor is swirling around the smoker giving your food an amazing flavor.
While pellet grills share some similarities with traditional grills, they excel in flavor, ease of use, efficiency, and flexibility.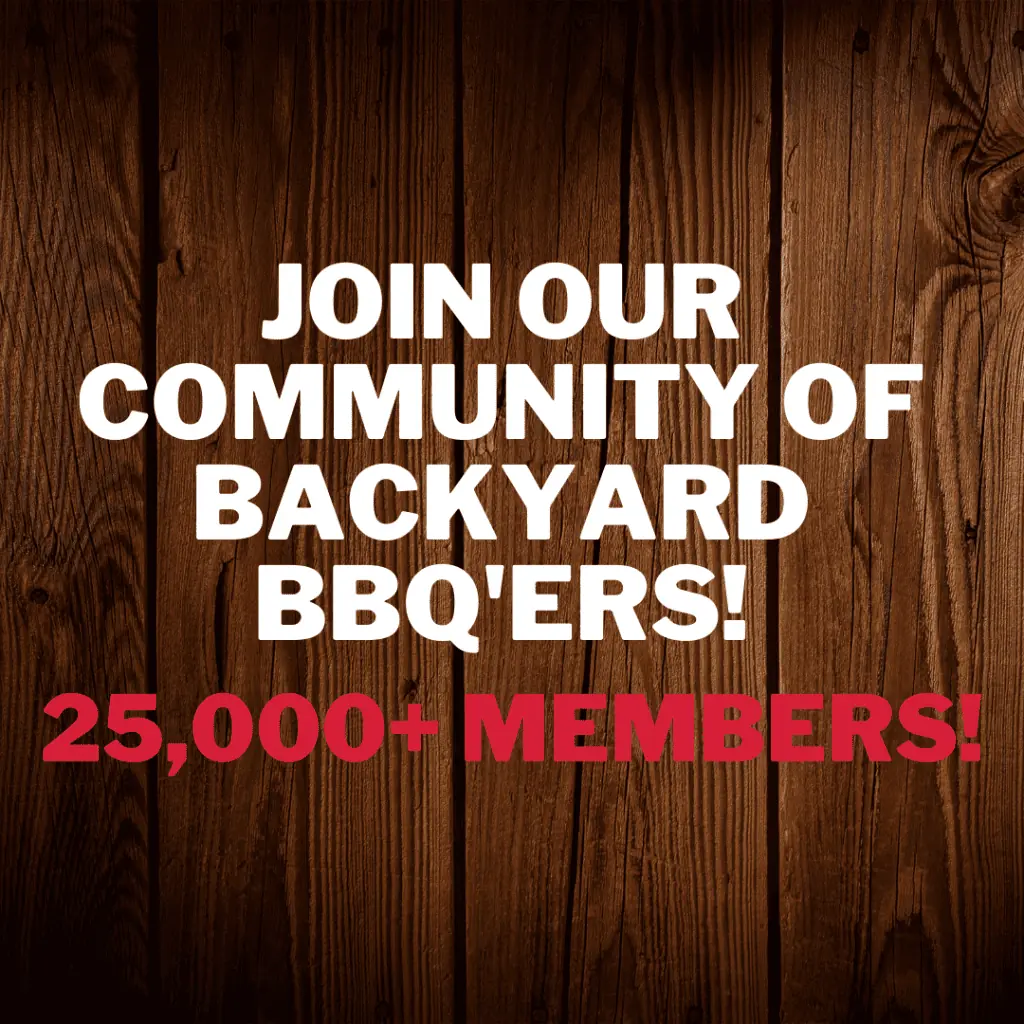 Are Yoder Pellet Grills Worth Your Money?
Yoder is another brand known for offering some of the best pellet grills on the market.
One of their most popular products is the Yoder YS640S, priced at $1,799.
This grill is not a viable option for budget-conscious buyers.
Other Yoder pellet grills are even priced over $4,000, but are Yoder pellet grills worth your money?
Yes! Check out the details below.
One thing that sets Yoder pellet grills apart from their competitors is they're made in the USA.
The YS640S model is known for its full steel construction.
It offers a wide cooking area of 1,070 square inches — 640 square inches on the main cooking grate and 430 square inches on the upper cooking rack.
This makes the grill perfect for both small and big barbecue parties.
This pellet grill also offers Wi-Fi and Bluetooth connectivity, allowing you to monitor your cooking even when you're in your room.
With the Variable Displacement Damper (VDD), you can also easily sear, which pellet smokers usually struggle with.
Given its price, the grill includes a 10-year warranty, with a 3-year warranty for its electronic control system and a 3-year warranty for the ceramic igniter.
Pros:
Full steel construction
Wi-Fi and Bluetooth connectivity
Variable Displacement Damper for searing
10-year warranty
Con:
Yoder grills are indeed pricey, given the quality, material, and engineering efforts in assembling the models.
But, if you're looking for a more budget-conscious smoker, then you can refer to the list I provided above.
What Is the Cheapest Pellet Grill?
Camp Chef SmokePro
Green Mountain Davy Crockett
Many brands provide quality pellet grills at lower prices, while other brands offer more features as the products get more expensive.
Camp Chef is known for offering pellet grills for under $500.
They offer the SmokePro and Woodwind series.
They have their patented ash removal feature, making it easy for you to clean the grill and dispose of ash immediately after cooking.
However, extra features can be limited given the price.
One of the other cheapest pellet smokers also comes from Green Mountain.
The Davy Crockett model is priced at $299 only with perks like portable Wi-Fi control features.
This allows you to monitor and control the smoker's temperature even if you're inside the house.
The grill is also easy to transport, given its adjustable legs.
However, it has its corresponding disadvantages like limited Wi-Fi technology.
Overall, brands, like Camp Chef, Pit Boss, and Cuisinart offer some of the cheapest pellet grills you can find on the market.
Who Makes the Best Pellet Grill?
The best pellet grill also depends on the features you're looking for.
If you're a sucker for extra features, Traeger offers one of the most premium pellet grills, with cool add-ons like WiFIRE technology.
Yoder also manufactures some of the best pellet grills. Some of the features include a digital controller, an excellent cooking range, and a wide variety of accessories that you can use to personalize your pellet grill.
However, as they prioritize the quality and material of their grills, the units can be very expensive as well. Plus, you need to buy the accessories separately.
However, based on my list of the best pellet grills under 500 dollars, various brands like Camp Chef, Pit Boss, Z Grills, Green Mountain, and Cuisinart let you maximize your barbecue grilling experience without breaking the bank.
Final Thoughts on Inexpensive Pellet Grills Under $500
As I have shown above, reliable pellet grills don't have to be expensive.
You can enjoy a fun and satisfying barbecue party with your family by choosing the best pellet grill for under 500 dollars.
When choosing an affordable pellet grill, always make sure that safety is not compromised.
For instance, the grill has to be stable enough to avoid tipping.
Avoid grills that have sharp metal corners and edges.
Another safety tip is to always unplug your pellet grill when it's not in use.
Want something a little more fancy? Check out our Best Pellet Grills and Smokers post.
Learn More About Grilling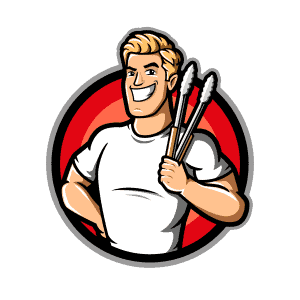 If you want to learn more about grilling, check out these other helpful resources!