If you've been flipping out trying to decide between a pellet grill and a gas grill, we've got a 'grilliant' idea– a pellet gas combo grill? These versatile grills offer the smoky flavor of pellet grilling and the speed and convenience of gas grilling.
Our Top 5 Pellet Gas Combo Grills
As a meat lover and a long-time user of all kinds of grills, I can immediately recognize a high-quality combo grill, especially by the taste of the meat prepared on one.
And the following five are equally fantastic and so easy to use and clean that I couldn't pick just one of them. No matter which grill you pick from this list, you can't go wrong!
Best Pellet Gas Combo Grills Reviewed
(Best Overall Pellet/Gas Combo Grill/Smoker)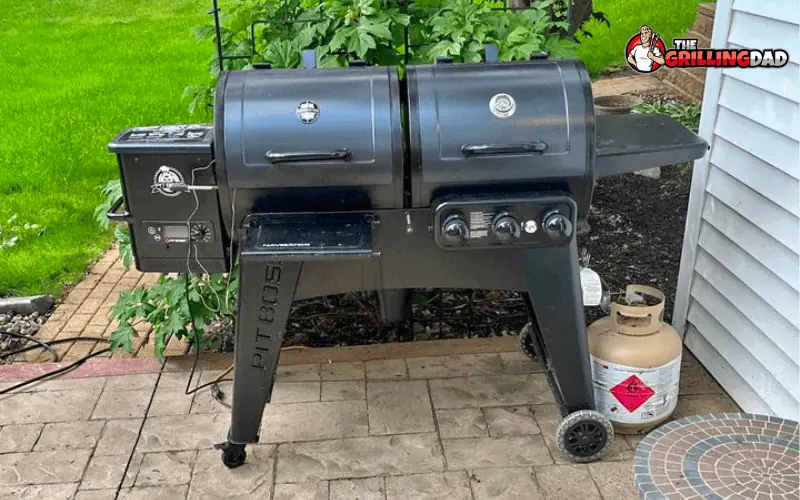 PIT BOSS Navigator PB1230G characteristics
Dimensions – 69.25 x 34.09 x 47.05 inches
Weight – 203 pounds
Cooking area – more than 1.000 square inches
Pros
Digital control board
Locking caster wheels and built-in tool hooks
5 years warranty
Cons
One of our favorite combo grills is the PIT BOSS Navigator PB1230G grill which allows you to cook your food in 8 different ways.
Depending on your mood, you can grill, bake, smoke, braise, roast, sear, barbecue, or char-grill your dinner.
This grill has a heavy-duty construction and a digital LED control board, making it one of the easiest grills to use. The grill is split into two, with a gas side and a smoking side, giving you true diversity as you cook.
And above all, the thing that we especially love is the side shelf with tool hooks which is very helpful for storing food preparation tools and setting down your plate when you are loading and unloading the grill.
(Largest Cooking Surface)
PIT BOSS PB1230SP Characteristics
Dimensions – 69.54 x 31.69 x 50.17 inches
Weight – 203.48 pounds
Cooking area – 1.261 square inches
Pros
Easy to assemble and use
Temperature control
Lockable wheels
5 Year Warranty
Cons
Handles can get hot when cooking
Large, not portable AT ALL
If you're looking for a combo grill with a larger cooking surface, the PIT BOSS PB1230SP Sportsman is just the right one for you.
It's just like our top pick, only BIGGER.
The meat probes and the dial-in digital control board making cooking with this grill a breeze. You will also enjoy how large this grill is. It will truly allow you to prepare food for your entire family at the same time.
With a 21 lb hopper capacity, you can smoke on the pellet side of this grill all day. Meanwhile you've got 3 independent burners on the gas side to make all your sides and hot dogs for the little ones that don't eat ribs just yet.
This grill is amazing, but it is huge. Ensure you've got the room for it before you buy.
(Best Bluetooth/Wifi Grill)
The Lifetime grill, is another large and in-charge grill which allows you to cook with either wood pellets or gas.
While it doesn't have the same split concept as PitBoss, it still gives you both cooking options without having to choose one or the other.
The best part about this grill is the WIFI hookup which allows you to monitor your dinner from anywhere just by looking at an app. Not only can you tell when it's done, but you can also adjust the temperature from afar.
While this isn't quite as good as the two PitBoss models, for a busy griller, the extra technology is a must that can't be passed up.
Lifetime Combo Grill Characteristics
Dimensions – 59 x 25.3 x 50.5 inches
Weight – 263 pounds
Cooking area – 742 square inches
Pros
Bluetooth and Wi-Fi technology
Large pellet hopper
Easy clean-out system
Cons
A bit heavy
Difficult to move once set up
(Best Attachment Compatible)
The Camp Chef 36 Woodwind is technically a pellet grill. But with the sidekick, you have a gas grilling option that can let you make sides while you smoke the main dish.
Not only that, but the sidekick is removable, allowing you to own other additions like a pizza oven or sear box in addition to having the gas burner.
The Camp Chef Woodwind grill also has Bluetooth and a Wi-Fi PID controller, so installing the smartphone application will allow you to keep track of the temperature of the grill. You'll be notified when the meat has reached the desired temperature, allowing you to not waste anytime.
This is our fourth pick because it technically isn't a combo grill, but with the sidekick it can do both jobs and is the best choice for those who want both but simply don't have the space for the PitBoss or the Lifetime options in their yard.
Check out our full article review of this product here.
Camp Chef 24 Woodwind Pellet Grill & Smoker characteristics
Dimensions – 30 x 69 x 49 inches
Weight – 193 pounds
Cooking area – 811 square inches
Pros
Adjustable temperature settings
Smoke control
Ash cleanout system
Gas burner can be removed and replaced
Cons
Sometimes the app doesn't connect the first time you try
Only one gas burner
(Easiest to Move)
The last amazingly good pellet/gas grill is the Cuisinart Twin Oaks dual-function pellet and propane gas grill, allowing you to cook with ultimate versatility.
While this grill is still massive, out of all of them on this list, it is the easiest to move around your patio or yard.
This is another grill on the list which lets you watch your grill temperature via app. We also like that it has viewing windows so you don't have to open your grill every time you want to check on your food.
Like the PitBoss options, it is split in half pellet grill, half gas grill, so you can utilize both cooking styles at the same time. Plus there is even a side gas burner, giving you four total in addition to the smoking space.
The smoking space is a bit smaller than we would like, but this grill is truly a force to be reckoned with.
Cuisinart Twin Oaks Dual Function Pellet and Gas Grill Characteristics
Dimensions – 67.24 x 23.43 x 47.87 inches
Weight – 200 pounds
Cooking area – 900 square inches
Pros
Large LCD controllers
Stainless steel side burner
Durable grill and rust-resistant cast-iron grates
Multiple gas burners
Cons
Limited Bluetooth range signal
Smaller pellet side than gas side
What Is a Pellet Gas Combo Grill?
A pellet gas combo grill is a grill that works both on gas and wood pellets. This means that the combination of a pellet grill and a gas grill will allow you to prepare your food with wood pellets and enrich its smoky flavor using smoking techniques while also giving you options to cook over a gas burner.
Many people prefer a combo grill when they have a large family and a lot of mouths to feed. This is because you can make sids and kids friendly food on the gas portion of the grill while making smoked food on the other side. Be careful though, as not all combo grills give you the option of doing both at once. So if this is a feature you are looking for, ensure you buy a combo grill that is split in the middle. 
Why You Should Consider Buying a Pellet/Gas Combo Grill/Smoker
A pellet/gas combo grill/smoker offers versatility for all your cooking needs. When time allows, the pellet grill provides smoky, rich flavors for items like a slow-smoked turkey. On time-pressed days, the gas grill ensures quick, efficient cooking, perfect for steaks or chicken breasts.
Gas grills hold two main advantages over pellet grills: faster heat-up time and higher searing temperatures, reaching up to a searing 900 degrees. Even with enhancements, pellet grills top out around 700 degrees.
While pellet grills provide a distinctive smoke-infused flavor, the time-saving aspect of gas grills is key during busy weekdays. A pellet/gas combo grill/smoker presents a versatile, convenient solution, catering to varying culinary needs and time constraints, making it a "grilliant" addition to any patio.
How Do Pellet Gas Combo Grills Work?
The pellet gas combo grills work with two fuel sources, usually split, but sometimes hybrid, allowing you to prepare multiple dishes at once–or just use one preparation method at a time.
Typically, one side of the grill is heated by the wood pellets, giving the food an amazing smoked flavor, and the other side is heated by gas.
Sometimes these grills are hybrid though, where both the gas and the wood pellets feed into the same place. In this case you can use both cooking methods at the same time for the same dish, or choose one or the other (which is what we recommend).
But no matter which style you pick, you can't go wrong when you pick a gas and pellet combo grill because the cooking options are endless!
What Do You Look For in a Pellet Gas Combo Grill?
As you've seen, more than one pellet gas combo grill is considered the best, so selecting the best one might not be as easy as you think. That's why the most important thing is to choose the combo grill that will suit all of your needs.
Here are some features you should look at as you shop.
Check the Price
The price will likely be a huge deciding factor in whatever grill you get. But remember, you get what you pay for. A quality grill might be expensive, but it will be worth it and will last you a long time.
Maintenance
Some grills are more difficult to clean, and no one wants to spend more time cleaning than cooking!
Ensure you know how difficult your grill is to clean before you buy. Sometimes buying one that is a little easier to clean can go a long way.
Size
Think about how many people you are going to cook for. This will be a huge part of your decision because you will want to get a grill that allows you to feed everyone.
If you're planning on having many large family gatherings in your backyards, always go for a larger cooking surface because that'll save you time when preparing a meal for more people.
And if you're mostly planning to cook for 2 to 4 people, there's no need to buy a grill with a huge cooking surface because that will make it harder to find a proper place for it. Simply purchase a smaller grill that won't take up as much space but will be functional in the same way.
Additional Features
Always check what additional features the grill has before buying it. Many of them have unique and specific features like WIFI grilling or the ability to add attachments that might play a part in your final decision.
Pellet/Gas Grill Safety Tips
No matter which type of grill you'll decide to use, you must be careful because the grills can be dangerous if they aren't used properly. According to Intermountain Healthcare, here are some safety pointers that you must pay attention to.
Don't turn the gas on while the grill is closed
Turn off your grill when not in used
Do not grill using gas unattended
Never run the pellet side of your grill without pellets
Always clean your grill after use to avoid a fire.
Keep kids away from the grill as all parts of the grill, even the legs, may be hot.
If you follow these safety tips, you should have no incidents while you grill. 
What Are the Different Types of Grills?
Depending on what you like the best, you can choose between grills that work with charcoal, pellets, gas or a combination of these methods.
Charcoal
The charcoal grills will not only give your food a very strong and smoky flavor, but you can also use them for smoking your meat. Using a charcoal grill isn't the easiest, and it's not usually recommended for beginners, but it does provide an unparalleled flavor.
Furthermore, it's good to know that cleaning the charcoal grill is a bit harder and more time-consuming than other types of grills, so if you haven't cooked on a grill, skip the charcoal ones.
Gas
The gas grills are one of the easiest grills to use, especially if you compare them to the charcoal ones. And because of the fast ways they allow you to make your food, they're one of the most popular types of grills.
All you need to do is turn on the gas and start cooking your meal.
Pellet
Pellet grills are popular and widely used because you can use them for grilling, roasting, and smoking. They run on wood pellets, are used mostly outdoors, and are one of our favorite types of grills.
Combo grills
If you can't make up your mind, a combo grill is the best choice to give you the option of more than one grill. As you've already seen, the pellet/gas grills are a newer, easier, and more convenient type of grill to use, but there are also charcoal/gas grills that use charcoal instead of wood pellets.
Pellet/Gas Combo Grill FAQs
Can you smoke and grill at the same time?
Yes, you can! The unique feature of a hybrid combo grill is its ability to manage multiple cooking methods at the same time. It's like having your steak and smoking it too.
Is smoking a better way to cook than grilling?
Flavor-wise, many people relish the unique smoky essence that smoking imparts, especially to larger cuts of meat, which cook more evenly. However, grilling takes the cake for being quicker and more time-efficient.
What sets pellet smokers apart from other smokers?
Pellet smokers offer a straightforward, push-button approach to outdoor smoking, making them the 'tech whizzes' of the smoker world. They're easy to operate and pack in some seriously advanced features.
How often should I clean my combo grill/smoker?
Always refer to your manufacturer's manual for cleaning instructions and frequency. But, as a ballpark guide, it's a good idea to do a check-up after using a couple of hoppers' worth of pellets. It keeps your grill smoking hot and your food tasting top-notch.
Final Thoughts on the Best Pellet Gas Combo Grills
No longer do you need to decide between a pellet or a gas grill because it is truly possible to have both. Whether you go with one that is larger and split down the middle, or one which is smaller, you won't regret purchasing your combo grill.
All that's left to do is decide what features you want from your grill and to head shopping!