Whether you're a seasoned pro or a newbie looking to up your game, choosing the right type of grill is crucial to achieving that perfect smoky flavor. In this article, we'll dive into the different types of grills, from gas to charcoal to pellet and beyond, to help you find the one that's right for you (and your taste buds).
Types of Grills
Believe it or not, the decision to get a grill isn't just a yes or no answer. You also have to decide what type of cooking you want to do and which fuel you want to use. Even then, you may still have a couple of types of grills to choose from!
There are many different types of grills on the market, from gas to charcoal,or even pellet. There are also combination grills that can do more than one type of cooking!
Read on to learn more about all the types of grills available on the market!
Charcoal Grills
Charcoal grills are perhaps the most famous type of grills. They are typically made of heavy-duty metal and have an area for placing charcoals and a grate on which to cook your food. They are famous for the delicious charcoal flavor they have the potential to add to your food.
Despite their fame, we actually consider them to be one of the harder grills to use. Not only do you have to figure out how to get the charcoal lit on your own, but you also won't be able to control the temperature and may struggle with where to place the food on the grate for indirect/direct cooking.
But, despite some of the difficulties that come with charcoal grills, they are typically less expensive than other types and are much easier to take on the go when you are on the road.
They also are capable of searing your food because they can reach high temperatures that are sometimes unattainable on other grills, and they do so very quickly. Be cautious though, because charcoal grills can also cook unevenly.
Overall we love a good charcoal grill; there's just a bit of a learning curve when it comes to cooking on one!
Key Features:
Fuel Type: Charcoal
Cost: Lower than other types of grills
Portability: 9/10 (Depends on your size of grill)
Easy to Clean?: Yes
Easy to Use?: Takes some getting used to
Cooking Functions Available: Grilling and Searing
Top Temperature: 700°F
Kamado Grills
Kamado grills are like an upgraded version of the charcoal grill. They still use charcoal for fuel, but they are built out of ceramic, and have more of an egg shape to help with heat circulation in the grill.
This helps them to cook food more evenly than a traditional charcoal grill. Most kamado grills additionally have dials that allow you some control over the temperature.
Since they have the better convection, you can do more smoking with them than a traditional charcoal grill. Unfortunately, while they cook more evenly, this makes them far less portable than a traditional charcoal grill. It is unlikely you will be packing one of these in the back of your truck for a weekend of camping!
But overall, we love the versatility of kamado grills because you can get a great pork shoulder going, or even make a thin-crust pizza! The options are yours, just make sure you've got a spot in your backyard to keep this grill.
Key Features:
Fuel Type: Charcoal
Cost: mid-range to high depending on the model
Portability: 2/10 (On wheels, but you won't be packing this for camping)
Easy to Clean?: Yes (similar to an oven)
Easy to Use?: Somewhat, easier than a charcoal grill but not a cinch either
Cooking Functions Available: Grilling, Smoking, Slow Roasting, Searing
Top Temperature: 750°F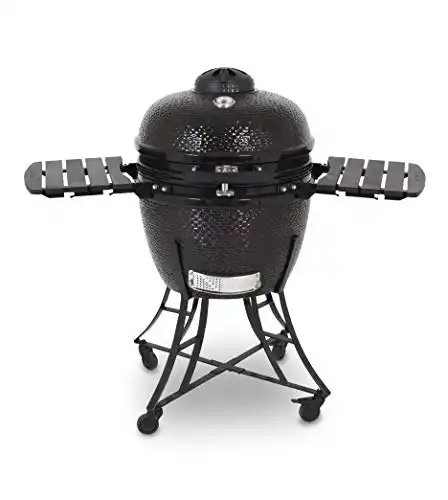 Gas Grills
After charcoal grills, gas grills win the next most popular contest. These grills are easy to use, easy to start, and easy to cook over. They cook food quickly and evenly over a gas-powered flame.
While this grill is easy to use, you might find it a bit difficult to fuel. The propane tanks can be heavy, and need to be refilled after about 25 hours of BBQing.
Propane can also be expensive, depending on where you live. Some people choose to add a built-in gas line to their outdoor grill, but this can be expensive.
Because gas grills are so popular, you will have many makes and models to choose from. There are a full range of sizes available, from table top grills to massive ones that can feed your entire neighborhood.
No matter what your budget may be, a gas grill can fit into it. This also dictates the portability of a gas grill, as some can be tucked into your trunk while others are so large you won't be able to move them on your own!
We love a good gas grill, but just know you won't really be able to smoke or slow cook over one, and you might find yourself frequently needing to replace parts if you buy an inexpensive model. But if you are new to grilling, a gas grill is a great place to start!
If you do want to add a smoky flavor to the foods you are cooking on a gas grill, you can do so with a smoker box or tube. Plus, many gas grills allow you to add additions which can allow you access to other types of cooking with a single grill.
Key Features:
Fuel Type: Propane/Gas
Cost: low-high depending on the model
Portability: 5/10 (Depends on the model)
Easy to Clean?: Yes
Easy to Use?: Yes
Cooking Functions Available: Grilling
Top Temperature: 600°F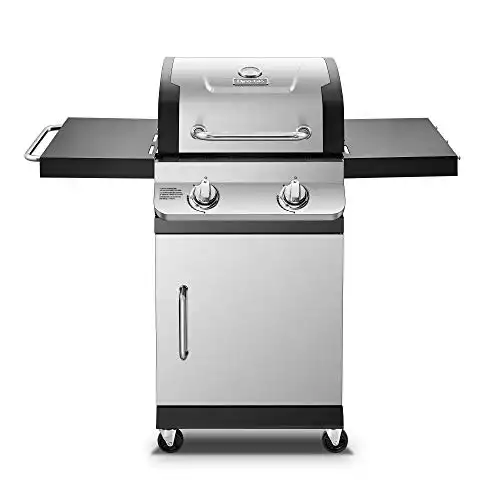 Pellet Grills
Pellet grills aren't as common as gas or charcoal grills but they are quickly rising in popularity thanks to the versatility they provide. Whether you want to smoke, grill, or braise, the pellet grill can do it all.
A pellet grill is powered by electricity and the fuel used is wood pellets. They are easy to start with the press of a button, and usually have a method for easily controlling the temperature. They cook much more evenly than a charcoal grill, but can still give a nice smoky taste.
We like that you can use different types of pellets with your pellet grill to truly adjust the flavor of your food. Pellet grills aren't the most portable however, but there are some smaller versions that can be taken from place to place. Just remember you're going to need an outlet to plug this type of grill in.
Pellet grills also have several tech-savvy options that allow you to adjust the temperature from afar. Plus many have safety features that allow you to leave this grill unattended like you would a smoker during a long, low and slow smoking sesh. We also enjoy the fact that many pellet grills allow add ons like gas grills do, truly giving you some sweet searing and pizza oven options.
Pellet grills take a little experience to work, but not a ton, making them a good starter grill for a family. They also tend to come with lots of cooking space and options for direct/indirect cooking to make cooking on them easy to master.
Key Features:
Fuel Type: Electricity/Wood Pellets
Cost: mid-high depending on the model
Portability: 5/10 (Depends on the model)
Easy to Clean?: Depends on the grill (some have more difficult hopper cleaning options)
Easy to Use?: Yes
Cooking Functions Available: Grilling, Smoking, Braising, and Baking
Top Temperature: 650°F
Best Overall
Electric Grills
If you only have a small space available for a grill, an electric grill might be ideal for you. These grills tend to be smaller, lightweight, and extremely portable. Plus there is no need to haul around charcoal, wood pellets, or a propane tank, making them easy to use for those who can't lift heavy objects.
Some apartment complexes don't allow charcoal or gas grilling, and that's where an electric grill comes in clutch. Just plug it in, let it heat up, and grill!
While you, unfortunately, can't adjust the flavor like you can with a pellet or charcoal grill, there are options like liquid smoke, which will allow you to enjoy a smoky flavor without needing to haul things around.
These grills are great for taking on a trip, as long as you are somewhere with electrical power and a battery (you didn't hear it from us but you can hook these up to an external battery like a boat battery!) Not to mention there is no messy charcoal or wood chips to clean up after so you can just scrape the grates, clean up and grease drippings, and you're done.
Key Features:
Fuel Type: Electricity
Cost: Low
Portability: 10/10
Easy to Clean?: Yes
Easy to Use?: Yes
Cooking Functions Available: Grilling
Top Temperature: 550°F
Combo Grills
As we previously mentioned, there are many grills on the market which are combo grills. That means they combine two different types of grills in one. There is such a thing as a charcoal/gas grill as well as a pellet/gas grill.
Combo grills are large, meaning they aren't portable and you will want to ensure you have the space for one of these before you buy. That aside, combo grills truly open your world to all types of grilling because you will get the best of two different types of grills.
Feeling like cooking low and slow? Cook something over the pellet grill side. Want a quickly seared burger? Toss it over the charcoal. A combo grill can be a great solution for those individuals who just can't pick one grill.
These grills are pricey though, but you're truly getting two grills for one which is well worth the cost. Not to mention that if you get one that allows add-ons like a skillet, you could even get the best of three worlds. Just know you won't be taking this grill anywhere with you.
Key Features:
Fuel Type: Various
Cost: High
Portability: 0/10
Easy to Clean?: Depends on the type
Easy to Use?: Depends on the type
Cooking Functions Available: Grilling, Smoking, Braising, Searing, Roasting, Baking
Top Temperature: 700°F
How to Choose the Right Grill
Now that you've seen the full range of grill options, it's time to talk about how you pick. We recommend asking yourself the following questions and basing your grill choice on your answer.
Do You Want to Take Your Grill on the Go?
If you are planning to camp or travel with your grill, this will have a huge impact on the one you pick. If you answered yes to this question, then you should start your search with a charcoal, small propane, or electric grill.
Do You Know How to Grill?
Are you a grill master? Or just starting out? Grill masters have the full range of grills to choose from, while a newbie might want to stick to a gas, pellet, or electric grill.
Do You Want to Smoke Meats?
If you want to experience cooking food low and slow, then better go for a pellet grill, combo grill, or a kamado.
What's Your Cooking Style?
What do you cook most? Are you more likely to toss some burgers on the grill after a busy day, or are you smoking ribs each weekend? For those who want to grill dinner fast we recommend a gas grill. If you are big into smoking meats, then the pellet grill is best for you.
How Much Space Do You Have?
For those in an apartment, you will probably be restricted to a tabletop gas grill, electric grill, or small charcoal grill. If you've got the space, then you can choose any type of grill you want!
What's the Budget?
Clearly, if you have an unlimited budget, then we recommend a combo grill which will give you full reign of what you want to grill. But for those looking for something nice and mid-range, a pellet grill is probably your best bet. If you're on a strict budget, start with an electrical grill and plan to upgrade later.
How Many Are You Cooking For?
Do you have a family of 7? Or is it just you and your significant other? With just two of you, a simple charcoal grill might do the trick. But if you need to make two turkey's next weekend, you better buy a large pellet, gas, or combo grill.