Are you considering purchasing a Camp Chef Woodwind Pellet Grill and Smoker with the Sidekick attachment?
We've tested it, and we are here to help you with your decision!
In this TheGrillingDad.com review, you will discover:
All about the inner workings of the Camp Chef Woodwind
What you can expect from this smoker
And much more!
Camp Chef Woodwind with Sidekick Overview
The Camp Chef Woodwind is the new technologically advanced pellet grill from the Camp Chef line. With multiple upgraded features to make your smoking experience better than ever, this is one pellet smoker you have to consider adding to your backyard.
Camp Chef has long been committed to your smoking and grilling experience, and with this pellet smoker, they have really upped their game to add all the features you need for a modern smoking experience.
Not only do they want to up the experience, but they also want to ensure you can take your experiences wherever you would like, and they truly focus on durability when it comes to their products.
Whether you plan to smoke a turkey or maybe a brisket or some baby back ribs, this smoker is truly the best on the market. With three sizes to choose from, you can pick the one that fits your yard and your family best without having to sacrifice any features.
Haven't made up your mind yet? Don't worry, this in-depth review of the Camp Chef Woodwind with Sidekick will give you the big picture about this grill and its features. From the pros to the cons, we cover it all so you can truly make an informed decision.
Wifi Bluetooth connectivity:

PID and WIFI Enabled Controller

Wifi Bluetooth connectivity:

PID and WIFI Enabled Controller

Direct Flame Capable:

Yes - Slide and Grill Technology

Direct Flame Capable:

Yes - Slide and Grill Technology
24 Inch Option
Wifi Bluetooth connectivity:
PID and WIFI Enabled Controller
Direct Flame Capable:
Yes - Slide and Grill Technology
36 Inch Option
Wifi Bluetooth connectivity:
PID and WIFI Enabled Controller
Direct Flame Capable:
Yes - Slide and Grill Technology
06/01/2023 03:40 am GMT
Characteristics of the Camp Chef Woodwind with Sidekick:
Amazing Value Smoker:
Durable, sturdy stainless steel construction
4 meat probes with WIFI connectivity
Large temperature range
Direct flame cooking
Single burner on the sidekick
Slide and Grill Technology
Spacious cooktop on all models
Porcelain-coated main grates
Convenience and Feasibility:
Automatically control the temperature with WIFI and Bluetooth controller.
Easy ash clean-out system
Adjustable smoke settings
Large capacity hopper means fewer refills
Lower storage shelf
On wheels to help with maneuverability.
Additional Features:
Choice between sidekick and other upgraded features in the future
Many upgrades to be added in the future
3-year warranty
Responsive customer service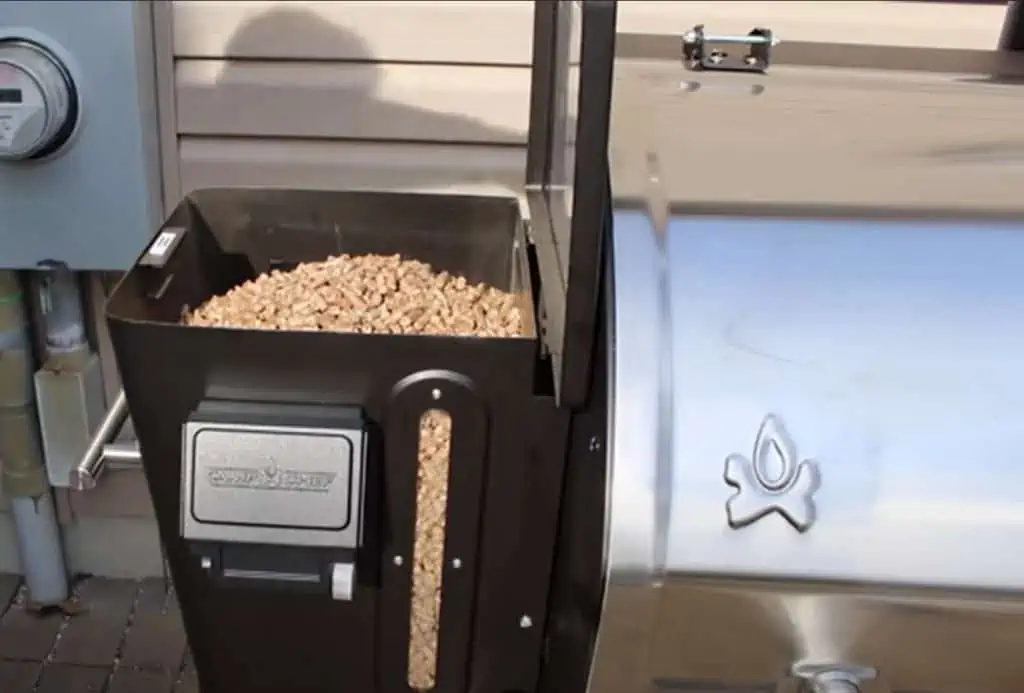 Stand-out Features
WIFI Control:
This grill is our favorite as far as WIFI control goes.
Unlike other grills where you plug in a connector and hope for the best, the Camp Chef Woodwind has an easy-to-use screen, this way, you can actually see your phone is connected.
This screen is weather protected, so you don't have to worry about moisture damaging it. It's also in color, meaning it's much easier to see and use. You'll plug your temperature probes directly into the screen on the side.
Download the app on your phone, and you are ready to go.
You can control temperature as well as pick from 10 different smoke levels to get your meat to smoked perfection.
This smoker has a huge temperature range, from as low as 160°F up to 500°F, and you can select your perfect temperature in increments as precise as 5°.
You can also set timers and other notifications on your phone, so you can always know when it is time to check in on your meats.
Love the way you smoked a certain meal? Save these settings in a custom location and use them again to enjoy the same results.
The Sidekick
When it comes to the sidekick, you have several different options. While this optional feature replaces the prep shelf, it is well worth the trade in our opinion.
On ours, we have the single burner propane sidekick allowing us to make quick and easy sides as we smoke the main dish in the Woodwind.
It also has a griddle, allowing us to make breakfast with our Camp Chef.
It even has a built-in grease control system, meaning we can cook bacon until the cows come home!
But we also highly recommend the sear box Sidekick, which can give you a great sear on salmon, burgers, or anything else you choose to sear.
The options don't end there, as you can get an attachment for the burner sidekick for making pizza or a BBQ grill box to allow you to cook a wide variety of options.
Slide & Grill
For those who haven't worked with Camp Chef's Slide & Grill technology before, you will never go back to another smoker/grill combo after experiencing it. The Slide and Grill technology means your smoker operates as just a smoker unless you have the sudden urge to flame broil something!
When that's the case, simply slide the drip tray out of the way and cook directly over the flame. We love using this to give our steaks the perfect crust just before serving.
With the Slide & Grill technology, this smoker is truly all you need to make any meat you desire. Especially because anything that can't be smoked can easily be cooked on the sidekick, so you don't need to have multiple pieces of equipment on your back porch!
Ash Cleanout
Camp Chef devices have a patented ash cleanout system that makes clean-up a breeze. Instead of needing the vacuum as you do for most smokers, simply turn a knob, and the ash disposes itself into a cup.
This cup can then be removed, and the ashes can easily be dumped in the trash without needing to schedule a full cleaning session. Not only does this make the end of the season shut down easier, but it also makes long smoking sessions a breeze as you don't need to worry about the ashtray getting too full of pellet remnants!
Easy Empty Hopper
Do you like to experiment with multiple types of wood pellets? The Camp Chef Woodwind makes it easy with a purge function to empty your hopper of all pellets and replace them with something new.
This means you can change the wood pellets mid-smoke without having to let your smoker cool down. Thus making it easy to switch from smoking meat to fish and back!
Depending on the model you select, you will either have a 10lb or 22 lb hopper, which means you don't have to worry about running out mid-smoke. Plus, if you have 36 or 24 (the two with the 22lb hopper capacity), you never have to worry about where to store those pellets as they typically come in 20 lb bags.
Grease Management System
As we mentioned before, this amazing smoker comes with a grease management system to help keep it clean. Inside the grill, the baffle and the diffuser are both sloped towards a channel. The grease flows into this channel and out of the grill into the bucket on the side.
We recommend having an extra bucket on hand so you can easily empty one by switching it out for another.
This is not only important for cleaning up but can help prevent grease fires.
Capacity and Size Options:
Now for the question of the hour, what's the capacity like? Well, there are three different sizes. The smallest of which, the Woodwind WIFI 20, is not sidekick compatible, so we are going to skip over that for now. But you have two options otherwise that are Sidekick compatible, the Woodwind WIFI 36 and the Woodwind WIFI 24.
Woodwind WIFI 24
The Woodwind WIFI 24 comes with an astounding 811 square inches of cooking space between the two shelves, and this isn't including the space with the added single burner sidekick, which can give you an additional 231 inches of cooking space.
While this isn't quite the space you might need for a full turkey, you can definitely smoke ribs, brisket, steaks, burgers, brats, and chicken!
Woodwind WIFI 36
The Woodwind WIFI 36 comes with 1236 square inches of cooking space between the upper and lower shelves, as well as the additional 231 inches from the sidekick.
This smoker definitely has the space for a small turkey with its 9" clearance (think 12-13lbs), but if you have a large one, unfortunately, you will need something a bit bigger.
What it can do is cook for a crowd! Whether you need to make a couple of racks of ribs or maybe a prime rib, this smoker definitely has space for that.
We are confident you can easily cook for 8 people on the Woodwind WIFI 36.
Suggested Add-Ons
Camp Chef has endless add-ons for its products, and this one is no different! Depending on the sidekick that comes with your grill (either the BBQ Box, Propane Burner, or Sear Box), we definitely recommend buying one of the others, so you have options.
Pizza Oven
Pizza fiends need this add-on for the sidekick. This pizza oven hooks right onto your sidekick and cooks pizza just as a brick oven would. Plus, if you add this add-on, you can probably get rid of your oven entirely!
Front Shelf
Unfortunately, with the sidekick, you give away all of your prep space. While there isn't really a good replacement for this, Camp Chef does have a front shelf that could be nice for being able to rest tools and other supplies.
Pellet Grill Cover
It is very important to keep your Camp Chef Woodwind with Sidekick protected from the elements, especially because of all the high-tech equipment installed. For this reason, you should not consider purchasing this pellet grill without also purchasing a cover to keep it safe.
Of course, we also recommend pushing your grill into the garage or another covered space if you don't plan to use it for long periods of time.
Pros and Cons of the Camp Chef Woodwind
Every rose must have its thorn, however, and as much as we love this pellet grill and smoker combo, there are a few cons we should mention!
Pros:
Technologically advanced, makes cooking on it a breeze
Quality grill
Easy to use
Easy to clean
Plenty of cooking space
You can smoke at high temps (which isn't usually found in a pellet smoker/grill combo)
Awesome selection of accessories
4 Food probes
Easy to use screen for WIFI connectivity
Excellent customer service when you have issues
Cons:
WIFI can sometimes disconnect, and it can be difficult to reconnect
There isn't much storage, especially with the sidekick
No hooks for hanging grill tools
Bulky, can be hard to move
Tips for Buying the Camp Chef Woodwind
Ready to head out and get a Camp Chef Woodwind of your own? We've got some tips to consider before you go.
Go Big
Bigger is always better right? This grill is already expensive, and if you are spending the money, the larger 36 version gives you much more bang for your buck than the 24 version. Especially considering it has space for a small turkey while the 24 doesn't.
You also would likely have problems smoking a prime rib or another large cut of meat on the 24. Plus, this way, you will be ready to host any event that should come your way.
Have a Storage Solution
As we've mentioned a few times, the big con of this grill is the lack of storage space with the sidekick. While there is a shelf down below, it's not very helpful when it comes to food prep or storing grilling tools.
You might want to consider buying the front shelf add-on, or having a stand or other cart for putting your grilling tools.
Practice Before the Big Day
If you have never used WIFI-connected grills before, they can be a bit of a learning curve, especially when it comes to adjusting the temperature without looking at your food. Remember, all grills are slightly different, so you need to spend time getting to know yours before you smoke something unattended.
Additionally, one of the cons of this grill is the WIFI can sometimes disconnect from the grill. Therefore, while you don't have to watch your food every minute of the day, we recommend at least being around the house the first few times you smoke until you know whether your grill is able to maintain a good connection with your WIFI or not.
Season Your Camp Chef
No matter what grill smoker combo you end up purchasing, always season your smoker. This is the number one way to ensure you get the best results out of your device.
Seasoning simply means running your grill as a dry run with no food in it. Considering you've got to test out the WIFI connection anyway, this seems like a great opportunity before you try your new grill with some expensive cuts of meat.
Experiment with Wood Pellets
There are many different types and flavors of wood chips out there. Don't be afraid to buy multiple bags and even mix them in the hopper. You never know when you might find your new favorite combination.
And if you ever don't like your combo, just use the easy hopper empty feature to take out the wood pellets and start over.
Final Thoughts
Overall, there is no better pellet grill and smoker combo out there that gives you this many features for the price. Whether you are attracted to the slide & grill feature, or the WIFI connectivity, this grill truly has it all. And when you consider the expanded capabilities thanks to the sidekick, you've really got it all!
While you will sacrifice prep space with this grill, we think that can be easily remedied with a small side table or shelf, and still think this grill is great. Plus, this grill will make your life so easy you probably won't even need prep space anyway.