Searching for the best smoker for a turkey? Look no further because we have all of your questions answered here!
In this TheGrillingDad.com guide, you will find:
Our top picks for the best smoker for a turkey
What to look for in a smoker for a turkey
And much more!
Our Top Picks
Our Reviews of the Best Turkey Smokers
Choosing the best smoker for turkey can seem overwhelming at first glance since you have to find a unit large enough to house the bird. Additionally, there are other factors that you should consider before you go out and make your purchase.
Are you planning to smoke only one turkey at a time or more?
Will you only use the smoker seasonally for turkey or are you planning to use it more often?
Will you smoke other meats besides turkey?
How large of a turkey are you planning to smoke?
Whatever your purpose for finding the best smoker for a turkey, you are sure to find some great ones here!
Depending on your budget for a smoker for turkey, there are some great options on the market today! Keep reading to discover some of the best smokers for turkey.
(Top Pick)
If you have been cooking outdoors for any length of time, then you most likely have heard of the Masterbuilt brand of grills and smokers. Masterbuilt is synonymous with high-quality products that are made to last.
This Masterbuilt Gravity grill and smoker can take on the toughest tasks such as smoking a turkey for your holiday get-togethers. While many smokers cannot house a bird the size of the average turkey, this smoker has what it takes to get the job done well.
The Gravity Series smoker uses charcoal that is fed into the hopper on the side of the unit and uses gravity to push its way through. This makes cleaning up charcoal left behind virtually impossible.
Not only is this smoker large enough to handle a turkey, but it is also equipped with both a digital control panel as well as the ability to control the temperature using WiFi. This means that your smoker will not only heat to about 225℉ within 10 minutes but also has phenomenal temperature control.
This Masterbuilt smoker boasts more than enough cooking space for your turkey as well as warming and smoking racks for extra space. This means that you can cook just about your entire meal on this one unit.
Pros
Simple assembly
Ample space for smoking a turkey
Great temperature control
Lots of extra storage and cooking space
Easily portable with wheels
Cons
WiFi may not work effectively
You may have a hard time contacting Customer Service if needed
(Best for Multiple Turkeys)
For those who want to be able to smoke more than one turkey at a time without breaking the bank, the Dyna-Glo Vertical Offset may be just the smoker for you.
This is because it is not only perfect for your turkey, but it is more affordable than other smokers.
With more than 1,100 square inches of cooking space, the six removable shelves allow you to move things around to cook your entire holiday meal. With ample space for multiple turkeys and sides, you won't want to use anything else.
The Dyna-Glo has a temperature gauge built right in which makes it convenient and allows more control over the temperature of the smoker. You will need to be cautious with this smoker as it may require that you add more fuel from time to time.
The vertical design of this offset charcoal smoker creates an airflow that is perfect for smoking a turkey. You may want to pick up a meat temperature probe so that you do not have to keep opening the door to check on the turkey.
Pros
Affordable than most smokers
Ample and flexible shelving and cooking space
A built-in thermometer helps with temperature control
Easy cleanup with a removable ash pan
Grease management system
Cons
May leak smoke
Does not allow for versatility in the grill
(Best Charcoal Smoker)
When it comes to outdoor cooking, there is not a more well-known brand than Weber, which is synonymous with quality. Whether you are planning to grill or smoke, the Weber line of outdoor cooking units is some of the best on the market.
The Smokey Mountain cooker is great for smoking a turkey or any other type of meat you wish to cook. The more than 700 square inches of cooking space makes it the perfect smoker for your holiday cooking needs.
This smoker not only does a great job smoking your turkey, but it also is equipped with a great design. Made with a porcelain enamel outer shell, plated steel grates, and aluminum dampers, this grill is made to last for a long time.
The great thing about this grill is, like their other products, Weber stands behind the Smokey Mountain Cooker with a 10-year warranty. You should check the warranty carefully, however, since various parts have different time limits.
Pros
Phenomenal warranty
Ample cooking space
Easy to use and clean
The vertical design is perfect for a turkey
Top-of-the-line temperature gauge
Cons
It cannot be used as a grill
Smoke may leak around the fuel door
(Best Pellet Smoker)
The ZGrill Upgrade Wood Pellet Grill and Smoker is an extremely versatile smoker with eight different purposes. The ability to grill and smoke using wood pellets makes it a phenomenal grill with all the modern technologies.
This grill/smoker has combined the traditional features of old-school units with modern features that allow you to roast, grill, smoke, sear, and much more. All of these factors create the perfect solution for smoking a turkey for either the holidays or any time of the year.
From the versatile design to the large cooking space, the ZGrills brand does not disappoint when it comes to creating a smoker that works great. It also comes equipped with a digital control board and auto ignition to allow you to control the temperature in a better way.
Pros
Easily portable
Automatic ignition
Digital control panel for temperature control
Ample cooking and smoking space
Cons
(Best for Portability)
The Camp Chef Pursuit smoker is perfect for those who are short on space due to its compact design. The smaller design leads many to think it is not meant to smoke larger meats such as turkey, however, this couldn't be farther from the truth.
Although it is a compact smoker, it can handle just about anything you may want to smoke. With the large cooking space, you will probably even have room for many of the side items as well.
Equipped with a Gen 2 PID controller, the Camp Chef unit is designed to help you control the temperature every time you cook. Not only can you control the temperature in this unit, but it also comes equipped with ten levels of smoke for your experimental experiences.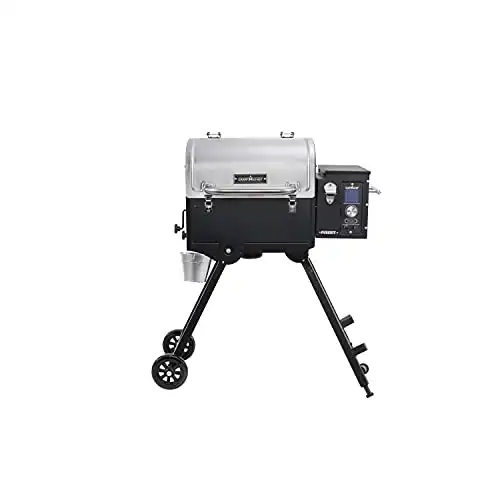 Pros
The compact design makes it easily portable
Equipped with dual shelving for more versatility
Gen 2 PID controller for better temperature control
Cons
Does not come equipped with porcelain enamel on the grates
What is a Smoker Exactly?
A smoker is an outdoor cooking device that allows you to smoke food to give it an authentic smoky flavor. While many people prefer to grill food, others like the taste that a smoker provides for meat and other food.
Whether your smoker is fueled with wood pellets, charcoal, electricity, or natural gas, you'll want to ensure that the temperature stays steady at around 225℉. This is because the smoker is designed to cook food very slowly.
Related >> Can You Cook a Partially Frozen Turkey?
The Basics of How a Smoker Works
A smoker has to be kept at a constant temperature to cook food properly since it is supposed to cook low and slow for some time. Keep in mind that the smoker is designed to cook your food indirectly.
Most smokers have a different chamber where their food never comes in direct contact with the flame. Instead, the flames are typically in a different area but push smoke to the chamber where your food cooks.
The important thing to remember is that a smoker works by creating a tight chamber where the wood chips or other fuel source creates smoke. This smoke then surrounds the food and bathes it in smoke for a tasty meal.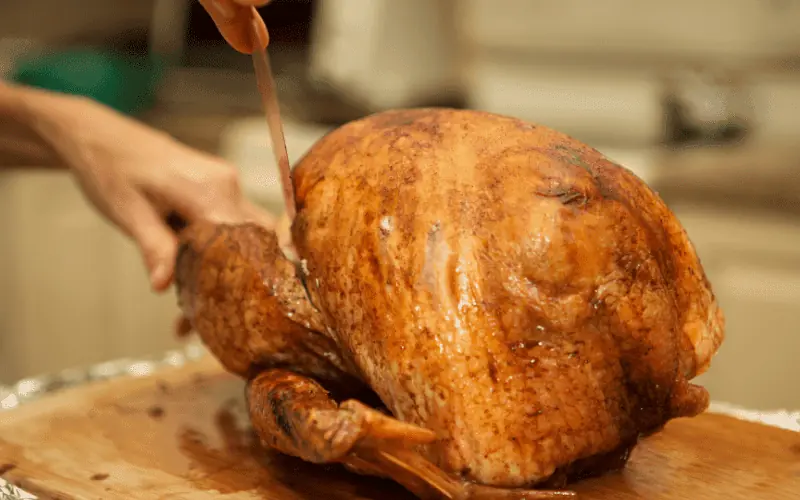 What to Look for When Buying a Smoker for Turkey
Like when buying anything that is considered a bigger purchase, you will want to ensure that you are getting the best. This is especially important when you are choosing the best smoker to give your food a great taste.
Before purchasing the best smoker for your turkey, you should do some research online to learn some of the factors that you should consider. Keep reading to learn more about some of these factors.
Size of the Smoker
When it comes to determining the best smoker for your turkey, you need to consider the size. This is because a turkey is a rather large bird and you need to ensure that it fits in the chamber of your grill.
In addition to making sure that it will fit a turkey, you also need to make sure that it has ample cooking space. While a smaller space might be great for smaller groups, you may need to go for a larger size if you are cooking for bigger groups.
Portability
Another factor to consider when choosing a smoker to make a turkey is whether or not you can move it around easily. This is important because if you want to load up your unit and head out to tailgate or camping, you want a smoker that is easy to maneuver.
This can often be remedied by ensuring that your smoker has wheels, at least on one side, to make transporting it from one place to another easy. Additionally, you want a unit that is not too heavy, otherwise, you will not want to move it at all.
Cost of the Smoker
Another factor you should consider, especially if you are on a budget, is the cost of the smoker overall. Depending on what you have set aside to spend, you should be able to find one that is suitable for your needs.
Smokers come in a variety of sizes and price points, so before you go out to purchase your unit, you should do a little research. Depending on what the purpose of your purchase is, you can surely find a unit that is just right for you.
Ease of Cleaning and Maintenance
Choosing the right smoker should consider how easy it is to clean and maintain over time. If you have to spend a lot of time cleaning your smoker after each use, you may tire of this quickly.
The best smokers you can buy have features that make them easy to clean and maintain such as removable ash pans. Before you buy your smoker, make sure that it comes equipped with features that will help you in the long run.
Durability
When purchasing a smoker for your home, you will want to steer away from just buying the cheapest model to save money. This is because the cheapest model is usually the most costly over time.
When you opt for a smoker that is much cheaper than others, you can run into issues such as parts breaking, or other features that stop working altogether. Make sure the smoker you are buying is durable enough to last for a long time.
Pros and Cons of Buying a Smoker
Like most other large ticket items. You will want to weigh the advantages and disadvantages to ensure that you are making the right choice for yourself. Doing this means that you have to do a bit of research before buying, which can be beneficial in the long run.
Check out some of these pros of buying a smoker for your turkey:
Pros:
Gives your food an authentic smoky flavor
Easy to put the turkey on and forget it for a bit
Smokers cook at a low temperature so you don't have to worry about burning anything
Can use different types of wood for a variety of flavors
Makes any food tender and juicy
While you consider all of the advantages of buying a smoker, you should also consider the disadvantages. This is because it will give you a better chance of making the right choice for yourself.
Check out these disadvantages of buying a smoker grill:
Cons:
Can be more pricey than regular grills
Can be bulkier than other units
May take some time to learn how to smoke foods correctly
Keep in mind that these are only some of the advantages and disadvantages that come with deciding to purchase a smoker to cook your holiday turkey. Most grilling experts agree that having a smoker is a great investment if you can afford it.
Is Buying a Smoker for Turkey Worth it?
When it comes to deciding whether or not to buy a smoker to cook your holiday turkey on, there are a few factors that you should consider. While a smoker can create an authentic flavor for your turkey, is it worth the expense?
The most important question that you should ask yourself is whether or not you will use the smoker other times of the year. Keep in mind that smokers are not cheap and if you are only going to use it once or twice a year, you may want to rethink it.
However, if you are planning to use your smoker to cook your holiday turkey but then experiment with other meats, it is definitely worth the cost. This is because you will get a lot of use out of the money you invested in the purchase.
As you consider purchasing any big ticket item, you should take into consideration that the goal is to ensure you are getting the best unit within your budget, but also that the purchase is worth it in the long run. Buying a smoker is a worthwhile investment for most people.
Related >> The Best Pellet Grills
Final Thoughts on the Best Smoker for Turkey
The bottom line when it comes to buying the best smoker for your turkey is that you need to ensure that you have done your research. This is because not all smokers are designed to accommodate a big item like the turkey.
Now that you know everything about purchasing the best smoker for your turkey, you should be able to make your choice easily. Keep in mind that buying the right smoker to cook your turkey means that you and your family will have a tender, juicy, and perfectly smoked turkey for your holiday meal.