Nothing ruins a grill out like overcooked or undercooked meat. That is why when I fire up my grill, having a highly accurate, easy-to-read thermometer on hand is a must. So I got my hands on the ThermoPro TP19H, and tested if it has what it takes to help me achieve grilling perfection.
Here's how it stacks up compared to the best instant read meat thermometers on the market:
ThermoPro TP19H Review
Being a passionate and experienced griller, I've used more than my fair share of instant-read thermometers over the years. Experience has taught me just how important using a well-designed, highly accurate thermometer is for getting great results on the grill.
So, when I received my ThermoPro TP19H, I couldn't wait to dive in and see if it measured up to my high expectations. I think you'll be surprised by the performance you get at a very respectable price.
Best Value
My Experience With the ThermoPro Instant Read Thermometer
First things first, let's talk about accuracy. In my testing, the ThermoPro TP19H proved to be the second most accurate thermometer in my most recent tests. It excelled at higher temperatures, which is a plus.
On the downside, I found the design of the ThermoPro TP19H a bit disappointing. It lacks ergonomic features and doesn't provide a comfortable grip when held in different positions.
Whenever I inserted the probe vertically into the meat, I had to contort my neck and twist it to read the temperature. This was incredibly frustrating!
On the positive side, the ThermoPro TP19H delivers on its promise of fast temperature readout speed, displaying the accurate temperature within 3-4 seconds as advertised. I also particularly liked the inclusion of an auto sleep mode to prolong the battery life, which activates after a period of inactivity.
Related: Best BBQ Tool Sets
Features and Benefits of the ThermoPro TP19H
Before receiving my ThermoPro TP19H, I had high expectations for its performance. It's received considerable praise, so I expected it to be a solid contender for being the top performer out of all the thermometers I tested.
So to avoid burying the lead, the ThermoPro TP19H provided the best performance for the money out of all the thermometers I tested!
While it's packed with multiple useful features, I found it does lack in certain areas. With that in mind, let's dive into what I found when I put this thermometer to the test.
Accurate Temperature Readings
When testing the ThermoPro TP19H at high temperatures above 140 degrees, I was pleasantly surprised to see how accurate it was. Compared to other thermometers I've reviewed, the only other one that I've seen to be more accurate is the ThermoWorks Thermapen (which is a lot more expensive).
The ThermoPro only underreported high-temperature readings by 1-2 degrees, which impressed me. When it came to reading temperatures around and below 130-140 degrees, it provided exceptional accuracy.
On top of this, it only took 3-4 seconds for the reading to appear. While it's not as fast as the ChefsTemp Finaltouch X10 which displays the temperature in around one second, I still thought the ThermoPro was pretty fast.
Note: When using the ThermoPro TP19H, insert the probe into the thickest part of your cut to avoid any bones or fatty areas. This will give you the most accurate temperature reading.
Calibration Mode
Another standout feature is the calibration mode. Thermometers can lose accuracy over time, due to regular use and wear. The TP19H has a calibration mode that allows you to readjust the sensor readout if you notice it's becoming inaccurate.
Related: How To Calibrate a Meat Thermometer
Large Rotating Backlit Display
The ThermoPro TP19H offers a relatively large display, which is nice and can be read from a distance.
The screen rotates vertically; however, the reading only shows up horizontally. I find this a bit annoying since I either need to rotate the thermometer horizontally or crane my neck to read it easily. The screen would be much easier to read if the temperature could be displayed right side up when you have the thermometer vertical.
On the positive side, the display screen automatically lights up when inserted into the meat. While I still found the display difficult to read, the light remained on for 10 seconds, which is a perk.
Waterproof Design
The ThermoPro TP19H thermometer is built tough with an IP rating of 65. This means it can handle unexpected mishaps like being dropped in water.
Related: Best Grill Brushes for Safe Eating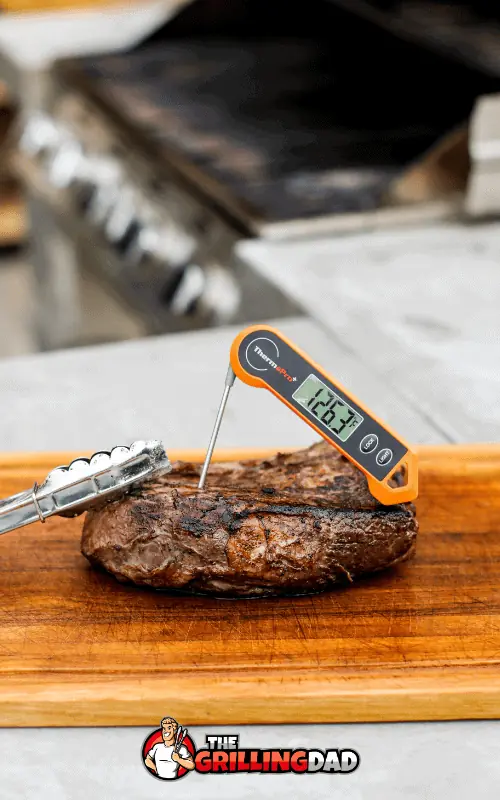 Product Update
ThermoPro's TP19H thermometer has improved on previous versions. If you've used the older version, here are some improvements you can expect.
Response Time
ThermoPro has stepped up its game in this department. With the TP19H, they've shaved off a few precious seconds from their previous model, the TP19, bringing the response time down to just 3-4 seconds.
Price
The ThermoPro TP19 comes at a slightly higher price point, so the ThermoPro TP19H offers a more budget-friendly option. If you're looking to be savvy with your spending without compromising on quality, the TP19H might be the perfect choice for you.
Related: Best Grilling and Smoking Accessories
Pros and Cons
Here's what stands out to me with this ThermoPro thermometer:
Offers accurate temperature readings, even at higher temperatures – this is particularly beneficial when grilling chicken or pork
Can recalibrate the device if you notice it's becoming inaccurate over time
Can press the "Lock" button to lock the temperature reading, allowing you to read the temperature away from heat sources
There are a couple downsides to consider:
Display is difficult to read if you have the thermometer in any position other than horizontal
Replacing the battery on the TP19H is slightly challenging and inconvenient
Comparing ThermoPro to Other Instant-Read Meat Thermometers
To thoroughly evaluate the accuracy of the TP19H, I conducted a series of rigorous tests, comparing it to a variety of meat thermometers.
First, I used the sous vide method to test the temperature reading accuracy. This allowed me to precisely control the water temperature so I could accurately test the readings provided by each thermometer I tested.
I also used different types of meat, such as chicken breasts, pork chops, and steaks, to evaluate how well the TP19H performed in various grilling situations.
ThermoPro vs. Chef's Temp
When comparing the ThermoPro TP19H with the Chef's Temp thermometer, there is a noticeable difference in terms of accuracy. The TP19H is more accurate than the Chef's Temp at high temperatures, by up to four degrees, making it a better choice for precise temperature measurements at temps above 130-140 degrees.
Read our Chef's Temp Instant Read Thermometer Review.
ThermoPro vs. Thermapen
Regarding performance and price, the ThermoPro TP19H gives the Thermapen a run for its money.
Despite the lower price tag of the ThermoPro, it offers similar performance when it comes to reading temperatures.
To be clear, the ThermoPro underreported temps above 130 degrees by 1-2 degrees but the difference is not that significant when you consider how much more affordable the TP19H is compared to the ThermoWorks Thermapen.
Considering the price, the ThermoPro TP19H is a top contender for those who want outstanding performance without draining their wallet.
Read our full Thermapen Review.
Cheaper Options
If you're wanting to look at cheaper options, you'll lose a bit of quality, but you do have a few options that can get the job done.
Who Should Get This?
The ThermoPro TP19H is a must-have tool for anyone who takes cooking seriously. Whether you're an aspiring chef, a seasoned home grill master, or simply enjoy cooking in your backyard, this thermometer will meet your needs.