Are you considering purchasing a Weber 70th Anniversary Kettle Grill?
We've tested it, and we are here to help you with your decision!
In this TheGrillingDad.com review, you will learn:
All about the inner workings for the Weber 70th Anniversary Grill
What you can expect from this grill performance wise
And much more!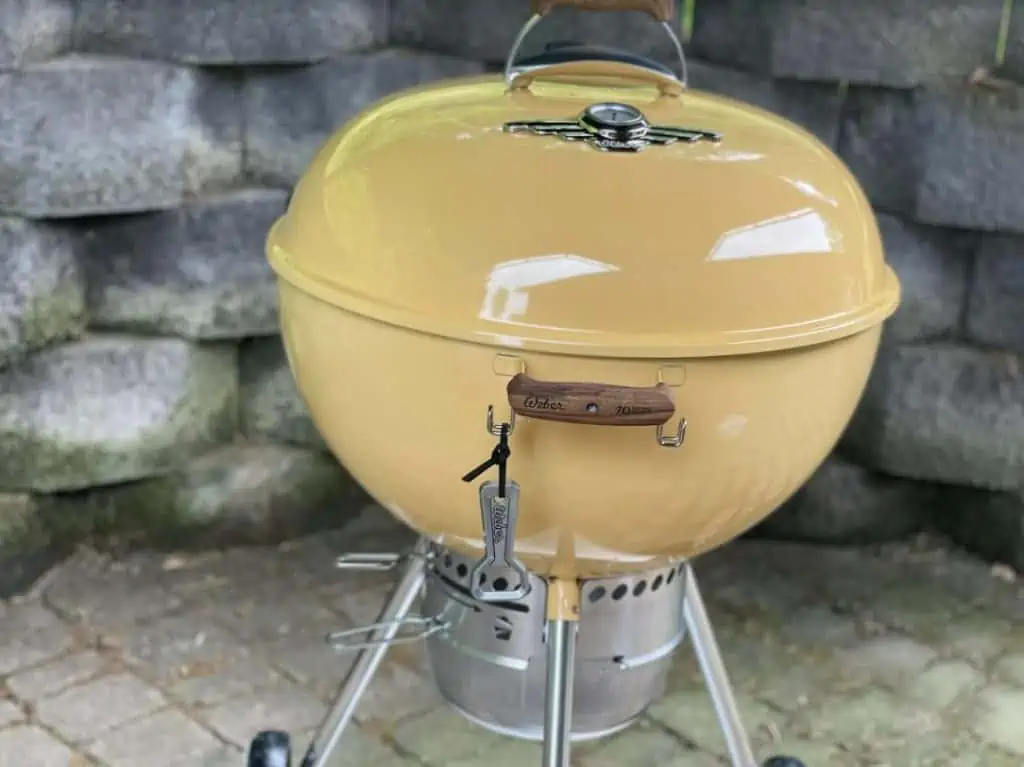 Weber 70th Anniversary Kettle Grill
Weber is a long-time American grill company that has been bringing families together over BBQ meals since 1952. All grills are manufactured in Huntley, Illinois, using all US-sourced components.
Specializing in the kettle-style grill, Weber focuses on durability, workmanship, and quality in all of its products, ensuring you will always get the best grill for your buck.
The 70th Anniversary Kettle Grill is a one-of-a-kind product made special by a company that is proudly celebrating its 70th Birthday.
With all of the best features and limited edition hot rod colors that you can't find anywhere else, this grill is the best of the best. You get all the modern technology of Weber grills encased in a timeless 1950s art masterpiece!
Not to mention that the performance of this grill is out of this world when it comes to grilling steaks, burgers, or even a nice bratwurst.
This in-depth Weber 70th Anniversary Kettle Grill review will give you a thorough idea of all the features, performance, warranty, and other qualities of the product so you can make an informed buying decision.
Get Your Limited Edition, 70th Anniversary Kettle Grill
$439
Characteristics of the Weber 70th Anniversary Kettle Grill
Amazing Value Kettle Grill:
Hard enamel coating is designed to last even the most difficult of weather situations.
Solid utility tray originally featured in the 1950s version of the classic grill, perfect for storing all of your tools within an arm's reach.
Comes in four amazing retro colors to suit any preference.
The spacious cooktop of 363 square inches can fit 13 burgers.
The aluminum damper is rust resistant keeping your kettle grill in tip-top shape for years to come.
Convenience and Feasibility:
Built-in thermometer for easy checking without needing to open the lid.
On wheels, so easily moveable from place to place as needed.
Wood nylon handles keep your hand separated from the hot metal and make moving your kettle grill easy.
Easy assembly when the grill arrives
When assembled, it only weighs about 38 pounds, making it easy for you to maneuver this grill wherever it needs to go.
Additional Features:
10-year no rust/burn through warranty on the bowl and lid.
5-year warranty on all plastic parts, including fading
2-year warranty on everything else
Purchase includes limited edition bottle opener and metal plaque.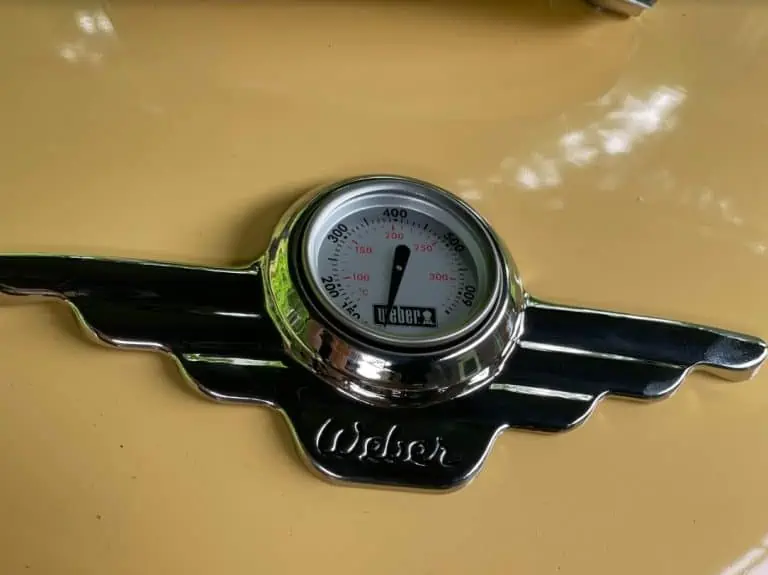 The Features of the Weber 70th Anniversary Kettle Grill–Review
The 1950s Chrome Look:
A major aspect of this grill is its look, and it doesn't disappoint. With durable chrome that won't rust, you can choose your favorite color and have it decorating your porch for decades.
The Weber team included many nice visual touches, such as the grill thermomter being in the shape of a hood ornament from the 1950s.
The wheels are the classic white-walled wheels, making this grill truly look the part.
When compared to other grills in the space you simply won't get this level of grill in a look like this. It looks absolutely stunning on the porch.
Tuck-Away Lid Holder:
There is nothing more frustrating than when you need both hands for your grill and have no choice but to put the lid on the ground. With the tuck-away lid, you can slide open the grill, and the lid is held in place, so you don't have to worry about holding it or setting it on the ground.
Hinged Grate:
If you've never cooked with a hinged grate, you are missing out. This makes it simple to add more charcoal as you need, rearrange the coals, or even toss some wood chips on the coals to give the smoke a little more flavor.
The hinged grate also allows you the freedom to purchase additional Weber upgrades for your grill, such as the wok or griddle, for those who want to cook items like stew or pancakes on their grill.
One-Touch Cleaning System:
Everyone can agree the worst part of owning a grill is cleaning it. With the One-Touch cleaning system, you can dump your charcoal ash into a removable catcher for easy dumping in the trash can. No need to try and scoop it out with a sponge like other grills.
The One-Touch cleaning system is protected by a 5-year no rust/burn-through warranty.
Bowl Vents:
The bowl vents on this kettle grill make it easy to cook items low and slow. You can even smoke items if you wish!
Although you won't get the full durability of owning both a grill and a smoker, this grill does give you a taste of the smoking world without needing to spend money on another appliance.
Base Supply Shelf:
At the base of the grill is a metal supply shelf that hasn't been added to Weber grills since the 1950s; while very nostalgic, it's much different than the hooks that come on their regular 22" model.
But for those who just like to have items handy or perhaps worry about their grill blowing away (and need to set a rock on the base), this shelf fits the bill.
Special Additions:
Purchasing one of these bad boys also gets you a bottle opener and a limited-edition metal plaque which are both of premium quality.
The bottle opener is great to keep with your grill when you want to open a cold one during a BBQ. The plaque can also be displayed in your home and adds a unique flair to any room decor.
Limited Edition Colors
Capacity of the Weber 70th Anniversary Grill:
The capacity of this grill is 363 sq inches which can fit 13 burgers. While you can't fit an entire turkey on this grill (it would be a tight squeeze), it is quite spacious for the everyday cooking needs of a growing family.
Besides just burgers, this grill is perfect for accommodating steaks (I can get about 8 on depending on how large the cuts are), hot dogs and bratwurst, and chicken breasts or legs.
You can also make ribs on this grill, but it's recommended you grab the rib accessory from Weber as this makes it much easier to do so. Otherwise, you can usually cook one full rack in the middle of the grill, then divide the other in half and then place it on either side of the full rack, and it works out okay.
There is no upper or lower deck in this grill which is one of the only downsides. But if you already have one kettle grill and are looking at buying a second one, this grill is the perfect edition.
Read More >> Best Charcoal Grills
Suggested Add-Ons to Kettle Grill Purchase
While we are absolutely in love with this grill, there are a few things we think you should consider with your purchase to make this grill even better.
Char-Baskets
If you read the comment above about the bowl vents allowing you to practice some smoking techniques, then you also need the char-baskets. The char-baskets are removable baskets for the charcoal that can be used together for regular cooking or one at a time for offset cooking, which is critical when you want to control the smoke flavor of the food you are making.
Grill Cover
While this grill is covered by an amazing warranty and very durable, we do recommend protecting the grill with a cover, especially if you plan to leave it outside. The proper cover will help protect your grill from damage while also keeping it dry so you can be ready to cook a feast at any time!
Of course, there are many more accessories from Weber that can really upgrade your purchase, but these are the two that we feel you can't live without!
Read More >> Best Grill Covers
Weber Connect Smart Grilling Hub
With this smart grilling hub, you can take any grill and turn it into a smart grill. It works great with Weber's Kettle grills!
You can monitor the temp inside the grill accurately plus monitor the internal temp of your food. Not only is that great for food safety, it's great for grilling your food to perfection.
The app is easy to use and even has a feature that tells you when to flip your steak so it cooks evenly to your desired temp!
Cooking Suggestions for the Weber Kettle Grill
We love a good kettle grill, but sometimes it can be hard to know what will cook on your kettle grill best. Below are some of our cooking suggestions for the Weber 60th Anniversary Kettle Grill.
Meats
For meats, we recommend using your kettle grill for some of the smaller items like burgers, hot dogs, and steaks. But once you get the hang of using your kettle grill, don't be afraid to venture on to try ribs or maybe a pork roast.
Fish and Veggies
You can also place aluminum foil over the grate for cooking a nice piece of fish or stick some corn on the cob on there as well. Whole poultry is also an option with kettle grills, though it is better to stick with chickens and other smaller birds than trying a whole turkey.
Pizza
Yes, you can actually make pizza with your kettle grill, you just need to buy the proper insert. While this may seem like a hassle, your kids will love getting to make their own pizza and let it cook on the grill for a Friday night movie night.
Pancakes
The griddle upgrade is another insert for your kettle grill that can help you make some amazing dishes on your grill. Simply preheat the grill, mix the batter, and voila, breakfast is served!
Tips for Using the Weber 70th Anniversary Kettle Grill
Ready to head out and buy your Weber 70th Anniversary Kettle Grill? Congrats! Below are some of our tips so you can have the same great experience with the grill as we did.
Always Preheat Your Grill
For best results, your grill should be preheated for 15-30 minutes before you place the food on the grate. This will give you more even cooking and allow you to gauge cooking times better.
Keep the Lid Closed
While it can be tempting to check on your creation, you're going to want to keep the lid closed. Kettle grills, because of their round shape, lose a lot of heat when they are opened, and this can prolong your cooking time unnecessarily.
Flip with a Spatula
As weird as it may seem, always use a spatula to flip items on your Weber 70th Anniversary Grill. This will keep your meat nice and juicy. If you use a fork or prongs instead, this will poke holes in the meat and allow the juices to drain out.
Never use your fingers to flip meat as you could burn them.
Experiment with Wood Chips
Once you get the hang of regular grilling with your kettle grill, grab some wood chips and give smoking a try. Matching different types and flavors of wood with the charcoal cooking method can take you to a whole new world of meat flavors you never knew existed.
Final Thoughts on the Weber 70th Anniversary Kettle Grill
Overall, the 70th Anniversary Kettle Grill by Weber is one of the best. It is unparalleled in terms of looks, ease of use, and durability. While it doesn't have the most cooking space in the world, it is definitely sufficient for a family of six, and you can't beat the additional features!