Are you looking for an easy-to-follow guide to cooking ribs on the grill?
You're in the right place!
In this TheGrillingDad.com guide, you'll learn:
Ingredients you'll need
How to trim the ribs
How to make juicy ribs on the grill in just 4 hours
And much more!
If you have a craving for ribs on the grill but don't have the time to dedicate to it, this recipe is a lifesaver.
It cuts the time down for ribs on the grill so you'll have the perfect grilled ribs in no time.
If you have time and want more of that smokey flavor, try our 3 2 1 Ribs Recipe.
Pork Ribs on the Grill
Looking for a tasty grilled rib recipe that goes from the fridge to your plate in just 4 hours?
Look no further.
The secret to a quicker grilling time in this recipe starts with cooking at a higher temperature as well as some time wrapped in foil and smothered in braising liquids and butter.
Whether you prefer them saucy and tangy or simple and to the point, this recipe is perfect for all taste buds.
Read More >> How To Reheat Ribs Without Drying Them Out
While you won't get the smoke ring you would for a traditional smoked rib, these ribs are just as tasty.
The rub and braise used in this recipe cook a delicious, pork flavor into the ribs, leaving them falling off the bone.
You'll also get that crunchy chew on the edges that many rib enthusiasts love, thanks to the rub, sauce, and braising liquids coating the ribs in caramelized sugars.
Read More >> Spare Ribs vs Baby Back Ribs – What's the difference?
How to Choose the Best Ribs
There are several different types of ribs available. We recommend using the following process to choose the best ribs.
How Many Are You Cooking For?
While beef ribs may be your favorite, they can also get a bit pricey if you are trying to cook for a huge crowd. Pork ribs are a good second choice when you've got lots of hungry mouths to feed.
Look for Fat Marbling
Once you've decided on beef vs pork ribs, take a look at the individual racks of ribs. You want one with a decent amount of fat marbling, but not so much fat that you get ripped off on the meat. You also want to look for slabs of ribs that aren't cut too closely to the bone.
Weight
Remember how many people you have to feed and ensure you get enough to go around. You'll want to plan to have half a rack, or 6 ribs per person you plan to feed.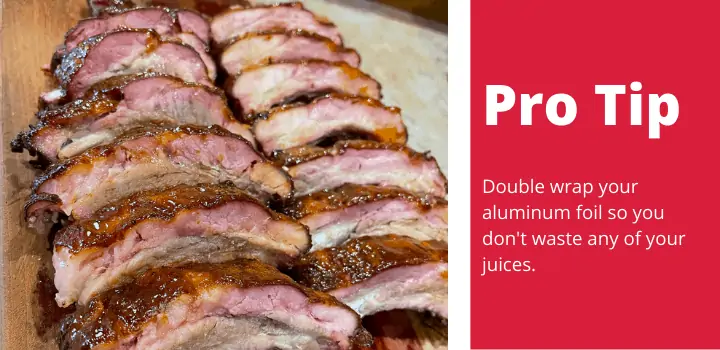 Ingredients for Cooking Ribs on the Grill
This recipe uses pretty basic ingredients that you may already have in your fridge or pantry!
1 rack of St. Louis pork ribs- You can also use baby back ribs if you prefer them. They will cook even faster so they are ideal if you're really in a time crunch!
2 tablespoons rib rub- Grab your favorite rib rub!
1 cup apple cider- Brand and variety doesn't matter since it all gets the job done
¼ cup dark brown sugar- Make sure to grab dark brown sugar for that sweet molasses! You won't get the same effect with light brown sugar
2 tablespoons salted butter
1 cup BBQ sauce- Again, grab your favorite BBQ sauce here. Something sweet and smokey usually does the trick!
Read More >> Best Dry Rubs for Ribs
How to Cook Ribs on the Grill (5 Easy Steps)
Preheating
Trim the Ribs
Grill 'em
Prepare the Braise
Finish Grilling
1. Preheating
Your grill should be set around 300 degrees. It is recommended to use fruit woods for this recipe, since they add a sweet touch to the ribs.
Don't have any? No problem. Just skip the wood this time around.
Read More >> Best Wood For Smoking Ribs
2. Trim the Ribs
Next, you want to start preparing your ribs by trimming away excess fat and the membrane on the back of the ribs. Season with your desired rib rub.
3. Grill 'em
Put the ribs right on the grill grates and grill for 2 ½ hours at 300 degrees.
4. Prepare the Braise
After the initial grilling time, place a large piece of aluminum foil on a flat surface and put the ribs bone side up on it.
Fold the corners to create pockets around the ribs to contain the braise.
Here you'll want to put the brown sugar and butter on the ribs, then pour on the apple cider.
Close the foil around the ribs tightly and place back on the grill at 300 degrees for another hour.
5. Finish Grilling
After the hour in the braise, remove the ribs from the foil and place back on the grill grates.
Brush your favorite BBQ sauce onto the ribs and grill them for another 15 minutes to set the sauce.
Once the time is up, remove them from the grill and allow the ribs to sit for another 10-15 minutes.
Now you're ready to enjoy some delicious ribs on the grill!
Read More >> Top 5 Best Smokers For Beginners
How Long to Cook Ribs on the Grill?
How long you need to cook your ribs will depend on the temperature of your grill. For a grill set to 300°F, you should plan on cooking them for 3-4 hours until they reach an internal temperature of 190°F.
Should You Cook Ribs Before Grilling?
You don't need to cook ribs before grilling them, but sometimes people with a gas grill prefer to start cooking them in the oven prior to grilling them. You can do so, just know it isn't required for making good ribs!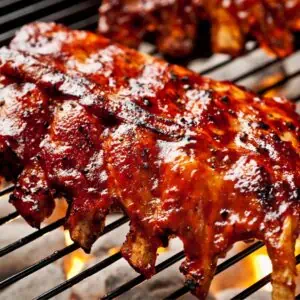 Pork Ribs on the Grill
The easiest way to make ribs on the grill!
Ingredients
1

rack of St. Louis pork ribs

2

tablespoons

rib rub

1

cup

apple cider

¼

cup

dark brown sugar

2

tablespoons

salted butter

1

cup

BBQ sauce
Instructions
1. Preheat the grill to 300°F

2. Trim the ribs and season with rib rub.

3. Put the ribs on the grill grate and cook for 2.5 hours.

4. Place the ribs on foil and top with butter, brown sugar, and apple cider.

5. Close the foil and return the ribs to the grill for an hour.

6. Remove the ribs from the foil and place them on the grill grates. Cook for 15 minutes.

7. Rest the ribs for 10-15 minutes, then serve!
If you want to learn more about grilling, check out these other helpful resources!