Are you about to smoke some fall-off-the-bone ribs, but you want to make sure you're using the right dry rub on them?
Then you're in the right place!
In this guide, you'll learn:
What to look for in a good dry rub
How they actually work
Top 5 best dry rub for ribs
And much more!
For most people, a BBQ is a serious matter that involves an even more serious series of discussions.
Indeed, most American households have their own barbecue recipe and stating that one trumps another is a pretty good way to start a backyard war.
Our intention today, however, is to not start a war, but rather to unite people with one common understanding and agreement — the glory of dry rubs.
Allow us to take the floor and show you a thing or two about dry rubs for ribs, along with which is the best rib rub out there!
I've tried every dry rib rub out there, so I've narrowed down the list to the 5 absolute top rubs out there for your ribs. By doing this you're going to:
Save money by not trying all of them in the market
Save time by seeing the best of the best in one list
Eat delicious ribs
Read More >> Ribs on the Grill (5 Easy Steps)
Image
Product

2x Royal BBQ Contest Winner

No MSG/Gluten Free

Great Per Ounce Price

2x Royal BBQ Contest Winner

No MSG/Gluten Free

Great Per Ounce Price

View on Amazon

Special Umami Flavor

Created By Champion BBQers

Not Over Salted Like Some Rubs

Special Umami Flavor

Created By Champion BBQers

Not Over Salted Like Some Rubs

View on Amazon

GMO-Free

Doesn't Overdarken Ribs

100% Natural

GMO-Free

Doesn't Overdarken Ribs

100% Natural

View on Amazon

Balanced Flavor

Named After 3x Pitmaster Champ

Can Be Used On Many Types Of Meats

Balanced Flavor

Named After 3x Pitmaster Champ

Can Be Used On Many Types Of Meats

View on Amazon

Sweet Rub

Great For Pork, Poultry, and Veggies

Proudly Made In The USA

Sweet Rub

Great For Pork, Poultry, and Veggies

Proudly Made In The USA

View on Amazon
Our Overall #1 Rated Pick
Our top pick is anything made by Cowtown because they produce the best quality and flavor, and they are blended in the USA.
Whether you want a versatile pork rub like The Squeal or a great tasting BBQ Sauce, Cowtown won't let you down no matter what you choose.
Demand is high for Cowtown, so get your hands on your favorite rib rub and have it shipped to your doorstep from Amazon today.
What Is a Dry Rub for Ribs?
Dry rubs are simply a mixture of dry spices or seasoning that you rub onto the meat, either ahead of time or immediately prior to starting the cooking process.
As the name suggests, dry rubs, as opposed to a wet rub or a marinade, have no liquid components and, as such, tend to allow the meat to use its own moisture in the cooking process.
Read More >> Spare Ribs vs Baby Back Ribs – What's the difference?
How Do Dry Rubs Work On Ribs?
How a dry rub works is that it helps retain the natural taste and moisture of the meat while, at the same time, adding a unique texture and flavor in the process.
Depending on the cooking process, a dry rub does this by forming an outer crust layer that hardens around the meat as it's cooked.
Because of its lack of liquid component or element, dry rubs tend not to add more moisture into the meat as the spices seep their way within.
The end result is a crunchy outer texture and a soft and flavorful interior.
Read More >> 321 Ribs – How To Smoke Ribs The Easy Way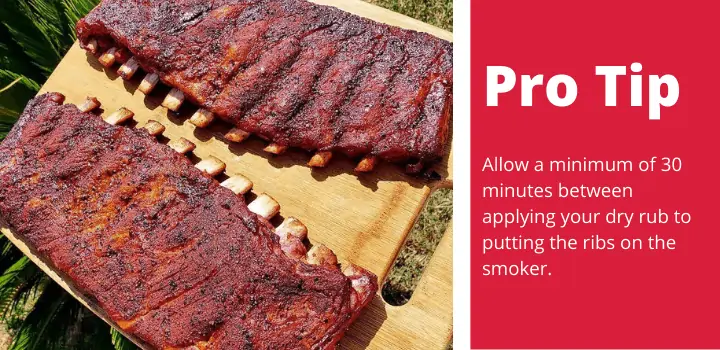 Read Also >> How Long Do Ribs Last in the Fridge?
What Are the Different Types of Rib Rubs?
In a way, it's safe to say that the possibilities for different types of dry rubs are limitless.
If we look at the various dry rub recipes and combinations for ribs, though, we begin to notice a trend or pattern that, more or less, commonly repeats itself in multiple variations.
At its very core, however, we can say that there are essentially four types of dry rubs, which are the following:
Spicy: Basically, this includes dry rubs that incorporate hot and spicy ingredients into the mix, such as chili peppers or other hot seasonings.
Sweet: These are rubs that use sugar or other sweeteners that make for a sweet and flavorful texture around and inside the rib.
Savory: Savory dry rubs can be a combination of sweet and salty spices but with an added twist in the form of cinnamon or smokey seasoning, thereby intending to give the rib a special and unique umami taste.
Herb-Infused: These rubs use special herbs, such as oregano or rosemary, as a core ingredient in the rub. The end result is a fragrant set of ribs that not only smells good but also tastes equally excellent.
Read Also >> How Long Does Bacon Last in the Fridge?
What Should You Look For When Buying Rib Rub?
When it comes to pre-mixed dry rubs, what you should definitely keep an out for are their ingredients and overall make-up.
Make sure that these dry rubs do not contain any unhealthy or unsafe ingredients and, above all else, are actually natural, if not organically sourced and processed.
Read More >> Top 3 Best Woods For Smoking Ribs (2022 Review)
Our Reviews Of The Best 3 Dry Rubs For Ribs

Creating your own dry rub can be difficult. We also don't really want you to risk messing up your barbeque by using an incorrect combination of spices in your rub.
To help you choose a good dry rub for your next barbeque, here are some of the best premixed dry rubs available on the market.
The Squeal from Cowtown is a good starter dry rub for everyone, especially for beginners.
This Cowtown dry rub is easy to use, readily available, and also surprisingly cheap.
Versatile and packing a great smokey flavor, you can't go wrong with this one.
The dry rub also currently holds a 4.9-star rating on Amazon.
Won the American Royal BBQ Contest Twice
Contains no MSG
Gluten-Free
Great Price Per Ounce
Its logo almost made me not buy it. Glad I didn't judge a book by it's cover!
This Killer Hogs dry rub incorporates dehydrated fruits and acids into the mix, which, overall, gives the meat a combination of sweet and savory flavors.
It's a popular choice and perfectly seasoned with the right amount of salt.
Some even say that it's the "only rub they'll use on ribs!"
The only down side is that it sells out very quickly on Amazon, so you'll need to catch it while it's available.
The ingredients give a special umami flavor to the rub
Created by a BBQ Championship Team
Not Overly Salty
A bit pricier than its competitors
A little too sweet for some people
Traeger Grills is already known for several dry rub rib recipes, but this dry rub is their best.
The mix gives any set of ribs a peppery and smokey flavor and aroma, providing you with a taste of that summer barbecue feel you had at your grandpa's when you were young.
The delicate blend of herbs and garlic are combined with just the right hint of salt. If you like your pepper and your garlic, you won't want to miss out on this one.
GMO-free
Doesn't overly-darken the rib's exterior
100% natural
Hard to pronounce in its entirety (especially if enjoying adult beverages while smoking ribs)
Not a traditional BBQ tasting rub
This delicious dry rub seeks to provide balance (as all good things should do).
Its ingredients are perfectly calculated to provide that middle-ground between sweetness and heat, making it a great choice for almost everyone.
Lambert's Sweet Rub O' Mine has a deep and complex sweet flavor and can be used on pretty much any kind of meat.
Balanced flavor
Named after a three-time BBQ Pitmaster Champion
Automatically plays the iconic guitar solo intro in your head whenever you use it
Not for those who prefer overly spicy rubs
If you like a sweet taste on your ribs, or you're feeding kids who think everything is spicy, Meat Church's Honey Hog BBQ dry rub is the perfect dry rub for you.
Meat Church puts out high-quality products, so you can always expect to be amazed by their flavor and the color it brings to your food when smoked.
Whether you get their Honey Hog BBQ dry rub or you opt to get the spicy version of it, you won't be disappointed. Grab a large shaker of it today…you'll need it!
Gluten Free/No MSG
Not spicy, so kids loved it
High-quality Meat Church Product
Ribs came out with amazing color
A tad too sweet for my taste buds (on ribs anyway)
Final Thoughts On Choosing The Best Dry Rub For Ribs
Saftey Tips For Ribs
Internal Temp
Remember, food safety always comes first, especially when serving other people. 
Ribs should be smoked or grill to an internal temperature of at least 145ºF but they'll likely still be tough if you stop there. 
The ideal internal temp for ribs is around 190º-200ºF.
Getting Them Tender
The collagen starts to break down around 160ºF. That's the tough connective tissue. Getting it to melt will get those incredibly tender ribs you're looking for. 
Safe Pork Handling
When handling raw pork, always wash your hands before and after. This helps prevent cross-contamination.
If you have additional questions, either leave a comment below or join our BBQ group on Facebook.
Read More >> How To Reheat Ribs Without Drying Them Out (5 Easy Steps)