Are you looking for a recipe for smoked turkey? 
You're in the right place!
In this TheGrillingDad.com recipe, you'll learn: 
Ingredients needed 
Step by step recipe on how to smoke a turkey
And much more!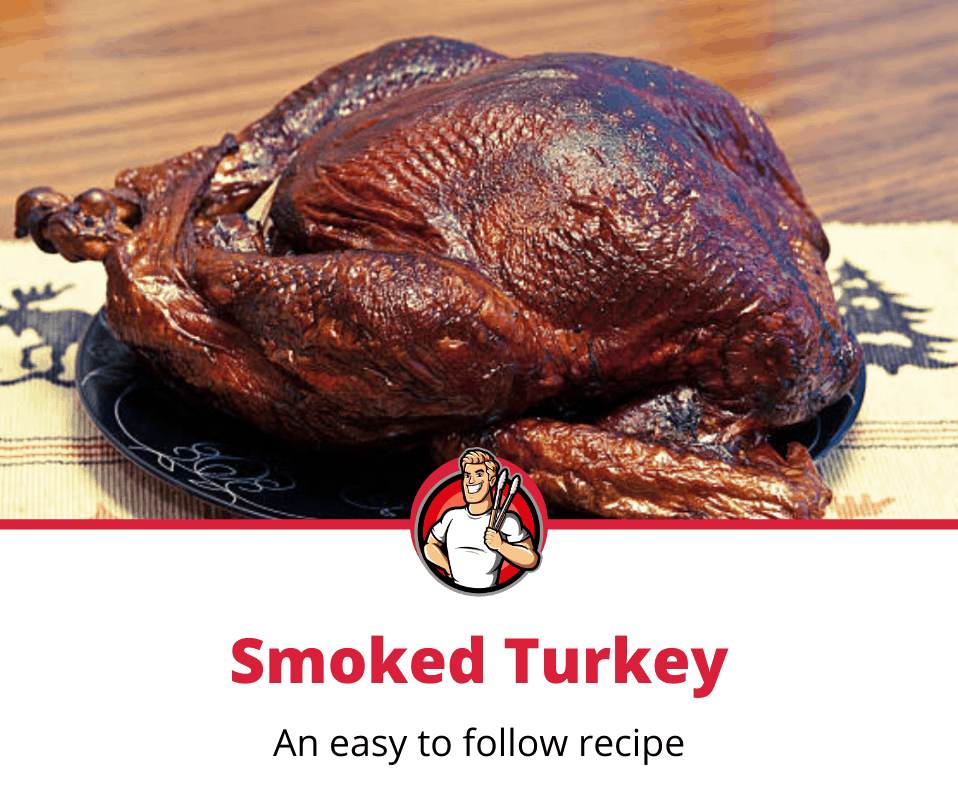 You don't have to wait for Thanksgiving to have a good turkey dinner.
This smoked turkey will steal the show at any dinner, whether it is a special occasion or just because.
How to Smoke a Turkey
You don't need a fancy smoker to smoke a turkey. You can fix a smoked turkey on whatever grill or smoker you have available.
Heat source doesn't matter—you can use charcoal, gas, or wood.
You just need something that can provide a steady temperature and indirect heat while adding some wood smoke for flavor.
This recipe takes more time than roasting a turkey, but the result is even more tasty.
Ingredients for Smoked Turkey
15lb turkey
2-3 tablespoons olive oil or melted butter
2-3 tablespoons meat rub
4 cups water to start
Supplies Needed for a Smoked Turkey
Turkey- You'll want to make sure the turkey is defrosted completely and 15lbs or less.
Fuel- Since you'll be smoking your turkey for awhile, you will want to be sure you have plenty of your choice of fuel on hand.
Smoking Wood- You can use your wood of choice, but fruit woods that offer a sweet touch pair nicely with a smoked turkey
Drip pan- Smoking a turkey produces a lot of juices so you will need a drip pan handy to catch it all
Instant meat thermometer- The key to a good smoked turkey is the internal temperature, not so much the smoking time!
Catching the Smoked Turkey Drippings?
A foil drip pan to catch the juices of the turkey is important for making gravy later.
Place a pan under the smoker and put several cups of water in prior to smoking your turkey.
The water will evaporate during the process so make sure to fill it as needed.
This helps keep the smoking environment moist, so you don't get a dry bird!
Once you're done, you can make a delicious homemade gravy to go with your turkey.
Step 1: Smoked Turkey Brine and Rub
If your turkey came pre-brined from the store, you could skip this step. However, if it isn't you will want to brine your turkey for some delicious flavor.
For a good turkey brine, you can create a concoction of your favorite flavors.
There are options from apple spice brines to simple BBQ rubs.
Just remember that rubs with sugar will make the turkey skin dark and caramelized so if you want something less sweet, skip the sugary rubs!
Step 2: Smoked Turkey Temperature
A good smoked turkey relies heavily on two things: consistent temperatures and indirect heat for smoking.
Your grill or smoker should stay at 225 degrees for best results. For gas grills, keep half of the burners off and turn the others to medium-low heat.
For charcoal, you will want to heat until they are just ashed over and move them to one side of the grill, keeping the vents about 25% open.
Grills and smokers with temperature control can just be set to 225 degrees.
To get that delicious smoke flavor on a gas grill, add the desired wood to a smoker box.
Wood can be placed directly on the charcoal for a charcoal grill and if you are using a smoker, just follow the maker's instructions.
Step 3: Preparing the Turkey for the Smoker
First thing's first, remove the defrosted turkey from its packaging and remove the neck and giblets.
If the turkey is pre-brined, you'll want to give it a quick rinse in cold water.
Pat the turkey with a paper towel, making sure to get the whole bird.
Next you will want to tie the legs together with butcher's twine and tuck the wings in behind the shoulder. This helps prevent burning of the wing tips.
Now you will want to coat the entire bird in olive oil or melted butter. Season it on all sides with a rub of your choice.
If your turkey was brined, you can skip the seasoning, but it is still recommended to use olive oil or melted butter on your bird!
Don't stuff the turkey with stuffing before smoking!
The turkey will likely end up overcooked by the time the stuffing hits a safe consumption temperature.
You can place apples, onions, or citrus in the turkey prior to smoking for enhanced flavor but be sure to throw whatever you stuff it with away when it's done.
Read More >> Top 5 Best Woods For Smoking Turkey 
Step 4: How Long to Smoke a Turkey
Once it is seasoned and ready to go, put your turkey breast side up directly onto the grill grates.
If your grill ends up cooking at a higher temperature on one end, you'll have to rotate the bird a few times during the smoking process.
With your grill at 225 degrees, you can expect a cooking time of about 30 minutes per pound.
At 250 degrees, you can expect about 25 minutes per pound.
Plan an extra 30 minutes just in case, but if it is done sooner, you can simply wrap it while you wait for everything else to get done.
Turkeys over 15 pounds will end up sitting in a dangerous temperature zone for too long.
This can result in bacteria growth that will make consumers sick!
Step 5: Smoked Turkey Temperature
The safest temperature for a smoked turkey is 165 degrees internally.
This not only ensures a juicy bird that isn't overcooked, but it is critical for food safety that the turkey reaches this temperature before consuming.
About an hour before the turkey should be done you can start checking to see how close to done it actually is.
Check the temperature in the breast and thigh of the bird, checking both sides to ensure even cooking temperature.
Use the lowest reading you get from all parts of the turkey, so you don't remove it too soon.
Once all temperatures reach 165 degrees, you can move the turkey from the grill to a large cutting board.
Let it rest for 15 minutes before carving and serving!
How Much Smoked Turkey Per Person?
For a smoked turkey, you should plan around 1 ½ lbs.
per person you'll be feeding. At 1 ½ lbs. per person, everyone will get their fill with plenty of leftovers for next day sandwiches.
A 15-pound turkey will feed around 10-12 people at this rate!
Read More >> Smoked Spatchcock Turkey (An Easy Recipe)