Are you in the market for a new smoker? Can't decide between pellet and propane? We understand how difficult that decision can be, which is why we've put this guide together.
This TheGrillingDad.com guide will show you:
The difference between pellet and propane smokers
How each smoker fits your needs
Which smoker we think is best
And much more!
Pellet Smoker vs Propane Smoker Overview
Before you can decide between these two types of smokers, there are many factors you must consider. Where is the primary location for this smoker? Do you plan to move it frequently? What is your budget?
These topics barely scratch the surface of things that you should think about before buying a new smoker.
Both options are high performance smokers that will introduce you to a whole new world of preparing food. It will be tough to be disappointed with either type of smoker.
Either way, it's always important to do your due diligence before a big purchase, so let's get into it!
Pellet Smoker and Propane Smoker at a Glance
Since both options are staples in the grilling world, you'll have to consider your specific preferences when deciding on which to buy.
Cost, portability, use case, and ease of use are just a few things that set these two types of smokers apart. It's important to take these factors and how they'll affect your smoking experience into account.
Pellet vs propane has been a hotly debated topic for basically as long as we've been using heat to cook our food! But don't worry, because we've gone in depth into how each smoker works so that you hopefully have an easier decision to make.
Pellet Smokers at a Glance
Pellet smokers are generally larger and heavier than propane smokers. They also tend to be more expensive, in both upfront cost and operating cost.
Smoking may be the main function of a pellet smoker, but they can also function as a grill and an oven. This makes them a much more attractive option to those looking to conserve space in their backyard.
The more expensive operating cost for pellet smokers comes from the fueling method of pellets. These pellets are made from sawdust, wood chips, and lumber scrap which are compacted into small, uniform pieces. They come in a wide variety of different "flavors" or varieties and are the biggest ongoing expense for someone operating a pellet smoker.
Related >> Do Pellet Smokers Need a Water Pan?
Wood pellets are poured into a hopper and are automatically dispensed using an auger system. The cooking occurs with indirect heat provided by a convection fan, which also circulates the smoke from heated pellets around the cooking chamber.
Related >> How Long Do Pellets Last?
Since the auger system, temperature system, and convection fan are all electrically powered, a pellet smoker must be plugged into an outlet to function. This, in conjunction with their heavier build, make them harder to be transported and used in places away from the home.
Related >> How exactly does a pellet grill work?
Best Overall
Here are some of the pros and cons of cooking with a pellet smoker:
Pros:
Able to use wood to flavor your food
Functions as a smoker, grill, and oven
Modern pellet smokers can connect to Wi-Fi
Temperature control is concise and self-regulated
Wood pellets produce little ash, making clean up easier
Cons:
Wood pellets are more expensive and less available than most other types of fuels
Pellet smokers must be plugged into an outlet for use, making them less portable
Upfront cost is higher compared to other smokers
Related >> Horizontal vs Vertical Pellet Smokers: Which Is Right for You?
Propane Smokers at a Glance
Propane smokers are usually constructed like a cabinet. A gas burner is housed at the bottom, below a woodchip tray and a water pan, and the grilling racks sit at the top.
The burner is fueled by an external gas pipe and propane tank, which makes fueling fairly easy. Once the woodchips are heated and smoking, the vertical cabinet style of the smoker circulates smoke and hot air throughout the cooking chamber.
The propane fueling allows for a much more convenient and widely available way to start your cook. Propane tanks are available at almost any gas station or hardware retailer for a relatively inexpensive price.
The simple construction of propane smokers as well as the external fueling source means they are lightweight and compact. This makes them a great candidate for cooking at places away from the home, such as a tailgate or a campsite.
Here are some of the pros and cons of cooking with a propane smoker:
Pros:
Propane is widely available and relatively inexpensive
Propane smokers have a much cheaper upfront cost, making them more accessible to beginners or those on a budget
Propane smokers are much more portable compared to pellet smokers
Maintenance is more simple, due to the lack of features
Cons:

Propane smokers generally do not have the best insulation, so outside temperatures may affect cook time
You can never know exactly how much propane you have left, so you'll always have to buy at least one full tank
The wood chip pan may need to be refilled frequently during long cooks
Gas smokers are generally pretty basic, so they may not have all the bells and whistles that come with other smokers
Comparisons Between Pellet and Propane Smokers
Hopefully learning more about each type of smoker has helped to make your decision a little easier. Now that we've gone in depth into how each smoker works, let's compare them to each other, to paint a better picture of how each one operates.
Again, make sure that you take your specific needs into account when choosing between these smokers. The last thing you want is to make the purchase and realize that it was the wrong decision.
Here are some of the most popular deciding factors when it comes to which type of smoker to buy.
Cost
Cost is the probably the most crucial factor for most people in the market for a new smoker.
As mentioned before, pellet smokers have a much higher upfront cost than electric smokers. Budget pellet smokers start at around $400 and top-of-the-line models can be priced in the thousands. While this can be a huge barrier of entry for many beginners remember you are also paying for many features that propane smokers don't have.
Related >> Best Pellet Grills Under $500
On the other hand, propane smokers have a much lower barrier of entry in terms of cost. Since propane smokers have less features than pellet smokers do, they generally cost much less. You can find decent budget propane smokers for about $100. You'll obviously spend more on nicer models, but propane smokers rarely exceed $500.
You'll also have to account for the cost of fueling your smoker. On average, wood pellets are the more expensive method of fueling compared to propane.
If cost is your number one deciding factor, you should definitely go for a propane smoker. Budget models won't break the bank and will still deliver great performance.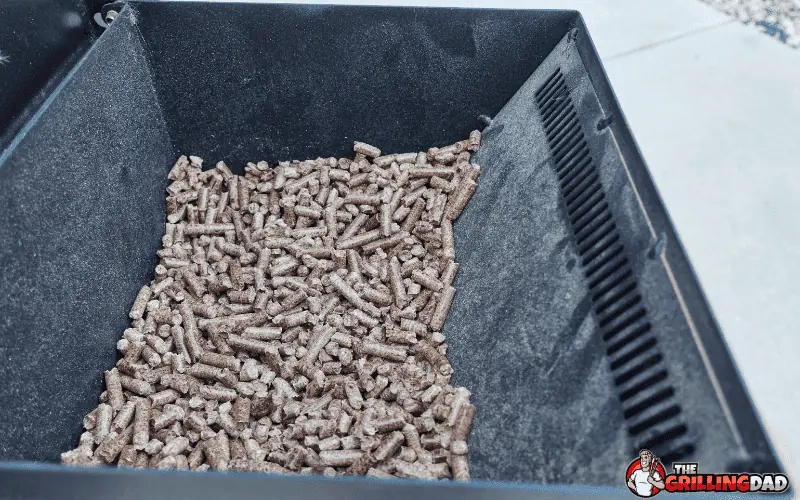 Fuel Type
Fuel type is another factor that not as many people will consider when buying a smoker but should. This dictates how you'll be cooking your food every time you use your new smoker.
Pellet smokers obviously use wooden pellets as fuel. In terms of availability, wood pellets are available in most hardware retailers. However, you may run into problems with variety or stock, since they are not the most popular fuel type on the market.
Related >> Pit Boss vs Traeger – Which Is Better?
A good rule of thumb for smoking meat with wood pellets is to buy 2 pounds of pellets for every pound of meat. With 20-pound bags of pellets starting at around $20, longer cooks for bigger pieces of meat will end up costing you a lot in wood pellets alone.
Despite the drawbacks to wood pellets, most people who cook with them describe a flavor unlike any other, making the hassle of using them worth it. While you can still use wood to flavor your meat in a propane smoker, the flavor infusion will not be at the level of a pellet smoker.
Propane smokers use a gas burner connected to an external propane tank as their fuel source. This makes it as simple as connecting a propane tank to start your cook. Propane tanks and refills are widely available and inexpensive.
A general guideline is that your standard 20lb propane tank will fuel a smoker for about 20 hours of use. These tanks are available for sale and refill at almost every gas station and hardware retailer you can find, making fueling a propane smoker much easier.
If flavor customization and smokiness are your main concern, pellet smokers are probably the right choice for you. However, if you are looking for ease of access and lower cost of fuel, you may want to go with a propane smoker.
Use Case
You should also consider how you intend to use your smoker. Are you only using it at your own house? Do you plan to take it camping or to tailgates? What kinds of fuels are readily available in the vicinity of where you plan on using your smoker?
Keep in mind that a pellet smoker needs to be plugged into an outlet to function, due to the automatic built-in features it contains. Pellet smokers are also generally much heavier and bulky than propane smokers. These factors make them much less convenient to transport and use away from the home.
In contrast, propane smokers are more of a no-nonsense kind of smoker. They really only require a full tank of propane to start cooking, making it much more convenient if you are in the wilderness or in the parking lot of the stadium.
If portability is your main concern, you'll want to go for a propane smoker. The lightweight build of propane smokers, as well as the fact that you only need a tank of propane to start your cook make it the clear choice for those looking to smoke on the go.
Ease of Use
Another thing to consider is how easy you want your cook to be. Since both types are fairly easy to use, it helps to know what each smoker does to make your cook go as smooth as possible when making your decision.
Propane smokers aren't known for the best insulation, so dialing in that perfect temperature can be tough, especially during seasons where extreme weather can factor into your cook. You'll also need to open the door to the cooking chamber to replace the wood chip tray fairly frequently, which lets heat escape and makes it even harder to maintain a steady temperature.
Propane smokers also don't come with the temperature regulation controls that a pellet smoker does, so you'll have to keep a much more watchful eye on your cook when using one.
Pellet smokers, on the contrary, allow you to set it and forget it. As long as the pellet hopper is filled, the temperature system will automatically fill the smoker when necessary, using the auger system, making your cook as simple as pressing the ignite button and walking away.
A lot of newer models also have Bluetooth connectivity so that you can control the cook with your phone, making it even easier.
If you're looking for a hands-off, easier cook, the pellet smoker will definitely fulfill your needs. The systems built into pellet smokers make it much easier for the experienced and less experienced smokers alike to complete their cooks.
Versatility
Versatility is a huge factor when investing in a smoker. Some people need versatility so that they don't have to purchase multiple different units. Others may need versatility to save space in their backyards.
Not everyone has the budget or space to purchase and fit several different units in their cooking space, which is why a versatile product can be important.
Pellet smokers are perfect for those looking for versatility. Along with smoking meats, a pellet smoker can essentially do anything a regular oven can do, whether that be baking, braising, or roasting. Pellet smokers can also be used as a normal barbecue grill due to their high temperature capacities.
Propane smokers, on the other hand, are really only built for smoking. Because of the way they are designed, they don't allow for all of the functionality that a pellet smoker has. This means that once you purchase one, you are locking yourself into only using it for smoking meats.
If versatility is the number one thing you're looking for, pellet smokers easily take the cake. Not only can it smoke your food, but it can also function as a grill and an oven, which the propane smoker simply cannot do.
Features
For some people, the fancy, built in features are what makes the sale. If you're going to invest in something this expensive, it may as well have everything that you want.
Keep in mind that the specific features that come with these smokers will depend on the manufacturer and model that you end up purchasing. This section is more of a generalization of what most of the smokers on the market come with.
Pellet smokers have hoppers, auger systems, regulating temperature control, and sometimes even Bluetooth connectivity to ensure that every facet of your cook is monitored and easy. For most, these ease-of-use features make the high upfront cost well worth it.
Propane smokers are not really known for their features. With the lower upfront cost, you are essentially getting what you paid for: a smoker. They are generally pretty barebones units, and do not come with the ease-of-use features that pellet smokers do.
If the bells and whistles are the main deciding factor in your decision, go with a pellet smoker. They come with many more features that will improve the quality and ease of your cook.
Pellet Smoker vs. Propane Smoker: The Winner
In terms of which type of smoker we would recommend, we think one option takes it hands down. The pellet smoker offers much more functionality for your dollar than the propane smoker does.
When it comes to ease of use, versatility, and features, the pellet smoker outperforms the propane smoker by a country mile. We understand that the high cost of entry may be off-putting for some, but overall, the performance that the pellet smoker delivers makes it well worth the cost.
However, if you're a beginner to smoking meats who doesn't need all the fancy features, the propane smoker can definitely satisfy your needs at a much lower cost. Also, if you're mainly looking for ease of portability and fuel availability, the propane smoker is probably the way to go.
Again, the main thing you need to consider when investing in a new smoker is your personal needs. No amount of research or recommendation should ever come above what you need your smoker to do for you.
Whether you end up with a pellet or propane smoker, your backyard will gain a fundamental piece of equipment when it comes to cooking meats!