Thinking about buying the Green Mountain Trek Wood Pellet Grill but haven't made up your mind yet?
Don't worry, because we've tested it out and have all of the answers to your questions!
In this TheGrillingDad.com review, you will learn:
Everything you need to know about the Green Mountain TREK
Pros and cons of this pellet grill
And much more!
Editor's Note: After speaking to Green Mountain Grills, they've informed us they have discontinued the Green Mountain Grill Davy Crockett pellet grill and replaced it with the Trek.
Overview of the Green Mountain Trek
Whether you are familiar with the inner workings of a pellet grill or not, the Green Mountain Trek may surprise you with some of its features.
From the minute you remove it from its packaging, you will notice the peaked lid, convenience tray on the side, and pellet hopper.
These three features as well as the smaller size for better portability and the ability to connect to WiFi, make this grill worth looking into.
These 3 main features are why Green Mountain made their way onto our best pellet smokers guide as "Best Tabletop Pellet Smoker".
If you plan to take your grill along on camping trips or even tailgating, the Trek may just do the trick.
Even though this grill is on the smaller side, it doesn't mean that you cannot cook certain food items. For example, because of the peaked lid design, you can easily smoke your baby back ribs and other larger meat items like a full chicken without worrying about space.
If you are wondering about temperature control on your pellet grill, the Trek features a thermal sensor that stays on top of where the temperature is.
In addition, with the WiFi capability, you can easily monitor the temperature even if you are not standing over the grill.
Keep in mind that this is not the pellet grill you would want to invest in if you are cooking for larger groups of people. This is because the cooking capacity is on the smaller side, which makes it perfect for smaller crowds.
Features of the Green Mountain Trek
When determining whether or not the Green Mountain Trek is the grill for you, the characteristics can help you decide. Since deciding on the right pellet grill to get started with can be a daunting task, taking a look at certain features can help.
Most Prominent Features
Thermal sensor for temperature control
Small size for portability
Sturdy construction with a black finish
WiFi capability helps you control the temperature even when you are away
Pellet feed auger system that can hold up to 9 pounds of pellets
Meat probe for a more accurate cooking process
Convenience Features
Legs are low to the ground for better portability
Somewhat lightweight
Features a side tray for additional space
Ability to plug into alternate power sources
Economic so one hopper of fuel will last longer than in other pellet grills
Additional Features
3-year warranty
219 square inches of cooking space
Well known brand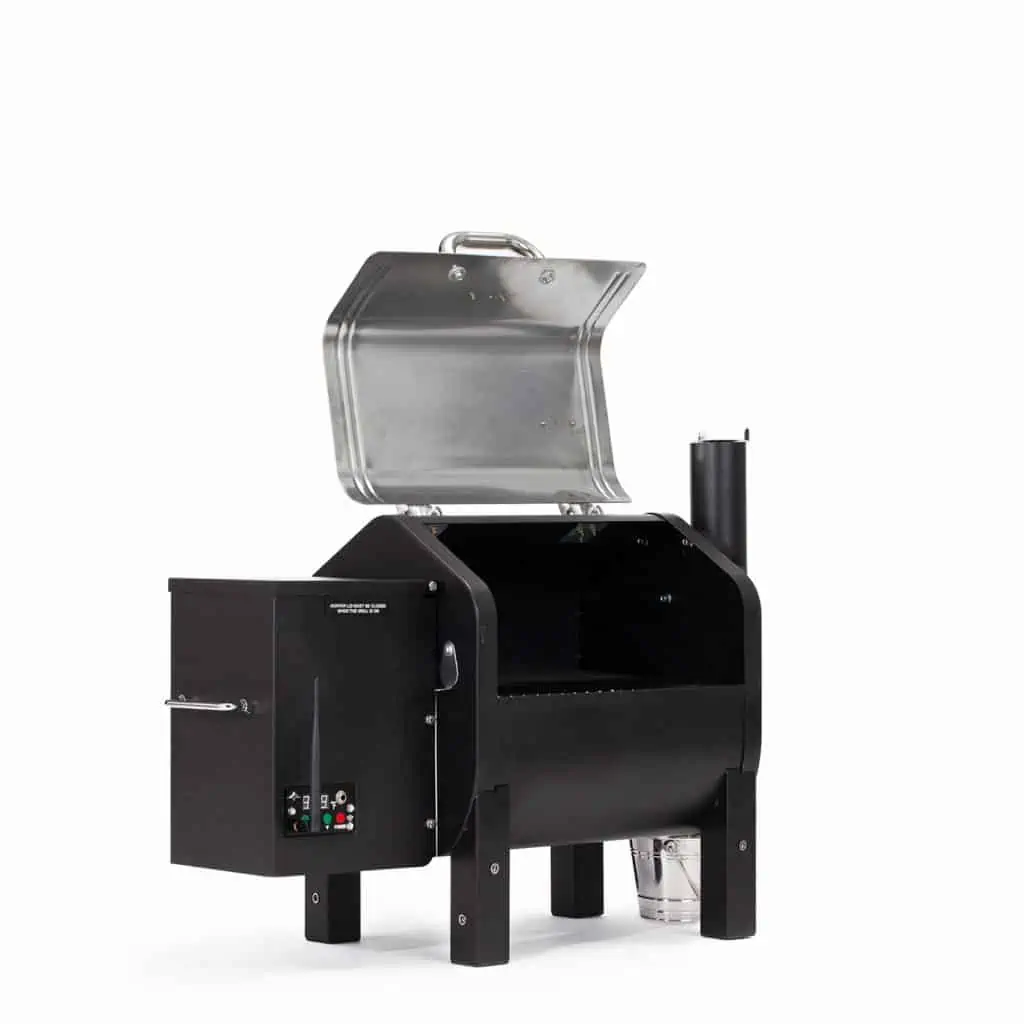 How the Trek is Built
When it comes to the best features of the Green Mountain Trek, there are many to speak of.
To learn more about some of the best features of the Trek Wood Pellet grill, keep reading.
Construction
The Green Mountain Trek is well built with steel construction all around that shows you that this grill is made to last. While not the top-of-the-line in quality, it is the perfect value for the price.
Along with the sturdy construction, this grill features a side shelf that can be used for various functions. The shelf also comes with hooks so you can store your cooking utensils right on your grill for better convenience.
The Trek also features a peaked lid which makes it the best pellet grill for cooking larger items. Some of these food items include whole chickens, some briskets, and even a rack of ribs.
Another great feature about the construction of this grill is that the legs are short, which makes it easier to transport. This means that if you are planning to take your grill with you for tailgating or camping, it will fit nicely in your vehicle.
Size
If you are looking for a pellet grill that is on the larger side, this is not the grill for you. However, if you want a grill that is small enough to take along with you, then the Green Mountain Trek is a perfect choice.
This pellet grill weighs about 68 pounds and has a cooking capacity of about 219 square inches. If you plan to purchase a grill that is more about portability, then the weight and overall size of the Trek may work for you.
Additionally, if you live in a smaller space, such as an apartment or small house, this grill may be the best choice for you. Since the overall size of the Trek is on the small side, it will fit more conveniently in your space.
Reliability
The Green Mountain Trek is not only convenient for its portability but it is also said to be extremely reliable. This is because the ignition switch can be turned on with no trouble at a moment's notice.
This means that whether you are cooking at home or somewhere else, you should have no problem getting it up and grilling. The Green Mountain brand stands for quality and reliability no matter what size the grill is.
We especially love that the power cord comes with alligator hooks, making it easy to tailgate with this grill by hooking it directly to the battery of your vehicle. At home, you can easily plug it into any outlet.
Value
The Trek is a great grill for the cost. It is less expensive than other pellet grills, but not because it is inferior quality. Rather, it is just smaller.
This means that while we don't recommend it for large families if you have a family of four and you want a quality grill for a quality price, the Trek is it. Plus, you won't need a separate travel grill as the Trek can do with you on camping trips and tailgates.
With a three-year warranty, we definitely think you will get your money's worth out of this grill and that for the price it is an absolute steal!
Temperature Control
There are several factors that you should consider when deciding whether or not the temperature controls are worth the purchase. Some of these factors include whether it has a thermal sensor, WiFi access, and how it naturally heats.
For the Green Mountain Trek, most grillers who have to use it have said that it has the tendency to run a bit hotter than other grills. This means that if you are planning to smoke your favorite meats, you might want to test before you put on an expensive cut.
However, if you are planning to use the grill to cook meats that require higher temperatures, the Trek is the best choice. This is because while a smaller grill, the temperature can be controlled to fit whatever purpose you desire.
Near the bottom of the Trek is a bar that can be pulled to allow more or less smoke into the grill. This gives you the capability to cook items with an offset smoke tactic or pull it back fully when you want it to be really hot.
Related >> Best Pellet Grills for Searing
Warranty
When it comes to offering a warranty for a pellet grill, many manufacturers offer a one or two-year option. This is often because it is what they have always done, and use the same warranty across many products.
With the Green Mountain Trek, however, the manufacturer offers a three-year warranty that covers most of the main components. If it is deemed that the unit stops working due to typical wear and tear, they will cover the product.
The warranty does not cover cosmetic issues such as paint that is chipping, rust, or any other issue such as these. This is because cosmetics are not considered to be essential components that may cause the unit to not operate properly.
Size and Cooking Capacity Considerations
If you are looking for a pellet grill that is perfect for small cookouts like tailgating or camping, you may want to consider the Trek. This is because it is not only small enough to be portable but also has ample cooking space to grill for a small group.
With about 219 square inches of cooking space, it is perfect for grilling between 4-5 steaks or even a couple of racks of ribs. Whatever you wish to grill for a smaller crowd, you can do this with the Green Mountain Trek.
Related >> How to Smoke Steaks
Another thing to keep in mind about the Trek is that the cooking capacity is not the only part that is on the smaller size. With legs that are low to the ground, this grill stands at about 24-inches tall and 32 inches wide.
Although it is small enough for those who want to take it along to various places, the weight may be a factor in preventing you from wanting to take it with you. At 65 pounds, it may not be as lightweight as it appears to be, initially.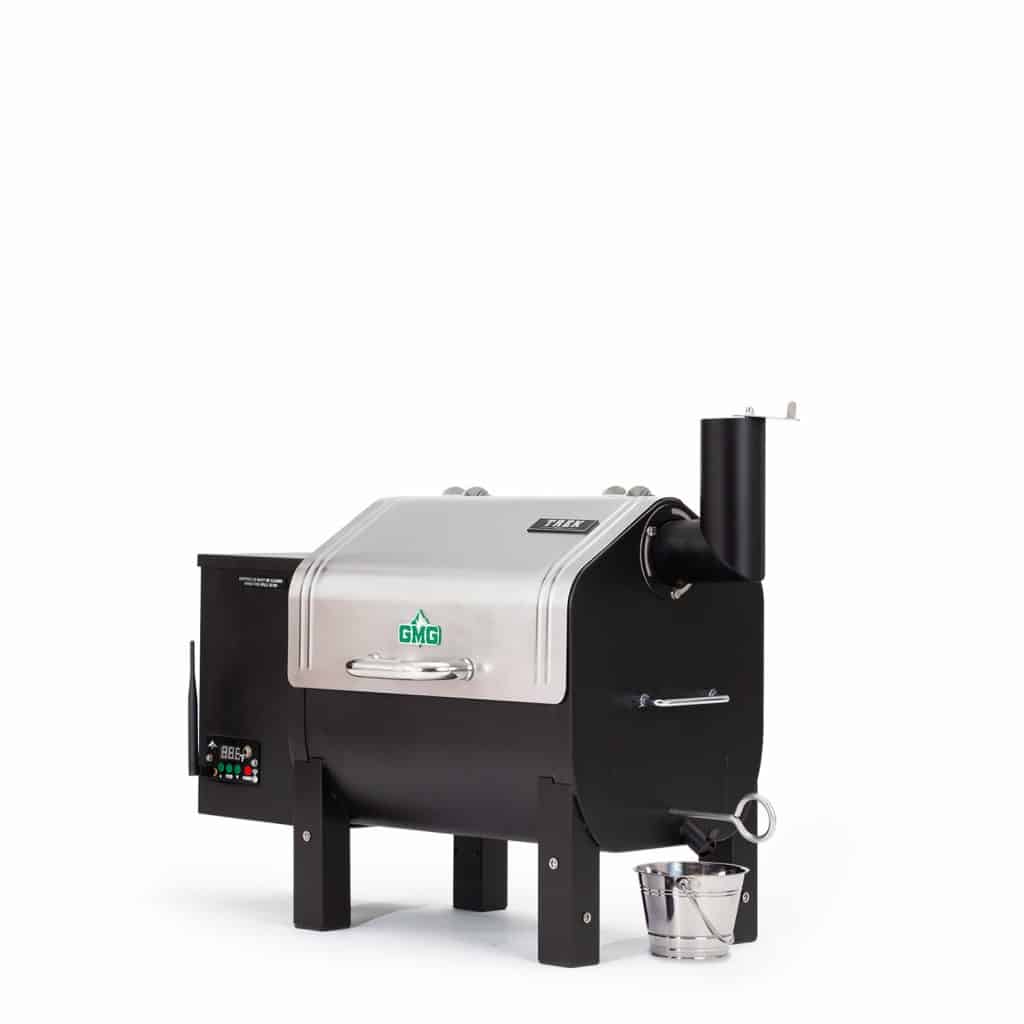 Additional Features of the Trek
The multitude of features that the Green Mountain Trek have to make it an excellent choice for a smaller size grill. What it lacks in size, it makes up for in additional features and various accessories that can be added on.
If you want to learn more about the additional features and add-ons that the Trek grill has, read below.
Digital Controller
The digital controller feature built into the grill allows you to ensure that you are getting the most accurate temperature no matter what you choose to grill. The Trek's temperature range hovers between 150℉ and 500℉ which means that you can control the temperature of a variety of foods you cook.
WiFi Smart Control
If you find yourself needing to be away from the grill during your cookout, you can rest assured that everything is going well. This is because the remote WiFi controller allows you to adjust the temperature no matter where you are.
Pellet Hopper
The pellet hopper on the Green Mountain Trek grill can hold up to 9 pounds of wood pellets. The pellets then move through the hopper while the auger leads it to the firebox to create the perfect airflow with the maximum amount of heat.
Because this grill is insulated so well, you'll find that a full pellet box on the Trek lasts just as long as it does on some of the larger models, meaning you don't have to bring too many bags of pellets on your camping trip.
Related >> How long do pellets last?
Accessories and Add-ons
The Green Mountain Trek has many features that make the grill a great choice for those looking for a smaller unit. In addition to the features that come with it, there are many accessories and additional features that you can add to the grill.
Here are some of the features and accessories that you can add to your Green Mountain Trek:
Trek Cart
If you find that the grill is shorter than what you expected, or you are not planning to move it around much, you have the option of adding the Trek cart. This cart can create the perfect height that you may be missing when using the grill by itself.
Plus, adding the Green Mountain Grills cart to your grill can give you the storage and prep space that you are missing with this small grill.
Wood-Fired Pizza Attachment
Grills are not only for cooking meat anymore, which is proven with this unique attachment that you can add to your Trek. You can get the authentic taste of a wood-fired pizza with this attachment that costs less than $100.
Pizza Peel
The perfect accessory for your wood-fired pizza attachment is this pizza peel that can make your life much easier. This add-on accessory allows you to put the pizza in and pull it out of the pizza oven easily without burning yourself.
Not to mention you will look pretty official as you unload your pizza oven with this tool!
Whether you decide to use your grill as is or add more features and accessories, you will most likely not be disappointed with the overall grilling experience.
Pros and Cons of the Green Mountain Trek
The many different features and benefits that you have read about already should be enough to help you decide whether or not to purchase the Green Mountain Trek.
However, learning about specific pros and cons can help you make a more informed decision.
Here are some of the pros and cons of the Green Mountain Trek:
Pros:
GMG Smart Control
More affordable than other pellet grills
WiFi capability
Small size for easy portability
Peaked lid for larger food items such as a rack of ribs or even a whole chicken
Offers many accessories
Cons:
Smaller space and capacity means less room for food items
Nearly 70 pounds may be too much to carry camping or tailgating
Does not come equipped with a full side table
Is the Green Mountain Trek Worth it?
Whether this is your first opportunity to purchase a pellet grill, or if you are a seasoned outdoor cook, the Green Mountain Trek is something you should consider. This is because of its portability, technology, and many other great features that it comes equipped with.
Most grilling enthusiasts will say that owning the Green Mountain Trek is extremely worth it because of its size and versatility.
With many accessories and add-ons, even though this grill seems small, it can give you the same cooking experience as many other standard pellet grills.
Tips for Buying the Green Mountain Trek
Feel ready to purchase your Green Mountain Trek?
Make sure you are getting everything you need by following these helpful tips:
Think About Storage
The Green Mountain Trek does not come equipped with a lot of storage, so you may want to consider where you are going to store your barbeque accessories.
If you are planning on setting it up in one location, you may want to consider adding shelving in the area, or purchasing the cart accessory, to ensure you have enough space for various items.
Use the Trek a Few Times Before Hosting a Cookout
Before you decide to host a major event with friends and family, you may want to go through the cooking process a few times before you start.
This can not only save you time but can also prevent either undercooking or overcooking your favorite foods in front of your guests.
Many users report that this grill runs hot, so after a few practice runs, you can decide for yourself and ensure your meat turns out just the way you want it to!
Try Different Wood Pellets
Since there are a large number of different flavors of wood pellets that are available for you to use in your pellet grill. You should always try different ones to see which flavor you and your family like the best.
Final Thoughts on the Green Mountain Trek
The bottom line when it comes to whether you should purchase the Green Mountain Trek or not, you should consider the features and benefits listed in this guide.
Whether you are purchasing your first pellet grill or are well-versed in all things pellet grills, you will not be disappointed when you purchase the Green Mountain Trek as it is overall a great pellet grill for the price!