While I am truly living my best life getting just about anything I need delivered to my front door regularly, I was impressed (and a bit skeptical) to learn that I could have things like ribeye filets and Wagyu burgers come to me.
We typically get our beef from either the portion of a cow we purchase from a local farmer every year or when feeling fancy, we will pick up steaks at our local butcher shop. Needless to say, our standards are pretty high.
🥩My Snake River Farms Review at a Glance
Quality grades: Snake River Farms (SRF) beef surpasses USDA Prime, using the Japanese Beef Marbling Score (BMS)
Packaging: High-quality reusable thermal bag, minimal biodegradable insulation, and clear labeling
Taste test: Exceptional taste and tenderness, both for the Pioneer burgers and Black Grade Ribeye filets
Overall: Outstanding quality, sustainable practices, and easy ordering, with prices reflecting premium meat
Snake River Farms: Initial Thoughts and Packaging
Here are my honest thoughts on Snake River Farms.
First off, know that you are ordering meat online and that you are receiving frozen meat. Neither of those are an issue for me, and if it is for you I would love to put your concerns to rest.
The box arrived a bit dirty and beat up on my front porch (the standard for being shipped via FedEx) but the box was sturdy, well designed, and made the journey so well it could hold up to potentially being delivered via drop kicking…but this is not a FedEx review. 😅
I quickly brought the box inside (work-from-home perks) to inspect it. I've tried a few delivery-based meal services before and have had mixed experiences with items that should be frozen arriving at ambient temperature due to dry ice issues or shipping issues.
I'm not interested in food poisoning so I am vigilant about things like this.
When I opened the box, I was met with a high-quality reusable thermal bag (which I will definitely flex at the grocery store 💪) packed in some dry ice and minimal insulation packaging (which is actually biodegradable). I loved that I didn't have to dig through layers of plastic to get to the meat.
Also included was a Cook Guide with a 'steakhouse' steak recipe, insider tips for preparing steak, and a temperature guide for the doneness of different proteins.
The meat itself (both burgers and filets) was labeled clearly and packed in vacuum-sealed bags; the steaks individually and the burgers in pairs making it easy to toss them all in the freezer and thaw only what we needed when ready.
And to my relief, every package of meat was frozen rock solid. SRF actually even guarantees that your meat will arrive frozen or partially frozen.
I love the reusable tote that insulates the meats, the design is clean and modern and I will definitely use it on future grocery trips. It was a well-thought-out way to package the meats.
Okay enough about packaging, let's talk meat!
American Wagyu SRF Pioneer Burgers
SRF pioneer burgers are a blend of American Wagyu chuck 60%, brisket 20%, and ribeye 20%. To my knowledge, I've not had a burger of this quality so I was excited to try it out.
My first impression of the burgers is that they are enormous at 8 oz each. Two patties came in each pack making handling easy. We thawed everything overnight so handling the patties was easy. I liked that the patties seemed hand formed rather than the puck style that I'm accustomed to, it spoke to the quality and artisanal quality I could expect.
We gave the burgers a light seasoning of Kinders woodfired garlic blend and tossed them on the grill. I'm glad I bought the biggest buns I could find at the grocery store since even after cooking, these burgers remained huge.
We had a few friends over and between all of us, 4/4 said it was one of the best burgers we've ever had from our own grills or even most burger restaurants. The SRF burgers were more tender and tasted meatier than others I've had. The fat content is just right to hold the burgers together without impacting taste at all. They were juicy but not greasy.
I would be confident in saying these could stand on their own with a simple swipe of mayo and a bun or could hold up against the flavors of being stacked high with accouterments.
American Wagyu Black™ Grade Ribeye Filet
Even knowing the burgers were that good, I was not ready for the American Wagyu Black Ribeye Filet.
Being in the Midwest, I love a steak and potato dinner. I'm no stranger to a nice steakhouse as a filet is my go-to choice to celebrate any life milestone. When I tell you this steak was better than the vast majority of steaks that I've paid way too much for I'm not exaggerating at all.
The first bite (and everyone following) was quite possibly life-changing. At least for my bank account and my confidence because I can make a steak that rivals the nicest of steakhouse restaurants – at a fraction of the price.
But let's start at the beginning. We thawed the steaks in the fridge overnight. I was very impressed with the color the raw steaks retained even after being frozen. We (mostly) followed the Cook Guide recipe, heating my favorite cast iron skillet up and seasoning the steaks with just a bit of salt and pepper.
We didn't want to do anything fancy in seasonings for two reasons:
to let the steak itself shine as the star of the show
to not mess anything up!
Then we seared the steaks on both sides, I did add some butter on the second side just to make things a bit less healthy and more flavorful, then popped the skillet and all in the oven for about ten minutes. The two-inch thick cut helped us get a nice sear on the outer edges without overcooking the interior of the steak.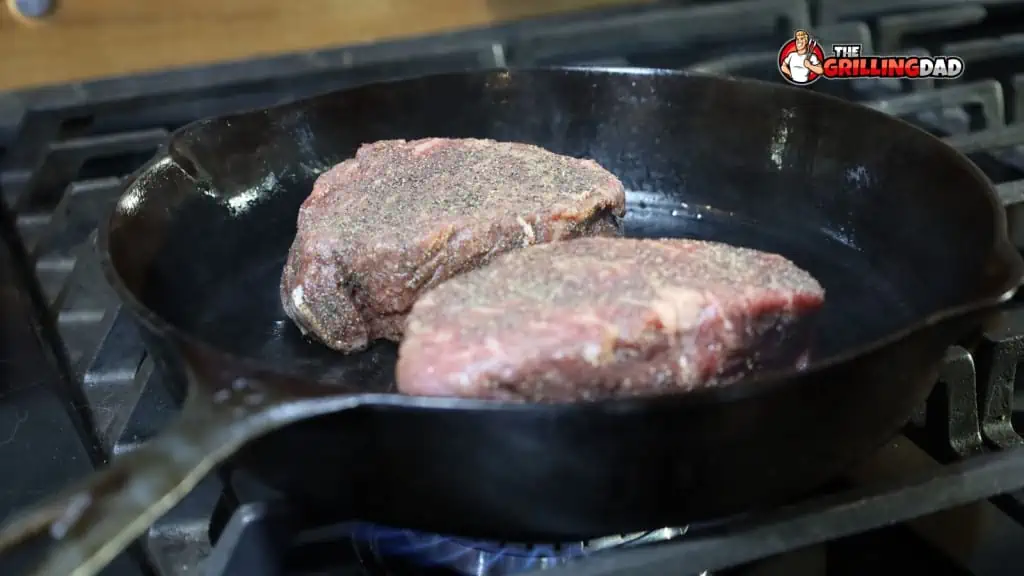 Using my ThermoPro Digital Meat Thermometer and the temperature cook guide, I could easily get a perfect medium raw doneness.
I impatiently let the steaks rest before cutting into them. 😏
When slicing the steak to serve, I noticed the intense marbling had made the meat so tender that I could see it. I knew then that the flavor was going to be out of this world.
The Snake River Farms steak was intensely flavorful, rich, robust, and so tender that it all but melted in my mouth. With every bite, I felt my steak standards rising to a new level. I would choose this steak over a night out time and time again.
Related >> Blue Rare Steak: A Complete Guide
About Snake River Farms American Wagyu Steaks
Snake River Farm's main selling point is its American Wagyu beef. And if you don't know about Wagyu beef I'm about to give you everything you need to rock your next trivia night.
Wagyu is a Japanese beef cattle breed to maintain a pristine lineage of cattle that produce highly marbled meat. Wagyu were originally working draft animals and were selectively bred for physical stamina and endurance.
This translates to animals with more intramuscular fat cells which equates to superior marbling in your steak. Wagyu is highly prized worldwide for its tenderness and taste and is widely considered the best of the best. In fact, in the 1990's the Japanese Government declared Wagyu a national living treasure.
Wait, but you said American Wagyu
I did! American Wagyu was developed by Snake River Farms when they cross-bred the purebred Japanese Wagyu cattle with high-quality American cattle in the 1980s. This new American Wagyu is what Snake River Farms is known for. It combines the superior marbling similar to Wagyu with the robust flavor profiles of American beef, but at a quality grade that is superior to traditional American beef options.
What grade is Snake River Farms?
All Snake River Farms American Wagyu beef grades above USDA Prime (Only 4-5% of all beef graded in the U.S. is considered prime). In fact, they use the Japanese Beef Marbling Score (BMS) which rates meat on a scale of 1-12.
USDA Choice: BMS 2 to 3
USDA Prime: BMS 4 to 5
SRF Black: BMS 6 to 8
SRF Gold: BMS 9+
So whether you go for the gold or choose black grade cuts from Snake River Farms, you'll receive a higher grade cut than you can get most anywhere else.
Snake River Farms: Final Thoughts
I am admittedly a skeptic but my expectations were honestly blown away by Snake River Farms.
What I loved:
Ease of ordering and navigating the snake river farms website
Their intentional and sustainable packaging
Delivery options include 2-day, overnight shipping, or scheduled delivery options
Getting anything shipped to my front door is always a perk
Dedication to their animal well-being: free-range
The care of their family-owned farms' legacy and genetics
Unbelievably high-quality meat from burgers to filets
What I didn't love:
Snake River Farms does cost more when compared to a steak from a butcher shop or grocery store. It is expensive meat, but it is premium meat. This is natural, hormone-free, pasture-raised American Wagyu. You're not getting high-quality beef like that at the local grocery store.
Snake River Farms offer plenty of options for meat lovers. From gold-grade and black-grade cuts of premium beef, American Wagyu ground beef, gourmet pork chops, and even American Wagyu hot dogs.
Snake River Farms Wagyu is the top tier of quality beef. While the prices are also a bit rich, this is a situation where you get what you pay for. If I could afford it, I would only order beef from Snake River Farms. I have had big-city-fancy-white-tablecloth-restaurant steaks that didn't stand up to the ribeye filet that I cooked myself.
Overall this company and product exceeded my expectations at every step. I would highly recommend trying them out for your next special occasion celebration. The undeniable quality makes snake river farms worth every penny.
More Steak Guides
And wait…one more steak pic 😋