Being prepared always pays off. But in some instances, like buying a turkey, buying too far in advance can cause the meat to go bad. So just how far in advance can you buy a turkey?
In this TheGrillingDad.com guide, you will discover:
How far in advance you can buy a turkey
How far in advance you should buy a turkey
How to store a turkey
And much more!
How Far in Advance Should You Buy a Turkey?
Buying a turkey is a bit of an art form. You want to buy it early enough that you can get the exact size you need for your family, but you don't want to buy it so early that it goes bad before it's time to cook it. So, where is the sweet spot?
The good news is, if you buy a frozen turkey from the grocery store, you have a full year to eat it. The only exception to this is if the turkey has a best buy date that is sooner than one year from when you bought it.
Fresh turkeys, which have never been frozen, are a different story. If you purchase a fresh turkey directly from the farm, you have about 7-10 days to eat it. If you buy a fresh turkey from the grocery store, you never know how many of these days have already passed, thus, you should cook your turkey and consume it within 2 days.
As you can see, when you can buy your turkey will play a big part in whether or not you can get a fresh one. But if you are restricted to a frozen turkey, don't worry, as they can be just as good as a fresh one when cooked properly!
Ready to learn more about when to buy a turkey? Let's look at some of the factors you should look at as well as proper turkey storage.
Related >> How To Tell If Your Turkey Is Thawed
What is a Fresh Turkey?
We should start out by defining what a fresh turkey is. A fresh turkey is one that has never been put in the freezer or chilled in an environment that is lower than 26°F.
Frozen turkeys must be kept at temperatures below 0°F. So what about these middle temperatures? Well, they are sometimes listed as previously frozen, but they may not have that exact designation on their label.
What Are the Benefits of Fresh Turkey?
Fresh turkey retains its juices better than a frozen turkey, giving you a better flavor. Plus, the texture is much improved.
One thing we really like about fresh turkeys is that they don't take near as long to cook. For those who have busy holidays with kids, this can save an awful lot of time that is better used spending time with kids and extended family.
While these are all great benefits, there are a few downsides. The first is the small window during which you can cook a fresh turkey. 10 days may seem like a lot (if you live near enough to get one from a farm), but when you consider how busy the Christmas season is, these 10 days will speed by!
If you live in the city, the grocery store is your only option for a fresh turkey, and this will leave you needing to procure one the day before the holiday, which can be just as hectic. You will also likely need to reserve a fresh turkey in advance as stores only stock so many and typically stock just enough for those who want to come to pick one up.
For those that do manage to find a local farm providing fresh turkeys, don't be afraid to ask them questions about their process. Even if they don't provide fresh turkeys (some farmers still freeze theirs), it can be well worth it to purchase from a local farm. You'll be supporting their family, and as a bonus, you will know exactly how long your turkey has been frozen–something you don't know when you buy from the store.
Plus, taking the kiddos to see a turkey farm (and picking up a fresh turkey) can be a fun holiday outing. Because it takes over a year for a turkey to fully mature, you will likely get to see some live turkeys even if you come after the butcher season.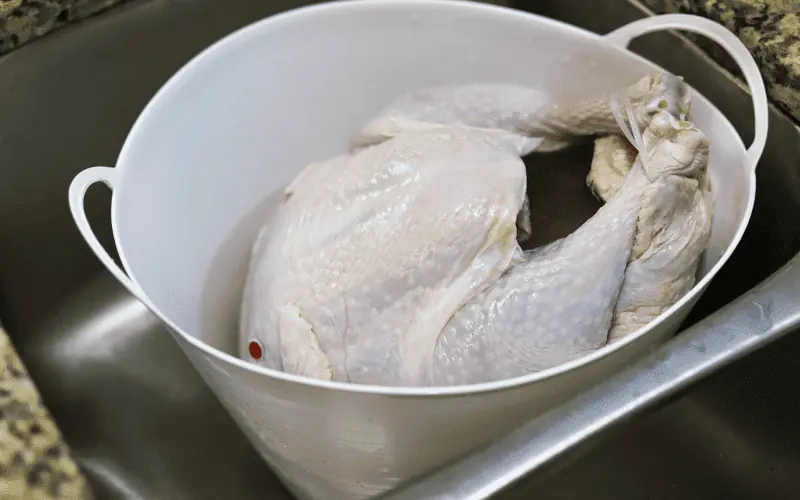 Storing a Fresh Turkey
If a fresh turkey is in the cards for you, then how you store it during the 1-2 days before you cook it is critical. Before you go pick up your fresh turkey, you will want to clear a space in the fridge towards the back.
Never place a turkey directly on the fridge shelf, as juices could leak onto your other foods. Instead, grab a large plate or disposable turkey pan.
Then, check that your fridge is at the proper temperature, either 37°F or below and that the turkey can be kept as far away from the door as possible. If the turkey meat temperature gets too low, bacteria can begin to grow, which can cause food-borne illnesses.
Editor's Note: If you got kiddos who are used to helping themselves to fresh snacks in the fridge, let them know that you can't let the turkey get hot and that the fridge door needs to stay closed as much as possible once the fresh turkey is in it.
If your fridge isn't big enough for the turkey you have purchased, you can store it in a hard-sided cooler with ice packs. If you do this, however, you must be very careful to replace the ice packs frequently, and we suggest using a temperature probe with an alarm to let you know when it's getting too warm in the cooler.
The cooler storage method is not recommended for turkey storage beyond 2 days.
Want to learn more? Here's how to thaw your turkey in a cooler
Storing a Frozen Turkey
While a frozen turkey doesn't have the same time constraints as a fresh turkey, you should plan to store it properly, especially if you are going to store it for months.
Although a frozen turkey is unlikely to leak juices, you may want to wrap it as the wrapper it comes in could be punctured by other items in your freezer. Then, you will want to clear a space towards the back (or bottom of a deep freezer).
Just like in a fridge, you don't want the turkey to be exposed to warm air if the freezer is opened frequently, so put it in the place where it will be the least disturbed.
Can You Freeze a Fresh Turkey?
Sometimes your plans for the holidays may change. When this is the case, as long as it is within the time frame safe for cooking, it is safe for you to stick your fresh turkey in the freezer.
Before you do, you will want to wrap the turkey, so the juices don't leak as it freezes. Plastic wrap or a giant plastic bag works well for this. Rid the bag of excess air, seal it, then place it in the bottom of the freezer.
As long as the fresh turkey has been frozen within 2 days of purchase, you will be able to use the turkey for a full year. While it won't be quite the same as the fresh turkey meat you were envisioning, you can still make it delicious!
Final Thoughts on How Far in Advance to Buy a Turkey
Overall, if you are buying a frozen turkey, feel free to do so whenever you see the size you need at a good deal, as you've got a whole year to eat it! Fresh turkeys are a bit more delicate and should only be procured a day or two in advance of cooking. But if you do have a farm to buy a fresh bird from, it can be well worth the trip!