Looking to make a feast for your family on your grill? Then you're going to need two burners!
In this GrillingDad.com guide, you will learn:
What 2-burner gas grill is the best
What to look for when buying a 2-burner gas grill
And much more!
Top 2-Burner Gas Grills
Best 2-Burner Gas Grills Reviewed
When it comes to choosing the best 2-burner gas grill to purchase, there are many factors you should consider before you buy.
How many people are you grilling for?
How often will you be using your 2-burner gas grill?
Where will you normally be using your 2-burner gas grill?
How much are you willing to spend?
Once you have answered these questions, you will have a decent idea of what you are looking for as you shop for your 2-burner gas grill. We have put together a list of the 5 best 2-burner gas grills on the market.
No matter which one you choose, if you choose one of these grills, you can be sure you aren't sacrificing anything as they are all amazing quality grills that will take your BBQ game to the next level. Read on to learn all about the best 2 burner gas grills on the market.
Pick #1: Char-Broil Performance 300 (Best Overall)
The Char-Broil Performance 300 is our number one pick for a reason. This grill meshes quality and performance in a way that is guaranteed to last that we just haven't seen in any other grill.
The Char-Broil 300 is meant to be outside, as it is corrosion and rust proof, meaning you won't have to panic if it rains and you are unable to bring your grill in (though we do recommend investing in a cover when you purchase this grill).
What's unique about this particular grill is that it uses infrared technology to ensure even cooking. Adjust the temperature on this grill quickly and easily with the temperature control knobs and check it any time with the lid-mounted temperature gauge.
This grill also consumes 30% less propane than the average grill, saving you money with each use.
Worried about fighting to get your grill to light? Not a problem with this grill, as it features one-touch electrical ignition, which will have your 300 square inches of cooking space ready to cook in moments.
Pros
Corrosion and rust proof
300 square inches of cooking space
Durable
Mid-range price point
Infrared cooking technology
Electrical ignition
Cons
Not very mobile even though it is on wheels
Cannot be taken camping
Pick #2: Dyna-Glo DGP321SNN-D (Best Runner Up)
Looking for something a little bigger than the Char-Broil grill? Then the Dyna-Glo, our runner-up pick, is the best option for you. With 445 square inches of cooking space, it doesn't get much bigger than this for a 2-burner gas grill!
The Dyna-Glo has many features which simply make cooking easier, from the even-heating technology that heats the grill the same from corner to corner to the cast iron cooking grates, which ensure the heat ends up directly in your food.
This grill is the picture of durability, built from stainless steel that both looks and feels like it will last a long time. Just don't expect this grill to move too much once you get it set up, as it does weigh a full 90lbs.
With folding side tables and a cabinet beneath, this grill has all the bells and whistles to keep you organized as you grill. And for the mid-range price point, it can't be beat.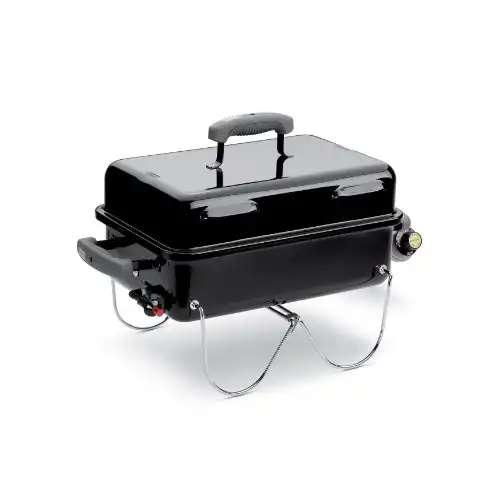 Pros
Plenty of cooking space
Even-heating technology
Cast-iron cooking grates
Storage space
Durable
Cons
Very heavy
Difficult to move once set up
Pick #3: Char-Broil Classic 280 (Best for Camping)
When you are headed camping with a large family, a 2-burner grill is a must! How else are you going to cook burgers at the same time as the baked beans?
The Char-Broil classic 280 is here to help, with all the best features of a 2-burner gas grill on a portable version you can take with you on the go.
The Char-Broil Classic 280 has 280 square inches of cooking space, which isn't as much as our other picks, but it's decent for a version you can take with you on the go. There is also a side burner, allowing you a third area of cooking space to make up for the minimal space in the main cooking area.
With 20,000 BTUs, this grill is slightly less powerful than the others but still packs a great punch for those camping trips. The Piezo ignition system additionally guarantees that your burners will ignite immediately, so you don't need to wait to cook dinner.
This grill weighs a total of 37.5 pounds, so you can take it anywhere. And at the low price point, you can purchase this grill in addition to a nicer one you keep at home.
Pros
Lightweight
Has a side burner
Instant ignition
Inexpensive
Cons
A bit small for everyday use
Less durable than other 2 burner gas grills
Pick #4: Weber Spirit E-210 (Best High-End Grill)
The Weber Spirit E-210 is the epitome of quality with its porcelain-enameled grates, lid, and flavorizer bars. Basically, everything about this grill has been porcelain-enameled, which is reflected in the price.
Although this grill will set you back a pretty penny, it is worth it for the electronic crossover ignition system and 360 square inches of premium cooking space. There is also a 90-square-inch warming shelf where you can keep items warm after you cook them.
While heavy-duty, this model is actually much lighter than comparable models, giving you a great at-home grill that you can reposition from the deck to the yard when needed. You could probably even roll it to the park for a BBQ if you wanted!
This model also includes side shelves and a cabinet for storing all of your grilling gear, but note that the side shelves are made out of stainless steel and not porcelain.
Pros
Built-in thermometer
Electronic crossover ignition
Porcelain-enameled everything
Lightweight
Durable
Cons
Expensive
No even-heating technology
Fuel gauges only on the LP models
Pick #5: Monument Grills 14633 (Best on a Budget)
The nice thing about a 2-burner gas grill is that you don't need to spend tons of money to get a nice one. In fact, our last pick on this list, the Monument Grills 14633, is great for those on a budget.
With 473 square inches of cooking space, this grill may look small, but it will feed a crowd! 147 square inches of this is the warming area, but you can still store burgers and hot dogs there while the rest of the food is cooking.
The cooking grate is porcelain-coated cast iron, which helps with putting the heat directly in your food. The Flame tames are enamel, while the rest of the grill is made from durable stainless steel.
Our favorite feature of this grill that can't be found in any of the others is the clear view lid which lets us check on our food without letting the heat escape. There is also a temperature probe on the lid to check the internal temperature. All of which for one low price that can't be beat!
Pros
Durable
Plenty of cooking space
LED temperature knobs
A temperature probe on the lid
Viewing window
Cons
What is a 2-Burner Gas Grill?
When many people hear 2-burner gas grill, they picture something similar to a cooking stove, where you can put two pots right next to each other. This isn't what a 2-burner gas grill is.
A 2-burner gas grill is a grill that is gas powered that has two different areas of ignition, meaning the user of the grill can cook two items side by side at different temperatures. This area is still covered by a single grate as in a normal BBQ but gives the user much more freedom with what they can cook at the same time on the grate.
Most 2-burner gas grills are on wheels, but this doesn't mean all are equally mobile. Some can actually weigh up to 90lbs, making them just about as immobile as your range stove top.
What to Look For When Buying a 2-Burner Gas Grill
Although you may think selecting a 2-Burner gas grill doesn't sound too difficult, there are actually several aspects of the grill you need to consider before you buy.
What it's Made Out of
It's critical to know what your gas grill is made out of because this will dictate not only how long it will last but where you can leave your grill. While most are made of durable materials that are rust and corrosion proof, they aren't all built out of this material, meaning you can't leave all 2-burner gas grills outside.
This is important to know because some gas grills can be very heavy, meaning if yours can't stay outside, it can be a hassle to bring it back and forth when you want to use it. Plus, what the grate of your gas grill is made of makes a huge difference when cooking.
The Systems it Has
Gas grills are a favorite because they are typically simple to use. But because so much of the grill is electric, they are also subject to many problems. One of the most difficult ones is when the starter dies.
Know what type of starter your gas grill has and how durable it is. Some gas grills have electric starters and while these tend to be more reliable, know that your grill will need to be placed near a plug for it to work.
There are several additional systems that a gas grill can have that will make your life easier, such as infrared burners or even heating technology. While these aren't a must-have, they can make your life so much easier if the grill is equipped with this technology.
Cooking Space
Two-burner gas grills tend to be smaller than those with 4 burners, and they are not ideal when you like to have a huge BBQ every other weekend. But, that being said, there are options for size when it comes to 2-burner gas grills, and it is important to get familiar with these before you buy to ensure you have space for everything you want to grill.
Not only that, but the package cooking space typically includes the warming rack combined with the grill top space. Pay attention to this because the last thing you want to do is get home and find space you needed to cook taken up by the warming rack.
Size and Weight
Besides just knowing how much space you have to cook, you need to know how large your grill will be. Because gas grills typically need a gas hook-up and sometimes need an electrical plug, you typically need to plan more about where you will place your grill before you purchase it.
Remember, gas grills can be heavy, this means you may not be able to move them as much as you can other types of grills. You need to consider this in advance. And if you do want a travel 2-burner gas grill, you will need to purchase one specifically built for this purpose.
Additional Features
Do you want a prep shelf for cutting? Or maybe a side burner for making sauces? These are additional features of some 2-burner gas grills that you will need to look for before you buy.
These features are not universally installed in grills, meaning knowing what additional features you need will likely have a huge effect on your final grill decision.
Materials to Look for in a 2-Burner Gas Grill Grate
So you know looking at the material of your grill grate is important, but you aren't sure what the differences are. Here's our quick run-down of the different grill grates you will see as you shop for a 2-burner gas grill.
1. Cast Iron
Cast iron is a durable grate known for its even cooking abilities. It will also give you some nice grill marks on your meat, but before you get too excited, know that you need to season your cast iron grill grate to keep rust at bay.
2. Porcelain-Coated Cast Iron
Not sure about the seasoning part? Then go for porcelain-coated cast iron as it takes care of that problem. You'll get all the benefits of cast iron without all the work.
3. Stainless Steel
Stainless steel is nice to clean and durable, but that's about it. Honestly, cast iron just cooks so much better, but if you don't want a dirty grill, then stainless steel is still decent quality for a cooking surface.
4. Porcelain-Coated Stainless Steel
A step up from just stainless steel, porcelain-coated steel is still a decent grate material, we still recommend cast iron, however, just to be clear.
5. Chrome-Plate Grates
While these are affordable, they just don't cook or clean very nicely. Plus, you'll eventually get some rust, so you'll need to replace it sooner, meaning you are better off just spending the money for a nicer grate up front rather than wasting money with this one.
6. Stamped Sheet Metal Grates
These are the basic level, and honestly, they just don't hold up well, nor do they cook well. At least splurge to get a grate that is nicer than stamped sheet metal!
Is Buying a 2-Burner Gas Grill Worth it?
Cooking food on a 2-burner gas grill is an easy way to prepare food for your family on a Sunday afternoon or on a camping trip. But keep in mind a 2-burner gas grill is not exactly the largest grill on the market.
Therefore, if you are a couple, or maybe a small family of 4, a 2-burner gas grill is a decent option for you. Just know that you won't quite get the same flavors you will from a charcoal grill. But what you sacrifice in flavor, you will gain in an easy and quick cooking experience as you won't be waiting for coals to heat up.
For a larger family, we recommend looking at a gas grill that is slightly larger, perhaps one with four burners instead of 2. This is only due to the size of most 2-burner gas grills, as you don't necessarily need 4 cooking zones, but you will need the space that comes with it.
Final Thoughts on the Best 2-Burner Gas Grill
Overall, buying a 2-burner gas grill for your family will likely be one of the best decisions you can make. Not only will you be able to make food with quick ease, but you will also be able to master cooking more than one item at a time!
No matter which grill you select off this list, you are sure to take home a 2-burner gas grill that will make all your grilling dreams come true!