Looking for the best gas charcoal combo grill? All of your questions are answered here, so you don't have to look anywhere else.
In this GrillingDad.com guide, you'll discover:
What the best gas charcoal combo grills are
How to choose the perfect gas charcoal grill
And much more!
Our Reviews of the Best Gas Charcoal Combo Grills
As you begin your journey down the road of looking for the perfect gas and charcoal combo grill for your backyard, there are many things you should consider.
How often do you plan to use your combination grill?
Are you looking for a grill to use for just your family, or do you plan to grill for larger crowds?
How much money do you want to spend on your new combo grill?
No matter what you plan to use your grill for, you will find some of the best charcoal and gas grill combos available. With the wide variety of grills that are on the market today, you should be able to find something that fits your personal preferences.
Keep reading to learn more about some of the top grill combos that you can choose from.
This combo grill is our pick for best overall because it has all of the features you want in a gas charcoal combo grill but doesn't take up as much space. This is because instead of it being a side-by-side model, you use the same cooking space for both types of fuel.
While the grill is automatically set up for gas cooking, it is pretty simple to switch it up to use as a charcoal grill. In fact, in less than a minute you can convert the grill from gas to charcoal before you begin cooking.
With about 420 square inches of cooking space, this Char-Broil grill comes equipped with three burners that run about 40,000 BTUs in the gas mode. Additionally, if you wish to use charcoal instead, you just need to remove the cooking grate and add it to the charcoal pan.
Can convert from gas to charcoal easily
Comes equipped with a side shelf and storage
Less bulky than other models
Has plenty of storage capacity
Not as much cooking space
If you are looking for a combo grill that can do it all and more, the Oklahoma Joe combo grill may be the perfect choice for you. This is because it is designed with the ability to use either gas or charcoal, but also is heavy duty and can handle just about anything.
For this grill, the two fuel options are set up on two separate cooking spaces which are side-by-side. This makes it much easier to switch fuel types for multiple types of grilling experiences.
The gas side of this grill is powered by three burners that put out about 12,000 BTUs each which is a total of about 36,000 BTUs.  The charcoal grill, not only cooks your food with a smoky flavor but also can be used as a smoker with the additional firebox attached.
An added benefit of the smoker
Handles have Cool-touch technology
Has temperature gauges mounted on the lid
Comes equipped with a firebox and side burner
The wheels may make it difficult to move around
For those who prefer a grill that has a higher quality, this Coyote Natural Gas/Charcoal Grill certainly fits the bill. From the design and construction to everything in between this grill screams high-end product.
Like most combo grills, this one features a side-by-side design with an amazing amount of cooking space between the two. With about 1,200 square inches of cooking area, this grill is perfect for larger crowds.
The most interesting feature of this grill is that it is designed to be built into your outdoor kitchen setup. The drawback is if you are not planning to build yourself an outdoor cooking space, this may not be the grill for you.
The gas side of the Coyote combo grill comes equipped with two burners that put out about 40,000 BTUs of natural gas. The charcoal side comes with many bells and whistles such as airflow dampers and an adjustable charcoal tray.
Large cooking area
Stainless steel heat control grids
Adjustable dampers and fuel trays
Stainless steel overall design
Expensive price tag
Only effective for built-in outdoor kitchens
If you want to purchase a gas charcoal grill but do not want to spend a lot of money, this Duel Fuel Combination grill could be the right choice for you. This is because while it has many great features that other combo grills have, it has a smaller price tag as well.
For this combo grill, the two sides are side-by-side, however, the two sides are not as evenly spaced. What this means is that the gas side of the grill is slightly larger with almost 300 square inches of space, whereas the charcoal side has about 265 square inches in cooking space.
For the gas side of this combo grill, you will find three burners that boast about 24,000 BTUS made from stainless steel. On the charcoal side, you have a front door which makes it easier to load in additional charcoal as needed.
Affordable pricing
Ample cooking space
Front door with access to charcoal pan
May take longer than usual to assemble
This grill, manufactured by Pit Boss, is deemed one of the best combination grills due to its ability to not only use gas and charcoal but also act as a smoker. Because of this, it is one of the more versatile grills on the market today.
The cooking space for this grill is more than 2,000 square inches with about 1,300 from the gas side and a little over 800 for the charcoal side of things. This means that this grill has much more cooking area than most others of its kind.
The Pit Boss Memphis Ultimate is a great grill to have if you like the versatility of cooking styles that can be done for outdoor cooking. Another great feature of this grill that shows its versatility is the adjustable vents that make it great for being able to create more smoke while you are cooking.
The 4-in-1 design gives it versatility
A large amount of cooking space
Adjustable vents for more smoke
Assembly may be challenging
Quality may not be as great as other grills
This Smoke Hollow combination grill is great for those who want a high-end look without the hefty price tag. This grill boasts quite a bit of cooking and storage space and warming plates as an added benefit.
On the gas side of the grill, three stainless steel burners put out about 7,000 BTUs of fuel. For the charcoal side of the grill, it has wire cooking grids and a charcoal pan for the convenience of adding more.
Interestingly enough, this grill, although not as expensive as others, comes equipped with an added firebox on the side which gives you the ability to smoke your favorite meats. This allows you to cook your meals in three different ways for more versatility.
Ample cooking space
Has a firebox for smoking meats
Heavy-duty design
Can be difficult to assemble
Quality may not be as great as it seems
The Char-Broil name has a great reputation in the world of outdoor cooking especially when it comes to grills. This Standard Combo grill does not disappoint when it comes to both quality and price.
As with other combination grills, the setup for this grill features the side-by-side orientation of the two designs. Between the two grill areas, they share more than 500 square inches of cooking space which makes it much more convenient than most.
The gas side of the grill features three burners that put out about 36,000 BTUs of liquid propane for better temperature control. The charcoal side of this grill has adjustable grates, an ash pan tray for easy clean-up, and easy access to the charcoal pan to add more during the cooking process.
Ample cooking space
Adjustable grates on the charcoal side
About 36,000 BTUs of gas
Equipped with an ashtray for easier cleanup
May not be as high quality as advertised
Difficult to assemble
A list of the best combination grills would not be complete without mentioning at least one Weber model. This is because when it comes to outdoor grilling, Weber has a reputation for being one of the best.
Although this grill only features one cooking area, with more than 300 square inches of space, there is plenty of room if you are cooking for a smaller crowd. The Weber Performance Grill does offer the ability to use charcoal with a gas igniter or you can use just the gas itself.
This high-quality grill features a porcelain cooking grate and digital controls which help you to control the temperature. The grill operates through a propane tank which sits on the cart just below the grill itself.
Easy portability
High-quality materials
Digital controls
Assembly not easy
Not as much cooking space as others
The Royal Gourmet brand of grills typically comes with high-quality materials and a reputation that lasts. This gas and charcoal combination grill does not veer away from that philosophy with this combo grill.
The gas side of this grill features three burners that put out about 27,000 BTUs of power which gives quite a bit of temperature control. Between the gas and charcoal sides of the grill, it has about 800 square inches of cooking space available.
Another feature of this Royal Gourmet grill is the added benefit of the firebox that is constructed on the side of the unit. This allows you to grill your favorite foods and smoke your meats for better flavor.
More than ample cooking space
Added firebox for smoking
Powerful BTUs
Maybe a bit bulky
Assembly is more difficult
Like other gas charcoal combination grills, this Char-Griller grill features a side-by-side setup for more convenience and versatility. This creates the opportunity for you to cook with both fuel types in one setting whenever you choose to do so.
The cooking area of this combination grill is more than 800 square inches in total which means there is plenty of room whether you are cooking for a large or small crowd. It does also mention that the primary cooking space for this grill is about 600 square inches.
The gas side of this grill features two burners that put out about 24,000 BTUs of power throughout the cooking process. Additionally, the charcoal side has an area perfect for smoking or grilling, depending on what you prefer.
Ample cooking space
Easy to clean
Great value for the price
What is a Combo Grill Exactly?
When it comes to choosing the best grill for you, you may want to consider the gas and charcoal combination grill. This is because it provides you with the best of both worlds with the convenience of a gas grill and the smoky flavor of a charcoal grill.
For the most part, this type of grill allows you to cook using gas if you are in a hurry and would rather not wait for charcoal to heat up. Since most gas grills can light and heat instantly, this makes it easier for you to eat much faster.
Those who prefer cooking with charcoal and have the time can use this combo grill to do just that. This means that if you have more time to devote to heating the coals, you will be rewarded with a nice smoky flavor in your foods.
Related >> Best Charcoal Grills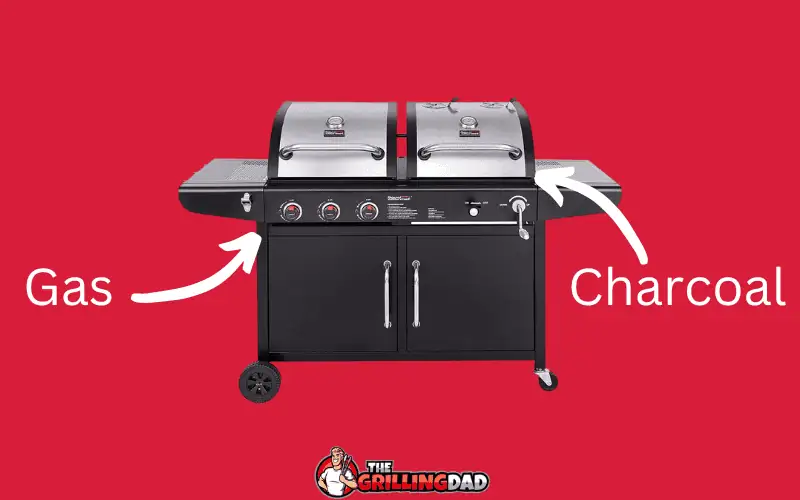 The Basics of How a Gas Charcoal Combo Grill Works
What most people enjoy about the gas charcoal combo grill is the versatility that comes with having two ways to cook food. Additionally, you have the option to use one side at a time or take advantage of the extra space by using both.
Using a combination grill can be quite a bit trickier since there are more parts and even more instructions to get the best results. For the most part, you can treat each side as individual grills but much closer together.
The combo grill provides you with extra cooking space without having to make room for two individual grills on your patio. This means that you save space that you can use for other things such as additional furniture.
If you choose to use both at the same time, you will want to decide what you are cooking on which side of the grill. This is because if you want the smoky flavor in your meats, you may choose to cook that on the charcoal side of the grill.
What to Look for When Buying a Combo Grill
As with most larger appliances and grills that you choose to buy, there are certain factors and features that you should consider. This is because you want your outdoor cooking experience to be what you expect it to be.
Because of this, you should only consider grills that will meet your expectations and what you want to get out of them. This means that doing extensive research before purchasing your combo grill is the best use of your time.
Read on below to learn more about what you should look for when buying a gas charcoal combo grill.
Build Quality
The most important factor you should consider when purchasing a gas charcoal grill combo is the quality of the build itself. This refers to the materials used to put it together and the construction of the grill overall.
Most people choose to go with a cast iron covered with porcelain enamel for the grates to ensure heat coverage and better temperature control. Additionally, the cast iron creates better durability which means that it will last much longer.
Stainless steel is typically the material of choice for the outside of the grill since it is more durable than other materials. In addition, stainless steel can take the various weather conditions that the outdoor areas are known for.
Airflow Quality
When it comes to airflow for the charcoal side of this combination grill, it is best to have access to dampers or air vents. This is because when you have better ventilation and airflow, the charcoal is fed which helps to cook your food properly.
In many cases, these hybrid grills typically do not use dampers or air vents and instead are built with a separate airflow system. The problem is, while the system is effective, it does not feed the charcoal as well which results in less smoke for the delicious flavor.
Charcoal Access
Like with a standard charcoal grill, you will need to ensure that you have easy access to the charcoal pan. This is because throughout the cooking process, you may need to add in more coals and this is easier when you have better access.
In most cases, this means that the grill may come equipped with a door either on the front or back that allows you to add more charcoal quickly. When you are looking for your new combo grill, make sure that you can get access to this area.
BTUs for the Gas Grill
Just because you are purchasing a grill that is a combination of both gas and charcoal, it does not mean that you should sacrifice the amount of power it puts out. This means that when you are looking for your perfect grill, you should go with the one that has the amount of power you desire.
You will also need to consider how many grills there are on the gas grill side since this is what will determine the overall output of the gas. High numbers of BTUs are great, but if they are distributed between several burners, you may not have as much power as you need.
Pros and Cons of a Gas Charcoal Combo Grill
As you have seen in this guide, there are many advantages and disadvantages to purchasing a gas charcoal combo grill. Before you decide which one will work best for you, and your outdoor cooking needs, you should consider whether or not this type of grill is right for you at all.
As you begin searching for the best gas charcoal combo grills on the market, take a look at these pros and cons.
Pros
Saves money. Typically, if you wanted to have both a charcoal grill and a gas grill, you would need to purchase them separately. However, with the hybrid models that feature both, it can save you money in the long run.
Versatile. The combination grill gives you the convenience that a gas grill provides as well as the smoky flavors that charcoal creates. Additionally, oftentimes, they also come equipped with the ability to smoke and add wood chips for a smoky flavor.
Space saver. If you are limited on space in your backyard, you may not be able to have both a gas grill, charcoal grill, and a smoker. Having a hybrid grill gives you the convenience of not having to make room for all of the different grills.
Cons
Limited cooking space. While you have ample space if you are using both fuel types at the same time, the space on the individual grills can be limited. This means that if you choose to cook on only one grill, you will not be able to cook as much food at one time.
Price is expensive. While these types of grills are great for saving money by not having to purchase more than one grill, they are pretty pricey. This means that if you want a gas charcoal combo grill that is top quality, you should expect them to be more expensive.
Size can be bulky. Because the combination grill is ultimately two grills in one, they tend to be much larger. This is typical because the gas and charcoal grills sit side by side and are designed to each be the size of a standard grill.
Is Buying a Combo Grill Worth it?
After doing some research, the question that many people tend to still have is whether or not the combination grill is worth buying. The answer by most grilling experts is a resounding yes since it does so much more than just your standard grill.
As stated previously, the gas charcoal combo grill gives you the option of grilling on either gas, charcoal, or both at the same time. Many of these models also come with the added benefit of allowing you to smoke your favorite meats as well.
Related >> Best Pellet and Gas Combo Grills
Final Thoughts on Combo Grills
The bottom line when it comes to finding the best gas charcoal combo grills is that it depends mostly on your personal preference. Given all of the great features that come with this type of grill, you would be hard pressed to find an individual grill that does as much.
Selecting the perfect gas charcoal combo grill boils down to what features you are looking for. At the end of the day, this type of grill provides a plethora of benefits that make paying a little extra worth it.