Wondering what the best gas grills are for under $500? You have come to the right place because we have all of your questions answered.
In this GrillingDad.com article, you'll learn:
What the best gas grills for under $500 are
How to choose the right gas for your needs
And much more!
Top Gas Grills Under $500
Best Gas Grills Under $500 Reviewed
Looking for the best gas grill under $500 requires that you put some research and thought into what the different models can offer. This typically depends on what your needs are as a griller and what you would like to do.
Here are some questions you should consider when looking at gas grills under $500:
How many people will you be cooking for?
How often will you use the grill?
Do you want a basic grill or one with all of the bells and whistles
Pick #1: Weber Spirit II E-210 2-Burner Liquid Propane Grill (Best Overall)
When you think about the Weber brand, most people think of a high quality that typically comes with a higher price tag. This propane grill is no different when it comes to quality, however, the price tag is better than you might think.
This 2-burner propane grill may not give you as much cooking area as others, however, it has the durability and quality that Weber is known for. It features high-performance burners that have ample BTUs to provide overall heat retention to your grill.
Not only does this grill do a great job of providing high-quality grilling experiences, but it is also easily portable. This is because of the two wheels that make it easy to move around your backyard or to take along on camping trips.
While it is on the more expensive side compared to other models under the $500 range, you will not sacrifice quality with this grill. The grease management system also provides easy clean up so you do not spend a lot of time after grilling.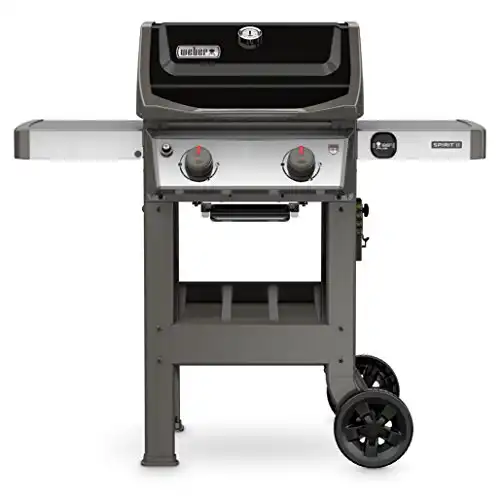 Pros
Great heat distribution
Excellent temperature control
Ample cooking space
Easily portable
Cons
On the higher end of the price range
May not have as much room as other grills with only 2 burners
Tends to heat a lot on the backside which can cause problems
Pick #2: Char-Broil Performance 4-Burner Gas Grill (Best Alternative)
If you are looking for a grill that is perfect for smaller spaces or if you plan to grill for fewer people, this Char-Griller Charcoal grill may be a great option. With about 250 square inches of cooking space, it is just right for less than 4 people.
With about 425 square inches of cooking space, this grill allows you to cook for either smaller or even larger crowds. It comes equipped with four burners, a side burner, and two shelves for ample storage.
The heat retention in this grill is phenomenal coming in at around 40,000 BTUs between the various burners. This means that you will have a lot of heat which means that you will get a more even cooking experience.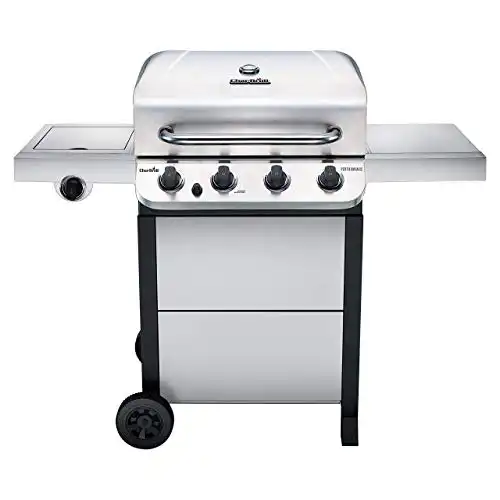 Pros
Ample cooking area
Great heat retention
Easily portable
Extra storage space
Cons
May not be as sturdy as advertised
Does not come with many bells and whistles
Pick #3: American Gourmet Char-Broil Classic 3-Burner Gas Grill (Best for Budget)
This 3-burner gas grill is great for those who need to stay under the $500 mark when it comes to purchasing a grill. While it is less expensive than others, it does not mean that it has less quality, however.
The grill comes equipped with about 360 square inches of cooking space on porcelain-coated grates for easy clean-up. The three burners boast about 30,000 BTUs of heating power, which means you will have a pretty even cooking experience.
While the grill may not come with all of the bells and whistles the more expensive models have, it does have many great features. These include a warming drawer that you can put your food in so it does not get cold while you are continuing to cook.
Pros
Easy portability
Simple clean up
Great heat retention
Cons
Does not come with a drip pan
Not as sturdy as other grills
Some sticking may occur to the grates
Pick #4: Weber Q1200 Liquid Propane Grill (Best Tabletop)
If you are limited on not only the budget but also space, this Weber tabletop gas grill may be the perfect option for you. Since it is a Weber, you know that you will be getting a quality product just in a smaller unit.
While the grill only features one burner which puts out about 8,500 BTUs, you will still get the evenest cooking experience due to the heat retention. Keep in mind that the cooking space is quite limited with this grill, but is perfect for those who are cooking for a smaller crowd.
The grates on this Weber tabletop grill are made of a porcelain-coated material which provides for better heat retention and easier clean-up. You will also get two side tables that are attached to the grill for additional storage and working space.
Pros
Comes already assembled
Made from cast aluminum materials for better durability
Perfect for portability
Cons
Not the best temperature control
Limited cooking space
Pick #5: Fuego F21C-H Element Hinged Propane Gas Grill (Best Design)
The Fuego propane gas grill gets our vote for best design since it is perfect if you are limited on space but still want a great quality grill under $500. The design is rounded and more compact so it can fit into smaller spaces easily.
The design of this grill also provides a more even temperature control since it features outer rings. This means that it does not use as much gas as other grills do during the cooking process.
The Fuego propane gas grill has just under 400 square inches of cooking space, which is plenty for small to medium-sized crowds. With the dual burners, the grill will typically use about 22,000 BTUs to provide an even cooking experience.
Pros
Perfect for small spaces
Easily portable
Simple assembly
Easy cleanup
Cons
Quality may not be built to last
Outside paint may peel after some time
What is a Gas Grill Exactly?
While many people prefer to use a charcoal grill to do their outdoor cooking, others prefer to use a gas grill for the convenience it provides. The ability to just turn it on and start cooking within minutes is one of the biggest advantages of the gas grill.
What makes the gas grill different from other grills is the fact that it uses some type of gas as its source of fuel. This could mean that it has a tank that goes along with it, or it can be connected directly to the natural gas line at your home.
Keep in mind that many people choose the gas grill for outdoor cooking because of its easy-to-use features. This means that when it comes to grilling with a gas grill, you typically do not have to wait for a while to begin the cooking process.
The Basics of How a Gas Grill Works
The gas grill is deemed to be much easier to operate since you only have to ensure that the gas is turned onto the unit and then click the light button. With something this easy, it is not surprising that so many people prefer this type of grill.
If your gas grill operates by attaching a tank to it, you will need to replace it from time to time. The replacement process is quite simple as all you have to do is disconnect the line from the empty tank and reconnect the line to the new tank.
Once it is connected, you simply have to turn the dial to open up the line of gas allowing it to flow into the grill itself. When you are ready to grill, you either have to push a red button that says "ignite" or turn the dial on your unit.
You can, if you prefer, connect your grill directly to the natural gas line in your home. This may require a bit more work and a call to the gas company for them to come and redirect the lines so that you can do this.
What to Look for When Buying a Gas Grill Under $500
When it comes to buying a gas grill for under $500, there are certain features and factors you should consider. This is because while you may be trying to save money, you should not have to sacrifice quality as well.
You can easily find the perfect gas grill for you and your family that comes with many great features for less than you think. You will just need to ensure that you are reading reviews and counting on reputable sites for your information.
Keep reading to learn some of the factors you should consider when buying a gas grill under $500.
Size
One of the first factors you should consider is the size of the grill which depends entirely on your purpose behind grilling in the first place. The size of the gas grill is essential to be aware of especially if you are planning to cook for a larger crowd.
If you require more cooking space, then you will want to look for a grill that has more than 400 square inches of available space. This will allow you to cook more food at one time without having to cook in shifts.
On the other hand, if you are cooking for only yourself or a small group of people, then you may be able to get by with a smaller grill. This could mean that you only need a tabletop grill or one that has a smaller cooking area.
Grate Materials
When you are considering a gas grill for your home, you will need to also factor in what the grates are made of. This is important because it will determine how much time you may need to spend either preparing or cleaning the grates after grilling.
Here are the most common types of grate materials that are on the market today:
Cast Iron is often desired more than others for its ability to retain heat for longer periods. Additionally, they tend to leave those grate marks on your food that gives you the feel of authentic barbequing.
Stainless Steel is a lightweight material that has the tendency to heat quickly but may not hold onto the heat for long periods. In addition, you can typically get this type of grate for cheaper which explains why more people choose this grate material.
Porcelain grates are one of the above types of grates with enamel covering to keep them protected better. The downside to this type of material is that over time, it can chip and render it not as useful for cleaning up.
BTUs
British Thermal Units are how the heat output is measured in a grill or other appliance. The BTU rating can tell you how much heat is used during your grilling process which translates to how evenly cooked your food will be.
In most grills, it is standard for the BTUs to hover around 20,000 to 30,000 for more effective cooking processes. This means that at this BTUs, the grill will stay hot enough to cook your food efficiently.
Pros and Cons of Gas Grills Under $500
As with anything you are deciding to purchase, there are always advantages and disadvantages that come with them. This is mostly because people prefer different things and so what may be a pro to one person, may be viewed differently by other people.
Before you run out to purchase your new gas grill, you should consider certain factors that can let you know whether or not you should get this type of grill. Many of the advantages and disadvantages are minor, while others can make the difference between a high-quality experience and one that is not so great.
Take a look at some of the pros and cons of buying a gas grill for under $500:
Pros:
Easy to clean
Heats up quickly
More affordable
Easy to use
Cons:
The less authentic smoky flavor
For under $500, you may sacrifice better quality
The propane tank has to be replaced from time to time
The important thing to remember is that you may not know all of the pros and cons unless you purchase one of these grills. While other people's opinions can be helpful, there is no better way to know for sure until you have bought and used your unit.
Is Buying a Gas Grill Under $500 Worth it?
When it comes to deciding whether it is worth it or not to purchase a gas grill under $500, you have to consider all the factors listed above. It comes down to the type of experience you prefer and whether you are picky about your meat flavor.
While using a gas grill can be a much quicker process, there are some disadvantages, as mentioned previously. The biggest drawback for some people is that you don't get the same smoky flavor you do when using charcoal.
On the other hand, you get to grill your food in a much quicker way, since you do not have to wait for the grill to heat up. In most cases, you just have to turn on the tank and then push the ignitor button to have instant heat.
The bottom line is that it is worth it to buy a gas grill for under $500 if you want a grill that heats up faster and does not put too much damage to your pocketbook. This type of grill is great for someone who is new to grilling and does not want to spend a lot of money.
Final Thoughts on These Gas Grills Under $500
Overall, the decision to purchase a gas grill under $500 comes down to personal preference and what your needs are. If you are looking for a grill that does not cost a lot of money but can grill quickly, these grills are perfect for you.
Keep in mind that a lower price does not have to mean a sacrifice of a high-quality gas grill. There are many models on the market, such as the ones listed in this guide, that provide both high-quality and affordable pricing.
Choosing the right gas grill for your needs comes down to ensuring that you have done your research before you go to the store to make a purchase. After you have done ample research, you should have a great idea of which grill you want to buy.
The grills in this guide should give you a great place to start when choosing the grill of your choice should you decide to purchase a gas grill. Keep in mind that these grills not only feature a great price but also great quality brands.