Are you ready for tailgating season? For the best tailgating experience, you have to start with the right portable grill!
In this review, you'll learn:
What to look for when buying a portable gas grill
Our reviews
And much more!
With so many gas grills available, choosing the one to suit your needs includes considering the size, weight, overall cooking area, BTUs, and a few other factors.
Here at the Grilling Dad, we've taken the guesswork out of finding the perfect gas grill for your tailgating adventures. Read on below to see which ones made the cut!
Best Portable Gas Grills for Tailgating
Here are the top 6 best grills for your next tailgate party:
Our Reviews of the Best Tailgating Gas Grills
We have put together 6 of the best portable gas grills that are perfect for tailgating that are on the market today. This list of grills should provide you with plenty of information on what is out there and what will fit your preference best.
Here are the best portable gas grills on the market today:
Pick #1: Coleman RoadTrip 285 – Best Overall
The Colemen RoadTrip 285 is hands down the best portable gas grill for all of your tailgating adventures for many reasons.
With 285 square inches of grilling space on this propane-powered grill, you can cook several of your tailgating favorites all at the same time. But, that's not the only reason this one is our favorite!
This grill is so simply portable with its fold-up legs that make it easy to take along to your favorite spot. Better yet, when you are finished grilling, all you have to do is fold the legs up, lean them back and wheel them away.
Additionally, the RoadTrip 285 packs some power in its three burners that can be operated independently. The grill puts out about 20,000 BTU to give it the ultimate grilling experience for your favorite recipes.
While it may not have all the bells and whistles that higher-end grills do, this one comes equipped with many features that will make your tailgating a time to remember. You can even choose from five different colors depending on your preference.
This grill gets our vote on the best overall portable gas grill for portability, ease of use, and powerful BTUs. If you enjoy tailgating but want a grill that is easy to manage, the Coleman RoadTrip 285 may be just the thing for you.
The bottom line on this grill that gets our vote as the best overall, is that if you are looking for a grill that not only can cook a lot of food at once, but is also aesthetically pleasing, the Coleman RoadTrip 285 is the best for that.
Pros
Has multiple burners
Easily portable
A lot of cooking space
Powerful
Cons
Not as big as some of the other grills
May not be as durable in the long run
Pick #2: Weber Go-Anywhere – Best for Your Budget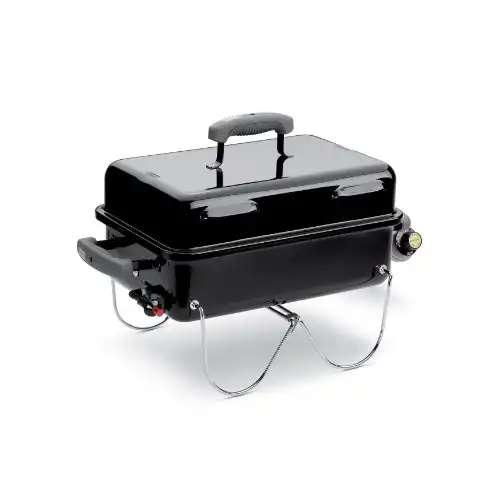 The Weber Go-Anywhere is the go-to portable gas grill for tailgating that fits just about anyone's budget. If you know anything about grilling, then you know that Weber has a reputation for building grills that are made to last.
This Weber portable gas grill comes equipped with one burner and has about 160 square inches of grilling space. This means that it can handle most of your grilling needs from hamburgers and hot dogs and more.
For those who want to tailgate, but may not have the budget to buy something more expensive, the Weber Go-Anywhere is perfect. The one burner boasts 6,500 BTUs per hour on its stainless steel burner with porcelain-enameled grates.
This compact grill is not only easy to transport to your destination but is easy to break down by folding the legs up. This makes transporting your Go-Anywhere grill super easy and convenient.
Keep in mind that while this particular Weber grill is smaller and more affordable than others, it still is backed by the Weber name which means quality. If you want something smaller but don't want to sacrifice quality, this may be the perfect portable gas grill for you.
Pros
Small and compact
Easily portable
A lot of power in the one burner
Budget-friendly
Cons
Only has the one burner
Limited grilling space
Pick #3: Royal Gourmet PD1300 – Best Tabletop Gas Grill
It should not be a surprise to find this Royal Gourmet PD1300 grill at the top of our list as the best tabletop portable gas grill.
Again, for those who do not want to break the bank on splurging on a top-of-the-line tailgating gas grill, the PD1300 may do the trick. This is also a great grill for the less than hardcore grillers out there who enjoy the occasional tailgating experience.
Although this grill is inexpensive and compact, it makes up for it its durability and ability to produce top-notch grilled favorites.
With its three burners that are adjustable and a combined total of about 27,000 BTUs, the Royal Gourmet tabletop grill packs a lot of power. This means that the heat is well distributed and can cook your food faster and more evenly than other grills.
The grilling space on this portable gas grill tops out at about 317 square inches which means you can grill several items at once. Additionally, the classic look of jet black with a detachable porcelain-enameled top makes this grill a must-have.
At the end of the day, the Royal Gourmet PD1300 is a great choice for those who want a tabletop setup but also desire a lot of power. With the sleek look and lots of cooking space, you won't be sorry if you choose this one.
Pros
Small and compact
Affordable
27,000 BTUs
Quite a bit of grilling space
Cons
Smaller than other grills
Somewhat clunky to carry
Pick #4: Hitchfire Forge 15 – Best High End
If you fancy yourself a tailgating aficionado, then you may not mind the splurge on this portable gas grill that gets our vote on the best high-end grill.
To get even fancier, this grill is designed to mount on the back of your car with your standard hitch. The great thing is that if you tailgate often, there is no need to remove it from the back of your vehicle. The swing arm allows you to continue to access your trunk or truck bed while keeping attached.
The Hitchfire Forge 15 is equipped with two burners and 335 square inches of grilling space for all of your tailgating favorites.
If you want a grill that can cook your food with the highest temperatures and quality, look no further than the Forge 15. Just be prepared to drop a hefty amount of change to get one.
Additionally, when you are not on the go with your tailgating adventures, you can remove the grill from your vehicle and use it as a tabletop grill.
It may be important to note that you may only want to consider this one if you do quite a bit of grilling and tailgating. Since the price is pretty steep, you may only get your money's worth if you are planning to use it often.
Pros
Cooks with high temperatures
Sturdy design
Extremely portable
Takes up little space
Cons
Pricey
Backup sensors may not work effectively with a grill attached
Pick #5: Napoleon TQ285XBL1 – Best Professional Grade
Have you ever been tailgating and wished that you had more room on your grill to feed the masses? If so, then this may be the grill for you!
The Napoleon TQ285XBL1 grill is the best thing for a professional setup that you may be able to get for your next tailgating adventure.
For those who want a better setup that also gives you the option to change up your grilling recipes, you may want to check this one out.
If you want a grill for tailgating that is not only portable but also durable and big enough to feed quite a few people, the Napoleon TQ285XBL1 is a great choice.
This propane grill may be portable, but it does not lack grilling space since it can cook up to about 19 hamburgers at once. This means that if you have a large crowd, they will not have to wait for very long.
While it has two burners that keep the grilling space heated evenly, the lid which is made from cast aluminum is high enough that you can also roast two whole chickens underneath it.
Another great feature of this Napoleon gas grill is that it comes equipped with cast iron grids that prevent food from slipping through and as a bonus provides sear marks on your tailgating favorite foods.
Pros
Big enough to cook whole chickens
Scissor leg cart for portability
Large cooking space
High temperatures for even cooking
Cons
Pick #6: Cuisinart CGG -306 Chef's Style- Best Runner Up
Even though we voted this the Best Runner Up, doesn't mean that it isn't a great grill.
Cuisinart is a brand with a reputation for developing products and appliances that are high in quality and price. This CGG-306 Chef's Style portable gas grill is no different when it comes to quality.
If you are looking for a tabletop grill that is compact and easy to transport from home to car to tailgate and back, this may be the one for you. With 146 square inches of grilling space, you are sure to have room to make all of your favorites.
With 8,000 BTUs of heating power, and a lid that can be latched down to hold in heat, your meats, and other foods will come out tasting like perfection.
As far as ease of use is concerned, the Cuisinart can be set up and ready to grill within five minutes. In addition, starting this grill is simple with an ignition switch that can be easily pressed.
The clean-up for this portable gas grill is super convenient as well since it is equipped with drip pans that can be removed and cleaned easily. It also comes with a regulator that will give you a heads up when the propane needs to be changed out.
Depending on your personal preferences, the Cuisinart provides not only a name that means quality but also the convenience of an easy to use and easy to clean up design.
Pros
Drip tray for an easy cleanup
Some parts are dishwasher safe
Easy setup
Portable
Comes with a portable grill table
Cons
Limited to the tabletop
Does not have wheels
The ignition switch may be faulty
Best Portable Grills for Tailgating Buying Guide
Choosing the right portable gas grill for your tailgating needs depends entirely on your personal preferences. However, most grillers will agree that the best grills for tailgating are ones that are easily portable and simple to clean up.
It is also important to consider where you will be tailgating and in what type of weather so that you can be prepared for anything. Creating a setup that is conducive to a great tailgating experience starts with the best portable gas grill.
Before considering your options for the best portable gas grill, you may want to ask yourself these questions:
How often do you tailgate?
How much do you have to spend?
Do you want a tabletop or a grill that has a stand?
How much space do you need?
How many people do you plan to cook for regularly?
After answering these questions, you should be ready to hit the ground running on finding the best gas grill for your tailgating adventures!
Here are features to look for:
BTUs: Keep in mind that the British Thermal Unit is what determines the temperature at which your food will cook. A higher BTU will produce higher overall temperatures, which then result in shorter cooking times.
Weight and Size: Since you are looking to purchase a grill that is portable for tailgating, it is important to have one that is lightweight and small enough to fit in your trunk or truck bed easily.
Ease of Use: Another important feature of the best portable gas grill for tailgating is how easy it is to use. Is it easy to transport, set up, and take down? These are important factors to consider when purchasing a grill for this purpose.
Price: As you can see, prices for portable gas grills can vary depending on the brand and functionality of the unit. You must shop around as you are getting ready to invest in a new gas grill. While many are less than $100, others can reach the $500 mark.
Durability: Even though most big purchases like a grill come with warranties in case something goes wrong, you should always purchase something that is designed to be durable. This is especially important since you will be transporting it back and forth under various conditions.
Safety Features: Tailgating means that you will be surrounded by many people who are enjoying the pregame events just like you. An important feature of a new portable gas grill is that it has certain safety features that keep you and those around you safe.
Cooking Area: Keep in mind that since you are outside when you are tailgating, you will want to ensure that you have enough cooking space. This is important because you don't want to keep food sitting out for long periods while you wait for one thing at a time to cook.
Cleaning Time: One of the worst parts of cooking any way you do it is the clean-up. Having a grill that has an easy clean-up time can make the difference between spending your time hanging out with family and friends and cleaning for a long time.
Final Thoughts on the Best Gas Grills
Okay, so you have read about all of the different portable gas grills for tailgating that are at the top of the list. But, which one is better for your tailgating adventures?
We think that the Coleman RoadTrip 285 is the best grill overall because of its durability, portability, and various other features. This grill packs a powerful amount of heat with about 20,000 BTUs and can cook several of your favorites at the same time on its three burners.
It is also a great choice for those who do not want to spend a lot of money and time cleaning up and putting it away. With its ability to fold up and be rolled away on all-terrain wheels, the RoadTrip 285 is the best portable gas grill for tailgating.
So now that you know which grill is the best, you are probably wondering where you can go to make your purchase. Follow this link to add the Coleman RoadTrip 285 to your tailgating equipment.