Have you always wanted to learn to grill, but are just not sure how to use a grill? Don't worry because we have all the information you need here.
In this TheGrillingDad.com guide, you will discover:
How to use a grill, depending on the type
What types of food you can grill
Tips and tricks for grilling
And much more!
What You Need to Know About Using a Grill
Outdoor grilling is synonymous with summertime for many people since many people tend to make more time to be outside. Grilling is a popular pastime for many people who want to spend time with friends and family in the great outdoors.
If you have never grilled before, there are certain things you should learn before you go out and purchase a grill. While it may seem overwhelming to choose the right grill for your needs, with a little research, you can find the one that suits you best.
In addition to the overwhelming feeling of purchasing a grill, there is also a learning curve to using the grill. This is because certain actions have to be taken before, during, and after using a grill that you may not be familiar with.
Ready to learn everything you need to know about how to use a grill? Read on to get started!
Related >> How Much Clearance Does a Grill Need?
What Type of Grill Should You Use?
Once you have decided that you want to learn to use a grill, the question then turns to what type of grill is best for you. This decision should not be taken lightly and should be based on your personal preferences and what you feel comfortable with.
Since there are so many different types of grills available today, you should take some time to get to know each of them before making your decision. These various types of grills include charcoal, gas, and electric grills and each has many different models that go with them.
Let's take a look at some of the most common types of grills you may want to consider.
Related >> When Is the Best Time to Buy a Grill: A Comprehensive Guide
Charcoal Grills
A charcoal grill is a great choice for someone who is just beginning to learn to grill since it is one of the simplest to use. Keep in mind that to grill with charcoal does take a little skill which comes from trial and error experience.
People who use charcoal grills do so because they want the authentic smoky barbeque taste in their favorite foods. The charcoal briquettes used in this type of grill are ignited and then burn until they begin to release smoke that is then absorbed by the food.
Another reason people prefer the charcoal grill is because of its ease of affordability and portability. Not only is a charcoal grill less expensive than others, but it also can be taken along to tailgating and camping adventures.
Related >> The Best Charcoal Grills
Gas Grills
A gas grill, on the other hand, runs by being connected to either a propane tank or a natural gas line connected to your house. The line moves up to the grill and is then ignited using a button on the front of the unit.
People who choose the gas grill do so because they want a faster process since the grill does not need to be preheated. This is because the temperature control switches give immediate heat to the temperature they are set to.
For the most part, gas grills are not as expensive as other grills except for maybe the charcoal grill. This is because they are made using simple components and then are connected to fuel in some way.
Related >> The Best Gas Grills Under $300
Electric Grills
An electric grill is operated by plugging them into an electrical outlet using the cord that they typically come equipped with. Once the unit is plugged in, all you have to do is turn it on or hit the ignition switch to start it up.
People who choose to use the electric grill do so because they tend to be much easier to operate since you do not have to deal with propane tanks or even charcoal briquettes. An electric grill only requires that it be plugged in and given a bit of time to preheat.
While they are not as cheap as the other types of grills, there are a wide variety of models that you can choose from. Some of which use wood pellets to create heat and are are called pellet grills.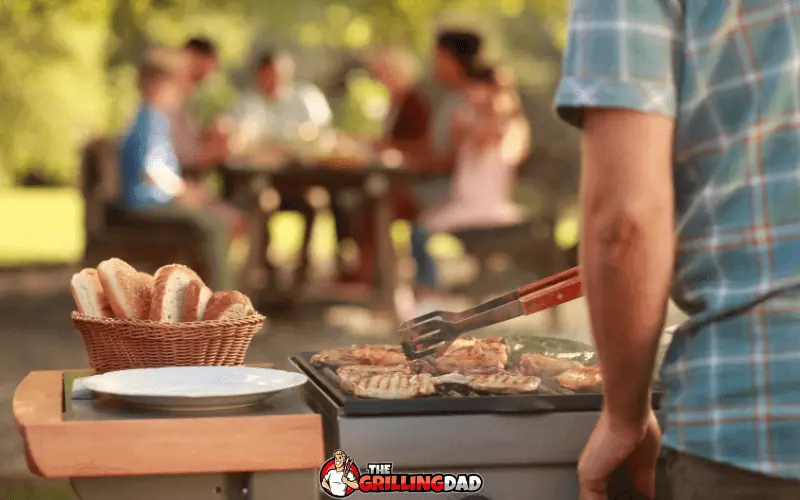 How to Prepare Your Grill Before Use
Once you have chosen the type of grill you want to use, you will then need to make sure you read the owner's manual carefully. This is because you need to ensure that you are following all of the advice that is needed to operate the grill properly.
Whether you are purchasing your grill brand new or are getting it from another source, there are many things you need to do before using your grill for the first time. Making sure that it is in perfect working condition can save you a lot of time and money in the long run.
The first thing you need to do before using your grill is to ensure that it is clean from top to bottom so you do not encounter any leftover buildup. If your grill is brand new, cleaning it beforehand will allow any leftover manufacturing chemicals to be removed.
To clean your grill, you will need to follow the manufacturer's suggestions since many grills come equipped with different types of grates and components. The last thing you want to do is scratch up your brand-new grill.
In addition to cleaning the grates on the grill, you should also clean the base and firebox to ensure there is nothing left behind there either. Doing this will provide your food with a more pure and authentic taste.
Some grills will recommend that they be "seasoned" before you use them. See our article how to season a grill if yours recommends this.
How to Light Your Grill
Depending on the type of grill you purchased, you will need to again consult your owner's manual to ensure that you are lighting it properly. If you are working with a charcoal grill, you will also need lighter fluid or something similar to ensure that the briquettes ignite properly.
Using a gas grill means that lighting your grill is relatively easy since all you have to do is turn on your gas line and then hit the ignite button. Once this is done, your grill should be ready to cook in no time.
For an electric grill, the process is also relatively simple since you need to only make sure that it is plugged in and then press the ignition button. After that, all you have to do is make sure that the temperature controls are set to the right setting.
What Foods Can You Grill?
If you are new to the process of grilling outdoors, you may wonder what types of foods you can cook on your new grill. The great thing about outdoor grilling is that the sky is typically the limit when it comes to foods you can grill.
Here are some of the most common foods that are grilled on either an electric, gas, or charcoal grill:
Steaks
Burgers
Hot dogs
Chicken
Pork chops
Sausage
Fish
Vegetables
Pizza (with the proper attachments)
While this is not an exhaustive list, it should give you an idea of what most people cook on their grills. Even though some of the items on this list are generic terms, many recipes exist that you can make on the grill.
Related >> How to Boil Hotdogs: Various Methods for Delicious Results
Tools that Make Grilling Easier
A grill can be fun and convenient for many different reasons one of which is giving you a break from heating the inside of the house with your oven. However, as with many other types of appliances, a grill has many tools that are available to make your experience more enjoyable.
Depending on the type of grill you purchase, there are many different accessories that you can buy to make your grilling experience easier and more enjoyable. While some appliances are only available for certain grills, others are universal.
Tools that can be used on any grill include various utensils such as tongs, spatulas, and specialized forks.
Related >> 7 Best Grill Tongs for Effortless Grilling
These often come in either a container that you can set near your grill or on hooks that you can install on your grill for added convenience. We recommend that all beginning grillers at leat grab some basic tools to help them get started.
Other accessories that you can purchase for your grill are designed to create more variety in your cooking experience. From hooks you can install on the lid of your grill to hang meat to side trays and shelves for more storage and space, there is no limit to what you can do to add to your grill.
Tips and Tricks You Need to Know Before You Start Grilling
As with most things, those who have come before you in the outdoor grilling world have gained quite a bit of useful knowledge that they often impart to newbies. Many of these tips and tricks are things they went through when learning that you will not have to worry about.
Here are the most common tips and tricks that you can use in your new grilling adventures:
Grill only in open spaces. Keep in mind that a grill, no matter what type it is, has fire and quite a lot of heat coming out of it. This means that if you are grilling in a confined space, you can set something on fire.
Keep children clear of the grill. Most children are curious about what their parents are doing and may not be aware of the heat that is emitted from a barbeque grill. You need to take safety precautions to ensure that they do not come in contact with your grill.
If you are using a charcoal grill, you may want to experiment with adding flavored wood chips with your charcoal to add a more intense smokey flavor.
When cooking burgers, make sure you do not press down on them with a spatula during the cooking process. This will make your burgers lose any juices they have accumulated and make your burgers dry to taste.
Take the time to clean your grill after every use to ensure that it stays in perfect working condition for many years to come.
Although there are most likely more tips and tricks when it comes to outdoor grilling, these will at least get you started. Keeping these tips in mind can save you a lot of time of trial and error and provides you with food that is perfectly grilled every time.
Final Thoughts about Using a Grill
The bottom line when it comes to learning how to use a grill properly is that you need to ensure that you are not only reading your owner's manual but that you are consulting with others as well.
Talking to others about grilling can give you many tips about grilling that you may have otherwise had to learn on your own. Plus, following a great resources like TheGrillingDad can help teach you everything there is to know about grilling!