Did you know that you don't have to go to the store to purchase a steak anymore? It may come as a surprise, (or maybe not in a post pandemic world) but you can order your steaks online and have them delivered directly to your home.
Not sure how to go about this? You've come to the right place!
In this TheGrillingDad.com guide you will learn:
Which mail order steaks are the best
Tips for ordering a mail order steak
And much more!
What You Need to Know About Mail Order Steaks
Want to purchase tasty steak with minimal effort? Us too, which is why we have taken the time to review the best steaks you can order by mail.
To find delicious steak for your lunch or dinner, nowadays you don't have to travel to the nearest butcher shop. Instead, you can order restaurant-quality steaks in a few simple steps from the comfort of your own home and have them delivered!
Read on to learn more about the best mail order steaks on the market and get ready to order one to try for yourself!
What Are Mail-Order Steaks?
As the name itself suggests, mailed-ordered steaks are steaks that you can order online without having to go to the nearest butcher shop to purchase.
These steaks are typically prepared by a company and can be shipped fresh or frozen to your door. Sometimes they come individually sealed, other times they come in one big package, so pay attention to this as you order.
Most companies shipping steaks have been in the business for years and will deliver in a cooler, or another method of keeping your steaks fresh. Regardless, you should plan to be home on the day they deliver.
Mail order steaks come in the same variety as those at the butcher shop. Some have bones, while others are boneless. The steaks also come in different cuts and sizes, providing a distinct flavor and texture depending on the one you choose. While most of the steaks are beef, some cuts of pork, chicken, and fish are also referred to by the same name.
The areas which the steaks come from include loin and rib areas, and the steak will taste different depending on where it is from. Even if you don't intend to eat your steak as a dish all on its own, it's a great cut of meat to use for salads, pasta, and other dishes.
The Best Mail Ordered Steaks
Best Mail Ordered Steaks Reviewed
(Best Overall)
Porter Road is our number-one pick for mail-order steaks. Founded in Nashville in 2010, this company promotes high-quality meat for an affordable price, delivering directly to your door.
The meat from porter road has no hormones, no antibiotics, and is 100% pasture-raised. They also carry far more than just beef, with a selection of pork, chicken, and sausage available. Their steaks are dry aged and come in cuts like Filet, Ribeye, Steak Tips, or even the whole Tenderloin for those who want it.
Best Overall Mail-Ordered Steaks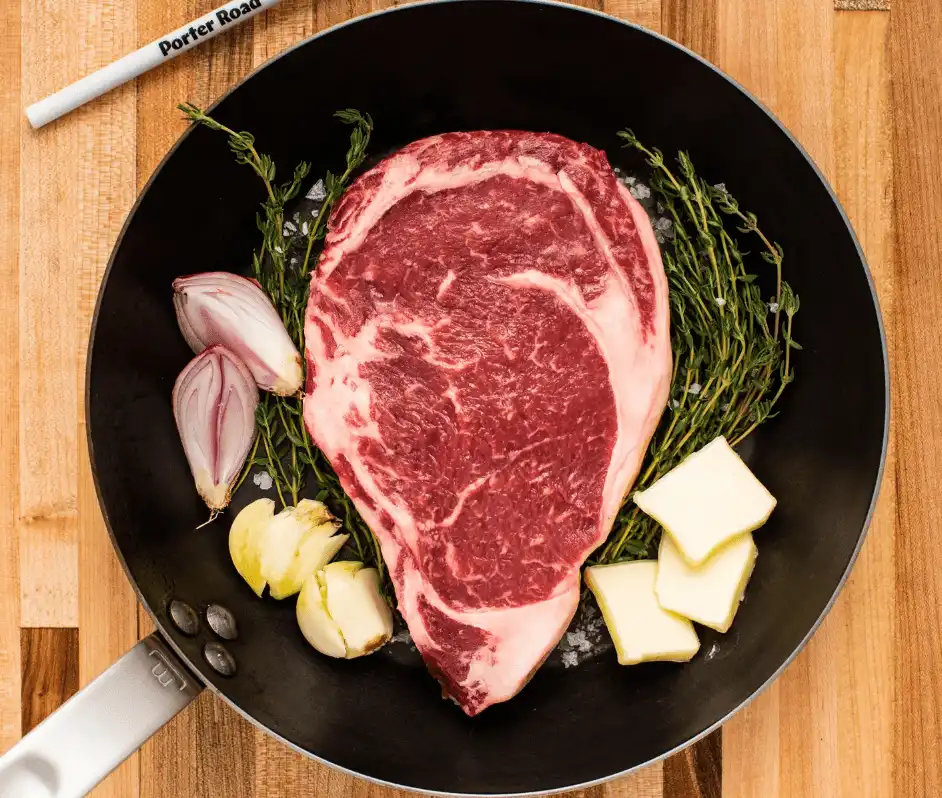 They additionally offer subscription services that make perfect gifts for others, as well as an easy way to finish your meat shopping each month. Each shipment comes in a biodegradable cooler that you can use to light your grill. All steaks are shipped fresh and are never frozen.
Pros
Amazing quality meat
Biodegradable cooler
All pasture-raised meat
More than just beef
Cons
Doesn't deliver to Alaska or Hawaii
They practice whole animal butchery, meaning you may not always get the cut you want (but we love that they are sustainable in this aspect!)
(Best Runner Up)
A close runner-up to Porter Road steaks is Snake River Farms. Snake River Farms has been breeding quality meat since the 1980s and is known around the country for its American Wagyu steaks. All animals are raised humanely and are bred to the finest beef standards.
Snake River Farms has a wide variety of beef cuts, some of which you can't find anywhere else. They are a bit on the pricey side, but every steak you order will be 100% worth it. They also frequently run specials and have a loyalty program.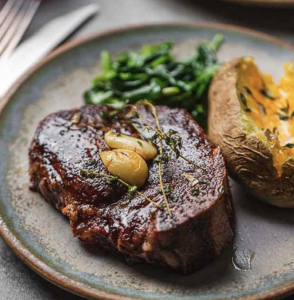 The only downside of Snake River Farms is that they freeze their beef in order to ship it to you. This is for safety reasons, but it can detract from the taste of the beef slightly. But there is nowhere else to order American Wagyu, so if that's what you want, this is the place!
Pros
Unique cuts
Loyalty program
Frequent discounts
Cons
Ships frozen
The minimum order is $49 (not hard to make, though!)
Read My Full Review: Snake River Farms Review
(Best for Meat and Seafood)
Crowd Cow is an online butcher that ships not only quality steaks to your door but also seafood that can be used to create a meal that will taste like it's cooked in a restaurant.
Crowd Cow offers a variety of meat, from 100% grass-fed options to the normal grain fed cuts. They offer several familiar brands of meat that can be found in the stores as well. This makes them a bit more like an online store than just a butcher.
All products shipped from Crowd Cow are frozen to keep them fresh when they arrive at your door. While their beef is inspected, it is not USDA-graded, making its quality slightly less than our top two choices.
Pros
Offers all kinds of meat, even seafood
Offers brands you might see in the store
Quick shipping (as little as 2 days)
Cons
Meat is shipped frozen
No USDA-graded meats
(Best Filet)
The Omaha steaks are the top pick as they are cut from the finest cows in America. They are processed by America's Original Butcher, which has been in business since 1917, and prides themselves on providing a gourmet experience for the customers.
The Omaha steaks are naturally aged and flash-frozen for maximum tenderness. Once delivered, you will find they are vacuum-sealed so that they can preserve the flavors of the steak. Omaha steaks can be thrown on the grill as is, or used in any steak recipe you choose.
Pros
Tender and juicy steaks in a variety of cuts
Made from the finest beef in America
Affordable
Cons
The steak portion size can be small for some grillers
(Best Ribeye)
Porter and York Steaks are known for both their rich flavor and a level of tenderness that most grillers dream of. The steaks are wet-aged for 28 days and are shipped fresh instead of frozen. Each steak is vacuum-sealed individually and made from all natural Angus beef.
Once you order, the meat is cut specifically for you and shipped the same day, which is an amazing bonus. Porter and York steaks can be prepared in various ways, but our favorite is slow smoking for a juicy flavor and amazing texture.
Pros
Fresh steaks from pasture-raised beef
The steaks have a delicious flavor and are easy to prepare
The Porter & York steaks are vacuum sealed individually
Cons
The price for the steaks might be high for some buyers
(Best Meat Subscription Service)
Butcher Box is our next pick for mail-order steaks. Butcher box provides quality cuts of beef, as well as chicken, pork, and seafood. All products are 100% grass-fed, free-range, and humanely raised. All seafood is wild-caught.
With Butcher Box, you choose a box of meats and how frequently it is delivered. You can choose a single meat box or a mixed one with 2-3 meats. You can also create a custom box if you prefer. You pay on a monthly basis for your delivery or more often if you want more than one box a month.
While we love the order it and leave it attitude of Butcher Box, subscription services can sometimes be a hassle, especially if you change your mind about what you want to cook for the month. We prefer services where you can just order what you want when you want it.
Pros
High-quality meat
Ships beef, pork, seafood, and chicken
Great for gifts
Cons
Only a subscription service
Low cut variety
(Best Taste)
Texas Roadhouse Ribeye steaks are aged to perfection. The flavorful steaks also have an ideal amount of marbling that makes them ideal for smoking and other slow cooking methods. When cooked low and slow, these steaks will melt in your mouth.
Texas Roadhouse's steaks are individually sealed just like Porter and York and arrive in a styrofoam cooler that is packed with dry ice to preserve their quality. Additionally, the steaks come in two sizes, allowing you to select for yourself the size of steak you would like to enjoy.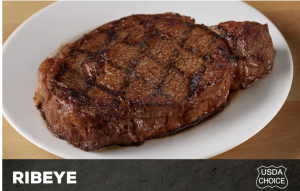 Pros
Each order includes four flavorful steaks of 12 ounces
They are tender and marbled
The steaks are individually sealed
Cons
These steaks aren't quite as tender as others on the list
It may take a bit of expertise to get these steaks cooked to perfection.
(Best for a Crowd)
If you want to buy steaks made from pure beef without any additives, the New York Strip steaks from the brand Feed the Party are the way to go. These steaks are known for their excellent texture and tenderness, and they are guaranteed not to contain any harmful additives.
These steaks are individually sealed and arrive in custom packaging shipped to your door. Because they arrive fresh, you can begin cooking immediately and no defrosting is needed.
Pros
Delicious steaks with a fantastic flavor
The steaks are from grain-fed animals and individually sealed
Pure beef of animals born and raised in the US
Cons
You have to order a lot of steaks, so this brand may not be worthwhile for smaller households.
(Most Decadent)
The collection of steaks from Kansas City have been aged up to 28 days and are some of our favorites because of how easy they are to cook. Plus, unlike other brands, you can choose from several cuts when you order, including boneless ribeye steaks, strip steaks, porterhouse steaks, sirloin steaks, and supper trimmed filet mignons.
The steaks can be seasoned as desired; but can be a bit boring on their own depending on the cut you order. But if you are down to make a few seasoning mixes, the Kansas City Steak collection is the way to go!
Pros
A set of flavorful steaks for different meals
The steaks are simple to prepare
You have your selection of cuts
Cons
Not for beginners–Ordering the wrong cut for your meal can be disastrous if you aren't familiar with steak types and cooking methods.
Is Online Meat Delivery Safe?
Buying meat online can be a safe way to acquire your meat. We say "can be" because you need to vet the company you order from thoroughly before you order.
You need to look at the claimed quality of the meat and how the company plans to deliver it to you. Any online meat delivery should include dry ice or another method of keeping the meat cool while it is in transport.
You additionally need to look at the reviews. The company you are ordering from may claim one quality of meat but deliver another. Take a moment to look at Google reviews to ensure the company does deliver what they promise.
You should also only order from a site that has a customer service line, as this will help you in case there is something wrong with your order. It is suggested that you message the customer service before you order with any questions you may have. Not only will your questions be answered, but you can also gauge how quickly their customer service responds.
If you check on all of these things before you order, ordering meat online can be a safe and rewarding (not to mention tasty) experience!
Is Buying Meat Online Cheaper?
Buying meat online isn't necessarily any cheaper than it is at the store or at a butcher. In fact, looking for cheap meat online is actually a bad thing, as you will be sacrificing the quality of your meat if you are solely shopping for the best deal. And you might end up ordering from a less-than-reputable company.
We recommend not shopping for meat online because it is cheaper but because it is more convenient. It's like a visit to the butcher without having to leave your home. Not to mention that many online meat services offer far more variety in terms of cuts than a local butcher or your grocery store will have.
That being said, there are frequent specials when you order meat online, especially when you order a certain amount. We always recommend taking advantage of package deals or ordering the minimum amount needed to get free shipping–after all, no reason to leave money on the table!
What to Look For in Mail Ordered Steaks?
As can be seen, there are multiple types of steaks to choose from, and they are made from various brands at different prices. For this reason, finding the perfect mail-ordered steaks for you and your family can be challenging.
Flavor
When looking for steaks to purchase online, it is necessary to select ones that have an amazing flavor. That said, you need to determine the type of steaks you would like to purchase since each provides a distinct flavor.
Moreover, the way the retailers ship and handle the product can also impact the flavor of the meat. In general, flash-frozen steaks are better because the freezing process preserves their flavor, quality, until they arrive at your door.
Steaks Without Additives
When you are purchasing steaks online, it is important to ensure that they are all-natural and don't contain any additives that can put your health at risk. It is also important to order meat from a transparent butcher shop that is upfront about the origin of the meat, such as the steak's farm, and whether the beef is of a grass-fed or grain-fed animal.
Size and Quantity
The size of the steaks is another important factor for consideration. If you are serving more people, you will obviously want to order from a company that can provide you more steaks. You also want steaks that are big enough for your family.
Safety
When you are purchasing any food online, it is necessary to make sure that it is safe for consumption and won't put your health at risk. For this reason, we suggest purchasing high-quality American beef made using industry standards regarding quality and safety.
Grading
According to the U.S Department of Agriculture, beef is evaluated in two ways – quality grades when it comes to tenderness, juiciness, and flavor, as well as yield grades for the amount of lean meat on the carcass.
Hence, when you purchase a steak, these are the following options for grading from the highest quality to the lowest: prime, choice, select, and standard.
The prime beef is marbled and made from young beef cattle. This type of beef is suitable for broiling, grilling, and roasting, whereas the choice beef is suitable for dry cooking and comes with less marbling than others. Such beef can be simmered, roasted, and braised.
The select beef is leaner and less tender than the others, has less marbling, and requires marinating for better flavor and texture. The standard beef is usually sold as store-brand meat. So ensure you check the grade depending on how you plan to cook and serve your meat.
Brand Reputation
The reputation of the butcher is a very important factor for consideration. To ensure that you get a high-quality steak with a delicious flavor, you should order steaks from a transparent and highly-reputed butcher that has been operating for several years at a minimum.
To find out more about a butcher's reputation, you can conduct online research and read reviews from other customers to learn more about their products and practices. Such reviews can help you determine which butcher is reliable and what you can expect when you make an online order.
Other Tips for Purchasing Steaks
When you are contemplating which steaks to order online and have them delivered to your home, it is necessary also to pay attention to the following details:
The amount of marbling as this will affect the flavor of the meat.
The thickness of the steak, as this will dictate how long it takes to cook.
The price, for obvious reasons
The shipping method
Best Overall Mail-Ordered Steaks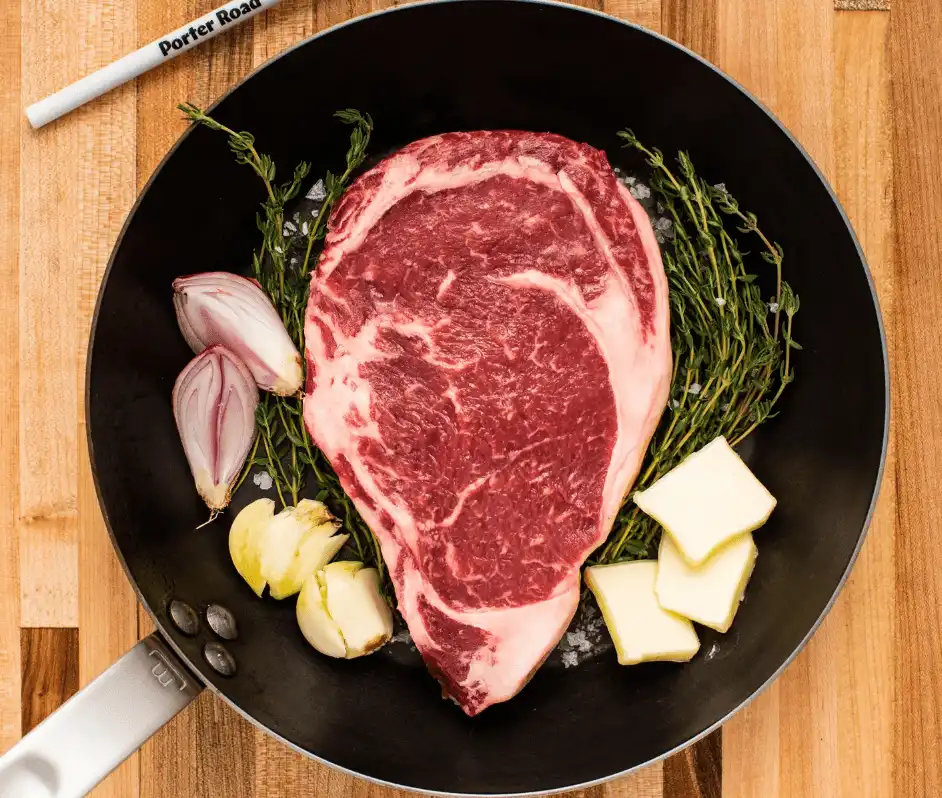 Types of Steaks(And How to Cook Them)
There are multiple types of steaks to choose from, such as ribeye, filet mignon, strip steak, sirloin, porterhouse, flank, hanger, etc. Each can provide an authentic flavor and be prepared in multiple ways.
Ribeye
The ribeye steak is cut from the center of the rib section. It can come with an attached bone or as a boneless steak, and your experience will differ based on what you choose. Ribeye steaks are juicy but can also be slightly chewy, which is something to keep in mind when purchasing.
Ribeye steaks are versatile yet simple to cook but often more expensive than the other types of steaks. Such steaks carry plenty of fat, and marbled meat for an intense flavor.
How to Cook a Ribeye
Because a Ribeye has an abundance of fat, you don't need to marinate the ribeye steak as much as other cuts. Instead, brush it with a crush of salt and pepper.
You can cook a ribeye steak in a pan on medium heat or place it on a charcoal grill for an even better authentic taste. We recommend cooking a Ribeye to a medium temperature to allow the fat to properly melt into the meat.
Filet Mignon
As opposed to the ribeye that is cut from the center of the rib section, filet mignon is cut from the beef tenderloin. Filet Mignon steaks are very tender and have a buttery texture.
That said, these types of steaks don't have a lot of fat, so they might not be as juicy as the other options, and will do better with a light marinade. We recommend a little bit of worcestershire with garlic powder, salt, and pepper, and leave the steak in that mixture in the fridge overnight.
How to Cook Filet Mignon
To avoid drying the filet mignons, it is very important not to overcook them. We recommend serving a Filet Mignon at Medium Rare or Medium as a top temperature.
You can cook a filet mignon in a pan, or on any type of grill. The only thing we don't recommend for filets is smoking as there is no fat to melt into the meat and you will find that it dries out quickly when smoked.
New York Strip Steak
The New York strip steak or shortened strip steak is cut from the short loin of the beef. It is a boneless steak that is rich in flavor with less fat than ribeye steak.
While it is marbled and provides a beefy flavor, it is not as tender as ribeye steaks or tenderloins. You need to be careful with new york strip steak, as cooking it improperly can make it chewy. It is absolutely recommended to marinate strip steak. We recommend using a teriyaki sauce with some garlic, salt, and pepper and rubbing the steak in this mixture. You can even leave it overnight for best results.
How to Cook New York Strip Steak
New York Strip Steaks need to be cooked low and slow and should be put in your slow cooker, oven, or smoker. The entire piece of meat should not be cooked beyond medium rare.
Sirloin
As the name itself suggests, the sirloin steaks come from the sirloin section of the beef. Sirloins offer an enjoyable beefy flavor and are excellent for preparing as an addition to a salad or pasta.
While Sirloins are the most affordable on the list, they are also not very tender and can sometimes lack flavor. You absolutely must marinate sirloin. We recommend a mixture of soy sauce with a little bit of garlic and dijon mustard to help give your sirloin some flavor.
How to Cook Sirloin
This type of steak needs to be cooked with the utmost care to avoid overcooking them as they contain little fat and can easily become dry. While this is the only steak we will let get even close to medium well, it is still best served at a medium temperature.
Porterhouse
These types of steaks are a combination of the strip and the tenderloin separated by a T-bone. The steak also has a fat marbling and offers two diverse tastes as on one side you will taste the tenderloin and on the other side the beefy and juicy strip.
While a Porterhouse doesn't need marinating as bad as some of the other cuts, we still recommend a salt and pepper brushing before you cook it.
How to Cook a Porterhouse
This type of steak combines two fat contents, so it can be more challenging to cook. Hence, cooking such steak on dry heat is recommended until it is medium-rare. In order to cook the steak evenly, you need to ensure that the steak's tenderloin side is on the colder part of the grill.
Final Thoughts on Mail Order Steaks
If you are a cooking enthusiast who likes preparing different recipes, thanks to mail order steaks, now you don't have to travel to the butcher shop or the supermarket to purchase restaurant-quality steaks. Instead, you can look for the best mail ordered steaks online and make an order in a few simple steps.
Just be sure you verify the butcher, and double check the type of steaks you wish to receive before you order. This will guarantee that you receive the steaks you were expecting to cook and can make an amazing meal for your family to enjoy!