Looking to make some tasty beef jerky to snack on? You've come to the right place! Our favorite recipe for smoked beef jerky will give you an incredible, flavor-packed snack that is high in protein and low in fat!
For this recipe we'll be using beef to make our jerky, but there are benefits to using a variety of different meats with yours – check out our guide for different meats you can make jerky with!
How to make Smoked Beef Jerky
When making jerky, you will want to buy top round, bottom round, lifter, or pectoral cuts. These aren't the only cuts of meat you can use, however, as any cut that is lean and full of flavor has the potential to make delicious jerky. For this recipe, we're using top round.
Over the years we've made beef jerky from every cut of meat you can imagine, so keep reading to learn all about what we've discovered and find out which meat is the best for making beef jerky.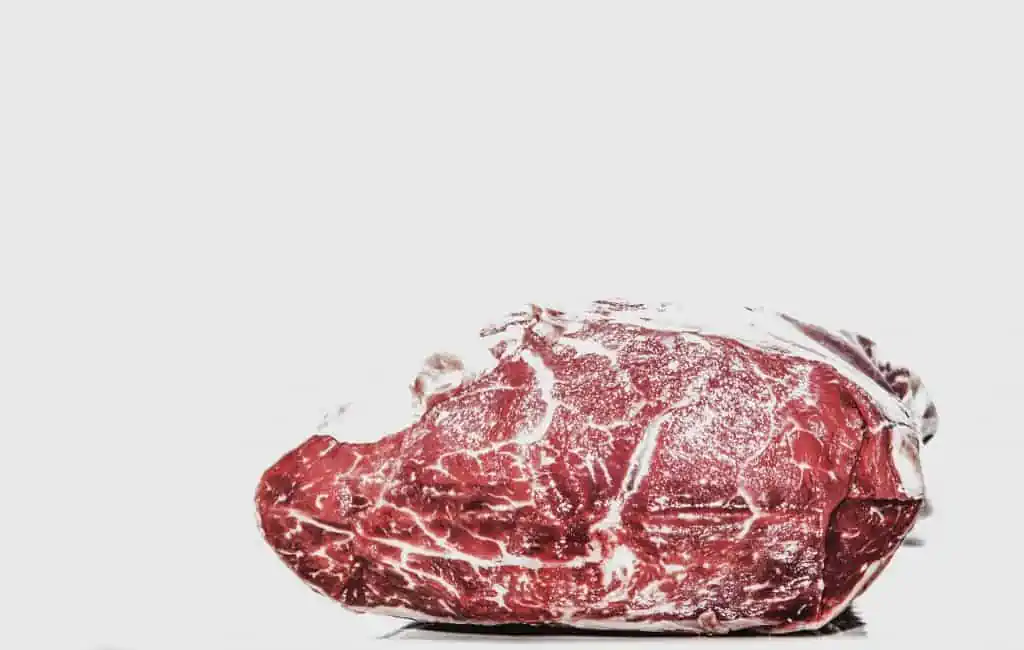 What cut of beef to use for Smoked Beef Jerky
When you are thinking about making homemade beef jerky, there are a few aspects you need to look for in the meat no matter what type of cut you are thinking of purchasing, such as:
Amount of Fat
Marbling
Cost
Read below to find out more about each of these aspects when it comes to choosing a cut of meat to make jerky.
The Amount of Fat in the Meat
Although fatty meat might be preferential for a big grilling steak, you actually need the opposite when making beef jerky. The fat in meat never fully dehydrates, so fatty meat that is dehydrated can spoil quite quickly, which defeats one of the reasons many people make beef jerky in the first place.
As you shop for meat to make beef jerky, you will want to look for the leaner cuts, like flank steak or lifter cuts when you want to make beef jerky that will last a long time. If you are the type of person who eats all their jerky in a day or two, then you probably don't have to worry too much about selecting the leaner cuts.
Marbling (Intramuscular Fat)
You don't want too much fat in a cut of meat used for beef jerky, but you do want some, specifically the fat in the muscles, commonly referred to as marbling or intramuscular fat. This intramuscular fat ensures you will have tender and flavorful jerky.
Lifter and pectoral cuts have a decent amount of marbling to result in a tender batch of beef jerky. Flank steak also has some marbling that can make nice tender jerky, but it comes at a much higher cost.
Cost
Speaking of higher costs, making beef jerky can get expensive. Therefore, many seasoned jerky makers must balance the amount of fat they want in the meat with the price they will pay per pound.
Making beef jerky for a special occasion may call for a more expensive cut, but when you are first starting out, it is better to pick a cheaper variety like a pectoral cut. That way, if you mess up your first or second try, you aren't out an expensive cut of meat!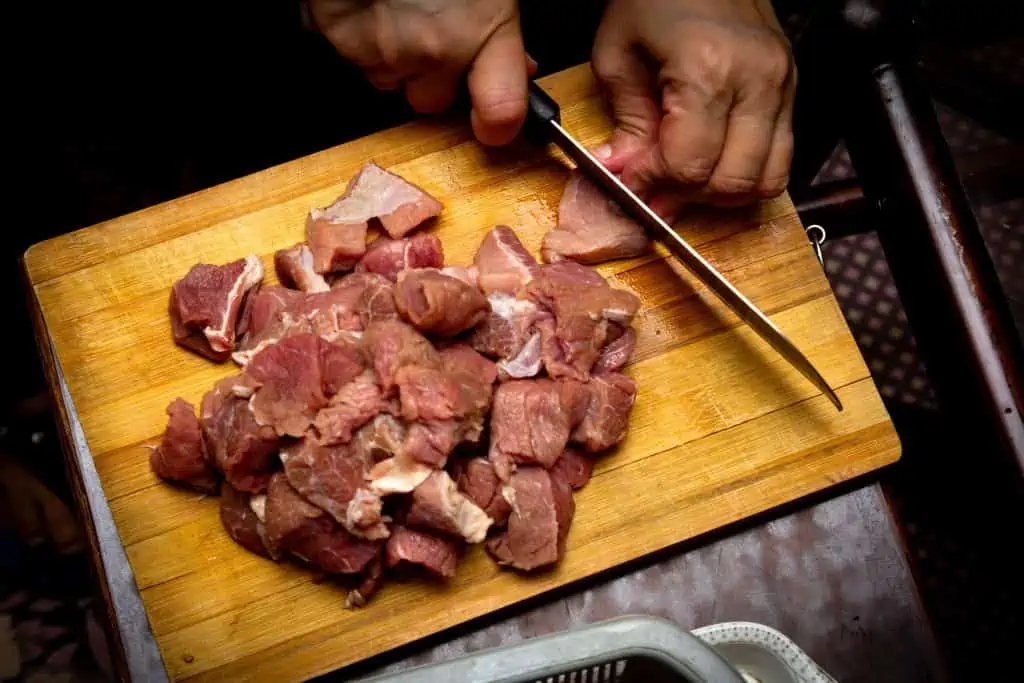 Slicing your meat to make jerky
The first step to prepare your beef jerky is to slice your meat. This can easily be done by hand, but there are a variety of meat slicers out there that can help you ensure consistency in your thickness.
For smoked beef jerky, we recommend cutting your meat in to 1/4″ slices. This will give you a robust piece of jerky that doesn't get too dry or crumbly after smoking. With a sharp knife or automatic slicer set to 1/4″, cut your meat against the grain all the way through. It is important to cut against the grain, otherwise your smoked jerky will come out tough to bite and chew.
When slicing, make sure you also trim away any membrane and fat that you come across. After smoking, these items become very tough and make the experience of eating your jerky tedious. Unlike a smoked brisket where the fat helps to moisten the food and ensure a tender juiciness, the fat on smoked jerky will do the opposite.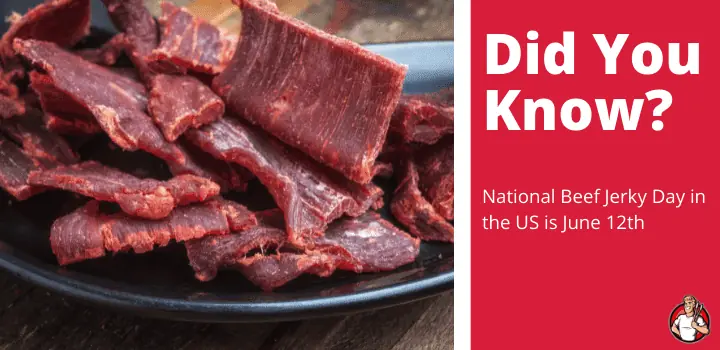 Marinate your Beef Jerky
For our Smoked Beef Jerky, we'll be doing a simple marinade that we've found compliments the smoke flavor beautiful. The jerky marinade is quick and easy and consists of the following ingredients:
1/2 cup Soy Sauce
1/2 cup Dark Brown Sugar
3 tbsp Worcester Sauce
2 tsp Onion Powder
1 tsp Garlic Powder
1 tsp Black Pepper
OPTIONAL: 2 tsp Cayenne Pepper (powdered)
In a bowl, mix all ingredients until completely mixed. If you'd like your smoked beef jerky to have a spicy kick, feel free to add in the optional 2 tsp of powdered Cayenne Pepper.
Now, transfer the marinade and sliced meet into a gallon ziplock bag, ensuring all cuts are submerged in the marinade and as much air has been removed as possible. You can separate into multiple bags if necessary.
We recommend a minimum marinade time of 12 hours (overnight) for the flavor to set in, but always encourage up to 24 hours if your schedule allows for it. Beyond that, there will be only marginal flavor benefit to your smoked beef jerky.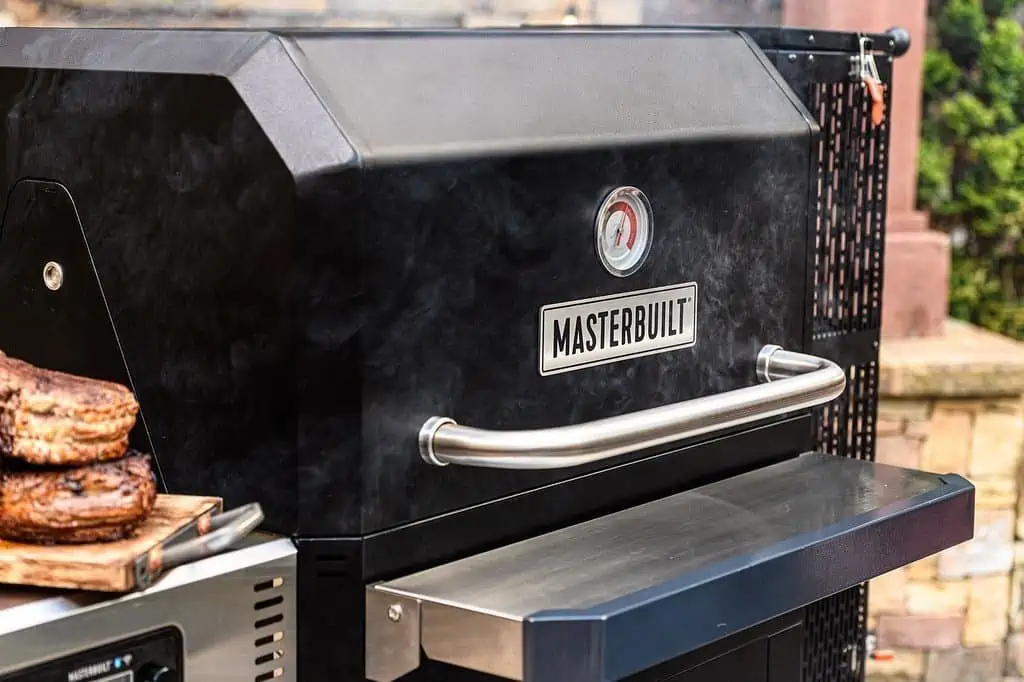 Smoking Beef Jerky
To smoke your beef jerky, you'll first need to bring the temperature on your smoker up to a low, sustainable heat. We recommend that you keep this temperature between 175 degrees and 180 degrees Fahrenheit to get our beef jerky to a safe internal temperature while also dehydrating it at a steady pace. For more information on safely cooking your beef jerky, you can refer to the USDA's guidelines by visiting their website here.
Prep your marinated beef jerky for the smoker
While your smoker is getting to temperature, remove your beef jerky from the fridge and marinade bags. We recommend that you lightly pat the sliced meat with a paper towel when removing from the marinade to soak up excessive moisture on the outside of the meat. It's okay to leave a small amount – it will caramelize when smoking and impart a strong flavor when done! While patting, place your raw jerky meat on a wire or mesh rack to bring to room temperature before placing onto the smoker.
Place the meat on the smoker
Once your smoker is up to temperature, add your preferred wood to smoke over. We prefer light fruit woods, but feel free to use Mesquite, Hickory, or Oak for a heavier smoke flavor!
Place your jerky directly on the grill grates or mesh rack with indirect heat. Typically, you will only need to smoke your jerky for around 2 to 4 hours, but this can vary from smoker to smoker. The best way of testing is to make sure the internal temperature reaches a safe 165 degrees Fahrenheit and the beef become firm with only a slight, springy bend when shaking. At this point, remove from the smoker and place on a cooling rack until it has cooled to room temperature. Store in a zip lock storage bag or airtight storage container and refrigerate (if you have any left!)
Curious about how long jerky lasts after you have made it? Check out our article How Long Does Jerky Last for more information on how long you can keep your homemade jerky!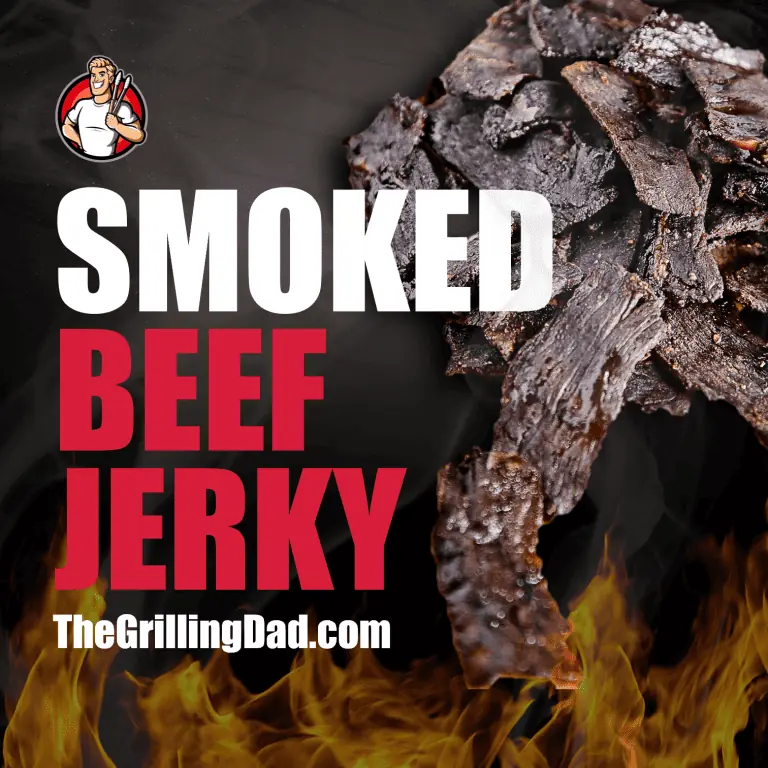 Smoked Beef Jerky
Amazing, lean beef jerky with a rich smoky flavor and packed with protein!
Ingredients
2

lbs

Beef

your choice of cut - we're using Top Round

3/4

cup

Soy Sauce

3/4

cup

Dark Brown Sugar

1/4

cup

Worcester Sauce

2

tbsp

Black Pepper

1

tbsp

Onion Powder

1

tbsp

Garlic Powder

OPTIONAL: 1 tbsp Cayenne Pepper

powdered
Instructions
Using a knife or meat slicer (preferred) slice your beef against the grain into 1/4" slices. Trim away any excess fat or membrane you come across.

Prepare your marinade by mixing all ingredients except for beef in a bowl. Stir until completely mixed.

In a storage bag, add your sliced beef and marinade mixture, ensuring all beef is submerged in the mixture. Remove as much air as possible from the bag, then seal and refrigerate for 12-24 hours.

After marinading overnight or longer, remove your beef from the marinade and use a paper towel to soak up any excess moisture on the outside of the strips. Don't worry about getting it perfectly dry, the smoker will take care of the rest. Place individual beef slices on wire or mesh rack and allow them to come to room temperature while you prep your smoker.

Get your smoker up to a temperature of 175 to 180 degrees Fahrenheit. Add your preferred wood - we like Hickory for a strong smoky flavor, or apple/cherry for a sweeter, more subtle smoke flavor.

Smoke your beef jerky until it reaches an internal temperature of 165 degrees Fahrenheit and has only a slight bend when shaken.

Remove finished jerky from smoker and place on a cooling rack until the beef returns to room temperature. Store in a sealable container or enjoy right off the rack!
Notes
For the heat-chasers, add cayenne pepper liberally to your marinade mixture!
Don't over-smoke your jerky, or else it will become tough and dry. Remove from the smoker while the meat still has a slight give to it but isn't soft or floppy.
Be careful when sharing with friends or family - you may not get any for yourself!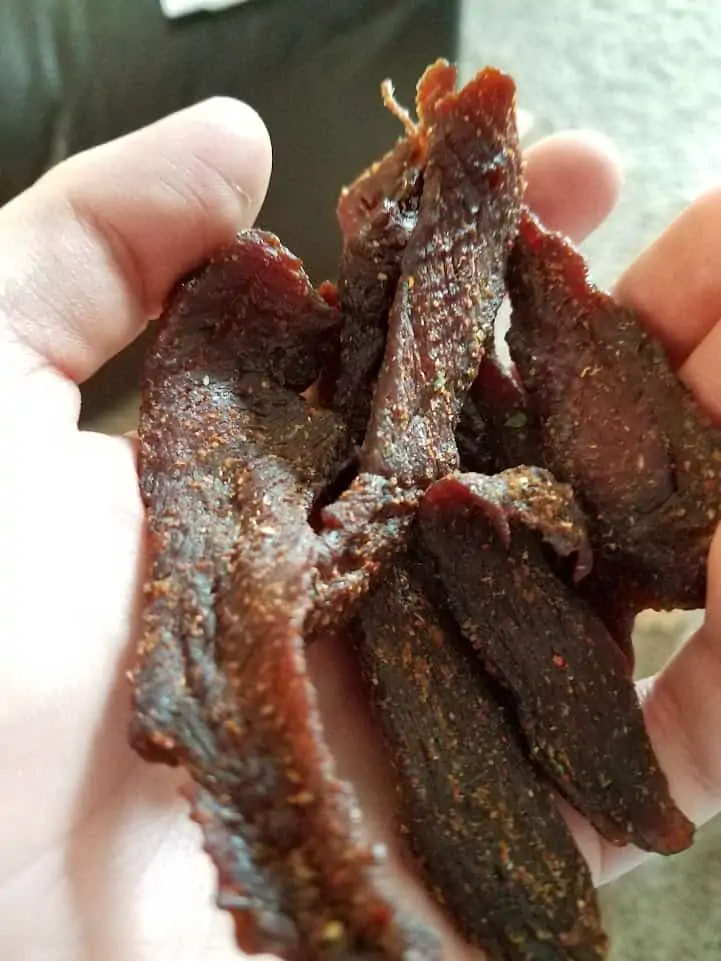 If you want to learn more about grilling, check out these other helpful resources!