Have you decided on an infrared grill and want to make sure you're buying the right one?
Great! You're in the right place.
In this TheGrillingDad.com guide, you'll learn:
What to look for in an infrared grill
What to avoid
Our reviews of the top 5 best infrared grills
Hosting a barbecue with your friends and family can be a relaxing bonding experience from time to time.
However, along with most barbecues comes the cooking process and clean-up time after grilling.
If you'd like to enjoy a more relaxed experience, consider getting rid of your old, propane gas grill. Swap it for the best infrared grill out there.
In this article, I'm going to let you in on the ins and outs of these infrared grills.
You're going to learn what an infrared grill is, how they work, and how to choose the best infrared grill.
Sit back, relax, and get ready for your next barbecue!
Best Infrared Grills Under $500
In a hurry? Check out our top 5 infrared grills! Keep reading to discover more about our top picks.
Comparing the Best Infrared Grills
| | | | | |
| --- | --- | --- | --- | --- |
| Infrared Grill | # of Burners | Cooking Space | Indoor/Outdoor | Price |
| Char-Broil | 3 | 450 | Outdoor | $391.00 |
| Camplux | 1 | 278 | Indoor or Outdoor | $320.00 |
| Barton | 1 | 280 | Indoor | $56.00 |
| Commercial Chef | 1 | 140 | Indoor | $131.00 |
| Gaspro | 1 | 117 | Outdoor | $419.00 |
Our Reviews Of The Best 5 Infrared Grills Under $500
There are numerous types of infrared grills on the market. However, how do you know if you're getting one of the best?
I've listed down five of the best ones that I've found. You can get started by checking these out.
Based on the features, pros, and cons, you'll know exactly which model is right for you!
This is ideal if you're looking for a stylish and durable long-lasting grill.
Crafted from stainless steel, not only does it look great but it performs excellently.
The stainless steel grill is designed to prevent flare ups and ensure that food is consistently juicy. With 450 square inches of primary cooking space to use, it's perfect for a fun backyard cookout.
Not only is it an amazing piece of equipment, it falls inside of the $500 price point.
For these reasons and more, this is our #1 pick as the best infrared grill.
If you want the same technology but in a smaller unit, consider the Char-Broil TRU Infrared Patio Bistro.
Pros
TRU-Infrared Technology
Durable Porcelain Grates
Push to Start Ignition Button
Cons
Built for at-home use, so it's not as portable as other options
If you want a high-end, stainless steel infrared grill that isn't industrial-sized, you can't go wrong with Camplux.
The quality of the grill makes it stand out above the competition.
It may not be the smallest infrared grill in town but it surely packs a punch once it starts cooking food.
It can reach 1600ºF within 2 minutes of turning it on. When it comes to searing meat, nothing comes close.
Its body is made of food-grade stainless steel for added durability.
It weighs about 26 pounds and has dimensions of around 18 x 13 x 12 inches.
The Camplux ranks as our #2 overall infrared grill, but the #1 portable infrared propane gas grill.
Pros
1600º in 2 Minutes
Extremely Portable
Restaurant Quality
Cons
It doesn't have that unique grilling feeling of flipping a steak (may you'll love that)
Looking for an amazing, stainless steel infrared grill that is extremely portable?
Here you go!
Weighing a mere 10 pounds, this is light and compact enough for your next boating and camping trip.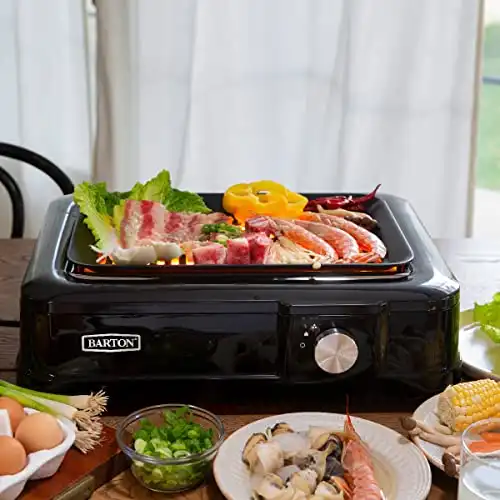 Its unique temperature adjustment system allows it to accurately raise its cooking area temperature to 446 degrees Fahrenheit every time you need to grill your food.
Because of its infrared features, it's less likely to have uneven cooked spots in different parts of the meat.
Pros
Quick, Easy Assembly
Very Portable
Dishwasher Safe Parts
Cons
You will have to preheat the grill for longer than other options
Want to grill indoors? You'll love this option from Commercial Chef
It's portable, affordable, and a solid unit.
Its smokeless technology allows it to generate at least 75% less smoke in a single cooking session.
Some of the meats that I have tried out cooking on this grill include turkey, lamb, chicken, beef, and fish.
They all evenly cook on the grates so I'm not complaining. So far, I have yet to see issues with consistent cooking.
Pros
Ready to Grill Within 1 Minute
Easy Clean-Up Features
Overheat Protection
Cons
The cooking surface doesn't allow for those deep, dark sear marks
It's a bright cooking surface, which makes it tough (at first) to see when your meat is done
Looking for something to impress your friends on steak night?
Look no further than Gaspro!
This grill's aluminum grates are coated to ensure that the food will not stick to the surface.
This ensures that the fat will be adequately separated while you're cooking the meat.
While it's a bit smaller than some of the others on this list, it really will make amazing steaks. It comes with one rack but you can definitely purchase another and double your cooking space.
You can turn this unit on or off with the touch of a few buttons.
Pros
Specialized Heat Reflectors
Set Up Within A Minute
Also a cast iron griddle
Cons
It only comes with one grate, putting it on the small side. A second grate is necessary for large crowds.
What Are Infrared Grills?
As the name suggests, infrared grills feature grates that operate on an infrared system. This system generates heat for the grills.
It's different from convection or radiation technology in the sense that it can produce higher temperatures than these two. This has been backed up by the Institute of Culinary Education.
The higher the overall temperature of the grill, the greater the amount of infrared energy needed to operate it.
Some grills are designed to work with other systems for the ignition and the actual cooking process.
Several grill models are equipped with gas burners under the infrared grates for further efficiency of the entire system.
This makes the stainless steel emitters activate the infrared energy and transform it to heat that is eventually used for cooking.
Other companies designed their grills and paired them up with ceramic tiles in place of steel emitters. This is a better choice for those who don't want to cook at higher temperatures. This is also ideal for those who want their food cooked through but not toasted.
Read More >> Best Campfire Cooking Kits
What Are the Different Types of Infrared Grills?
There are various types of infrared grills to choose from based on your cooking needs.
They are mostly classified according to their heating systems.
TEC System
This type of infrared grill is named after the company that invented and developed the system.
Since the release of their pioneer models, they've managed to develop different models with wider temperature ranges and capacities.
Grills under this classification are usually balanced. Even if the range is not as extreme as the other types, it makes up for it by ensuring that there are lower chances of having unevenly-cooked food.
This also means that there are lower risks of having flare-ups in the future.
Heat Emitter System
This type of grill produces heat from the burners. These burners are made of stainless steel tubes.
The core of the heating system relies on the heat conduction system for efficient heat transfer.
The emitting panel receives the heat once the burners reach the optimal temperature for heat transfer.
Among all the infrared grills that I will present in this section, this seems to be the most affordable one, which infraredgrill.org agrees.
However, it also means that you cannot achieve temperatures as high as the other types listed here.
Ceramic Burner System
Go for this type of infrared grill if you want to cook using high temperatures and want the seafood to be ready in a few minutes.
This is the best system with different types of grilled fish. If you love seared meat, this is also a great choice.
The main downside in going for this system is its lack of versatility when it comes to available temperature ranges.
Therefore, this is suitable for you if you're mostly grilling fish and you don't have the time or the interest to experiment beyond that.
Combination
This is a cross between the infrared grilling system and the traditional grilling method. This type usually has a couple of infrared plates only.
The rest of it is similar to the conventional cooking system.
How Do Infrared Grills Work?
Cooking using this type of grill is like raising the temperature of a metal box using a burner underneath. These grills work through heat reduction around it.
The hot air is then concentrated around the grill and the immediate area around this. This makes it easier to heat the entire system and become sufficient to cook any type of meat.
It also significantly reduces the risks of ending up with dried meat.
Because the heat is concentrated outside, the outer part of the meat will be seared and grilled until it's crispy but not tough.
On the other hand, the inner part will remain soft and tender but not undercooked.
In other words, the cooked meat will remain juicy and flavorful on the inside but well-cooked on the outside.
Imagine it as the reflection of light except that you need the heat instead of the light.
When the sunlight is reflected off the surface of the water, the overall temperature of the water increases. This is the reason that you usually get sunburnt even if you stay in the water for an entire sunny day.
In essence, this type of grill cuts the total cooking time in half regardless of the meat you're working on.
For example, if it takes you around 20 minutes to cook a slice of specific meat using a traditional grill, you will only need around 10 minutes to get this done on a good infrared grill.
Read More >> How To Grill A Frozen Steak On The Grill (Step by Step)
What To Look For When Buying The Best Infrared Grill Under $500?
When looking for the best grill for you out there, you need to determine why you're getting an infrared grill in the first place.
If you're a beginner and have no idea what to get and what to check for, here are some things to get you started:
Cooking Time
You'll want a grill that will cook in the shortest time possible.
At the same time, you want to balance this out with temperature settings that will not undercook or overcook your food.
Consider the types of meat that you often cook.
If you're cooking relatively soft meat, you could go for the grill that cooks in the shortest possible time.
If you love slow-cooking meat, you may have to look for other models that will give you a good balance between time and temperature range.
Dimensions
If you're mostly at home and don't prefer going on camping or boating trips, you should go for the stationary grills.
These are usually bulky (unless you go with a portable option) and are meant to stay in one place.
Because they're bulky, they usually have a larger working area as well.
On the other hand, if you plan to have a barbecue on your next camping trip, go for smaller grills. They provide the convenience of bringing them along with you.
In exchange, you have to settle for a grill with limited functionalities compared to the bulkier ones.
Cooking Area
Having a larger cooking area means going for a larger grill.
While there are relatively large grills that you can carry around, you have to do some research to check for other factors such as weight and the types of functions that the grills can provide.
Maintenance
Regardless of the size and functions that it gives you, this should be considered as one of the most important aspects to look for.
Is cleaning it after using it too much of a chore for everyone?
Are the parts durable enough to last at least a few years?
These are just some of the questions you need to ask before you circle in on a specific model.
Stainless steel will make clean-up and general maintenance much easier. Consider stainless steel when choosing the best infrared grill.
Cost
This doesn't mean that you have to go for the lowest price available on the market.
Aside from this, check out the reviews and see if the price point of the grill model justifies the rest of the features included with it.
While some models are very much cheaper than the rest, some of these are either short-lived or of low quality.
Therefore, you have to diligently do your research to make sure that you don't fall victim to these products.
Are Infrared Grills Worth It? (Should You Buy an Infrared Grill?)
You should consider getting an infrared grill if you want to grill using higher cooking temperatures that you can only get from an infrared grill.
If you love eating food like tuna steak, this is the perfect grill for you because it can heat higher temperatures easily.
At the same time, you only have to spend a short amount of time cooking the meat so you can move on to cooking the rest of your food.
If you need to cook using a lower temperature, this is also an option if your model has precision control settings. All you have to do is to use the dial and adjust to your desired intensity.
Another advantage of this type of grill is it's easy to preheat. This eventually translates to shorter grilling time and more time for the rest of the things that you need to do, including relaxing.
If you're worried about eating dried-out meat because of the insane range of temperatures, fret not.
Grills like this concentrate a limited amount of heat around the outer part of the meat.
Therefore, most of the heat doesn't seep through to the inner parts of the meat. This ensures that you can easily retain most of the flavor and the moisture on the inside.
Infrared heat cannot easily break through the moisture barrier of the meat.
Therefore, the heat that it receives on the inside is gentle. This encourages the juices of the meat to remain inside.
Infrared Vs Gas Grills?
The biggest difference between an infrared grill and a traditional gas grill is the temperature.
Most traditional gas grills will not exceed 600ºF, while many infrared grill options can quickly get to 800ºF surface temperature.
Also, infrared grills don't heat the air around the meat. It heats the grates, which heat the food. For that reason, infrared grills are much more efficient at cooking meat.
Read More >> Top 5 Best Gas Grills Under $300 (2022 Review)
What are the Benefits of Infrared Grills?
Various aspects can answer this question. Here are some of them:
An infrared grill has a wider range of temperature settings. This makes it easier for you to adjust should you need to cook different types of meat on one occasion.
Setting this up or preheating is much faster than the traditional type. Therefore, it cuts your preparation time in half.
As for heat distribution, infrared grills are much more efficient because of the way they concentrate heat on the cooking surface. This is also why it's easier to achieve evenly-cooked meat using this type of grill.
When it comes to cooking with any type of grill, keep in mind that safety is also essential.
Learn More About Grilling
If you want to learn more about grilling, check out these other helpful resources!