Are you tired of the same old s'mores routine every time you go camping? Do you want to elevate your campfire cooking game beyond burnt hot dogs and canned beans?
Then you're in luck, because today we're talking about the best campfire cooking kits that will make you feel like a true wilderness gourmet. So gather 'round the campfire and let's get cookin'!
In this TheGrillingDad.com guide, you'll learn:
What to look for when buying a campfire cooking kit
Most common problems
Our top 5 picks
And much more!
Cooking over an open fire is one of the most enjoyable and satisfying parts when going on a camping trip. Finding the best campfire cooking kit to make the experience fun and easy is no walk in the park, though.
Most of the time, trial and error is the only way to find out which cooking sets work and which ones don't. It's either that or just reading online buyers' reviews — which, while helpful, isn't without its difficulties.
That's where I come to your rescue. I've tested almost two dozen campfire cooking sets in my quest to find the best one and to help my fellow camping enthusiasts spend their hard-earned money on high-quality cookware.
I am well aware that we have different needs and different criteria for what makes the best campfire cooking kit truly the best. So, I've made a list of the 5 cooking sets, with each one the best for different cases and campers.
Sit tight, relax, and join me as I dive into the best campfire cooking kits. Let's get started!
5 Best Campfire Cooking Kits
In a hurry? Here are my top picks for the best campfire cooking kits:
My Reviews of the Best Cooking Kits for Campfires
Best Overall Campfire Cooking Kit: Stanley Base Camp Cook Set for 4
Best Overall
This Stanley Base Camp Cook Set for 4 has practically everything you need for camping, barring a few non-essentials. This includes a three-ply frying pan, 3.5-liter pot, and all the utensils and flatware for serving and eating the food you cook.
It even comes with a vented pot lid for easy straining, a heat-resistant trivet, and a cutting board, which aren't in most campfire cooking kits.
And since the set is stainless steel, it can be used directly over firewood without any trouble.
Perhaps the only con to this awesome set is that there's no kettle or pouch for all the utensils. However, the pot takes care of heating water while the locking bungee keeps all equipment in place.
If you love camping with your family or a group of friends, as I do, then you'll love this set just as much as I did. Yes, it could be improved, but at its price and features it offers, it's already a winner in my books.
Material: Stainless steel
Storage Bag: None, but it nests and has a locking bungee
Best Premium Kit: Bruntmor Cast Iron Kit
Best Premium Kit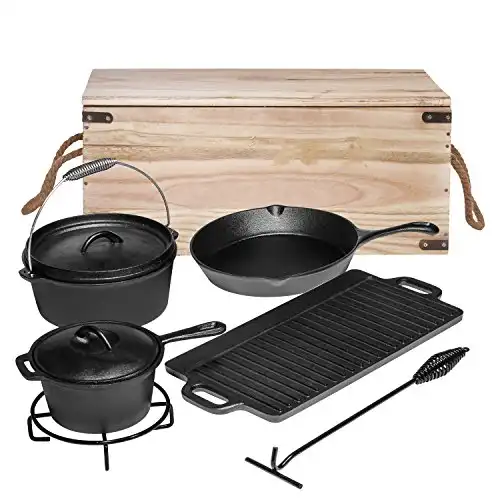 If budget isn't a major consideration in your search for the best campfire cooking kit, then I highly recommend the Bruntmor Pre-seasoned Heavy Duty Cast Iron camping cooking sets.
This particular set comes with seven pieces, including a frying pan, skillet pan, Dutch oven, saucepot, and reversible iron griddle. The extra-large and deep skillet pan, in particular, is perfect for group outings and cooking large meals to share with everyone.
It even includes a heavy-duty vintage-style carrying box for storage and aesthetic purposes. When out camping, the box can double as a seat or prep table.
There are numerous benefits to using cast iron cookware when camping — they spread heat evenly, come pre-seasoned, and work perfectly on all cooktops, from open fires and gas ranges to even induction and electric stoves.
Cast iron is an insanely durable material, making this kit a great option for camping. At the same time, though, the cast iron means it will be quite heavy so be mindful of that.
Material: Cast iron
Storage Bag: None, instead it comes in a wooden box
Best Budget Kit: Bisgear Outdoor Cooking Set
Best Budget Pick
Camping on a budget is possible, especially with the Bisgear outdoor camping cookware mess kit set. For less than $30, you get high-quality equipment, including a pot, frying pan, kettle, plates, utensils, cleaning supplies, and more.
If you're splitting the costs with your partner, that's less than $15 for each of you!
The anodized aluminum makes the cookware not only safe but also quick and easy to clean. They share the same non-stick quality of cast iron but not the premium price. Don't let the premium look of the cookware fool you into thinking they're heavy, either — all the cookware is actually lightweight and easily portable.
Best of all, the items included in the kit stack and nest into each other for easy storage and transport. The kit even comes with a mesh bag and carabiner, which allowed me to conveniently clip it onto my camping backpack.
Material: Anodized aluminum
Storage Bag: Yes
Best for Families: MSR Flex 4 Cook Set
Best for Families
This MSR Flex 4 Cook Set gave my top one option quite a run for its money. The deciding factor that gave the Stanley set its win is mainly the price.
This campfire cooking kit has everything a small family or four-person group might need for a weekend of camping, from the two large anodized aluminum pots to four deep-dish plates. Since the anodized aluminum is non-stick, there are hardly any problems with the cleanup.
Two features I particularly loved about this set are the deep-dish plates (which allows you to do away with bowls) and the two strainer lids. However, it's the four double-wall insulated mugs that won me over.
Like my winning Stanley set, the MSR Flex 4 doesn't have a storage bag but all the components nest into each other.
Material: Anodized aluminum and plastic
Storage Bag: None
Best for Solo Campers: Boundless Voyage Titanium Set
Best for Solo Campers
If you're more of a lone wolf, then the Boundless Voyage Titanium Canteen Mess Kit is perfect for you. This cooking kit comes in a portable bag and only weighs a little more than a pound.
The kit includes two kidney-shaped camping pots of different depths. Both of these nest perfectly with the canteen and are all made of titanium for greater durability. The nested pots and canteen are designed to fit your hip contour and have no sharp corners for better safety.
All the components fit into a handy, camouflage-patterned bag, too!
As a bonus, this solo cooking kit also comes with a vented lid and hanging chain. The two pots have built-in chain handles on the two sides, which makes it easy to hang them over an open fire for greater cooking convenience.
Material: Titanium and canvas
Storage Bag: Yes
Why You Should Buy a Cooking Kit Specifically for Campfires
On the fence about whether you need a campfire cooking kit? Here's why we love ours.
Not only does it make packing for your trip a breeze, but it also means you'll have all the necessary tools for cooking up some delicious grub over an open flame. 🔥
And let's be real, who wants to spend a fortune eating out when you can save some serious cheddar by cooking your own meals?
Plus, there's something undeniably satisfying about cooking naturally over a campfire. Our inner caveman and cavewoman crave it!
So, whether you're a seasoned camper or a newbie to the game, a campfire cooking kit is a must-have for any outdoor adventure.
And if cooking over an open flame is intimidating, consider bringing along a propane-powered flat top grill. Here's our list of the best Blackstone griddles.
Buying Guide: What To Look For When Buying a Campfire Cooking Kit
We think it's safe to say that sitting around the campfire is what people look forward to the most when camping. It's a quintessential camping experience we can't leave out, no matter how camping practices change (glamping, anyone?).
Perhaps the only classic camping activity that beats sitting around the campfire is cooking on it and gathering around to eat with our friends, family, and new acquaintances.
Good food always brings people together, after all.
All that just means to say that campfire cooking is a serious business. It's not only because of the feelings and emotions it captures. After a long day of hiking and trekking, we need a lot of good, hot food to fill our stomachs and recover from all the activity.
As such, cooking is one of the most important considerations when preparing for a hiking or camping trip. We not only need something to eat — we need to have the tools to cook and eat it with.
Here are the qualities you should look for when buying a cooking kit for camping:
Quality of the material
How much it weighs
How long it will last
How easy it is to clean
Quality of the Material
An important factor in determining the best cooking kit is the material it is made from. Its ability to cook food, its ease of cleaning, and its weight will all be affected by the material of the cookware.
Cast iron, stainless steel, and aluminum are the most common materials used. All of which have their own pros and cons.
How Much it Weighs
According to your camping style, the weight of the campfire cooking kit matters. The weight of your backpack can make a big difference if you are backpacking.
However, if all you have to do is take the cookware from your RV to the campfire, weight does not matter as much.
How Long it Will Last
Cooking kits for campfires are subjected to a lot of wear and tear. It doesn't matter whether they're sitting on a hot campfire or getting knocked around in a car, they need to be able to withstand abuse.
Nobody wants to buy a new kit every year!
How Easy it Is To Clean
Cleanliness is another important factor when choosing a campfire cooking kit. You won't have any fun scrubbing your dishes at a campsite's water faucet all day.
Related >> How To Run a Propane Grill from Your RV Propane Connection
What Do You Need for Cooking on a Campfire?
Our must-pack equipment varies. There are several factors we need to consider when packing our cooking gear. This includes where we plan to camp, what we plan to cook, how many we're cooking for, and much more.
Here are several must-have items to check off when building or buying a basic campfire cooking kit.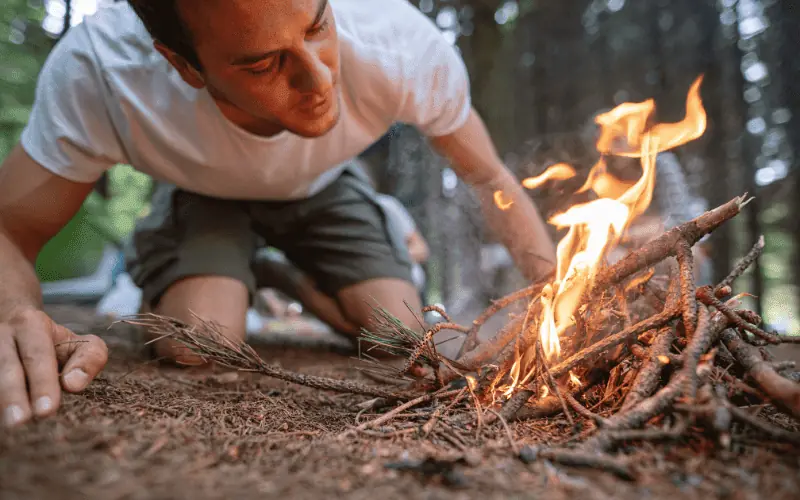 Fire Starters
Make sure you have a fire starter kit. Different fire starter kits have different components. Most come with tinder and other fire-starting implements. These may include:
Matches
Reusable matches
A lighter
Ferrocerium rods, also known as ferro rods
Magnesium flint
Fatwood fire starter sticks
If you're purchasing a fire starter kit, we highly recommend getting one that comes in a waterproof or water-resistant bag.
Read Also >> How to Treat a Burn

Cooking Pan
Some food you can simply cook by skewering and cooking over the open flame, such as hot dogs and marshmallows. However, some foods require a little more cooking and some more equipment.
If you're only bringing one piece of cookware camping, go for a cast-iron pan. These can be placed directly over hot coal, embers, or flames with hardly any damage.
They also conduct heat evenly and retain heat longer. This lets our food stay warm even when taken off the flame.
Additionally, cast iron pans are quite versatile, especially those that are two inches deep or more. These allow you to cook thick meats, stews, and maybe even some soup without much problem.
Keep in mind that cast-iron pans are much heavier than regular pans, though. They can also be quite expensive. If you prefer a lighter and more economical option, aluminum or stainless steel pans also work great.

Cooking Pot
A kettle may work just as well, but a camping pot or billycan offers greater versatility. Not only can you cook a pot roast, stews, and soups, you can also heat a large amount of water for washing up.
Make sure to check whether the cooking pot material is safe to put directly over embers or flames. Stainless steel is a common camping cooking pot material. If you like the even heat distribution of cast-iron pans, you might want to check out Dutch ovens. These are essentially extremely deep cast iron pans with a lid.
Perhaps one downside to bringing cooking pots is their portability. If you're buying a large enough pot for a group, it can become too unwieldy. It can be used to store other cooking paraphernalia but this may make the pot too heavy.

Cooking Utensils and Cutlery
Don't forget to bring the right cooking utensils and cutlery. For many campers, the spatula is a definite must-have cooking tool. It can be used to fry, stir, flip, and serve solid food.
Make sure to bring ladles or spoons if you plan on making stews and soups. If you prefer grilling your food, then your campfire cooking kit needs a great pair of long tongs.
For cutlery, many campers prefer to pack "sporks" to reduce the number of items they need to bring. Another alternative is to find foldable eating utensils. Aside from the spork, make sure you also have a knife to cut up food easier.

Tableware
Camping cups, plates, and bowls are non-negotiable if you're camping with friends or family. While we can eat the food we cooked straight out of the pot or pan when camping or hiking solo, this isn't recommended when with a group of people.
If you're looking to save space in your bag, try to find collapsible or foldable tableware. Another alternative is to use biodegradable, single-use tableware. Paper cups and plates are lighter and more compact, making them ideal for large groups.
Just remember to bring a large garbage bag or two to avoid littering and keep the environment clean.

Portable Camp Stove
Last, but not least — a campfire or stove. Although essential for campfire cooking, we put this last on our list because you do have options regarding how you want to go about it.
First, you can go the traditional route and simply build your campfire grill with stones and tinder or coal. For this, you don't necessarily need a portable stove. Magnesium flint fire starter and coal may be enough.
If you are camping somewhere wet or cold, where access to dry wood for tinder is limited, then it's best to bring your portable camp stove or propane grill.
Read More >> Best Smoker for Beginners
Other Items to Consider Adding to Your Kit
Cooking pots, pans, utensils, cutlery, and fire starters or portable stoves are necessities for campfire cooking. They are far from the only tools or equipment that can make your campfire cooking experience much more enjoyable.
If you want a better or easier campfire cooking experience, consider picking up some of these items as you build your best campfire cooking kit.
Tin or aluminum foil. These can be used to keep food warm longer, create a clean cooking space, or wrap leftover food. It is also useful when cooking fire-roasted potatoes and other vegetables or grilling fish.
Stainless steel skewers. If you are planning on grilling meat, vegetables, or fish, then you need a set of classic, stainless steel skewers in your campfire cooking kit. Unlike water-soaked wooden skewers, metal is reusable and can be used as a fire poker if necessary.
Foldable campfire grill. A campfire grill can be used in two ways. You can use it to grill your food directly over the flames or as a convenient rack for your pots or pans when cooking.
Grilling basket. Despite its name, this grilling equipment does not look like a basket. Rather, it resembles tongs more, with special holders to conveniently and easily hold hot dogs or sausages.
Long Grill Gloves. These gloves may be marketed toward grillers, but they are great for non-grillers, too. Handles of cast iron pans can get hot when cooking, so elbow-length grill gloves are quite useful.
Camping sink. We don't always get to camp beside a water source. A collapsible camping sink makes it easier to wash and rinse dishes, while also helping save some water.

Yes, you can boil water using your cooking pot. However, having a kettle adds to the experience and allows us to make both soups and a hot drink at the same time.

Camping coffee pot. If you are a die-hard coffee lover, you might be interested in adding a dedicated camping coffee pot to your cooking essentials. Although largely similar to camping kettles, a coffee pot generally has a smaller capacity and may also feature a built-in French press for a fresh, roasted cup of joe even in the wild.
Cleaning supplies. If you bring reusable cups, plates, and more, make sure you have the necessary cleaning supplies. Pack more soap if taking an extended camping trip.
Log grabber or fire poker. This simple tool can be invaluable when camping in cold or bad weather. It allows you to help keep your campfire burning and adjust the fire as necessary.
Read More >> Best Smoker Accessories
Common Campfire Cooking Problems
Cooking over an open fire and under the open sky can be an unforgettable experience. Still, it isn't without its ups and downs. Here are three common campfire cooking problems to heed and avoid on your next camping trip.
Bringing an Incomplete Campfire Cooking Kit
The biggest mistake we can make is to forget our cooking kit or bring an incomplete one. Always double-check your campfire cooking essentials when packing your supplies.
It helps to keep all your cooking supplies and ingredients together. If you're buying a new campfire cooking kit, try to look for ones that come with a handy bag or pouch for packing and traveling convenience.
Read Also >> What You Need To Perfect Your Grilling Game
Not Testing Out The Cooking Equipment
Taking your campfire cooking kit out for a test run should be part of any pre-camping prep work. This helps us avoid any mishaps when preparing or cooking our meals out in the wild.
Trying out our cooking equipment before the trip not only helps us become more familiar with how the cooking tools work. It also helps us plan quick and fail-proof camping cookout meals.
Failure to Regulate the Campfire
Campfire cooking may be fun but it is still quite a challenge. Stoking the flames and regulating heat requires more than just turning a dial or knob on our kitchen stove. Trying out your campfire cooking kit also helps you practice adjusting the flames and avoid burning your food.
My best tip is to go slowly but surely: don't add the wood all at once, check on the flames constantly, and add maybe a stick or two at a time to adjust the heat. It's a good idea to read up on campfire safety tips before heading out as well.
Read More >> Best Wood for Smoking Brisket
Campfire Cooking Kit FAQs
Here are the most common questions we get about cooking kits:
Can you use stainless steel cookware on a campfire?
Stainless steel cookware can be used on a campfire. In fact, in some cases, it may actually be preferred.
Stainless steel is great for evenly heating your food, they're durable, and a breeze to clean.
Can you put cast iron directly on a fire?
Cast iron pans can be used directly on a fire. You can even put them directly on top of hot embers or coals without damaging them.
Cast iron is virtually indestructible, unlike alternative materials.
Final Thoughts On Cooking Kits for Camping
When it comes to finding the best campfire cooking kit, many factors and considerations come into play. Moreover, what works best for us, might not work best for you.
That said, I stand by my decision to crown the Stanley Base Camp Cook Set for 4 as the best campfire cooking set for 2022. Not only does it provide me and my family with almost all the necessary cookware, tableware, and utensils, but it also remains within a reasonable budget.
If one campfire cooking set doesn't have everything you want or need, remember that you have the option to customize your kit by adding items you deem essential. All the campfire cooking sets I featured here are available on Amazon, but keep in mind they do sell quickly.