Are you thinking about buying a PitBoss Navigator 550, but not sure if it's the right grill for you? We took the risk on your behalf and have written this review about our experience with the PitBoss Navigator 550.
The PitBoss Navigator 550 is easily one of our favorite grills. It's on the smaller side, perfect for a couple or small family, but made of high-quality materials. It's clearly built to last and does an amazing job both smoking and grilling. But like anything in life, this grill does have its flaws!
Want more details about this grill? Read on to find our honest review. We've got both the good and the bad so you can truly decide if this grill is worth your money!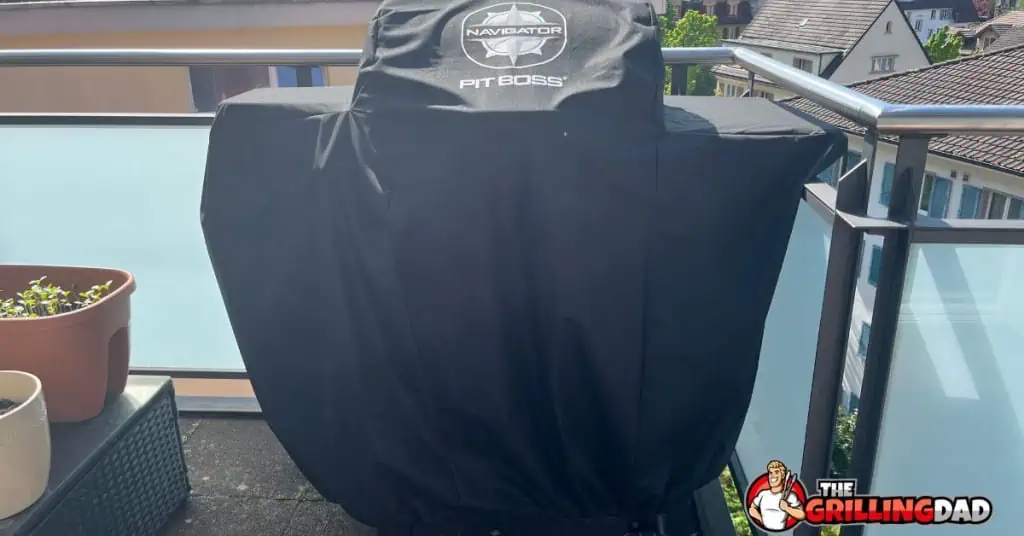 Overview of the PitBoss Navigator 550
The PitBoss Navigator 550 is the smallest pellet grill/smoker that PitBoss has which isn't a travel grill. This grill is small, perfect for balconies or for those who have an especially small yard.
But just because this grill is on the smaller side doesn't mean it isn't a great grill, in fact, it is built of high-quality materials and can still reach temperatures as high as 500°F! And although it won't take up a lot of space, you can still cook a lot on it, including a brisket (we estimate up to 6-9 lbs), ribs, burgers, and a whole chicken.
This grill is part of a larger family of Navigator grills, the 550 is the smallest, but for those who want to get in on the grilling action but have more mouths to feed, there are the 850 and 1150. These grills all have the same features, the only difference is the cooking space, so if you love our review of the 550, you're guaranteed to like the 850 and 1150 as well!
Features of the PitBoss Navigator 550
Constructed of heavy-duty steel, this grill comes with a reinforced leg design as well as a large pellet hopper. It also has the following features:
16lb pellet hopper
8 in-1 cooking options
Side shelf with hooks
Convertible front shelf
Cast iron porcelain-coated cooking grates
Digital temperature dial with space for 2 probes
1 included temperature probe
Grease bucket
Waterproof cover (if you buy from PitBoss directly)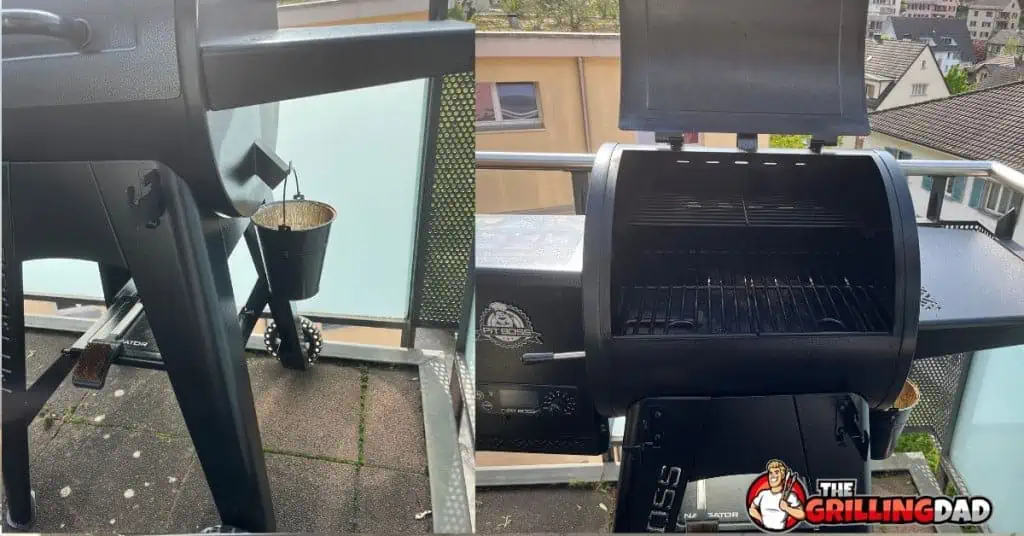 What We Like About the Pitboss Navigator
Excellent Construction: There is no mistaking this grill is made of quality materials. Plus it looks nice and fits in seamlessly with our patio decor.


Digital Temperature and Probe: There is no mistaking what temperature your meat is currently cooking at. Whether you place the included probe in your meat or not, the digital temperature read-out is easy to understand and use.


Preheats Quicky: Need to cook in 10 minutes? Not a problem, your PitBoss Navigator is warm and ready to go within minutes.


Sliding Flame Cover: You control exactly how much air gets into the flame, making temperature control easy. It also allows you to increase or decrease the smoke as needed, and you can cook over flame if you want!


What We Don't Like About the Pitboss Navigator
Temperature Fluctuates: Okay so we are on the 5th floor, but regardless, the PitBoss spends a lot of time bouncing between temperatures. It's still within a 20°F range but can be frustrating when you are trying to time when your meat is done.


No WIFI Connectivity: It's 2023, and we would love it if this grill came with WIFI connectivity. It doesn't, so we usually have to walk outside to check the temperature. An inconvenience but not a reason not to buy.


No Workspace: although we wanted a small grill, even with the front and side table, there isn't much workspace on this grill. It's fine, we don't have room anyway, but if you want to really work right by your grill this isn't the one for you.


Specs for the Pit Boss Navigator 550G
Cooking Space: 542 sq in (400 in main rack, 142in top rack)
Temperature Range: 180°F-500°F
Hopper Capacity: 16lbs
Dimensions: 47" X 48.3" X 34.2"
Weight: 122 lbs
Open Flame Searing: Yes
Fuel: Pellets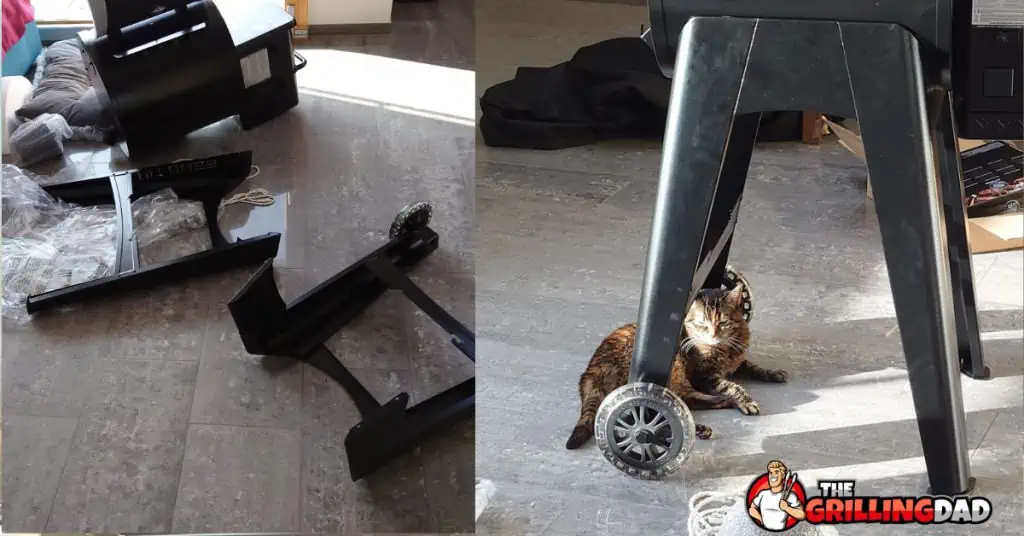 Unboxing and Setup
This grill was shipped to our home in a reasonably small box. I will say the box was quite heavy and it is definitely a two-person job to assemble it. Even with the two of us working on it, it took almost the whole weekend just because we needed to take frustration breaks. Don't get me wrong, assembling the grill isn't hard, it's just tedious.
Overall, it was fairly simple to assemble, just heavy, so make sure you have someone willing to hold large pieces in place while you screw in screws, etc.
We purchased our PitBoss Navigator for our balcony, and it is perfect thanks to its small size. If you do the same, I recommend assembling the grill on the same level as the balcony as this is not a grill you want to be taking up and down stairs.
Seasoning
Everyone grillmaster knows that once you assemble your grill, the next step is seasoning! This is a process where you run your grill with no food for the first time.
The seasoning process was outlined clearly in the owner's manual and we had it done within an hour. It was quick and simple, but I've seasoned grills before. If you've never seasoned a grill, it might take a little more time.
Check out our guide How to Season Your Pellet Grill(10 Easy Steps) if you are a beginner.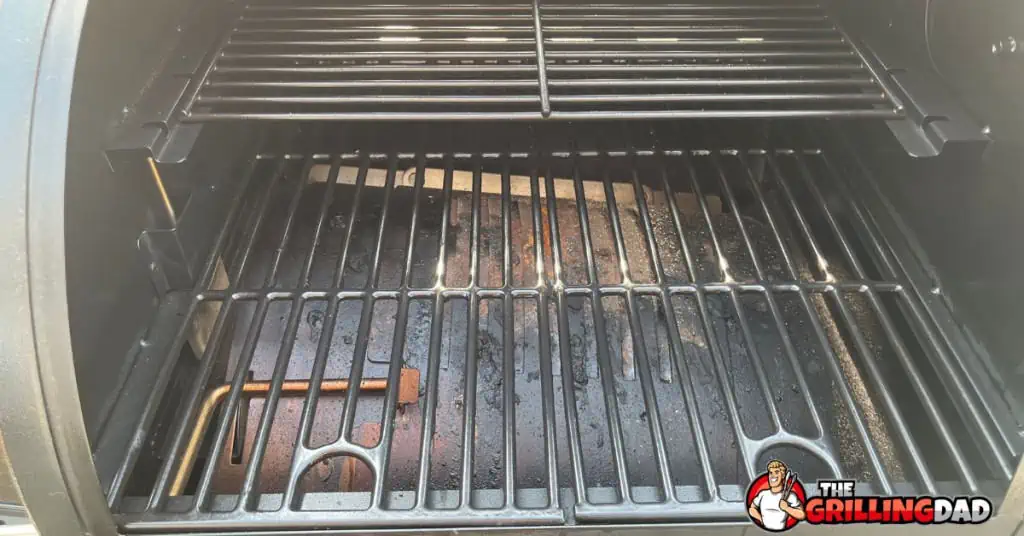 Build Quality
The build quality of PitBoss grills is outstanding, and this grill is no exception. The materials are thick, nice, and look amazing on our patio. We can tell this grill is quality and will last us for years to come.
We especially love the porcelain-coated cast iron cooking surface and the premium-grade exterior. This grill looks nice!
Ease of Cooking on the Pit Boss Navigator
1. Preheat Time
The preheat time is one of our favorite parts of this PitBoss. As long as you have the flame guard open, this grill preheats quickly, and we've been able to get it from 0°F-225°F in just 10 minutes. If you need it to be higher it might take closer to 20, but either way, we are impressed.
2. Meat Probes
The meat probes are the biggest convenience with this grill. It's so easy to put our brisket on the grill, push in a temperature probe, and watch the digital readout on the screen. This means you never need to open the grill unless you want to flip or turn the brisket, it's amazing.
The 550 only came with one probe, but we might buy a second since there are two ports and it would be nice to have one on each side of the brisket in the future.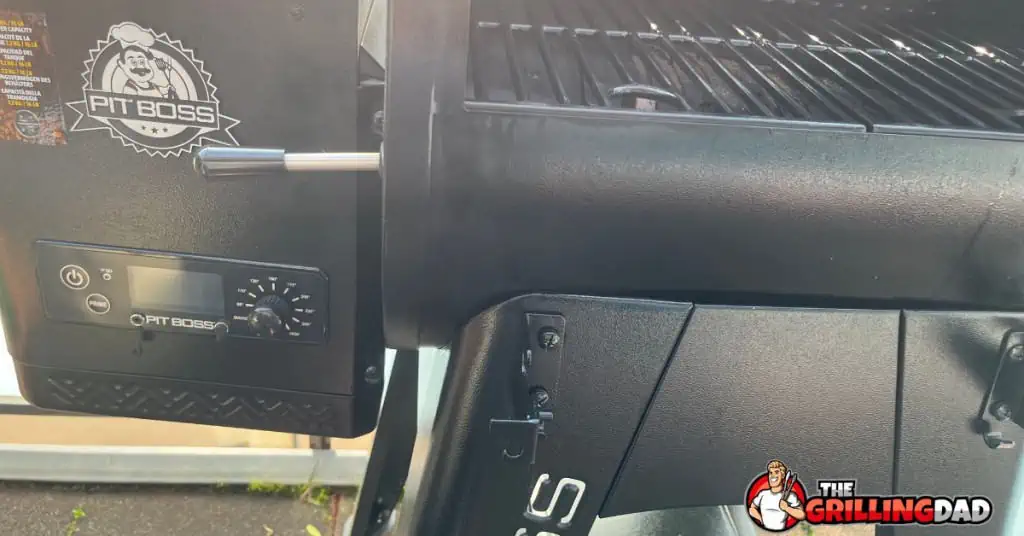 3. Overall Performance
We have grilled/smoked some amazing things with our PitBoss 550. If you want both a grill and a smoker and don't have space on your patio/yard, then this grill is truly the answer. It has all the performance of a larger grill, at a fraction of the size.
While there isn't WIFI connectivity, this grill really does just let you set it and leave it. We did find, however, that you can't go too far because of temperature fluctuations.
4. Temperature
For such a small grill, the PitBoss Navigator holds temperature well, but we did find it to fluctuate quite a bit, even when we didn't open the grill lid. This means when we are smoking something like a brisket, it's very hard to time when it will be done.
Last time we made a brisket, based on the per-pound method we estimated it would take 6 hours. Unfortunately, it took 8 because there was a massive temperature dip right as the brisket hit the stall (we hadn't even opened the grill to wrap the brisket yet) and it just dropped.
It might have been a gust of wind since we are on the 5th floor, but it was still quite annoying. It did get back to temperature quickly, but if we were cooking a larger piece of meat, (our brisket was 4lbs) I'm not sure what would have happened.
5. Pellet Hopper
We absolutely adore the 16 lb hopper, as you can basically leave this pellet grill unattended for 8 hours when you've got a long smoke. It's much larger than other small grills and really makes smoking a breeze.
We have switched between wood pellets and charcoal pellets several times, and emptying the hopper is somewhat easy. The only thing we don't like is the grate over the hopper, it makes it difficult to remedy tunneling when it happens during a long cook.
We keep a wooden spoon nearby to shift the pellets, but eventually, we may end up removing the grate over the pellets because it is a bit annoying.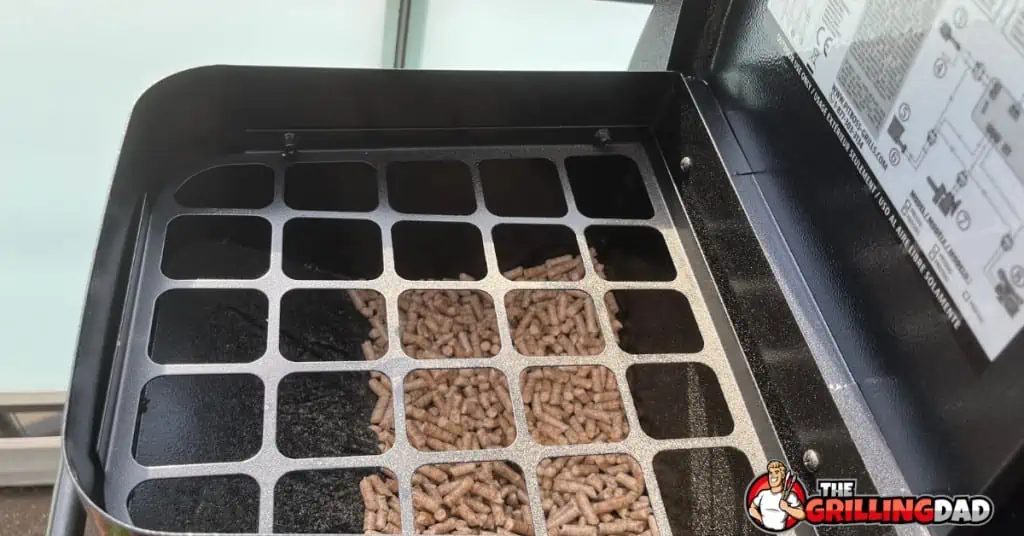 6. Cook Space
Now if you have a family of 7, this grill probably won't be large enough. But we are a household of 2, and even when we have had 3 guests over (so 5 people total) this grill had plenty of space for everything we wanted to cook (including a brisket).
Obviously, we aren't hosting a block party anytime soon and 5 people was the max, but you can load quite a bit into this small grill. We estimate at least 12 burgers if you use your space wisely!
7. WorkSpace/Shelves
This is us being a little spoiled, but seeing as we used to have a larger grill, we miss the workspace on and near the grill. Of course, if you buy something larger than the 550 this won't be an issue, but it's something to keep in mind for those who already don't have space on their balcony or yard–as you will need to do much of the preparation inside before placing things on the grill.
Cleaning the PitBoss Navigator
We won't lie, this isn't the easiest grill to clean, but no smoker or pellet grill is. We purchased the Grill Rescue brush which does a great job with the grates, but we shudder to think of the deep cleaning we will need to perform at the end of the summer.
Based on how difficult it was to assemble, it will not be fun to disassemble and smoke. But we will do it because we want this grill to last!
Extras and Add-Ons
If you're already ordering a grill, it's a good idea to toss in a few add-ons, because, with a nice grill like this, you'll need them!
Cover
One thing we love about ordering this grill directly from PitBoss is that it comes with a cover that fits. If you are ordering your PitBoss from a third party, we highly recommend purchasing the cover along with it.
Grill Brush
To keep your pellet grill in tip-top shape you'll need a grill brush. We recommend the Fire Rescue Grill Brush which is bristle free so no need to worry about accidentally ingesting a bristle.
Grill Tools
If this is your first grill, you might as well add some basic tools to your order. We recommend at least a spatula and grill tongs, but you may also want to toss in a basting brush. Below is our favorite basic grill tool set on Amazon.
Pellets
Don't forget you'll need pellets for this grill to run! We ordered a back of cherry wood pellets and charcoal pellets to go with our PitBoss and let me say the charcoal pellets are outstanding! We toss them in when we are making burgers and steaks to get that delicious charcoal flavor. We use wood pellets for longer smokes like brisket and ribs.
An Extra Shelf
The PitBoss Navigator comes with one moveable shelf, but two places to put it. You can put it below the grill or in front. We've been moving our one shelf back and forth, but it would be nice to have the space of having two of these shelves. If you're a master smoker and are regularly wrapping briskets or basting, a second shelf is a must!
Fire-Proof Gloves
With our order, we didn't order fire-proof gloves, but we wish we had! If you are just cooking burgers and hot dogs you probably don't need them, but we would have loved some when we made our first brisket. The pellet grill gets hot, and being able to grab what you are cooking with your hands is a convenience you don't want to overlook.
Grease Bucket Liners
The PitBoss comes with a grease bucket, but it'll get pretty gross without liners. Add a stack to your order so you're well prepared.
Warranty
All parts of the PitBoss Navigator 550 are covered by a 5-year warranty. This means if anything breaks down during normal use in 5 years, the parts will be replaced.
So far we've had our PitBoss for 3 months and nothing has gone wrong. Either way 5 years is an impressive warranty and we are glad we have it because we love this grill!
Final Verdict
Overall, we love our PitBoss Navigator 550 and we highly recommend it to others who are looking to purchase a pellet grill for home use! It's perfect for making burgers, bratwursts, and the occasional brisket.
If you are looking for a competition grill, this isn't it, mostly because of the temperature-holding issues. But, for its size (balcony size) it is perfect for a family in an apartment who wants to enjoy some grilled and smoked dinners!
It's no Traeger, but at a mid-range price point it is a high-quality, amazing grill and we recommend it if you are looking to buy one!
PitBoss Navigator FAQs
Is the Pit Boss like A Traeger?
Pit Boss grills are surprisingly close to using a Traeger, however, the temperature fluctuations experienced when using a Pitboss are much less likely to happen when using a Traeger. Traegers are much more expensive, though, so it's a bit of a tradeoff. Think of PitBoss as an amazing grill that is just a step down from Traeger.
How Many Years Should a Pit Boss Grill Last?
PitBoss grills are made with quality materials, and when they are taken care of, they should last between 6-10 years.
Are Pit Boss Charcoal Pellets Good?
We love PitBoss pellets, especially the charcoal ones, which give your food that delicious charcoal flavor straight from your wood pellet grill. Even if you don't have a PitBoss, you can still use their high-quality pellets in your pellet grill no matter the brand.
What is the Difference Between ZGrills and Pit Boss?
Both ZGrills and PitBoss are great grill companies, but PitBoss grills tend to be a little more expensive and for a good reason. PitBoss grills are made of thicker and higher quality materials than a ZGrill and are likely to last just a few years longer. If you are on a budget, however, a ZGrill is still a great option.