Want to know how to use your Grill Rescue grill brush? You've come to the right place!
In this TheGrillingDad.com guide, we'll go over:
How to use a Grill Rescue Brush
How to clean it
And much more!
What You Need to Know About Using a Grill Rescue Brush
Here at TheGrillingDad, we've used several different grill brushes over the years, and we can tell you there is none we like quite as much as the Grill Rescue Brush. Not only is it an amazing quality brush, but it is the easiest to use and clean!
Because this brush doesn't have any bristles, you never have to worry about them breaking off and getting into your food. Unlike other brushes, this one is dishwasher safe as well, meaning you never have to worry about having to use a dirty grill brush to clean your grill.
Are you ready to completely change how you clean your grill? Then read on to learn all about how to use a Grill Rescue Brush!
Why Should You Choose a Grill Rescue Brush?
Where do we start? This brush is simply amazing, and now we know why it is listed as the world's best grill brush. Whether you just need to brush your grill clean or actually scrape off stuck on grease, this brush can do the trick!
Not only that, but it's cleaned by steam, meaning you can just stick it in your dishwasher when you are done, and it is all ready to go for your next grilling session.
Grill Rescue is rated as our #1 overall grill brush!
If this hasn't quite convinced you, below are some more benefits of using this brush.
No harmful wire bristles
Easy to clean
Long lasting
Cleans like a charm (using the power of steam!)
You can scrub or scrape, whichever your grill requires!
Lasts for a long time (you can also order replacement heads!)
Related >> How To Clean a Pellet Grill
How to Use a Grill Rescue Brush
Are you ready to use your grill rescue brush for the first time? We'll walk you through all the steps below!
Materials Needed:
Grill Rescue Brush
Bowl of water (large enough that the soft end of the brush can be submerged in water)
A dirty grill!
Optional: Eye Protection
Step 1: Assemble the Brush
Attach the yellow sponge head to the red brush handle.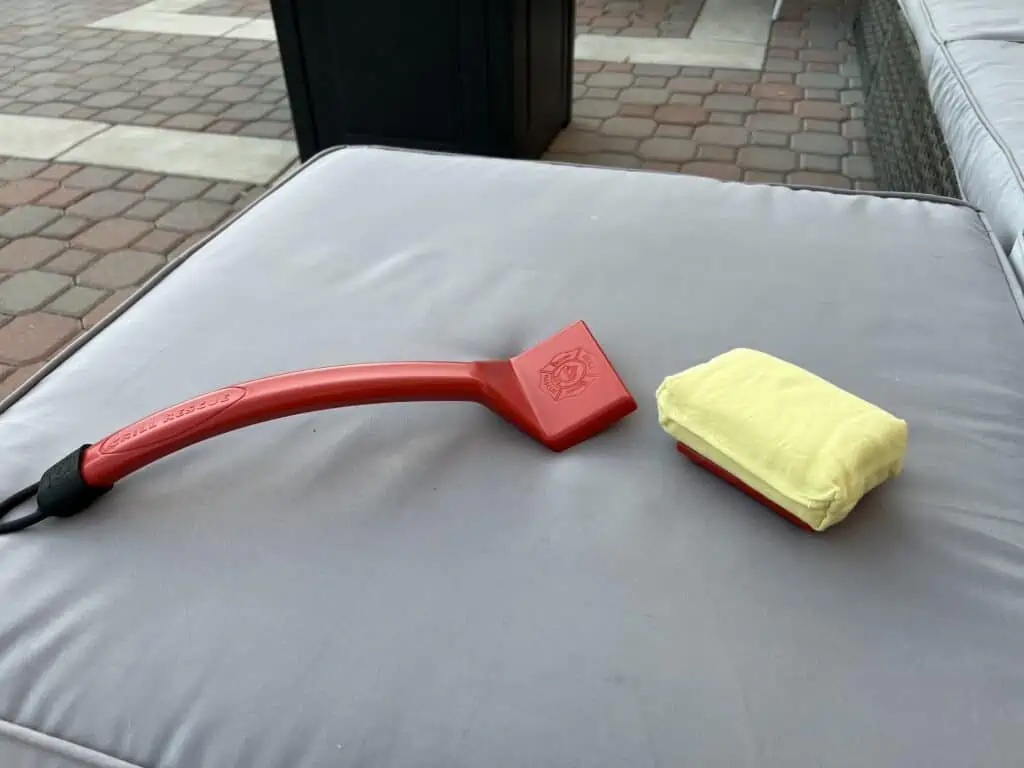 Step 2: Turn the Grill On (if needed)
If your grill has cooled down completely, you'll want to turn it back on. If your grill has just begun the cooldown process, you can skip this part. (Ideally, you want your grill to be at 400°F)
Step 3: Dip the Brush
Dip the yellow portion of the brush into the bowl of water.
Step 4: Scrub
Place the yellow part of the brush on the grill grates and apply pressure as you move the brush up and down. You should see steam coming from the bottom of the brush–this is normal.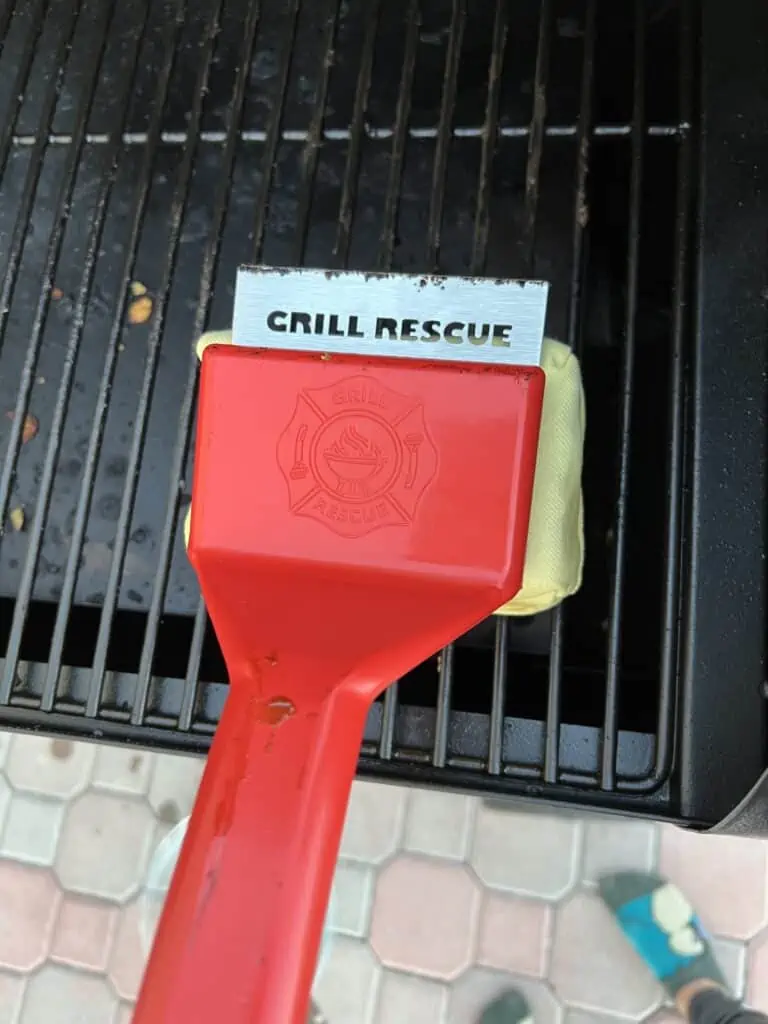 Step 5: Scrape
If your grill has any stuck on grease, tilt the brush towards the metal tip and use it to scrape off the grease. (Eye protection recommended)
Step 6: Repeat
Repeat steps 3 to 5 as needed to finish cleaning the grill. Remember to resubmerge your brush in water periodically to continue cleaning using the power of steam.
Step 7: Clean the Brush
Once you are finished cleaning your grill, pop off the head and put it in your dishwasher. Yes, it's that easy!
How to Clean the Grill Rescue Brush
When we say the Grill Rescue Brush is the easiest to use on the market, we mean it!
When you are finished using it, simply:
Remove the head from the brush
Stick it in the dishwasher
When your dishwasher is done, reattach the head
And now your grill brush is ready to go again!
Related >> How To Clean a Charcoal Grill
Best Overall Grill Brush
Grill Rescue Brush FAQ:
How Long Do Grill Rescue Heads Last?
A grill rescue brush can last from 25-100 cleanings, depending on how dirty your grill gets. It is also best to store your Grill Rescue Brush somewhere away from the elements when not in use, this will help it last longer. Some users report that a brush head can last far beyond 100 uses when used and stored properly!
What is Grill Rescue Brush Made Of?
Grill Rescue Brushes are made of a fabric called aramid fiber which is extremely durable. It is also heat resistant and used to make some types of firefighter gear, which is where the creators got the idea to design it.
Should You Clean Grills After Every Use?
It is best to clean your grill after every use. This will prevent gunk from building up, as well as ensure you get the most uses possible out of your Grill Rescue Brush.
Related >> How To Clean a Flat Top Grill
What is the Safest Type of Grill Brush?
The Grill Rescue Brush is the safest type of grill brush as there are no bristles that can break off and end up in your food. Additionally, cleaning the brush is easy, so you never have to worry about cleaning your grill with a brush that is already dirty.
On What Grills Can You Use a Grill Rescue Brush?
You can use the grill rescue brush on any grill! You can also use it on a flat top or griddle!