Despite your best efforts, you just pulled the ham out of the fridge to find it partially frozen. Can you still cook it? We've got the answer!
In this TheGrillingDad.com guide you'll find out:
If you can cook a partially frozen ham
Tips for cooking it while half-frozen
And much more!
Can You Cook a Partially Frozen Ham?
Sometimes life gets the best of you, especially when you've got a large ham you are trying to thaw in your fridge. It's time to put it in the oven, but you just realized it's still frozen in the middle, can it be cooked?
You can absolutely cook a partially frozen ham, the only thing you need to be aware of is that it will take longer to cook than if you had allowed the ham to thaw properly. You can even cook your ham while it is fully frozen if you desire, but this will take a significant amount of time which is why most people choose to thaw their ham prior to cooking.
Read on to learn more about cooking a partially frozen ham and tips for ensuring yours turns out delicious and juicy.
How Long Does It Take to Cook a Partially Frozen Ham?
The biggest downside of cooking a partially frozen ham is that it takes much longer to cook than a ham that has thawed completely.
The amount of time it takes for a thawed ham to cook depends on whether or not the bone is still in the ham. For boneless hams, you can estimate around 10 to 15 minutes per pound of ham. For bone in ham, the cooking time is more variable, between 15-25 minutes per pound of ham.
If your ham is completely frozen, it takes 50% more time for your ham to cook, meaning it would take 15-22 minutes per pound for boneless ham, and 22-35 minutes per pound for bone in ham.
Related >> How Much Ham Should You Could Per Person?
Because your ham is only partially frozen, your cook time will be somewhere in between these ranges depending on how much the ham is thawed and how large it is. You will want to use a temperature probe to check that your ham is heated all the way through before you serve it.
We recommend starting with a rough estimate of 15 minutes per pound on a partially frozen ham. Check back at this time with a temperature probe, then allow the ham to cook more if needed. Results will vary depending on how frozen your ham is.
Ham is pre-cooked, meaning there is no exact temperature your ham must cook to in order to be safe to eat. It is more of a preference and the US government recommends heating your ham to an internal temperature of 145°F for best results. We do recommend, however, that you do check the temperature to ensure you don't pull a partially frozen ham out of the oven to serve to your family!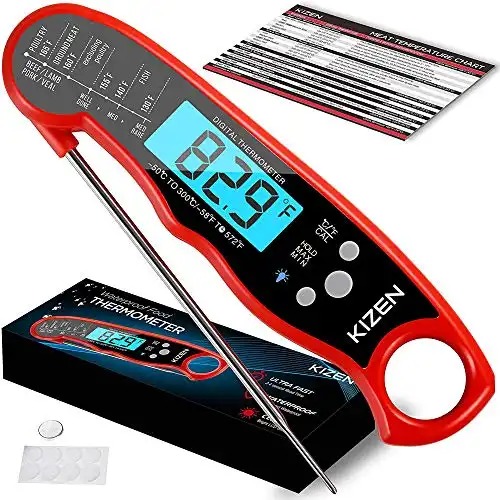 Can You Cook a Fully Frozen Ham?
Just as it is possible to cook a fully frozen ham, there is no shame if you forget to defrost your ham entirely and now want to cook it while it is fully frozen.
Just know that fully frozen ham will take a significant amount of time to cook. You should plan for at least 20 minutes per pound of ham with plenty of time to spare if you have a large or bone-in ham. We also recommend following the tips below to ensure your ham turns out juicy and tender.
Related >> What Is Uncured Ham?
Tips for Cooking a Partially Frozen Ham
1. Get It in the Oven ASAP
While some people may advise you to try to thaw your ham more, the moment you find out it's still partially frozen it is just better to get it in the oven ASAP. Trying to defrost your ham further will take longer than the 50% increase of cooking time.
2. Baste Your Ham
One unfortunate aspect of cooking a partially frozen ham is that sometimes it can turn out drier because the moisture in the meat has been frozen for a long time. While you don't have to baste ham, we recommend it when you are starting with a partially frozen one.
3. Bake Your Ham At 325°F
Because you are looking at a long cooking time, you may be tempted to turn up the heat on your frozen or partially frozen ham. Don't do this as it won't cook much faster and it will just dry out the meat. You can't rush quality when it comes to baking ham and 325°F is the recommended temperature for baking your ham no matter what the defrost status.
Editor's Note: Your ham may have a different recommended cooking temperature printed on the package. If this is the case, follow the temperature recommended on the package over those listed here.
Related >> How To Smoke a Fresh Ham