Are you looking for an easy-to-follow recipe for smoking tri tip?
You're in the right place!
In this TheGrillingDad.com guide, you'll learn:
Ingredients you'll need
How long to smoke it
Step-by-step guide on how to smoke tri tip
And much more!
Tri-tip is a delicious beef cut and when it is smoked, you really bring out the flavors and tenderness of it.
This recipe will have you smoking your tri-tip like a pro!
What is Tri-Tip?
Tri-tip is the lower part of a sirloin, consisting of a triangle shaped roast.
If you purchase your tri-tip from a butcher, it is trimmed and typically weighs 2-3 pounds.
A store bought tri tip that hasn't been trimmed can weigh up to 5 pounds!
Where to Buy Tri-Tip?
Tri-tip is one of the less common cuts of meat to find at your regular grocery store. Instead you will likely need to head to your local butcher. It can help to call ahead and request a tri-tip so they will have one waiting for you to arrive.
You can also order tri-tip online from a butcher like Snake River Farms and have it conveniently delivered right to your front door.
What Size Tri-Tip Do You Need?
Tri tip is a large cut of meat that comes as small as 1.5lbs to as large as 5lbs. We recommend starting with a 2lb tri-tip for your first smoking experience!
Smoked Tri-Tip
Smoking your tri tip will give the steak a delicious, juicy flavor.
Paired with the perfect seasonings and cooking temperatures, this tri tip will quickly become a family favorite.
Follow this recipe or mix it up with your favorite seasonings and BBQ sauce to create a truly unique smoked tri tip.
The three steps to creating the perfect smoked tri tip are seasoning, smoking, and searing.
Master these three key steps and you'll be on your way to the tastiest, juiciest tri tip your taste buds ever touched.
Smoked Tri-Tip Ingredients
2-3 pound tri-tip roast (silver skin and fat cap removed)
2 tablespoons beef seasoning (or an equal mix of salt, pepper, and garlic powder)
3 tablespoons salted butter
1 sprig rosemary
How to Season Tri-Tip
Seasoning is an important part of the perfect smoked tri-tip.
If it's your first time fixing a tri-tip, you can keep the seasonings simple with salt, pepper, and some garlic powder sprinkled liberally on the meat.
If you prefer a more flavorful meal, you can add some beef seasoning (or even steak seasoning) to your tri tip.
How to Smoke Tri-Tip Basics
You can use whatever smoker or grill you have available but you will need to maintain a consistent temperature of 225 degrees for best results.
The tri tip slowly rises in temperature during this step, ensuring it is cooked thoroughly without drying it out.
Make sure to pull the meat off the smoker within 5-10 degrees of the desired temperature!
Read More >> Top 5 Best Woods for Smoking Tri-Tip
How to Sear Tri-Tip
The final step creates a delicious crust on the tri tip by searing at high temperatures.
You can do this in a cast iron skillet with some butter or directly on a gas grill for those desirable grill marks.
Read More >> Top 5 Best Grilling Tool Sets
How Long Should You Smoke Tri-Tip?
For a medium rare steak, plan about 2 hours for smoking, 5-6 minutes to sear it and an additional 15 minutes to let it rest.
The only way to be sure your tri tip is done is with an internal thermometer so check it periodically throughout the cooking process.
During the initial smoking process, you should remove your tri tip at the following temperatures:
Rare- 115-120
Medium rare- 125-130
Medium- 135-140
Medium well- 145-150
Well Done- 150-155
During the searing process, remove the tri tip at the following internal temperatures:
Rare- 125
Medium rare- 135
Medium- 145
Medium well- 155
Well done- 160
Once it reaches your desired temperature, remove it from the heat and allow it to rest on a cutting board for 15 minutes.
Smoked Tri-Tip Recipe (5 Easy Steps)
Step 1: Preheat
Fire up your smoker or grill and get it to a preheated temperature of 225 degrees.
Step 2: Season the Tri-Tip
Using your favorite beef seasoning (or an equal mix of salt, pepper, and garlic powder), sprinkle the seasoning over the tri-tip so it is completely covered.
Gently press the seasoning into the meat.
Step 3: Smoke It
Place the seasoned tri-tip directly onto the grill grates of your smoker and close the lid.
Check the internal temperature periodically until it is within 5-10 degrees of your desired temperature.
Step 4: Sear It
Once the tri-tip is nearly done, heat a cast-iron skillet over high heat with some butter and drop the sprig of rosemary on the butter.
Place your tri-tip in the hot pan and sear each side.
Plan about 2-3 minutes of searing per side, spooning the butter over the tri-tip as you cook it.
Step 5: Rest, Slice, and Serve
Once it reaches the last desired searing temperature, move it to a cutting board and allow it to rest for 15 minutes.
Now you're ready to slice and serve your smoked tri-tip!
How to Slice Tri-Tip
Tri-tip is best sliced against the grain, starting at the thinner end of the roast. Work your way towards the larger end, cutting quarter inch slices (or larger depending on your preference!)
Cutting against the grain ensures all the juices stay in the meat and that each slice will be delicious and tender.
How to Serve Tri-Tip
Tri-tip is best served sliced, with a delicious pile of homemade mashed potatoes and some steamed broccoli. But, this dish can also be served with any type of potatoes you desire or with BBQ fixings like coleslaw and macaroni salad. You can also serve it with a bun and some BBQ sauce if you desire!
How to Store Tri-Tip
After you have eaten your fill, pack the leftovers in an airtight container and place it in the fridge. Leftover tri-tip is best consumed within 2-3 days of it being cooked.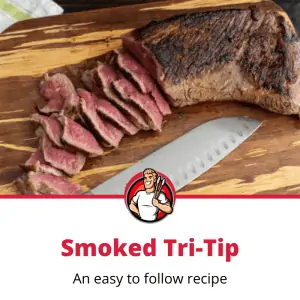 Smoked Tri-Tip
Make your own delicious smoked tri-tip in just 5 easy steps!
Ingredients
2-3

pound

tri-tip roast

silver skin and fat cap removed

2

tablespoons

beef seasoning

or an equal mix of salt, pepper, and garlic powder

3

tablespoons

salted butter

1

sprig rosemary
Instructions
Preheat your smoker to 225°F.

Gently press your beef seasoning into the tri-tip.

Place the tri-tip on the grates of your smoker and smoke it until it is 5-10 degrees from your desired temperature (see the above information).

Remove the tri-tip from the smoker and put it in a pan of hot butter with the rosemary sprig.

Sear the tri-tip for 2-3 minutes on each side. Remove from the pan and let it rest for 15 minutes, then slice and serve!
If you want to learn more about grilling, check out these other helpful resources!