Thinking about buying a Deco Chef Outdoor Pizza Oven? You've come to the right place!
We've tested it out and can tell you all about it!
In this TheGrillingDad.com review, you will learn:
Everything you need to know about the Deco Chef Outdoor Pizza Oven
Pros and cons of this pizza oven
And much more!
Overview of the Deco Chef Outdoor Pizza Oven
Pizza is the number one go-to food in America. Whether it's Friday night and you are looking for something that will please everyone, or you've got a crowd to please, pizza is the way to go.
But it can be difficult to get authentic pizza out of your normal oven, which is why some people choose to purchase a specialty oven just for pizzas. Before you brush off the idea, know that an outdoor pizza oven, like this one by Deco Chef, can not only be used for pizza but also to make several other dishes outdoors.
We love that this pizza oven can reach temps like no other and that it can be used for everything from veggies to chicken. Plus, this pizza oven isn't a permanent installation and can easily be taken down and stored when the season is over.
Not to mention it comes with all the accessories you need to make some great pizza, all for one amazing price.
Read on to learn more about the Deco Chef Outdoor Pizza and whether or not it is right for your family!
Characteristics of the Deco Ched Outdoor Pizza Oven
Pizza ovens are such a niche category of outdoor ovens it can be difficult to know what to expect when you purchase one. Below are all the characteristics of the Deco Chef Pizza Oven.
Most Prominent Characteristics:
Heats to temperatures as high as 950°F
Portable–can be taken to tailgates
Stainless steel construction
Body is 3-layers thick, providing premium insulation
Includes a grilling grate and all accessories you need
Convenience Characteristics:
Packs away small for transport or off-season storage
Removable fuel tray
Lightweight
Temperature gauge
Easy to clean
Additional Characteristics:
Can be heated with lump charcoal or wood pellets
1-year manufacturers warranty included
Best Features of the Deco Chef Outdoor Pizza Oven
There are quite a few things to like about this pizza oven, but here are our absolute favorites!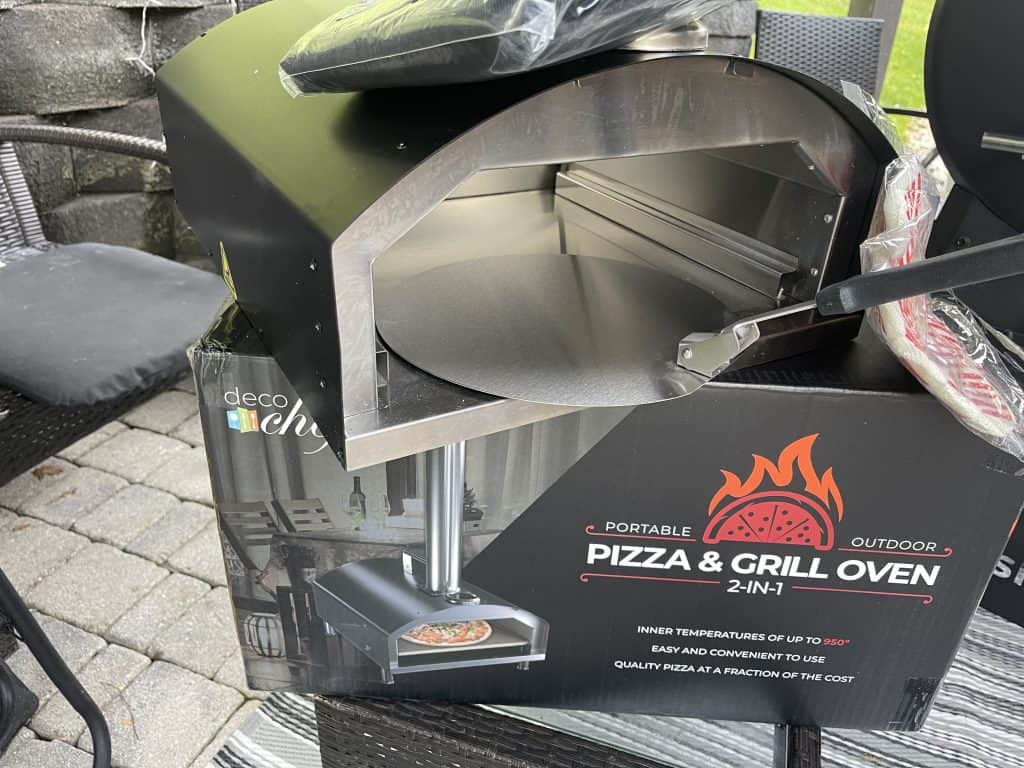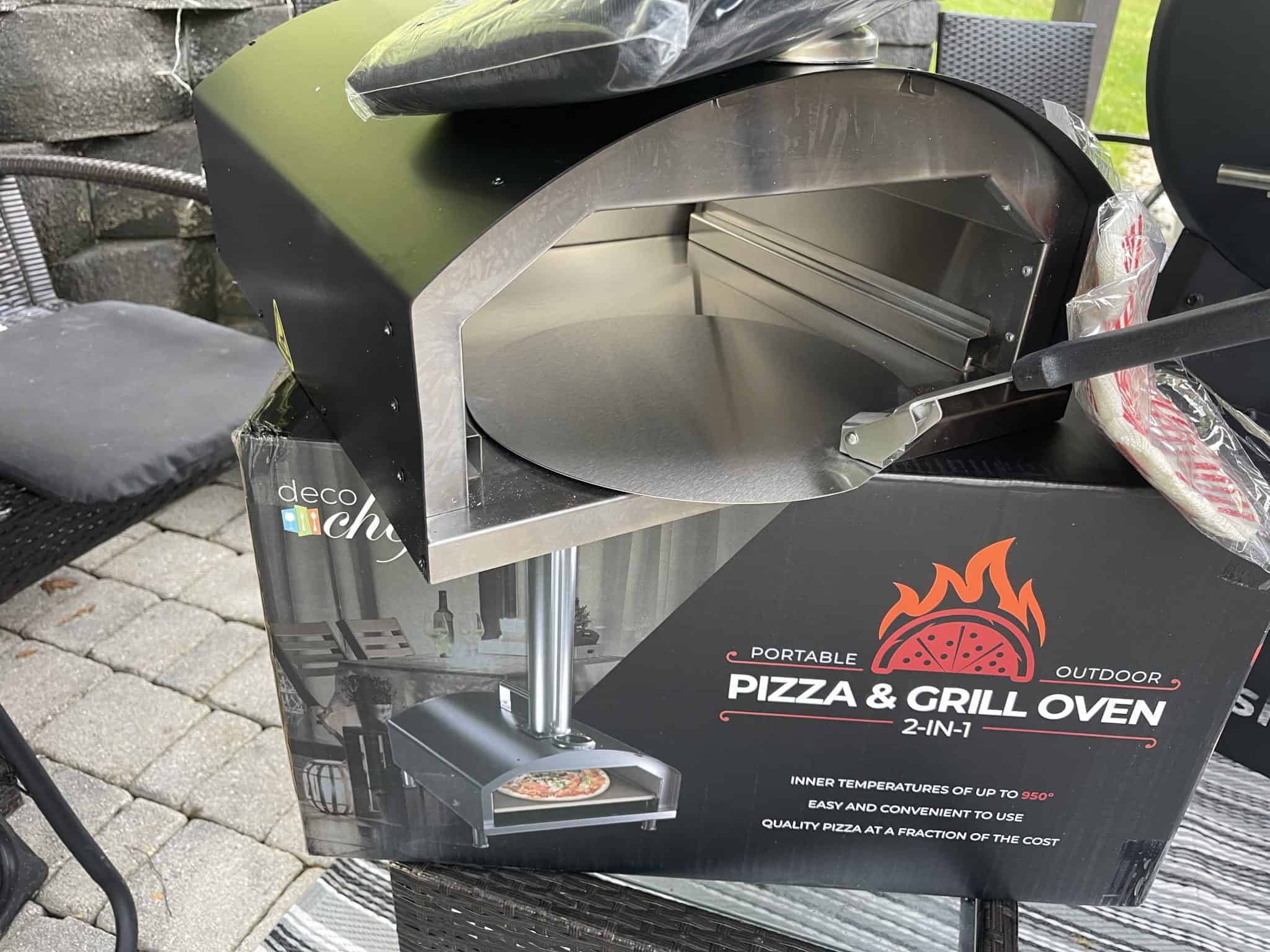 Portability
There is no other pizza oven on the market that gives you this level of portability. Most are large bulky devices that need to become a permanent installation on your patio, that is not the case with this one.
At only 40 lbs, you can easily load it in the back of your truck and take it to a tailgate, especially considering that all of the types of fuel you can use are portable.
When the outdoor season ends, we love that we can tuck this in a back corner and not need to worry about garage space!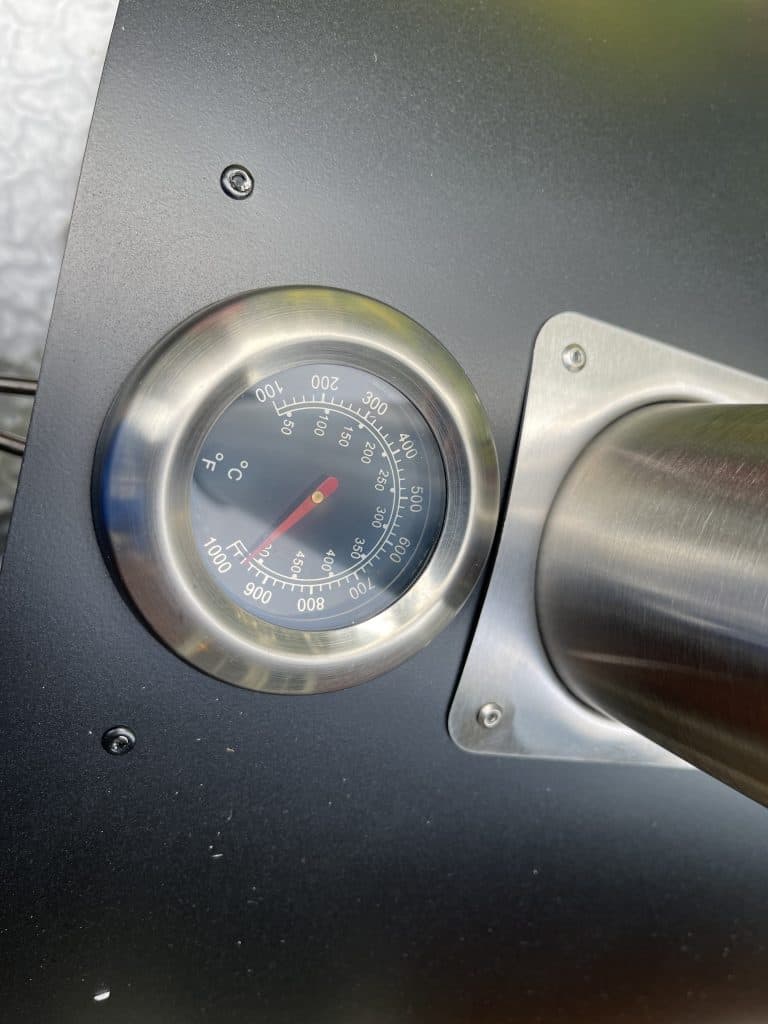 Temperature Capabilities
This pizza oven gets hot, all the way up to 950°F, meaning you can cook almost anything in minutes. While the temperature did vary between the two fuel sources (charcoal and wood pellets) this oven gives you room to grow and experiment with both fuel sources to get the temperature you desire.
Additionally, this oven is made of stainless steel with three layers of insulation, meaning that you can use it in the winter (as long as it isn't too windy). Because this oven gets so hot, it makes it great to make meats that you want a nice char on the nights you want to eat something other than pizza.
Do note that it does take some time to reach these temperatures, so ensure you allow your oven to get nice and hot before you put your pizza in. Some users reported that the oven had difficulty maintaining temperature, we found the remedy to this is to put a small fan right by the pellet box to direct airflow a little more easily. The oven easily maintained temperature after this.
Multi-Layer Pellet Box
The pellet box on this pizza oven is already a winner because you can use both charcoal and wood pellets as you see fit. But, to make this oven even easier to use, this pellet box has multiple layers.
This means as the pellets or charcoal burn, the ash falls down below, allowing you to clean it easily, as well as reduce the need to clean it out during cooking. Instead, you can just add the new pellets to the top making long cooking sessions a breeze.
Versatility
Although most people think a pizza oven is just for pizza, that is most certainly not the case. You can use it to get a nice sear on steaks, fish, or even veggie kabobs.
One lesser known use is you can fill your cast iron pan with mac and cheese and make an amazing baked mac and cheese. Because it's so easy to use, taking this on a tailgate is ideal because you can make pizza for everyone, but also stick a few hotdogs or hamburgers in for those who want traditional grilled food!
No matter how you look at it, this device is so much more than just a pizza oven, which is amazing when you consider the price.
Value
This brings us to the last of our favorite characteristics, the value for the price. As far as pizza ovens go, the Deco Chef Outdoor Pizza Oven is somewhere in the middle, it isn't the cheapest you will see but it isn't the most expensive either.
But, for a mid-range price point, you truly get a high-quality product which is something we love. It also comes with a pizza peel, scraper, scoop, slotted grate, and a drip tray, meaning you have everything you need to make pizza right when this arrives.
The same can't be said for other pizza ovens which require you to purchase the pizza peel separately from the oven.
Related >> How To Cook Pizza on a Pellet Grill
Pros and Cons of the Deco Chef Outdoor Pizza Oven
As with any purchase, it's best to weigh the pros and cons before you buy a pizza oven. We've listed them below to make it easy for you.
Pros:
Quality build
Portable
Reaches high temperatures
Temperature gauge
Includes grilling rack in addition to the pizza stone
Great quality for the price
Multi-layer pellet box
Warranty if anything goes wrong in the first year.
Cons:
Small pellet box (needs to be refilled often)
Users report difficulty getting the oven to reach high temperatures
Can only cook one pizza at a time.
Can take some practice to perfect
The pellet box handle breaks easily
Doesn't work well in windy conditions
Is the Deco Chef Outdoor Pizza Oven Worth It?
We most definitely think the Deco Chef Outdoor Pizza Oven is worth it! While there is a bit of a learning curve before you are able to make great pizzas, this can be the case with any pizza oven, and this one truly is a steal for the price.
If you are brand new to cooking pizza, we recommend watching a YouTube video before your first attempt. You also shouldn't leave this pizza oven unattended until you know how quickly it cooks.
I burnt the first pizza I put in here. At 900+ degrees, it cooks quickly!
But all that being said, we don't think there is a better pizza oven out there that is this portable and allows you to choose your fuel source. It is also at a mid-range price point which makes it perfect to give as a gift.
Final Thoughts on the Deco Chef Outdoor Pizza Oven
Overall, the Deco Chef Outdoor Pizza Oven is a great product. From Pizza to steaks, or even skewers of veggies, you can use this outdoor oven for almost any meal you can dream!
Even though there are some cons to this pizza oven, it does come with a 1 year warranty, meaning many of the cons can be remedied in the first year if they occur. For this reason, we recommend all pizza lovers to look at purchasing a Deco Chef Outdoor Pizza Oven!