The fastest, easiest way to make delicious, restaurant-caliber pizza at home on your pellet grill.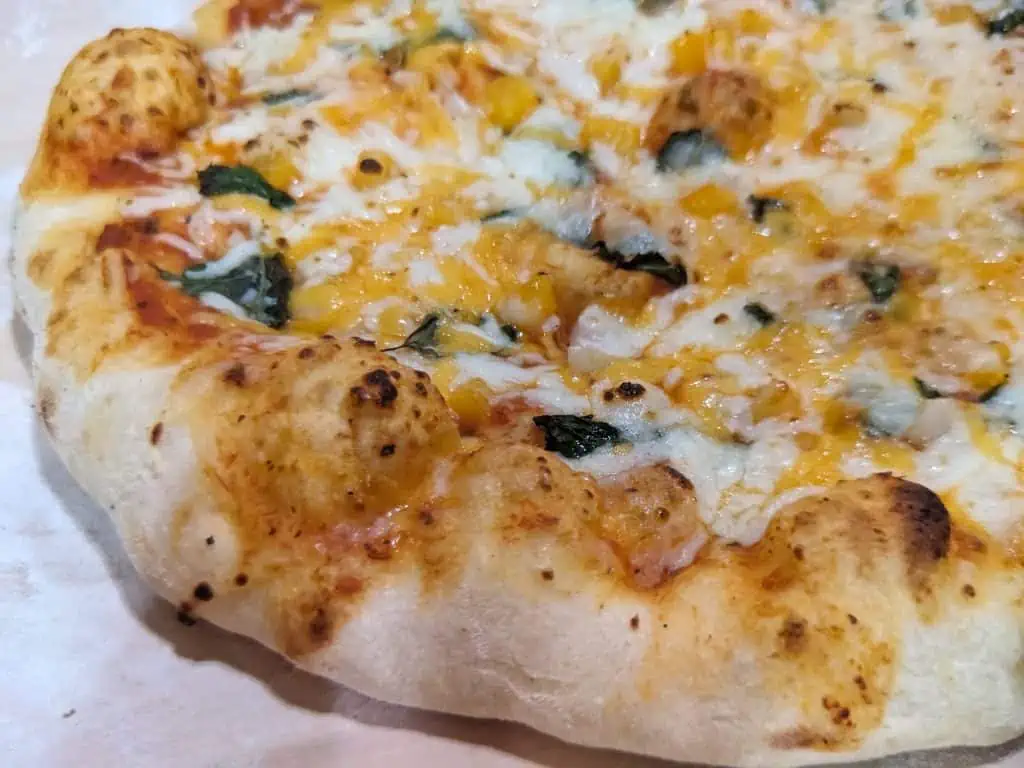 Homemade pizza is *chef's kiss* perfection. The advantages of using your pellet grill to achieve that woodfire flavor and the convenience (raw to done in under 2 minutes? Yes, please!) are second to none. The luxury of topping a pizza exactly the way you like it (heavy on the onions, light on the mushrooms for me, please) as well as the FUN of it as an interactive family meal with the kids, makes homemade pizza on the pellet grill with the pizza oven attachment (GMG-4023), one of my favorite meals. It's great for Friday night date night, or a built-in conversation starter when hosting a crowd. Now you can be known as the best grill master on the block because you're serving made-to-order pizzas, while Steve down the street just has hot dogs (no offense, Steve).
Note: This post contains affiliate links. If you use these links to buy something we may earn a commission, at no cost to you. Thanks for supporting The Grilling Dad. Full details here.
If you've ever been inside a restaurant with a wood-fired pizza oven, you'll know that it takes an extremely hot oven to create that delightful, chewy crust and perfectly melted cheese. You'll also know that it takes just a couple of minutes to achieve that perfection. A standard pellet grill just cannot get to and maintain the type of temperature needed to replicate that experience at home without a little help. Thankfully Green Mountain Grills has designed an accessory specifically for cooking pizza on the pellet grill.
How does the pizza oven attachment work?
The pizza oven attachment has three key features to mimic the experience of cooking in a wood-fired pizza oven. First, the built-in pizza stone holds and evenly distributes the heat in a way that typical metal grill grates cannot. The texture of the pizza stone also ensures the pizza doesn't slide and smash into the back of your grill while placing the pizza in the attachment. Second, the cavity surrounding the pizza stone creates a smaller cooking volume than the pellet grill itself. This ensures heat isn't wasted by heating the entire grill cavity, but rather only the pizza oven attachment. Finally, the funnel on the bottom of the attachment directs the heat from the firebox, directly up into the pizza oven attachment. Green Mountain Grills states the attachment can achieve temperatures of 800°F, but we've seen ours reach almost 900°F! You can cook a Neapolitan pizza in 90 seconds at that temperature!
Features of the Green Mountain Grills Pizza Oven Attachment
Steel baking chamber
Removable ceramic pizza stone (dimensions: 16" W x 13" D)
Simple and easy to install and remove
Compatible with Green Mountain Grills Peak and Ledge models (formerly Jim Bowie & Daniel Boone models)
Also, compatible with RecTeq RT-590 (Stampede)
What Do We Love?
First, the obvious, it makes really, really delicious pizza. Second, it only takes a minute or two to install in your pellet grill.
Just remove the grill grates, drip tray, and heat diffuser.
Then place the funnel portion of the GMG-4023 over the firebox.
Insert the pizza stone and place the steel baking chamber cover on top of the funnel.
That's it. No adjustments or extra tools required. The attachment is also significantly less expensive than almost any other wood-fire pizza oven on the market. Most other models run from around $300 to over $1000. The Green Mountain Grills Pizza Oven attachment can typically be found for less than $200. Plus, as an attachment, it goes with equipment you already own. You don't need storage space for another large piece of equipment that you only use to make pizza. This pizza oven makes it so your pellet grill can pull double duty. We have a Green Mountain Grill Daniel Boone (now the Ledge model) for which the pizza oven was designed and it obviously works great. However, we've also tried it in our RecTeq RT-590 Stampede and it fits as well. If you already have a Green Mountain Grill Peak or Ledge (formerly Jim Bowie & Daniel Boone models) or a RecTeq RT-590, this attachment increases the versatility of something you already own and makes ridiculously delicious pizza!
What Don't We Like?
The only complaint we have about the GMG Pizza Oven attachment is the metal handle on the top of the attachment. It's supposed to allow you to remove the top of the baking chamber and get pizzas easily in and out of the pellet grill. However, since it's made of metal and sits inside the pellet grill, it gets extremely hot! So hot that even when using heavy-duty pot holders it's too hot to handle. It's also very thin and round so we haven't been able to grip it securely even with long-handled pliers. We typically just leave the top on the entire time we're cooking and only remove it at the end to allow the grill to cool more quickly. In the rare instances when we do need to remove the lid to gain better access to the pizza we use a homemade wooden handle.
Accessories For Your Best Pizza
We generally make 12" pizzas and they fit perfectly on the Green Mountain Grills Pizza Oven attachment. Through our experience making dozens of pizzas on the GMG-4023, we have found a handful of accessories that help us get the most out of our GMG-4023 pizza oven. First and foremost, we recommend a wooden pizza peel on which to build your pizza. This makes it easy to slide pizzas onto the pizza stone without deforming the shape of the pizza or losing any toppings. We bought ours at a local kitchen outlet, but this one is similar and gets good reviews.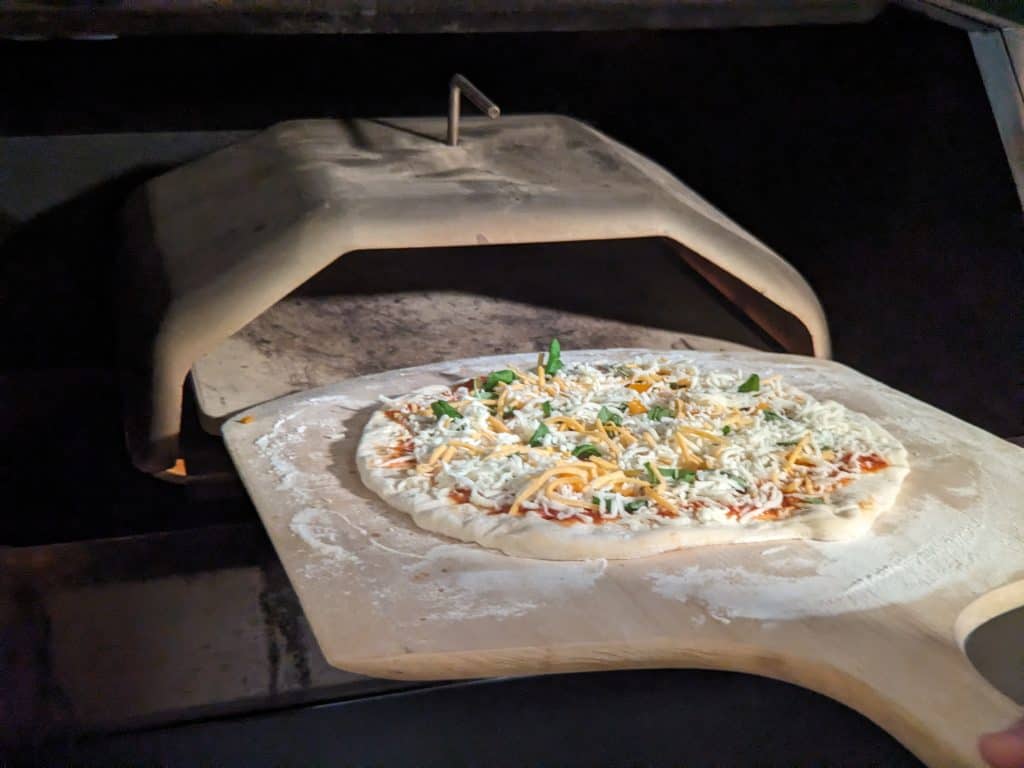 Next, we use this turning pizza peel for, you guessed it, turning the pizza. The rear of the pizza oven attachment will be hotter than the front because of the heat lost by opening the pellet grill to insert and remove the pizzas. By rotating the pizza 90° every 30 seconds or so, you can ensure an even cook. This turning pizza peel allows you to do this without burning off all your knuckle hair. We've only had it for about a year, but it has been a game-changer in terms of consistency in our cooks.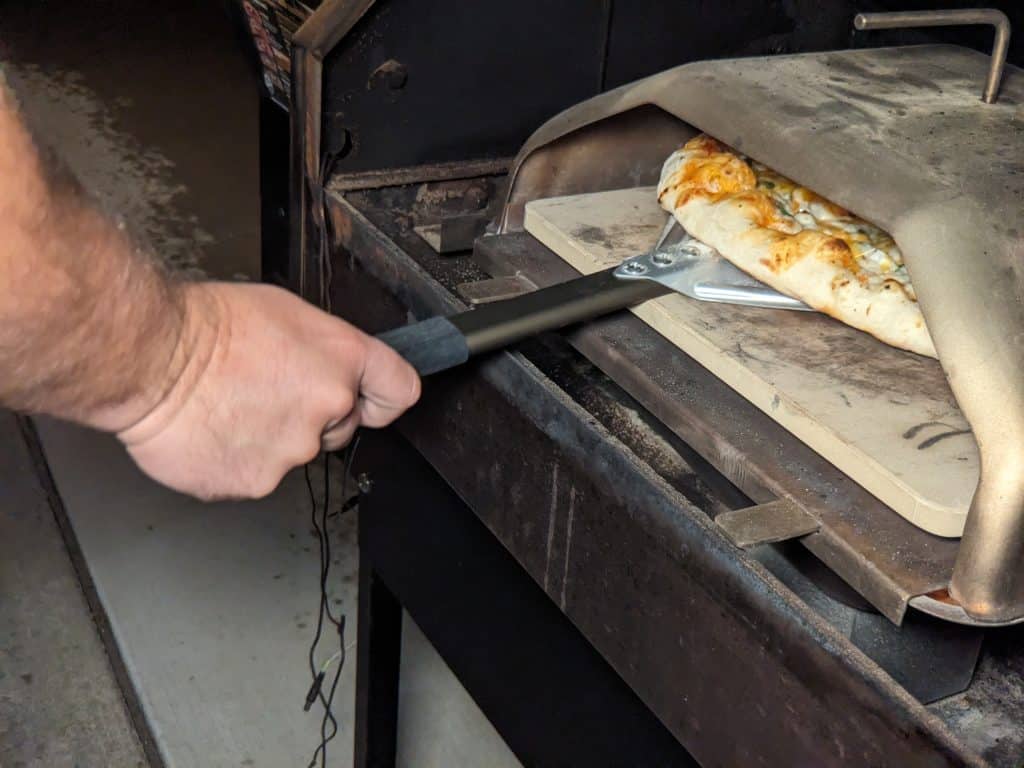 Last, we have a metal pizza peel which we use to remove the pizza from the stone. The thin lip on the edge of the pizza peel easily gets under the pizza to remove it in one swift movement and not smash or leave behind any of your pizza. This pizza peel is also very useful for removing any cheese that might have burned on the pizza stone during cooking.
Final Thoughts
We love our GMG-4023 and use it as often as we can. It is a great way to feed a crowd quickly and eliminates any family arguments over toppings because everyone can build their own pizzas. Creating and cooking pizzas is a fun interactive meal that gets everyone involved. We've created many fond, family memories using this simple pellet grill accessory and know you will too. Need more tips for cooking pizza on a pellet grill? Enjoy!