I'm just going to come right out and say it: I wanted to HATE the Typhur InstaProbe. I thought it was going to be one of those products that was all form and no function. I am also a long-time ThermoWorks Thermapen fanatic and I still do love my Thermapen Classic. But the Typhur InstaProbe started to win me over after one cook. The InstaProbe beautifully marries form to function. The InstaProbe is like if Apple made an instant read thermometer. It isn't perfect (and we'll get into that in a bit), but dangit if it isn't really close! Typhur is pushing the envelope and setting the bar high for its competitors in almost every respect.
Note: This post contains affiliate links. If you use these links to buy something we may earn a commission, at no cost to you. Thanks for supporting The Grilling Dad. Full details here.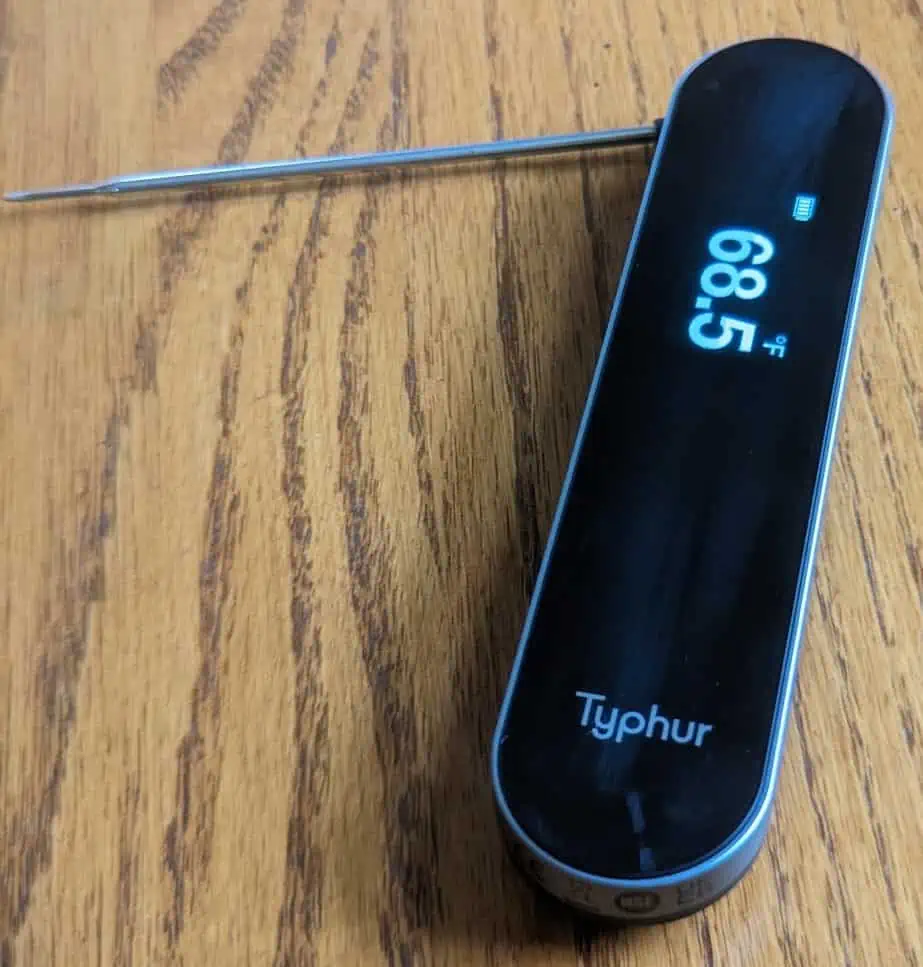 If you're looking for an instant read thermometer you've probably heard of ThermoWorks or their Thermapen thermometers. But you might be wondering "who in the heck is Typhur?" and that is completely understandable. I hadn't heard of them until earlier this year. Typhur Inc. is a cooking technology company headquartered in San Jose, California. They have a relatively small lineup of cooking products that include a large air fryer called the Dome, a Sous Vide machine, a wireless thermometer called the Sync, and the InstaProbe. Each of these products is extremely technologically advanced and incorporates beautiful design aesthetics. Typhur's tagline is "Inspired by Cooking Science" and if the InstaProbe is an indication, they are hitting "cooking science" out of the park.
TL;DR
Pros
Beautiful, minimalist design aesthetic
Thoughtful features including:

Bright, easy-to-read OLED display
Dual magnets for versatile storage options

Super-fast response times
Waterproof
Shake-to-wake sleep mode
Cons
Probe has less range of motion than some competitors
No "hold" feature
Probe tip exposed when closed
Use Cases
Ideal for any type of meat, especially:

Burgers
Chicken
Thanksgiving Turkey
Fish
BBQ
Final Verdict
If you can afford it, the Typhur InstaProbe is a phenomenal instant read thermometer.
A Thing of Beauty
From a purely aesthetic perspective the InstaProbe stands out from all its competitors. It is minimalist and sleek. It has a gloss finish that hides the display. When the thermometer is off you can't even see that there is a display unless you are looking for it and have the thermometer angled just right. I think outdoor cooking is way behind the curve in terms of technological advancement compared with other aspects of modern life. There is a massive opportunity for businesses that continue to drive innovation and convenience by leveraging technology in this space. Typhur is clearly doing this with the InstaProbe – it screams high-tech. It has an OLED display (no, that is not a typo) that is so bright and crisp, you can't help but feel confident cooking with it. While I've never had a problem reading the backlit displays on my Thermapens, compared to the InstaProbe, they just look… outdated. The OLED screen on the InstaProbe just makes sense and it is so, so crisp, sexy, and readable.
I do love the clean lines and minimalism of the InstaProbe. However, its gloss finish smudges easily and I expect it will get quite filthy over the course of a brisket or pork butt cook. It is IP67 rated so it can be easily cleaned in dishwater. That being said, because it looks so amazing I expect I'll obsess over it more than I would on any other instant read thermometer. For me outdoor cooking is how I decompress. I'd rather not be worrying about keeping my instant read looking pretty.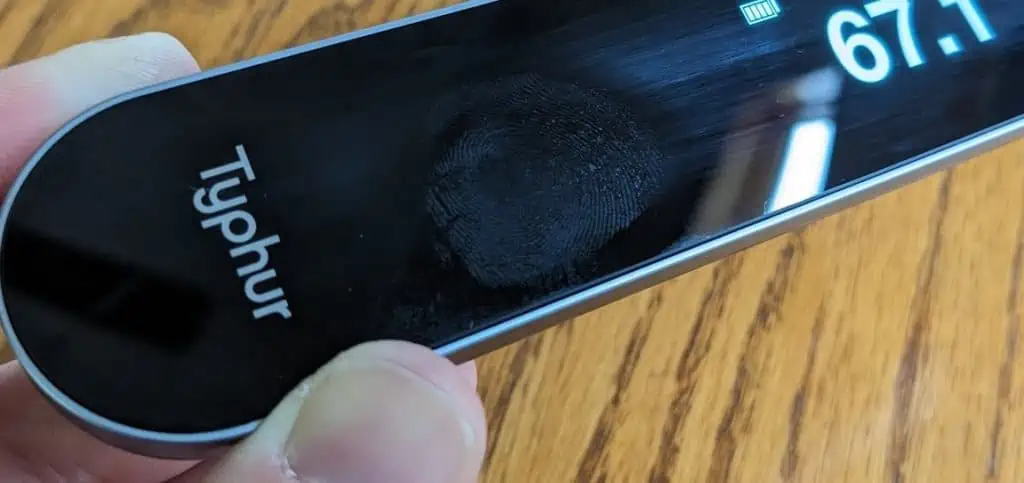 Does It Have It Where It Counts?
While it is extremely difficult to test things like the response time of an instant read thermometer at home, the InstaProbe display refreshes its readings noticeably faster than all competitors that I have tested. The InstaProbe has proven to be very accurate in all our tests, including real-world cooks as well as an ice bath test. I am a very seasoned grill master and I was surprised by how much additional confidence this gave me. The screen also showcases a battery life indicator, which is a nice touch.
In addition to being very bright and easy to read, the display also rotates. That being said, it does lag behind the Thermapens in this respect. The Thermapen Classic and ONE displays rotate through (4) different orientations (every 90° of rotation) based on how you are holding the thermometer. This isn't a huge deal, but it does make it easier to read the probe display when you are trying to probe foods that might be in awkward or hard to reach spots. The InstaProbe display only has (2) different orientations, 180° from each other. This isn't a deal breaker, but I do prefer the Thermapens in this regard.
The ChefTemp Finaltouch X10 was the first instant read that I tested that had a magnet embedded in it. While I think this is the type of feature that is so genius that it seems obvious in retrospect the X10's magnets weren't strong enough to hold the thermometer on our grill. The Typhur InstaProbe also has embedded magnets and they are noticeably stronger than the magnet(s) in the Finaltouch X10. This is a very useful, practical feature. Keep your InstaProbe accessible during long cooks by sticking it to the side of your hopper. Keep it at arms reach in your kitchen by sticking it to your exhaust hood or on your refrigerator.
When it comes to the probe there are three less-than-stellar aspects of the InstaProbe. First, the probe itself only opens180 degrees. While this is no worse than the Thermapens, it does lag behind competitors such as the Maverick PT-51 and the ChefsTemp Finaltouch X10.
Another gripe I have about the probe itself is that the tip isn't well protected when "closed". The Thermapens, X10, and Maverick PT-51 all have a feature on the body of the thermometer that protects the very tip of the probe when it is in "closed" position. This is a very useful feature because the tip of the probe contains all of the highly sensitive temperature sensors that need to be protected. Also, the tip of the probe is sharp. When it isn't protected it can catch on things or poke you if you were to slide it into a pocket.
Finally, one feature that many modern instant read thermometers now offer is a "hold" function. "Hold" allows you to insert the probe into food, enable the hold function, pull the probe out of the food and read the temperature. This is very helpful when trying to get a temperature reading on food that is in a hard-to-reach location or where you don't have line of sight. For most Patio Daddy-os this feature isn't necessary, but it is sure nice to have. This is an oversight on the InstaProbe design and I hope Typhur corrects this in future releases.
Price
I'll cut to the chase: the Typhur InstaProbe is regularly $100+ dollars. While that isn't as expensive as the FireBoard Spark (which we have NOT tested), that is a LOT of coin to shell out for an instant read thermometer. It is more expensive than the Thermapen ONE (by $10 or so) and as a dad I personally have a hard time justifying spending that kind of money for an instant read thermometer especially when there are very capable options available for as little as $39.99 (Maverick PT-51). That being said, the Typhur InstaProbe was on sale for $79 on Amazon as a part of Prime Day so it is possible to snag this instant read at a significant discount – at that price I would be very tempted to part with my hard earned shekels.
Durability
Now I wouldn't recommend that anyone specifically test the durability of their instant read thermometer(s). After spending significant time using the InstaProbe, as well as a number of its competitors, I do have concerns about how the InstaProbe might fare after a drop from waist or counter height. Due to its high aesthetic design it is much more likely to get and show scratches than something like a Thermapen, which is textured and appears to be made from a less brittle polymer. However, the InstaProbe is IP67 rated so if it gets forgotten in the rain for a night it will almost certainly be fine.
Who Is It For?
The Typhur InstaProbe is a great fit for tech lovers and any grill or pit master who is willing to spend a little extra for quality and performance. If good design and sleekness is important to you, know you don't have to sacrifice quality to achieve that with the InstaProbe.
Do You Really Need An Instant Read Thermometer?
The short answer is no. With enough patience and practice all you need to cook delicious food for your family and friends are the ingredients and a fire. That being said, assuming you already have a grill, an instant read thermometer is THE MOST CRITICAL piece of grilling kit you can buy. It offers peace of mind, it levels the playing field for beginners, and for cooks like burgers, chicken breast, and fish an instant read thermometer will have a massive impact on the quality of the food you cook. I would go so far as to say that an instant read thermometer will help you consistently cook burgers, chicken, and fish better than any of your friends and family that don't use an instant read thermometer. It would be very difficult for me to overemphasize the importance and impact that an instant read thermometer can have on the quality of the food that you cook, particularly as a beginner.
Final Thoughts
I LOVE this instant read thermometer. If Typhur makes a handful of small tweaks to the design and function of the InstaProbe I think it will become the gold standard in the industry.
Specifications
| | |
| --- | --- |
| Sensing Range | -58 to 572 °F (-49.9 to 299.6 °C) |
| Accuracy | Within 0.5 °F (0.3 °C) for temps. between -4 and 248 °F (-20 to 120 °C); Otherwise within 1.8 °F (1 °C) |
| Screen Resolution | 0.1 °F |
| Response Time | 0.75 seconds |
| Display Type | OLED |
| Display Dimensions | 0.87″ (H) × 1.65″ (W) (22 mm H × 42 mm W) |
| Probe Dimensions | 4.3″ (L) × 0.12″ dia. (reduces to 0.06″ dia. @ probe tip) |
| Ambient Operating Range | -4 to 122°F (-20 to 50°C) max. ambient temperature of probe body |
| Sleep Mode | After 30 seconds |
| Water Resistance | IP67* |
| Battery | (2) AAA Batteries (included) |
*IP67 indicates complete protection from dust as well as protection against submersion in water up to 1m deep for short periods of time