Are you looking for a fire pit that can also serve as a grill?
You're in the right place!
In this TheGrillingDad.com guide, you'll learn:
What a fire pit grill is
What to look for when buying one
Our top 5 best fire pit grills
What better way to spend a chilly night with family and friends than grilling some barbecue over an open fire?
With a quality fire pit grill, you can enjoy good food while keeping everyone warm.
However, given the various options in the market, finding the best fire pit grills can be daunting. Check out our reviews below to make the process easier for you!
Top 5 Fire Pit Grills
In a hurry? Check out our top 5 fire pit grills! Keep reading to discover more about our top picks.: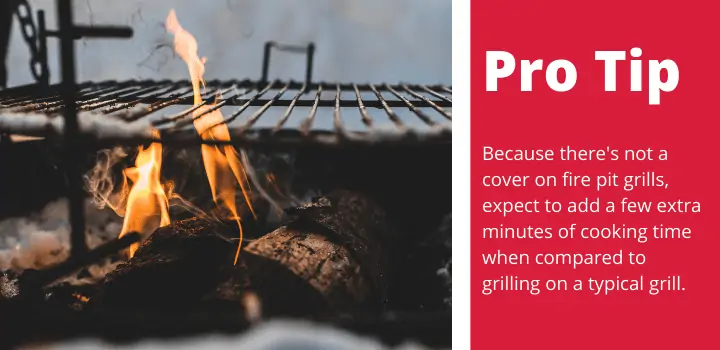 Our Reviews Of The Best 5 Fire Pit Grills
We love this fire pit grill from BALI OUTDOORS because of its design, excellent performance, portability, and durability.
Pros
Portable, durable, and easy to use
Includes safety features
Flexible and multi-purpose
Cons
No cover for storage, like most fire pits
The instructions manual was not as clear as I'd like, but eventually got it put together
It's also easy and convenient to use — simply add the fuel and press a button to start the flame.
With its removable grill rack and dimensions of 32 by 25 inches, the grill is compact and portable enough to take camping.
Made of steel, the grill is more durable with its circular steel ring attached to its four legs. You're also free to rotate it 360 degrees, move the grill up and down, or swing it right and left.
The grills' beautiful stone design is a great addition to your yard or patio.
Pros
Multi-functional
Extremely Sturdy (Great With Kids Around)
Can Take It Camping
Cons
Also has no outdoor cover
I've noticed the outside has gotten a few chips in
Made of concrete, it has a sturdy build that helps withstand strong wind.
As it includes a grill grate, spark screen, and poker, you'll experience the best fire experience while getting a good bang for your buck.
Looking for a grill for a fire pit with more advanced features?
This smokeless model from BioLite will not disappoint.
Pros
Advanced features, including Bluetooth and app support
Completely Smokeless
Easy to take camping or tailgating
A Great Conversation Piece
Cons
On the highest fan speed, the fan noise is noticeable (but not quite annoying)
It includes Bluetooth functionality, a large rechargeable battery (10,400 mAh), and app support.
It's also easy to adjust the flames' intensity with the grill's four-speed presets.
The battery could last up to 24 hours on a low-speed fan setting.
I could talk about this one for hours, but I know it's a bit pricey, which is why it's not listed as #1. Instead of rambling, here's a quick overview video directly from BioLite.
This model from Campfire Defender Protect Preserve made it to the best fire pit grills with its durability, consistent airflow, and foldable feature.
Pros
Easy to use and assemble
Large space for different kinds of food
Easily Take It Tailgating or Camping
Cons
The heat shield doesn't feel very durable. I expected it to be thicker
Its heat shield provides protection from the strong heat, but it's not as thick as I'd expect.
Despite being large, it's also portable, and the two separate bags lets you keep the cooking grate from the other tools.
It can hold big pots and pans, making it perfect for hosting large parties at home.
Always excited to welcome your friends for some small fire and a grilling session?
This pit grill from Pleasant Heart is perfect for you!
Pros
Strong Build
Large enough to cook a wide variety of food
Holds A Lot Of Wood So Less Refilling
Cons
There is some assembly that takes more time than I planned for
I noticed some rust after leaving it out, which is half my fault, but I wish it had a cover
It doesn't only serve as your backyard's focal point but is also spacious enough to accommodate different types of food for a large group.
With its removable mesh cover, you can confine the sparks inside while having access to the large bowl.
As the deep bowl provides enough space between the grill and fire, you can throw in several logs without overcooking or burning your food.
Its "circulair" system also facilitates airflow for bigger and more consistent fires.
What Is a Fire Pit Grill?
Firepit grills allow you to cook or prepare any type of campfire food — from toasted marshmallows to BBQ ribs — over an open flame.
They come in handy especially during cold weather when you want to host an outdoor gathering or simply spend quality time with your loved ones.
With fire pit grills, you can also improve your patio's aesthetics. Serving as your backyard's focal point, they make your yard look more inviting.
Read More >> Campfire Cooking Kits Buying Guide
How to Pick the Right Fire Pit Grill
Getting a fire pit grill is an investment, so you'd want to make sure you're getting your money's worth by considering these several factors:
Shape and Size
Your fire pit grill's shape and size will affect your overall grilling experience. Do you often entertain a large number of people in your backyard? Then, you might want a fire pit grill with a relatively larger cooking area.
The size will also matter depending on how big your cooking area is. Make sure to get a fire pit grill that's suited to your cooking area with enough room for you to move, especially during emergencies.
If you're planning to also use your fire pit grill as a centerpiece, consider how its shape, size, and design can positively affect your outdoor area.
Safety
Safety is also paramount when choosing a fire pit grill. You wouldn't want to buy one that can cause fire hazards or accidents.
Be sure to check whether your grill of choice provides safety features, such as the fire shield included in the Campfire Defender Protect and Preserve pop-up grill.
Similarly, checking a grill's features will let you know if its materials or grates are prone to warping.
Grates
Speaking of grates, a great option for grates is stainless steel because it's durable, easy to use, and resistant to high temperatures. A more affordable option is cast-iron grates, which offer better heat retention compared to steel.
Bowl Depth
Aside from the grates, it's also important to pick a fire pit grill with a reasonable bowl depth. This is to make sure there's just enough distance between the food and the heat.
A bowl that's not deep enough might bring your food too close to the fire, resulting in extra charring.
On the other hand, a bowl that's too deep will leave a wide gap that could affect the quality of your food.
Fire pit grills with just the right bowl depth of about 6 to 10 inches can be a good choice. Having adjustable grates will also help you control the distance between the food and the flames.
Weight and Portability
Depending on your needs, you should consider the fire pit grills' portability. If you're often on the go, you might prefer a smaller fire pit grill for convenience.
This will make traveling, setting up, and cleaning up much easier.
A smaller, more portable grill is also a great choice if you tend to have family-sized barbecues in your backyard instead of larger ones.
Fuel Source
The two main fuel sources are wood and coal. Wood offers a legitimate grilling experience, while coal burns longer and slower. Choose which one suits your needs and preferences.
Choosing the right fuel source also makes sure that your food has great flavors when smoked. Using just any kind of fuel source might lead to unappetizing meats or even damage to your fire pit.
Additionally, you might want to avoid using accelerants. Not only can this be dangerous but it might also discolor your fire pit grill.
You may use lighter fluid designed for grilling, but only if necessary. Never use gasoline as this can be hazardous.
Cleaning and Maintenance
Increasing your fire pit grill's longevity includes cleaning and keeping it well-maintained. So, pick an item that allows quick and easy cleaning.
On this note, make sure to read the cleaning and maintenance tips for your specific fire pit grill of choice. This will let you avoid damaging the grill.
Tools like brushes and cloth specifically for cleaning your fire pit grill should always be handy. Don't let dirt and debris stay long on your grill and grates. Otherwise, it will be harder to remove them.
Metal fire pits, in particular, may be prone to rust buildup. To keep this from happening, be diligent about scrubbing and wiping the rust off.
Some may choose to use protective coatings to minimize rust buildup. However, it's best to consult manufacturer instructions just to make sure you're not inadvertently damaging your fire pit grill with incompatible surface treatments.
Accessories
The right accessories can dramatically improve your grilling experience. Make it a point to choose fire pit grills that include important accessories such as tongs, skewers, grill racks, heat-resistant pots, and the like.
A fire pit grill that comes with a storage option or a portable grill that comes with bags for traveling is a plus.
Fire pit grills with covers will also help keep it clean and minimize potential damage when stored.
Price
Depending on your budget, you also need to consider the price of the fire pit grill.
You can always choose to splurge on a fire pit grill, but there's also no harm in looking for more affordable units that will fit your budget.
Keep in mind that the price doesn't always determine the quality of a fire pit grill. After all, some expensive models might not provide you with all the features you need.
At the same time, more affordable models don't always mean that they're made from cheap materials.
Make a smart purchase by knowing what kind of features you want in your fire grill and setting a budget for it.
Read More >> How To Remove Rust From Cast Iron Grates
Can You Grill on a Fire Pit?
Fire pits can be used as grills. Anything you cook on a grill can also be cooked using a fire pit.
However, unlike grills, firewood and smokeless coal are used for fire pits.
Using the proper fuel is important when using your fire pit as a grill. Don't just use any kind of fuel, such as leaves, branches, or even lighter fluid. The moisture from these items can lead to excessive smoke. This smoke can make your food unappetizing with foul and acrid flavors.
Moreover, gas fire pits are not recommended for grilling or for cooking in general. This is because oil, food drippings, or any foreign debris that will fall into the flames can result in a huge mess.
Additionally, these can also cause damage to your gas fire pit's burner system.
Can You Grill on Any Fire Pit?
Unfortunately, it is not possible to grill on every fire pit. This is because some of them don't have enough flame or heat to cook your food properly. Plus, most gas fire pits are not suitable for grilling because they are not built to handle food drippings or oil that may drip into the flame.
Grilling on a fire pit not meant for food can be dangerous. Only grill on fire pits which have been designed for grilling.
Can You Use Charcoal in a Fire Pit?
Using charcoal in a fire pit is possible. Not only is it easily available, but it's also easily lighted and sustains a high temperature for cooking.
Charcoal also doesn't emit a smoky odor. This makes it a perfect fuel source for grilling since its smoke won't overpower the food.
There are different types of charcoal and your choice may depend on the kind of fire pit grill you have, as well as the cooking results you want to achieve.
Here's a quick rundown of three kinds of charcoal:
Pressed charcoal: This is the regular variety that can be bought in grocery stores. Pressed charcoal is composed of small pieces of wood and other materials like seeds. It may also contain chemical binders or igniters that can help it sustain a longer flame.

Pressed charcoal with smoking woods: This type includes smoking woods like hickory to give your meats a nice, smoked flavor.

Lump charcoal: This type of charcoal is made from blackened and scorched pure hardwood firewood. Lump charcoal is best used when you want to achieve higher temperatures and more intense heat. It also leads to better flavors because it's free of chemicals.
Read More >> Best Lump Charcoal for Smoking Food
Fire Pit Safety Tips
The fire pits we included in our review are generally safe but it pays to know about additional safety tips when handling fire pits. This is especially helpful when it's your first time buying one.
For those who are already familiar with these safety tips, you can never go wrong reviewing them from time to time.
The tips included below will make sure that you prevent burns, accidents, and fire hazards from ruining a completely perfect barbecue party:
Be aware of the local codes regarding fire pits.

In general, fire pits should be placed away from areas with bushes, overhanging trees, or other items and materials that can catch fire when sparks fly. Mesh grills can contain the sparks but always make it a point never to have anything, especially combustible materials, over your fire pit grill.

When grilling in your backyard, make sure to clear the area of leaves or dry grass.

It's recommended to place fire pits on top of fire-resistant surfaces like gravel or paved ground. A region of the surrounding area should also be fire-resistant to keep the fire from accidentally spreading.

Also, consider the wind speed and direction when handling any open flames.

Always have safety items nearby in case a fire goes out of control. This can include a bucket of water or sand, a shovel for dirt, a garden hose, or even a fire extinguisher.

Never leave a fire unattended even if it has died down. Make sure it has been completely extinguished before leaving the area. If you need to be elsewhere while the fire is still burning, ask someone to keep an eye on your fire pit grill just in case.

If you have kids in the area, make sure to remind them never to get close to the fire or play around the fire pit grill.
Final Thoughts on Grilling on a Fire Pit
With the best fire pit grills, you can enjoy maximum fire grilling experience with family and friends.
To ensure safety, keep the grill 10 to 25 feet away from your house, and don't put it near low hanging branches or on a wooden deck. It's also best to use a grill for a fire pit with a heat shield and prepare a water source like a hose.
Then, if you have to, only use lighter fluid designed for grilling and not gasoline.
I also recommend using grilling tools with a long handle to avoid burns from the lit grill.
It may be overwhelming to choose the fire pit grill that suits your style and needs, but we hope our tips and review above will enhance your buying and grilling experience.
Learn More About Grilling
If you want to learn more about grilling, check out these other helpful resources!