Have a charcoal grill and are worried that you aren't controlling the temperature very well? You've come to the right place!
In this TheGrillingDad.com guide, you'll learn:
How to cool down a charcoal grill
Tips for temperature control while cooking with a charcoal grill
And much more!
Why You May Need To Cool Down a Charcoal Grill
While cooking, usually, the hotter your grill is, the better. But there is a point where your charcoal grill can get too hot, especially when you need to cook something low and slow.
Not to mention that when you travel with your grill for tailgates, being able to cool your grill down quickly can be the difference between getting on the road before the Sunday afternoon traffic and being stuck on the interstate for hours.
Don't worry, there are many ways to cool down your charcoal grill, whether you need your food to cook at a lower temperature or you simply want to leave the campsite early. Read on to learn all about these methods so you too, can cool your charcoal grill down.
Related >> Best Charcoal Grills
Supplies Needed to Cool Down a Charcoal Grill
Unfortunately, cooling your charcoal grill down is much more difficult than making your charcoal grill hotter, especially once cooking has already begun. Here are some of the supplies you will need to cool down your charcoal grill.
As you can see, you don't need much to cool your charcoal grill down, so once you have these in hand, let's look at the methodology.
Related: Can You Add Charcoal While Grilling?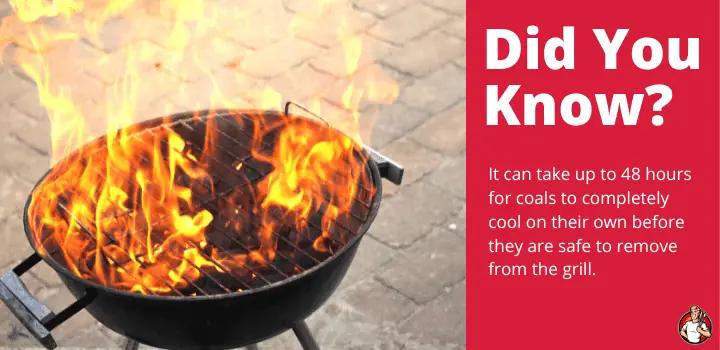 How to Cool Down Your Charcoal Grill
Method 1: Move the Grate
This method is unique in that it must be done before you start cooking, and it can be difficult to predict.
Know that the further your grate is from the charcoal, the cooler the grill will be, so take a moment before you and move your grate as far up as possible when you are looking for some cooler cooking temperatures.
Method 2: Aluminum Foil
If your grate is already all the way up and your grill is still too hot, then it's time for the old aluminum foil trick.
Cooking your food on a piece of aluminum foil helps keep the heat lower.
Don't be afraid to fold the foil a few times to decrease the temperature even more. This method is nice because you can add or decrease the aluminum foil while you cook as long as you have tongs you can use to remove the foil from the grill.
Related>> Best Portable Charcoal Grills for Your Next Outdoor Adventure
Method 3: Rearrange the Coals
For cooler cooking, arrange the coals in a low layer at the bottom of the grill or stack them on one side of the grill and take advantage of some offset smoking methods.
This method can also help you make a quick exit out of the campsite if you spread the charcoals into one single layer at the bottom of the grill, they will burn out fairly quickly.
Method 4: Adjust the Air Vents
The air vents on your charcoal grill are there for a reason. Leaving them wide open will make your charcoal grill hotter.
So to cool your grill down, try closing them halfway. This is another method you can use while grilling as long as you use a rag or other cloth to adjust the air vents as they may be hot.
For a quick post-cook cool-down, arrange the charcoals as mentioned above and close the air vents completely to put out the coal.
Method 5: Water
First of all, never, ever dump water on hot coals as this can damage your grill and create hot steam that can burn you.
Rather, after you have spread the coals out, covered the grill with the vents closed, and waited for 15 minutes, you can spray a little water, using a spray bottle only, onto the coals to ensure they are extinguished.
This method should never be used while cooking, only when you are ready to leave your campsite, and even then should only be employed with caution.
Related >> The Best Campfire Cooking Kits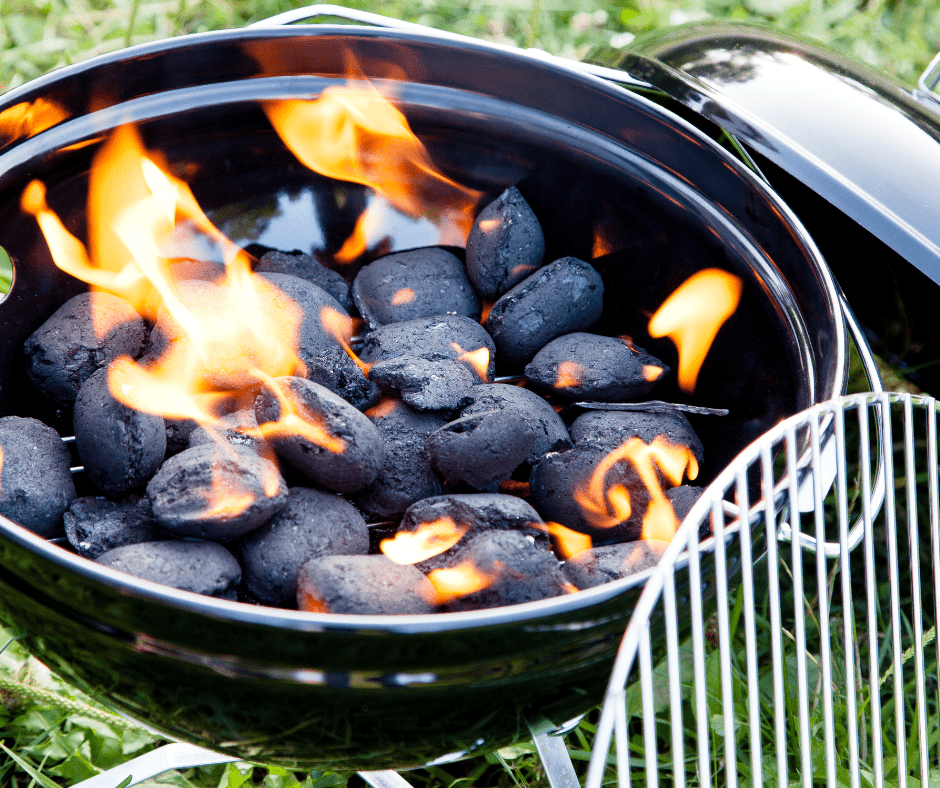 More Tips For Cooling Down Your Charcoal Grill
Hopefully, at least one of these methods helps you to get your grill cooled to the proper cooking temperature!
Below are some tips for cooling down your charcoal grill.
1. Use Multiple Cooling Methods
For some people, just moving the grate up isn't enough.
Chances are, you will need to use more than one of the above methods in order to get your perfect cooking temperature.
We recommend combining the grate method with some aluminum foil as this is an easy combination that lets you adjust before and during cooking.
2. Clean Your Air Vents
Many people wipe out their grill grate regularly, not realizing that the vents are likely just as dirty and are just as important when it comes to cooking food.
Clogged vents can make it difficult to adjust them to change the temperature, leaving you stuck with a certain temperature on your grill.
3. Keep the Lid Closed
While it may seem easy to cook with the lid off and say you are cooling your grill down, this is not going to help your food to turn out.
Rather you are going to end up with some partially or unevenly cooked food that doesn't taste very good.
Leave the lid on and adjust the heat with the air vents instead.
Final Thoughts on Cooling Down a Charcoal Grill
Overall, while cooling down a charcoal grill isn't as easy as making one hotter, as you can see, there are several methods you can use to cool yours down.
Whether you want to cook something low and slow, or you want to speed up the cool-down process so you can head home, one of these methods (or a combination) should work wonders.
Just remember never to throw water on hot coals as this can be very dangerous and cause burns to yourself and your family members as well as cause damage to your grill.