Are you interested in possibly purchasing a ZGrills pellet grill? We've tested their 700 series out and have everything you need to know!
In this TheGrillingDad.com review, you'll discover:
Everything you need to know about the Z Grills 7002F
Who this grill is best for
If this pellet grill is worth it
And so much more!
Do We Recommend the Z Grills 7002F?
All in all, we absolutely recommend the Z Grills 7002F and the whole 700 Series.
The Z Grills 7002F is an amazing pellet grill. Whether you want to smoke ribs, grill steaks, or even make a roast, this grill will get you there!
With easy-to-use temperature control, a large hopper, and a spacious cooking area, we love how easy this grill is to use, as well as how easy it is to just let it be while you run errands or get some work done around the house. We also love the sleek design and the look this grill brings to our back patio area.
But that isn't all we have to rave about with this amazing pellet grill. So read on to learn all about the ZGrills pellet grill and why it is one of our top pellet grills we've ever reviewed!
What Does the ZGrills 7002F Do?
The Z Grills 7002F is one of the best pellet grills available on the market in terms of value. You can sear meats over high temperatures or cook low and slow, depending on the recipe.
This pellet grill requires wood pellets to work, and it needs to be plugged into a source of electricity. The chord is almost 5ft, however, making it easy to plug in and move away from your wall for safety purposes.
With a dual rack set up, you've got a full 694 sq inches of cooking space, all over porcelain grates which are long-lasting and easy to clean. It's also got an impressive 24-pound hopper which means you won't have to worry about this pellet grill running out of pellets mid-smoke.
This pellet grill will transform any piece of meat you wish to cook into a succulent meal! Whether you fancy chicken, ribs, or steaks, this pellet grill can cook it all!
Related >> When Do Pellet Grills Go on Sale?
Features of the Z Grills 7002F
PID Controller
Of all the features this grill has, the PID controller is the best. It has unbeatable temperature control, meaning you can set your grill to a certain temperature, and it will hold! Leave the house or simply leave the grill unattended, and you never have to worry about coming back to a cold grill!
The controller is easy to use and great for beginner smokers who may want to mess with the temperature a bit before they find their perfect setting. It's got a dial with everything labeled, from smoking to temperatures and even cool-down cycles.
There's a little screen that will tell you exactly how hot it is in the cooking chamber, making start-up and preheating a breeze. You never have to guess when this grill is ready!
Large Pellet Hopper
We would be lying if we said we didn't love the 24lb pellet hopper this grill has. With other grills on the market having 9-15 lb pellet hoppers, this 24lb one is a game changer. Want to smoke ribs for 8 hours? No problem!
Simply load the hopper full, and you can smoke for hours on this grill. The hopper is easy to open and has markings to let you know how full to fill it. The augur is all automatic, which means you never need to change how much will feed into the fire pot–it does this all on its own.
We also enjoyed the viewing window, where it was easy to see if your pellet grill was running low on pellets and would need some more soon. Plus, if you change your mind and want to change pellet flavors, this grill has an easy pellet release on the back of the hopper, making it a breeze to clean as well!
Large Cooking Capacity
The total cooking capacity of this pellet grill is 694 sq in. That means you can load this grill up with about 29 burgers, 6 racks of ribs, or 5 chickens. We tried it ourselves with 3 racks of ribs, and they came out amazing!
The convection heating design ensures that even when this grill is fully loaded, all the food will cook evenly. Because the cooking area is split in two, you can also cook vegetables along with meat without having to worry about keeping them separate.
While this grill can fit a smaller turkey, we don't recommend it if you are looking to fit a large 20 lb bird. But, for a family of about 6, this grill is perfect for everyday cooking.
Castor Wheels
It might seem a bit odd we are mentioning the wheels here, but they are a total godsend. It is recommended not to leave your pellet grill unattended unless it is at least 4 feet from the house.
With the wheels, we easily roll it to this position, and after it cools down (when the cooking is complete), we can easily roll it back to its position along the house. This makes it safe and easy to use this grill whenever we want!
Plus, if we ever have a BBQ at the neighbors, we can easily bring the grill over!
Heavy-Duty Steel Construction
The ZGrills 700 Series is built to last, made out of a heavy-duty steel and powder coat finish, this grill not only looks great, but it will survive anything mother nature throws at it.
Not to mention that the grates are made of porcelain-coated steel, meaning they can withstand high temperatures and clean very easily. ZGrills really thought about this grill and made it ideal for the family that might usually add a little more wear and tear to the average grill–something which isn't a problem when you've got the 700 Series!
Who Should Buy the Z Grills 7002F?
While we absolutely adore this grill, we will be the first to admit it isn't for everyone. One of the main cons we ran into with this grill is while it does have impressive cooking space, if you regularly host large cookouts, it may not be enough.
Additionally, we found the initial seasoning process to be a bit difficult–as it wasn't well explained in the handbook, and the internet left much to be desired. Therefore we recommend this pellet grill for those who have used a pellet grill before.
So if you've got a family of about 6 you like to cook for regularly and have some experience with pellet grills, this is absolutely the grill for you!
Pros and Cons of the Z Grills Pellet Grill 7002F
If you're anything like us, you definitely want to see the pros and cons listed out. We've done all that below so you can get a better idea of whether or not this pellet grill is for you.
Pros:
Large cooking capacity
Easy to move
Large hopper
Hopper is easy to empty
Two cooking racks
Temperature maintenance is impeccable
Start-up and shut-down procedures are easy
Easy to understand controls
Cons:
No wifi capabilities
The two rack set up limits large meat cuts (like large turkeys)
A bit difficult to figure out for a beginner smoker
We wish the cord was just a bit longer.
May not be large enough for a block party or massive cookout
As you can see, the pros of this grill far outweigh the cons! And if you are looking for a pellet grill to serve your family, we truly believe this is one of the best options!
Is the Z Grills 7002F Worth it?
ZGrills is a company long known for its mid-range price point grills, which are of high quality, and we absolutely think this grill is worth it! For what you pay, you will get amazing use out of this grill!
It's versatile, easy to use, and easy to clean, three qualities that you should absolutely look for as you shop for grills. It also has an extremely durable construction and is easy to move–two qualities that don't usually go together.
We also like that it can both sear and smoke, making it a great replacement for a current gas grill while also being an upgrade in that you can smoke on it! We love the smoking function on this grill so much that we don't feel the need to have a full smoker, which is saying a lot.
While this grill may not be for the largest families, we do believe that it is a good fit for most families that want to grill and smoke.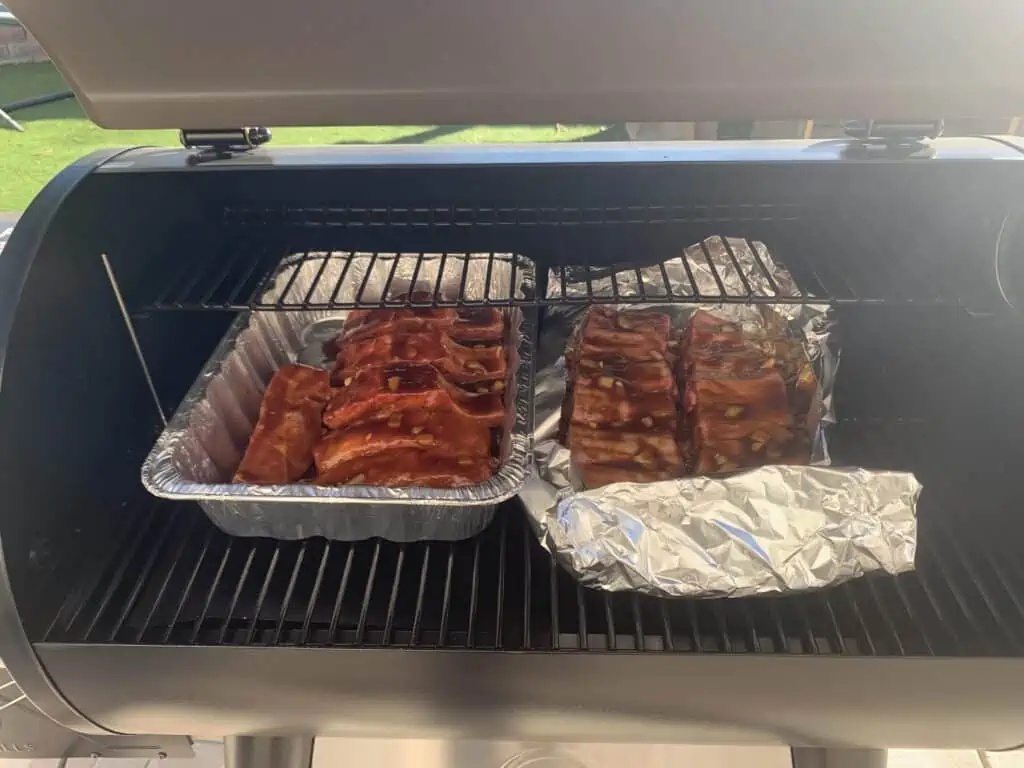 Alternatives to the ZGrills 700 Series
The ZGrills 700 Series is great, but it isn't the only grill on the market. Check out these alternatives, which are comparable to this grill in size and features.
The Camp Chef Woodwind
The Camp Chef Woodwind, with a sidekick, is a great alternative to the ZGrills 700 Series. It's slightly bigger, with 811 inches of cooking space, making it ideal for a larger family (24" model). It's also got a large hopper, but the price tag is a bit steeper than the ZGrills 700 Series.
You'll also need to keep in mind that some of this cooking space is on the attached sidekick, which is a cooking space similar to a flat-top grill.
Trager Ironwood 885
The Trager Ironwood 885 is another great alternative to the ZGrills 700 Series. With 885 square inches of cooking space, this grill is also slightly larger and is known to keep the temperature just as well as the ZGrills brand.
This is another grill that has a higher price tag than the ZGrills 700 Series, but it also includes wifi connectivity which may be a huge help for those who plan to do especially long smoking sessions.
Best Overall
ZGrills 700 Series FAQ
Can You Cook on the Smoke Setting on a Z Grill?
Absolutely! Many people choose to use the smoke setting at the beginning of their cook time to infuse a nice smoky flavor into their meat.
How Do I Get More Smoke from My Z Grill?
The best way to get more smoke from your Z Grill is by cooking at a lower temperature, using the smoke setting, or changing up the pellets. You can also add a smoke tube if you really want that smoke flavor in your meat!
How Long Do Pellets Last in Z Grill?
Wood pellets in a ZGrill burn at a rate of 2.2 pounds per hour over 365°F and at a rate of 0.9 pounds per hour for low settings beneath 225°F.
What Happens if Z Grill Runs Out of Pellets?
If your ZGrill runs out of pellets, but the temperature on the screen hasn't dropped, you can quickly pour in some more. But if the temperature has already dropped, it means the grill is out of pellets and will begin its shutdown process.
Related >> Z Grills: Which is Best? (Complete Guide)