Are you looking for an easy-to-follow recipe for smoked prime rib roast?
You're in the right place!
In this TheGrillingDad.com recipe, you'll learn:
Ingredients you'll need
How long to smoke a prime rib roast
Step by step guide to smoking prime rib roast
And much more!
Smoked Prime Rib Roast
A perfectly roasted chunk of beef will be the talk of the dinner table.
This recipe slow smokes the prime rib roast and sears it afterwards to give that delicious crunch on the exterior.
It will provide amazing results every time, starting with a slow smoke for juiciness and finishing with a flash roast for a crunchy exterior.
The Process for Smoked Prime Rib
This one is a cinch, we promise!
Season/marinate the roast
Smoke the roast
Let the roast rest (while you make aus jus)
Serve the roast!
What is a Prime Rib Roast?
Rib roast is a large cut of beef from the primal rib. It includes 7 rib bones and a lot of marbled muscle. They can weigh up to 30 pounds!
Rib eye steaks are cut from the rib roast individually.
If you see a package labeled prime, it doesn't refer to the quality of the meat but the fact it comes from the primal rib area.
Prime grade meats tend to have more marbling which leads to more flavor and tenderness from the fat.
It also means a pricier cut of meat, but if it is in budget, you won't be disappointed with it.
Read More >> How To Reheat Prime Rib (Without Drying It Out)
How to Select a Prime Rib Roast
Prime rib is one of the most delicious cuts of meat and you will want to be sure you select the best one for your family or event! Start be looking for a roast with marbling, but not so much that it overtakes the meat. You'll also want to grab a boneless one whenever possible.
How to Prep the Prime Rib
When you purchase prime rib roast, it should come pre trimmed. But if it isn't, take a sharp knife and trim the fat until only ¼ inche remains on all sides. Then you will want to season the meat (either in advance or just before smoking) and it is ready to go on the smoker!
Ingredients for Smoked Prime Rib Roast
10lb prime rib roast
½ cup horseradish mustard
2 tablespoons Worcestershire sauce
4 cloves garlic (minced)
Coarse ground salt and black pepper (to taste)
How Much Smoked Prime Rib Per Person
Use the uncooked weight and plan 1 pound per person.
This leaves plenty after trimming and any weight volume lost during cooking. It also ensures some next day leftovers!
Read More >> Top 5 Best Grill Tool Sets (2022 Review)
How Long to Smoke a Prime Rib?
For a rare roast, plan 35 minutes per pound at 225 degrees.
If you prefer a medium roast, you'll be looking at 40 minutes per pound at 225 degrees.
Allow for 30 minutes to rest the prime rib when it's done and 15 minutes for high temperature searing to give that crispy edge.
Related >> The Art of Smoking Ribs: Timing Your Way to BBQ Perfection
Tools Needed to Make Smoked Prime Rib
One of the most important tools needed to make smoked prime rib is the cooking element.
A good grill or smoker that gives consistent, even temperature will yield the best results.
Another tool you'll want for a good smoked prime rib is an instant read thermometer.
Since you'll need to check the internal temperature a few times during cooking, you want something quick and durable.
Read More >> Top 5 Best Grill Gloves (2022 Review)
How to Make Smoked Prime Rib
1. Preheat and Prepare
Start by preheating your grill or smoker to 225 degrees.
While waiting on it to heat up to temperature, trim away the excess fat on the top.
2. Season It
Combine the Worcestershire sauce, garlic, and mustard in a bowl.
Coat the entire roast liberally with the mixture and sprinkle with salt and pepper.
3. Smoke It
Once you've seasoned the roast and the grill is ready, it is ready to go on the grill.
Cook it until the internal temperature reaches 120 degrees for rare or 130 degrees for medium.
4. Rest the Roast
Once the desired temperature is reached, remove the roast from the grill and put it on a large cutting board, covering it with foil.
Let it rest for 20 minutes.
During the resting time, turn the temperature up on the grill to 400 degrees.
5. Sear the Roast
Once the grill is at the appropriate temperature, return the roast and sear it until it reaches the desired internal temperature.
For a rare roast, remove it at 130 degrees. For medium rare, you'll want 135 degrees and for medium, 140 degrees.
6. Rest, Slice and Serve
After the roast reaches the temperature for how well you want it done, remove it from the heat.
Let it rest for 15 more minutes and you'll be ready to cut and serve it!
What to Serve With Smoked Prime Rib
Smoked prime rib is best served with a aside of horseradish and aus jus, along with a potato and a veggie. We serve ours with mashed potatoes and broccoli, but you could also serve it with a baked potato or even a potato salad!
Smoked mac and cheese also goes great with smoked prime rib for the record!
Tips for Smoking Prime Rib
Always cut your smoked prime rib against the grain. This will result in a much more tender meat and a cleaner slice!
Allow the seasoning to stay on your prime rib as long as possible, even if you need to add it the night before and let it marinate overnight!
You can sear the roast in a cast iron skillet with a little oil if you don't want to put it directly on the smoker grate! (Required if you want to make aus jus!)
Rest the meat for at least 20-30 minutes before slicing for best results!
What is the Best Wood for Smoking Prime Rib?
Prime rib is a large cut of meat, and generally a medium flavor wood will work well, such as hickory or mesquite. You can also opt for a lighter flavor wood like apple or cherry if you want less smoke flavor.
How to Make Aus Jus for Prime Rib
Prime rib goes amazing with aus jus! And you can make your own following these steps.
Sear your prime rib in a cast iron pan and then after it is done, while it is resting, move the cast iron skillet to the stove and turn the heat on low.
Add worchestershire sauce and red wine along with drippings from the beef, whisk to combine.
Add beef broth to the mixture, simmer for a few minutes, then pour in a cup for dipping and serve with the prime rib!
Is Prime Rib the Same as Ribeye?
Prime rib is from the same part of the cow where the ribeye is cut. But instead of slicing into steaks, you are purchasing the entire part of the cow that ribeye comes from. But yes, they are essentially the same thing just cut and cooked differently.
What to Do With Leftover Prime Rib
Unfortunately, prime rib is one of those cuts of meat that doesn't reheat well. But one thing you can do is make a delicious prime rib sandwich! Save the leftovers in an airtight container in the fridge, then the next day, slice it a little more thinly, toss it in a pan on the stove and sear on each side for 2-3 minutes. Then place on bread and serve with leftover aus jus for dipping!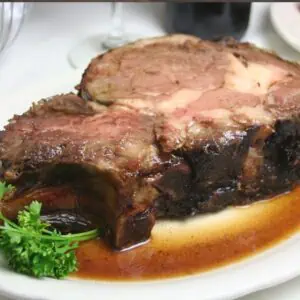 Smoked Prime Rib Recipe
A tasty and easy recipe for smoked prime rib roast!
Ingredients
10

lb

prime rib roast

½

cup

horseradish mustard

2

tablespoons

Worcestershire sauce

4

cloves

garlic

minced

Coarse ground salt and black pepper

to taste
Instructions
Preheat your smoker to 225°F.

Trim the prime rib if needed.

Mix together the remaining ingredients in a bowl, then coat the prime rib roast entirely.

Smoke the prime rib roast until it reaches an internal temperature of 120°F. Catch the drippings if you plan to make aus jus.

Rest the roast for 20 minutes and turn the smoker up to 400°F.

Sear the roast directly on the grill or in a cast iron skillet until it reaches your desired temperature.

Rest the roast for another 20 minutes, then slice and serve!
If you want to learn more about grilling, check out these other helpful resources!