Are you wanting to smoke your own sausage at home?
You're in the right place!
In this TheGrillingDad.com guide, you'll learn:
What type of sausage to smoke
Supplies you'll need
How to smoke sausage (5 easy steps)
And much more!
Cooking outdoors is one of the easiest ways we can share and enjoy great food with the whole family.
As the second most-consumed meat in the world, pork is always a good choice. And who doesn't love smoked sausage?
Just as we've done with guides with other smoked meat, we'll take you step-by-step of smoking sausage with an easy to follow guide.
What You Need to Know About Smoking Sausages?
Getting a nicely smoked sausage takes some time and effort as well as a considerable amount of skill. However, it's not an impossible feat.
When done right, a finely smoked sausage can let you enjoy some of the most mouthwatering, smoke flavors that certainly make it worth the effort.
Before diving headfirst into smoking, let's take a look at the two types of smoking.
2 Types of Smoking
There are two popular types of smoking sausages: cold and hot smoking. Let's break these down further:
Cold Smoking preserves the meat and gives it flavor without cooking it.

Keep in mind, however, that only salted, cured, and fermented food is allowed to be cold-smoked to avoid botulism.

Hot Smoking cooks the meat while giving it flavor at the same time.

Hot smoking also takes a shorter time than cold smoking—generally until the meat is nicely cooked.
Since we want to smoke and eat these sausages, hot smoking will be the cooking process we follow today.
Read More >> How Long Do Hot Dogs Last in the Fridge?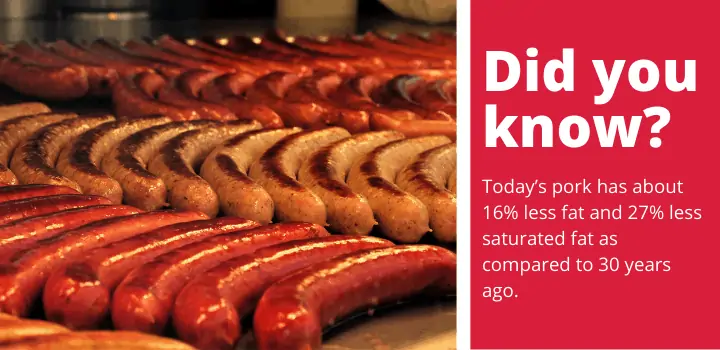 5 Best Sausages You Can Smoke?
Of course, before you start cooking, you need to first decide what sausages to smoke.
There are many available varieties, and it all boils down to what your palate is looking for.
Here's a shortlist of the five best sausages that you can smoke no matter the season or occasion:
Andouille (Cajun): Spicy, smoky, with a little tang of garlic, Andouille is a key element in gumbo and jambalaya.
Bratwurst (German): Seasoned with ginger and salt, brats have a mild taste and over a dozen varieties.
Chorizo (Mexican): With its arresting aroma, the Mexican Chorizo is often seasoned with spices, chili, and garlic.
Kielbasa (Polish): Aside from being the Polish word for "sausage," Kielbasa can be best described as sweet, mild, and smoky.
Italian: With its hot and sweet variants, Italian sausages can suit any of your tastebuds' moods.
Best Wood for Smoking Sausage?
Getting that flavor profile doesn't rely on your choice of sausage alone. You also need to pick the right wood chips for smoking.
After all, the wood you choose can influence how you're going to enjoy your smoked sausages.
Check out the different types of wood for smoking and their corresponding flavors:
Strong: Acacia, hickory, mesquite, oak, and walnut
Mild: Ash, alder, birch, maple, pecan
Fruity: Apple, apricot, cherry, peach, pear, plum
Supplies You'll Need For Smoking Sausages?
As with any outdoor cooking endeavor, you need the right tools for the job. Before turning up the heat, make sure you have the following prepped and ready:
Smoker
Fuel (charcoal, gas, or electric, depending on your smoker)
Wood or wood chips
Spices and seasoning
How To Smoke Sausage (5 Easy Steps)
Prepare Your Meat
Preheat The Smoker
Set The Sausages On The Smoker Racks
Flip The Sausages and Add Wood
Remove The Sausages From The Smoker
Now, it's time for the good part: smoking your sausages.
Keep in mind that those who may be new to this will inevitably go through some trial and error. But with enough patience and perseverance, you'll eventually become a seasoned smoker and get that delicious, five-star taste you're looking for.
Step 1: Prepare Your Meat
To achieve that lip-smacking flavor for your smoked sausages, first, prepare your meats by adding spices and seasoning and drying them.
For drying, you can either choose to air dry or use a smoker.
There's no set time for this—what's important is that the sausages are dry before you start cooking.
When smoking to dry, make sure that the temperature is no more than 100℉. Otherwise, you run the risk of making the sausage casings too tough.
Step 2: Preheat the Smoker
Gradually bring your smoker to 275℉ and keep that temperature steady.
This is applicable for charcoal, gas, or electric smokers.
Once you've reached this temperature, add your wood.
Step 3: Set the Sausages on the Smoker Racks
Once your sausages are dry and your smoker has a nice heat going, place the sausages on the grates at least two inches apart.
Temperature control is important for this step, so be sure to bring out your meat thermometer to check if the internal temperature of the sausages have reached around 160℉.
The total smoke time for sausage with a 275℉ smoker, you should expect them to be done in around 30 minutes.
Step 4: Flip the Sausages and Add Wood
Flipping your sausages midway through smoking is optional and can also add some even grill marks.
If you're using wood chips that burn quickly, you can add more here to get a nice even smokey flavor throughout.
Step 5: Remove the Sausages From the Smoker
Once your sausage reaches 165℉, you can remove them from the smoker.
For cold-smoked sausages in particular, you need to make sure that their internal temperature reaches at least 160℉ so that they cook well and bacteria are eliminated.
Final Thoughts On Smoking Sausage
A lot goes into achieving deliciously smoked sausages, not the least bit of which is patience and perseverance.
But give yourself some time, and you're sure to get some of the most savory smoked sausages you and your family have ever tasted!
If you want to learn more about grilling, check out these other helpful resources!