We created a simple and delicious Denver-style Hash brown omelet and it will make you King of Breakfast in your household. This omelet is so delicious it might even convince Mom to get up with kids tomorrow and let you sleep in. That has piqued your interest, hasn't it?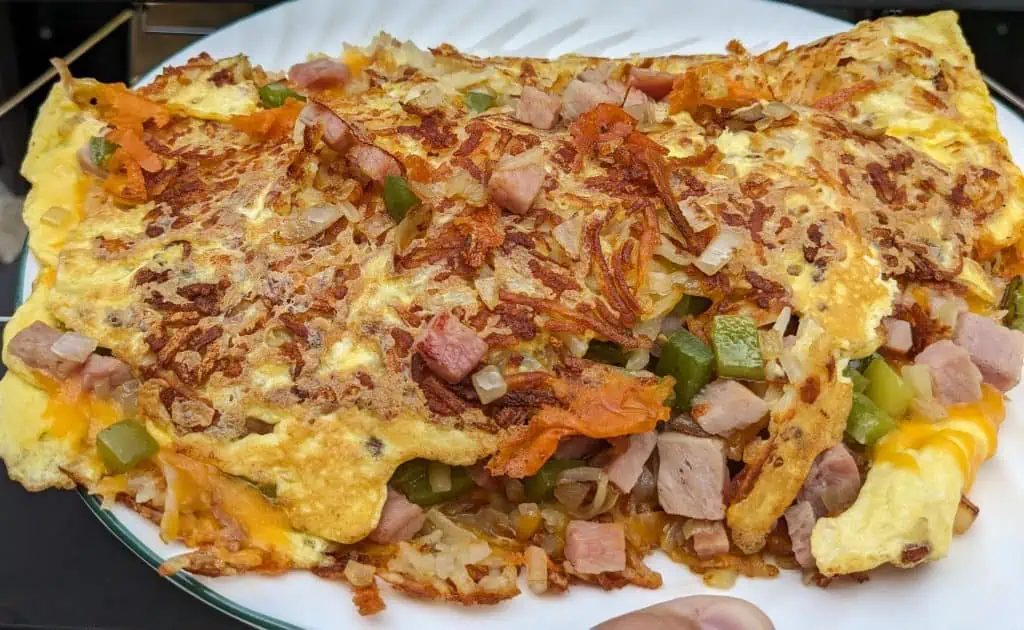 Jump to Recipe
Note: This post contains affiliate links. If you use these links to buy something we may earn a commission, at no cost to you. Thanks for supporting The Grilling Dad. Full details here.
Tips for delicious hash brown omelets
The key to a great hash brown omelet is crispy hash browns so get them cooking first and don't be afraid of butter! In terms of the other ingredients this type of omelet is extremely flexible. We made a Denver-style omelet, but if ham and green pepper isn't your thing, feel free to substitute sausage or bacon, or leftover smoked pulled pork for that matter! Use your favorite omelet ingredients or whatever you have on hand. Just be sure to cook the veggies first and make sure the meat is heated through before adding it to the hash browns and eggs.
Watch us make our omelet and let your mouth water while planning your own!
Ingredients
1 pint dehydrated hash browns
8 eggs, scrambled
12oz ham steak, diced
1/2 white onion, diced
1 green bell pepper, diced
1 cup cheddar cheese
2 Tablespoons unsalted butter
How to Make this Denver-style Hash brown Omelet
Start by rehydrating the hash browns per the package instructions. Once the hash browns are ready, begin heating up your griddle. We chose to make ours outside on the Pit Boss flat top grill to take advantage of a beautiful morning. (Check out our thoughts on the Pit Boss here.) You could just as easily make them inside on your stovetop or griddle.
Start by preparing your ingredients. Chop those veggies and dice that ham. Scramble eight eggs in a liquid measuring cup to make them easy to pour over the hash browns.
Once the griddle is hot, cover it with butter and then start crisping the hash browns and sautéing the onions and peppers on separate sides of the griddle. Once the hash browns are starting to crisp on the edges, use a spatula to flip them. Add more butter to the hash browns as needed.
Add the diced ham to the veggies and allow to heat through. Once the hash browns are crisp and brown, pour the scrambled eggs over the entire hash browns.
Let the eggs cook. When they're almost finished, add the cheddar cheese over the hash browns and eggs. Then spread the meat and veggie mixture over half of the hash brown/egg mixture. Then flip the remaining half of the hash browns/eggs over the meat and vegetables.
Serve on a giant platter and share with the fam!
Hashbrown Denver Omelet
Delicious and easy Denver-style omelet with hashbrowns
Ingredients
1

pint

dehydrated hashbrowns

8

eggs, scrambled

12

oz

ham steak, diced

1/2

onion, diced

1

green bell pepper, diced

1

cup

cheddar cheese

2

Tbsp

unsalted butter
Instructions
Rehydrate hashbrowns per package instructions.

Heat griddle and apply butter.

Sauté onions and peppers and begin crisping hashbrowns on separate sections of the griddle.

Once the edges of hashbrowns are crisp, flip and add more butter as needed.

Add diced ham to onions and peppers and allow to heat up.

Pour eggs over entire hashbrowns. Allow to cook.

Once eggs are almost cooked through, add cheddar cheese to the hashbrown/egg mixture.

After the cheese has melted, add the ham/peppers/onions mixture to the top of half of the hashbrown mixture.

Fold the remaining half of the hashbrown mixture over the half with the ham mixture.