Pulled pork is a guaranteed crowd pleaser. It's perfect for family get-togethers and having buddies over to watch the game. Maybe you got a little overzealous in how much you needed and you need to figure out what to do with it before it goes bad. Leftover Pulled Pork Nachos to the rescue!
Jump to Recipe
I consider myself something of a nacho connoisseur. If I go out to eat and nachos are on the menu, there's at least an 80% chance I will give them a shot. However, it wasn't until some old roommates made homemade nachos for dinner that I ever considered making them at home. These leftover pulled pork nachos are insanely easy to make and the smokiness of the pulled pork makes them absolutely delicious!
Preheat the oven to 425°F. Grab an 11×17 sheet pan with raised edges. Cover the pan with round tortilla chips and then cover with shredded cheddar cheese.
Drop bits of the shredded pork all over the chips and cheese mixture. (We usually do two layers of chips/cheese/pork, because we have seven mouths to feed.)
Then add some black beans and bean dip (one cup sour cream, one can refried beans, cayenne pepper to taste). Repeat the chips/pulled pork/cheese/black beans/bean dip layer.
Place the pan in the oven for 7 minutes. Then turn the oven off and leave the pan under the broiler for a minute or two until the cheese has browned. Take the pan out and add green onions, tomatoes, and guacamole.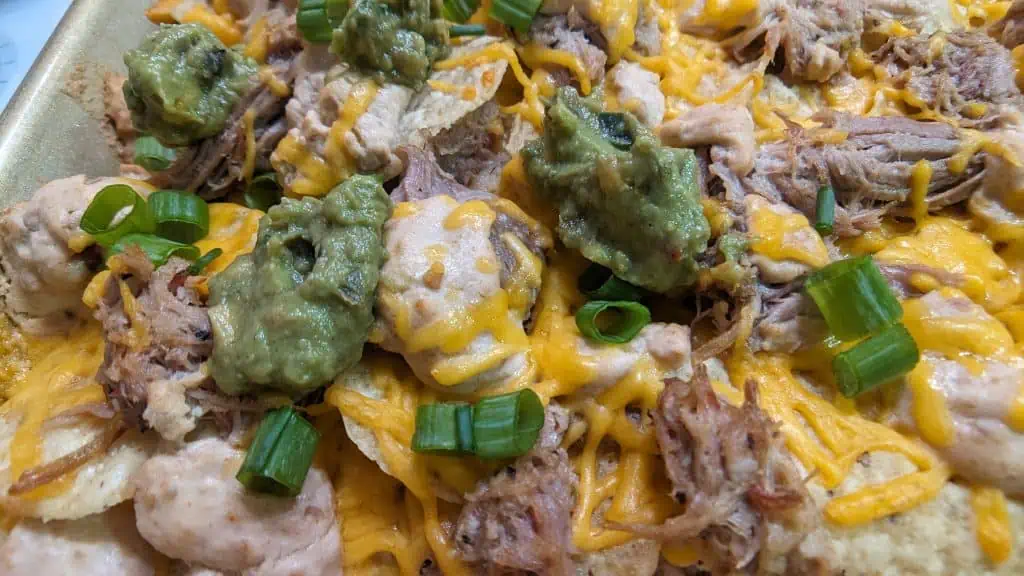 That's it. Super simple, and obviously can be customized to whatever your preferences are for toppings, but don't skimp on the pulled pork. That smoky meat balances the savoy cheese. It's just perfection. No one will ever complain about having to eat up these leftovers!
Leftover Pulled Pork Nachos
Ingredients
1

lbs

pulled pork

13

oz

tortilla chips

2

cups

shredded cheddar cheese

5

oz

black beans

drained and rinsed

guacamole

green onion
Bean Dip
8

oz

sour cream

16

oz

refried beans

cayenne pepper

to taste
Instructions
Preheat the oven to 425°F.

Place a layer of tortilla chips over the entire 11"x17" pan. Cover with shredded cheese.

Add pulled pork generously over the chips and cheese.

Add another layer of chips, cheese, and pork. (You can skip this step if you're only making nachos for two.)

Mix together all the ingredients for bean dip. Add globs of bean dip over the chip mixture.

Place in middle rack of the oven for 7 minutes. Then, turn off the oven and turn on the broiler until the cheese is slightly browned.

Remove from oven and allow to cool for 3-5 minutes.

Add guacamole, tomatoes, green onions, or any other veggies and toppings you enjoy.
Notes
Feel free to add whatever toppings you love and skipping those you don't!