Smoked country-style ribs are a favorite in our home. They're delicious, easy to make, and enjoyable year-round.
You can't go wrong when you make a rack of them for your family.
What Are Smoked Country Style Ribs?
Smoked Country Style Ribs are pork, but surprisingly they aren't actual ribs. Rather, "country-style" means that the meat came from the shoulder portion of the animal. While you may encounter a few bones, know that these are shoulder bones and not actual ribs.
Although this may be disheartening, these country-style ribs are so good you won't care that they aren't actually ribs. Plus, we like the idea of having fewer bones to throw away and more meat to enjoy!
Smoking these cuts of meat low and slow in your smoker yields amazing results. We also like that they are more economical than traditional ribs when you are preparing them for a crowd.
Plus, because these aren't actual ribs, you can easily shred the meat to make pulled pork sandwiches or even delicious BBQ pork bowls. Meaning one Sunday smoke session could feed your family all week!
Jump To A Section
How to Make Smoked Country-Style Ribs
Ready to make your own amazing smoked country-style ribs? Here's our method!
Ingredients
Country-style pork ribs
Salt
Pepper
BBQ sauce (your favorite brand, but for this recipe, honey BBQ works best)
Onion
Lemon Juice
Garlic
Step 1: Preheat the Smoker
Start by preheating your smoker to 250°F. We recommend using woods that pair well with pork, like apple, cherry, or lemon wood.
Step 2: Prepare the Ribs
Remove your ribs from the package and rub them down with a mixture of BBQ sauce, garlic, salt, and pepper. The messier they are, the better! You can use garlic powder, but we find minced bits of garlic are to die for on these ribs.
Step 3: Smoke Your Ribs
Place your ribs in the smoker for 4 hours. We recommend putting them on the grill grate, but you can also keep them in a cast iron skillet or aluminum pan.
Related >> The Art of Smoking Ribs: Timing Your Way to BBQ Perfection
Step 4: Braise
Remove the ribs from the smoker and place them in a pan with a small amount of lemon juice and the diced onion. Douse the ribs with BBQ sauce a second time. Place them back in the smoker for about 2 hours or until they reach an internal temperature of 200°F.
Step 5: Dress and Serve
Let your ribs rest for 15 minutes. During this time, you can douse them in a bit of extra BBQ sauce. Then enjoy!
Smoked Country Ribs Expert Tips and Variations
Like any great recipe, there are always tips and tricks for getting the best-tasting meat!
Country Ribs also come in beef, feel free to try these out instead of using pork ribs!
These can also be made in the oven if you don't yet own a smoker.
Instead of lemon juice, you can use apple for a sweeter flavor. Omit the garlic when using apple juice.
If you use gluten-free BBQ sauce, this recipe can be made gluten-free.
Related >> 9 Types of Ribs (Beef, Pork, Lamb, and Fish?)
How to Serve Smoked Country-Style Ribs
Smoked country-style ribs are delicious any time of the day. We recommend them for lunch or dinner, but if you have leftovers, pulled country-style rib breakfast sandwiches are delicious!
You should serve these ribs on a plate with a fork (though they can be enjoyed with your hands, they are just messy), along with one or two sides. Mashed potatoes go great with country-style ribs, as do fries and smoked mac n cheese. You should probably also include a vegetable like broccoli or carrots to make it a complete meal.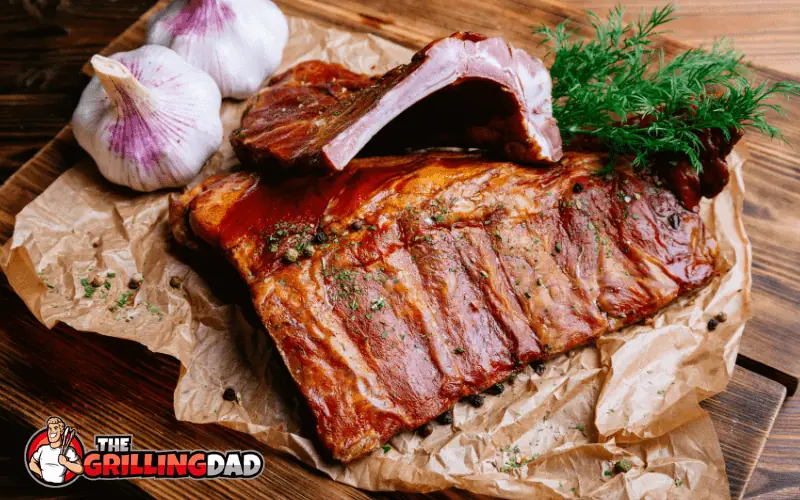 How to Store Country-Style Ribs
While these won't quite taste the same when reheated, they can be placed in an air-tight container in the fridge and consumed within 5 days of the original smoking. We recommend shredding the leftover meat and using it for sandwiches, salads, and bowls, as it tends to taste better reheated that way!
It is not recommended to freeze country-style ribs.
Country Style Ribs FAQ
How Long Should I Smoke Country Style Ribs?
How long you need to smoke country-style ribs will depend on the temperature you are using. But at 250°F, you need to allow 6-7 hours for them to come to temperature.
What Temperature Do You Smoke Country Style Ribs?
Low and slow is the way to go. You should smoke your country-style ribs at a temperature between 200°F and 250°F.
How Long Does it Take to Smoke Country Style Ribs at 275°F?
It takes about 3-4 hours to smoke country-style ribs at a temperature of 275°F.
How Do You Know When Country Style Ribs Are Done?
Country-style ribs are done when they reach an internal temperature of 200°F, and they can be pulled apart with a fork.
Final Thoughts on Smoked Country Style Ribs
Overall, there is nothing quite like some smoked country-style ribs on a warm summer day or on a cold winter evening! So next time you head to the store, grab a package of this tasty meat and try making some for your household!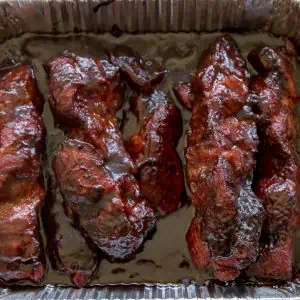 Smoked Country Style Ribs
Delicious boneless ribs that will melt in your mouth.
Ingredients
2

packages

at least country-style pork ribs

1

onion

chopped

5

cloves

garlic

minced

1

cup

lemon juice

1

tsp

salt

1

tsp

pepper

1

bottle honey BBQ sauce
Instructions
Preheat your smoker to 250°F

Rub your ribs with BBQ sauce, salt, pepper, and minced garlic.

Smoke your ribs on the grate for 4 hours.

Remove your ribs from the smoker and put them in a pan with the lemon juice and onion. Pour more BBQ sauce on top.

Smoked for 2 more hours or until they reach an internal temp of 200°F.

Remove from the smoker and let them rest for 15 minutes. Add more BBQ sauce if desired.

Serve and enjoy!
Notes
Cherry, apple, or lemon wood works best with this recipe.
Pork ribs can be replaced with beef country-style ribs.
Learn More About Grilling
If you want to learn more about grilling, check out these other helpful resources!